In the late 1970s, Donald Holder was pursuing a forestry degree at the University of Maine. He also was engaged in a "self-designed" liberal arts education.

That foundation is what the now Tony Award-winning lighting designer points to as his springboard for success on Broadway.

"I have an extraordinary informal training and experiences in the arts, as well as the sciences," he says of his time at UMaine, where he was involved with Maine Masque, a student-led theater group open to all majors, and played the bass and tuba with several ensembles. "I don't know if I would have gotten that anywhere else. It was sort of a perfect place for me."

Holder, a native of Rockville Centre, New York, says he can vividly remember "Cat on a Hot Tin Roof," the first show he worked on as a lighting operator at UMaine.

UMaine also was the only place where he acted.

"I think the greatest thing that came out of my experience with Maine Masque was understanding that making theater was about being part of a community, and it's the community aspect of theater making that's always been what has attracted me more than anything else," he says.

Holder's lighting mentor was the late UMaine theatre professor Edgar Allan "Al" Cyrus. Holder says Cyrus was invested in nurturing his interest in lighting, which had been a passion since childhood. The pair shared a love of forestry, which also was Cyrus' major as an undergrad at West Virginia University.

"I don't know why I was fascinated with light, I just always was," Holder says. "I was always drawn to it."

Holder recalls the first play his parents took him to, "Fiddler on the Roof," when he was 5 or 6 years old, and how he could "feel" the light change.

"Throughout my childhood, I seemed to be the person who was the manipulator of light. Even in Boy Scouts, I was the kid who built the campfires and bonfires, and lit the ceremonial trails," he says. "I just kind of fell into lighting in every aspect of my life."

Holder graduated from UMaine in 1980 with a degree in forestry, then went on to earn a master's degree in technical design and production from the Yale School of Drama. Having a formal education in forestry separated Holder from the crowd when it came to finding work.

"People were intrigued by the fact that I was a forestry major," he says. "I was sort of the one person in a pile of resumes who had a very different background."

Holder has designed 58 Broadway productions, earning two Tony Awards for "The Lion King" and "South Pacific," as well as 13 Tony nominations.

"'The Lion King' is special in my heart," says Holder of the first Broadway musical he worked on. "At that point in my life I was starting to think I'd never get to design a musical on Broadway, which was my big dream. And it really changed my life."

Lighting designers reveal the world of the play, according to Holder.

"We're responsible for what you see and how you feel about what you're seeing," he says. "We sort of provide the lens through which a theatrical event is experienced by an audience. It's a very important role."

A lack of proper lighting can lead to unintended audience reactions, he says.

"Above everything else, lighting has a powerful influence on perception," Holder says. "We as human beings respond chemically to the quality of light, the intensity of light, the color of light. A lighting designer needs to understand this about the medium so you can manipulate it to achieve certain creative objectives."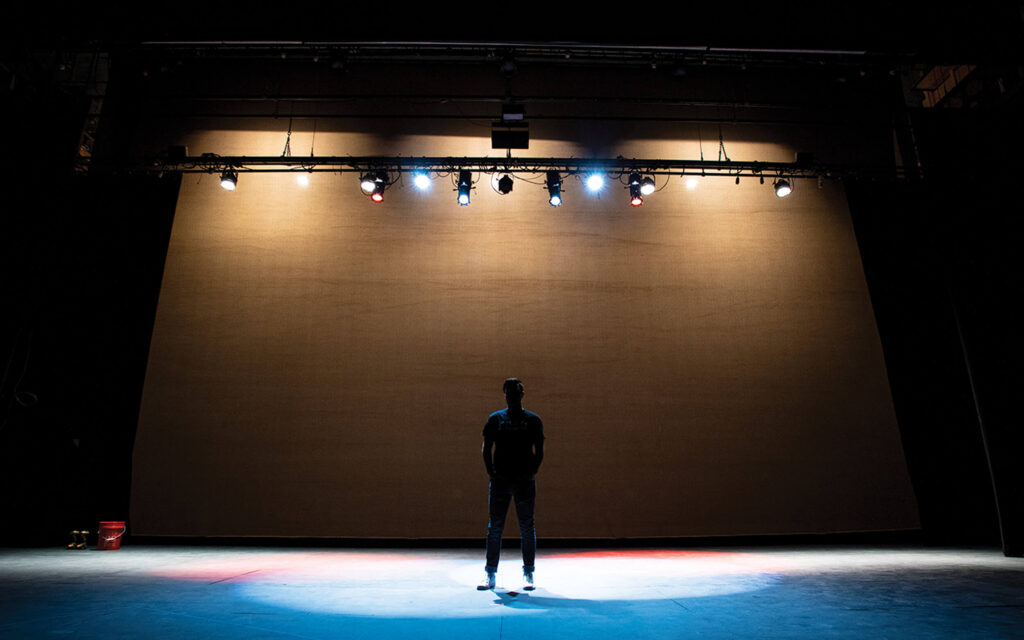 In addition to Broadway, Holder has worked on operas, television shows and films. His recent credits include several productions at the New York Metropolitan Opera, seasons one and two of the NBC drama "Smash," and Warner Bros. Pictures' "Ocean's Eight."

He currently is head of lighting design at Rutgers University.

For high school and college students who are interested in lighting design, Holder suggests becoming exposed to a range of topics through school, theater, films and news.

"Study art history, study history and politics, and philosophy, and psychology — anything that could feed your brain and make you understand the human condition in a more profound way. Because what designers do, we essentially crystalize work into something very, very precise that speaks profoundly to the human condition," he says. "In order to be an articulate designer, you have to have a lot to draw from. Either it's life experience or it's experience in intellectual pursuits and intellectual curiosity."

Being involved in the technical side of theater requires a passion for the art and understanding that it is a collaborative act.

"Your role is to be an artisan, but also to support the artistic process," he says of lighting electricians, costume makers and technical directors.

Holder says he has done what he has always wanted to do — work at the Metropolitan Opera, travel the world and light a Broadway musical. He plans to continue to seek out collaborative, challenging projects that take him out of his comfort zone and force him to think outside the box.

"I wanted to be a lighting designer when I was 13 years old," he says. "I sensed that was what I wanted to do, and it took a while to get there, but I feel like every day, I'm living the dream."