Growing up in western Connecticut, Mo Pate loved nothing more than walking in the woods. New Fairfield, her hometown, sits on Candlewood Lake, the state's largest, surrounded by nature preserves, conservation areas and state forestlands. When it was time to apply to colleges, Pate looked for one that offered plenty of outdoor opportunities, which led her to the University of Maine.
Big attractions were UMaine's nationally known School of Forest Resources and the Maine Bound Adventure Center, which she describes as "insanely cool," with its variety of programs, rental gear and a climbing gym right on campus.
"I just fell in love with the interconnectedness of forests when I was a kid, and UMaine is one of the best schools for forestry. Everyone likes going outside here, hiking and adventuring," says Pate, a senior in ecology and environmental sciences with a concentration in forest ecosystems.
By the time she graduates in May 2022, Pate also will have completed a minor in outdoor leadership.
A relatively new program started in 2019, outdoor leadership is part of the School of Kinesiology, Physical Education and Athletic Training in the College of Education and Human Development. Students can complete the 19-credit minor or a four-year concentration as part of the kinesiology and physical education (exercise science) major. Taking advantage of Maine's magnificent wilderness as both classroom and teacher, the curriculum is designed to help students gain the confidence and knowledge needed to safely lead outdoor activities for groups of all ages and in different environments.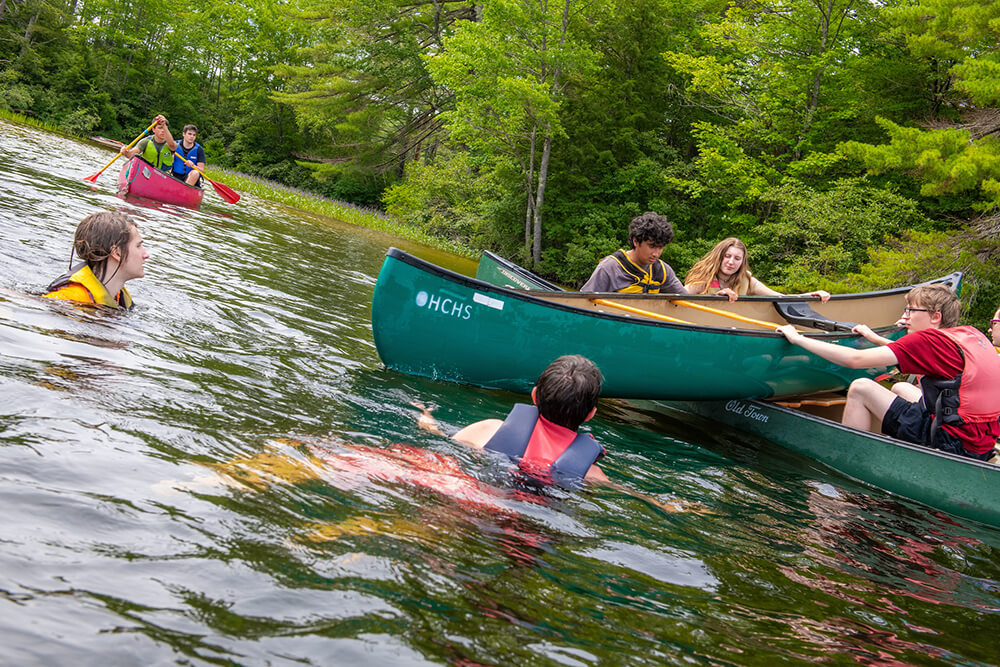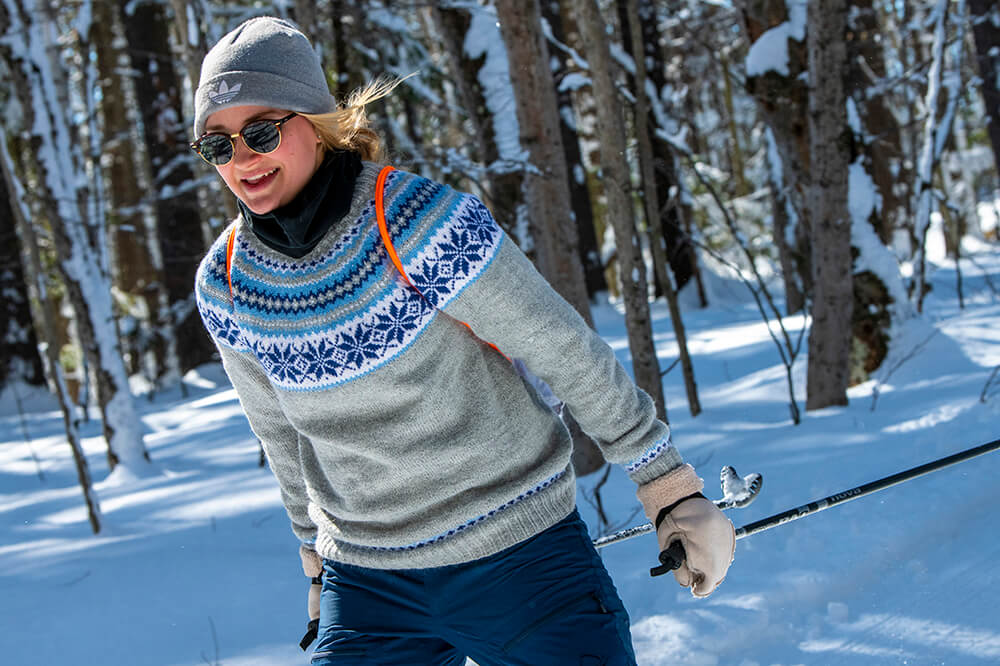 "It's very challenging, but at the same time, supportive," says Pate. "There's a focus on peer-to-peer leadership, holding each other accountable and finding out your strengths as individuals and as a group. It has definitely pushed me to be the best version of myself."
As she looks forward to life after college, Pate thinks she'd like to work at a nature-based, outdoor-education organization, perhaps with an emphasis on preservation and sustainability.
The summer before her senior year, she completed an internship with the Outdoor Sport Institute, a Millinocket-based nonprofit that aims to help people in the Katahdin region make outdoor activities like skiing, paddling and hiking a greater part of their lives and communities. She and other interns worked on several community-building initiatives. Pate was the lead on a project to create a strategic plan for the Katahdin Gear Library, a resource through Millinocket Memorial Library where residents can borrow outdoor gear and equipment such as skis, snowshoes, paddleboards, kayaks, canoes, bikes and backpacks.
"The community aspect is really important to me," Pate says. "People in the Katahdin area have all these amazing outdoor resources right in their backyard, but access is still an issue because of financial and social barriers. With the gear library, we're building a foundation, a culture of recreation and well-being where they can go explore the outdoors."
There's a good chance Pate will end up sticking around Maine after graduation. When she came for college, her parents moved with her, settling in Milbridge in rural Washington County.
 If she does stay and achieves her goal of working in the outdoors, Pate will join a growing and dynamic sector of Maine's economy. According to the federal Bureau of Economic Analysis, the outdoor industry added $2.9 billion to the state's GDP in 2019, the most recent year for which data are available. That accounted for 4.2% of the state economy, twice the national average and tied for fifth nationally with Wyoming, behind only Hawaii, Vermont, Montana and Florida. The data include the economic impact of activities such as camping, hiking, boating and hunting, as well as gardening, outdoor festivals, construction, tourism and more.
UMaine has long held an important role in the state's outdoor economy, preparing generations of students for careers in parks, recreation and tourism management, forestry, environmental sciences and more. The outdoor leadership program is the newest addition to that academic tradition, but even it is by no means new.
"There have been components over the years, different iterations that have come and gone," says Lauren Jacobs, a lecturer in outdoor leadership in the College of Education and Human Development who coordinates the concentration and minor. "It goes way back to when (former professor of education) Walt Abbott was teaching, and he taught these amazing outdoor courses that people across Maine still talk about."
Jacobs was hired in 2017 in part to figure out a way to make a more lasting and sustainable program that would appeal to students and meet the state's workforce development needs. One of the goals was to create something that filled the gap between management of outdoor resources (forestry and tourism resources, for example) and facilitating experiences. Education seemed to be a natural bridge.
"Our students might literally be outdoor educators working in schools, or for a nonprofit, or a commercial business leading groups into the wilderness and sharing their knowledge and experience," says Jacobs. "That might also be just part of their career, where maybe they are more focused on the resource management side, but they also have the skills to facilitate trips and things like that."
Interest in the program has been building since it was introduced. The four-year concentration and minor have more than 50 students each. Core courses include an introduction to outdoor leadership and facilitation class that covers the history of outdoor education and helps students identify their personal leadership style, as well as wilderness first responder and paddling safety courses that can lead to industry-standard certifications for students who want to guide trips.
Field experience is an important component of the program, with students challenged in a variety of conditions. Jacobs says instructors don't expect students to become experts in all areas of outdoor leadership, but they should have at least some knowledge of different environments.
Service learning and community engagement are encouraged across the curriculum as well, including a class on ethics and social justice in the outdoors. Jacobs says that class feels really relevant as issues of diversity, equity and inclusion have attracted more attention in recent years.
"We want our students to be able to have conversations about what's happening on a national level," she says. "Historically, outdoor spaces have been segregated by race. Swimming pools are probably the most famous example. But also parks, including national parks. We think it's important for our students to understand that history, as well as how issues like race and class impact people's access to and experiences in the outdoors today."
Students in the concentration supplement the core curriculum with an interdisciplinary program that includes courses in areas such as education, exercise science, leadership studies and natural resources. The four-year program also includes 12 credits of self-directed study in skill- or experience-intensive outdoor coursework and a capstone internship.
For the self-directed study portion, Jacobs says the program leans heavily on connections throughout the state and beyond. For example, students interested in building their sea-based skills could take courses through the outdoor recreation and leadership program at the University of Maine at Machias. Another option is to pursue a semester of outdoor studies in another state or country.
"The self-directed study and internship are really an opportunity for our students to explore their passions," says Jacobs. "It could be business, photography, design, creative writing. It's really up to the individual and their interests."
The minor in outdoor leadership has attracted students from a variety of majors, including parks, recreation and tourism, business, the liberal arts, natural sciences and beyond.
Seth Campbell is an assistant professor with the School of Earth
​and Climate Sciences and the University of Maine's Climate Change Institute. Since 2019, he has been director of academics and research for the Juneau Icefield Research Program (JIRP), a 75-year-old project that brings college students from around the country to the glaciers north of Juneau, Alaska each summer for scientific research and other fieldwork.
In parks, recreation and tourism, we'd have class with forestry students, ecology students, wildlife students. Getting those different perspectives and having that mix was fascinating and has helped me become better at building trails."

Jake Burgess
This past summer, nine UMaine students — a mix of undergraduate and graduate students — were among the more than 50 participants in the program (students in the JIRP field course earn six credits through UMaine). They were able to work on about a dozen ongoing research projects, exploring climate change, glaciology, hydrology and more.
"It's kind of equivalent to a mini-U.S. Antarctic program," Campbell says. "I often tell people that if you can experience the Juneau Icefield for two months, Antarctica or Greenland should be a cakewalk."
A couple of students in the program in 2021 were from outdoor leadership. Campbell, who worked at the Maine Bound Adventure Center and taught kinesiology and physical education courses while working on his MBA at UMaine, says he hopes to attract more in the future.
"It's a challenging environment to work in. You need skiing skills, mountaineering skills. There's also a lot of cross-collaboration that happens, a lot of resource sharing. So having students who are already knowledgeable about what it takes to work in the outdoors is really important," he says.
Jake Burgess graduated from UMaine in 2020 with a bachelor's in parks, recreation and tourism and a minor in outdoor leadership. Originally from North Berwick, Maine, Burgess grew up on skis, bikes and trails, but says in high school he didn't know that his enthusiasm for the outdoors could also lead to a career. As a lifelong Mainer, he knew he wanted to stay in state for college and that eventually he wanted to live and work in Maine as well.
"I came in undeclared and found parks, recreation and tourism, which I really enjoyed because it's all about working with people," says Burgess. "Outdoor leadership launched the first semester of my junior year, and that was great because it's all about educating people."
Today Burgess is the trail steward for Inland Woods and Trails, a nonprofit that encourages the development, maintenance and use of recreational trails in and around Bethel in western Maine. His primary job is ensuring that the trails managed by the organization, covering a five-town area, meet modern design standards. He also helps design and construct new trails and promotes their use through education and outreach, including leading hikes and other activities. He says the knowledge, experience and relationships he gained at UMaine prepared him for the work.
"In parks, recreation and tourism, we'd have class with forestry students, ecology students, wildlife students," he says. "Getting those different perspectives and having that mix was fascinating and has helped me become better at building trails. Then with outdoor leadership, the classes almost felt like a guiding trip. We'd be out in the field, practicing leading different groups or figuring out which leadership styles worked best for us and why. It was great."
Beyond academics, Burgess says one of his formative UMaine experiences was working at Maine Bound. Chris Bartram, Maine Bound's assistant director and an instructor in the outdoor leadership program, initially hired him to coordinate the university's participation in the Outdoor National Campus Challenge, a bid to be named the "most outdoorsy" school in the country. That led to a position as Maine Bound's marketing and events manager.
"Having classes with Chris and working for him were extremely helpful," says Burgess. "He's not that much older than me, but he has that experience of being a leader in an outdoor setting."
"A big part of the philosophy here is building community," says Bartram, a passionate advocate for outdoor adventuring in Maine and the university's leadership role in it.
Although located on the UMaine campus and utilized largely by students, Maine Bound is — importantly — open to anyone of any skill level, even those who are not part of the campus community. Elements of the academic program were actually developed and offered through Maine Bound for years before the concentration and minor were created. In fact, Maine Bound still offers an outdoor leadership program, consisting of six 1.5-hour educational clinics and participation in two trips, which mirrors the introduction to outdoor leadership course that students take through the College of Education and Human Development.
"If facilitated well, one opportunity in the outdoors has the ability to impact someone's life," Bartram says.
For a sense of Maine Bound's impact, it's useful to take a quick look at some numbers from a recent year of its operation. In 2019, the program hosted more than 12,000 individual visits to its climbing wall, about 900 people attended one of a dozen or so events it sponsored, it put on more than 150 trips and clinics, and rented approximately $11,000 worth of gear. Those numbers were down in 2020 due to the COVID-19 pandemic, but largely rebounded in 2021, according to Bartram.
The program was started in 1984 by Kevin Slater, then an Outward Bound instructor and graduate student, who now operates Mahoosuc Guide Service, offering guided dogsledding and canoe trips in Maine, New England and Canada. For a master's thesis project, Slater began offering one- or two-week backpacking or paddling trips for UMaine freshmen, similar to the Black Bear Bound orientation program that continues to this day.
Jon Tierney, who would go on to start Acadia Mountain Guides Climbing School, was involved from the beginning, serving as director of Maine Bound until 2001. Bartram says he's the one who built the program into what it is today with year-round courses offered to the UMaine community and public, equipment rentals and sponsored events.
Today, Maine Bound has two professional staff and 25 student workers, who receive 100 hours of training a year, earning certifications in rock climbing, wilderness medicine and more.
"They are taking those skills and going straight into the industry," Bartram says. "We have Maine Bound alumni working across the state at guiding companies, camps, at schools as outdoor educators."
Patrick Downing, a senior from Natick, Massachusetts, is a student employee at Maine Bound. He works the front desk, does equipment rentals and runs the climbing wall when it's open for top roping, where the climber is attached to a rope anchored to the top of the wall that runs down to a belayer at the base. He and other student workers have to be certified as belayers in order to perform the job. He also helps run the challenge course — including both high and low rope elements, a zip line and a giant swing — located behind UMaine's New Balance Student Recreation Center, as well as hiking and paddling programs.
Downing, a student in the four-year outdoor leadership concentration, hopes to work as a wilderness guide when he graduates.
"Getting my Maine guiding license would be ideal," says Downing. "I've already got some connections from the outdoor leadership program and Maine Bound. I just took the paddling safety course and got swift water rescue certified. So, working for a whitewater company is one option. I also know a lot of former Maine Bound students work at Acadia Mountain Guides, which would be a really great opportunity."
After spending his freshman year at Western Colorado University, Downing transferred to UMaine as a sophomore to be closer to home. Although he's keeping his options open about where he ends up post-graduation, he says Maine is someplace he holds dear.
"I've been coming to Maine my whole life and just love the area," he says.
Despite the COVID-19 pandemic that caused Maine Bound's numbers to dip, plenty of evidence suggests that people were more motivated to participate in outdoor activities as a result of the pandemic. For example, bike sales went through the roof and bookings for campsites in Maine and elsewhere were full. Bartram thinks interest will continue even as the pandemic subsides, and that bodes well for the future of outdoor job opportunities.
"I do think because of the growth in revenue, there's going to be sustainable careers," he says, noting that Maine already had a strong outdoor economy with companies such as L.L. Bean headquartered in the state.
"Maine is probably better positioned than other states, because anyone can get their certifications, apply for a license to become a Registered Maine Guide, then hang a shingle and start their own business," Bartram says.
Still, Maine Bound's mission is not to train people for the workforce. That's the purpose of the academic program. The center is still focused to a large degree on the original vision of its founders to educate anyone and everyone about how to responsibly enjoy the outdoors. Bartram is particularly proud of the impact Maine Bound has on student retention.
"We see 9% higher retention in students who do the Black Bear Bound orientation program. For first-generation college students, it's 16% higher," he says.
UMaine's leadership in the outdoors is key to attracting students who may not view themselves as college material, says Ryder Scott, executive director of the University of Maine Cooperative Extension 4-H Centers, located at Blueberry Cove, Bryant Pond, Greenland Point and Tanglewood.
"A lot of kids in rural areas who we work with, they're not necessarily aspiring to go to college," says Scott. "At the same time, they have a lot of outdoor interests — they love to hunt and fish, to ski and ride snowmobiles — and they are very smart. We feel like if we can get them to do a campus visit, meet some faculty members, they can see opportunities to do something hands-on and outdoor oriented in college. It's a great recruiting tool."
Scott also coordinates a 15-credit University of Maine Early College pathway in outdoor leadership for high school students. The program, which allows juniors and seniors in high school to take classes tuition-free or at a reduced rate, features some of the same courses taken by students in the outdoor leadership minor and concentration. That includes a wilderness first responder course and an outdoor and adventure activities course, as well as a foundations of leadership class.
The Early College pathway launched in 2019, and Scott says they are working with high schools and Career and Technical Education Centers in Maine to enroll 100 new students in the program by summer 2022.
"One of the things we say is we want to give kids the technical skills to do outdoor industry jobs, but also the entrepreneurial skills to hire 10 more people," Scott says. "One of the great things about outdoor careers is they can be place-based, so we can train kids for jobs where they go back into the rural communities where they are from."
The UMaine 4-H Center at Bryant Pond, where Scott is based, is part of an Aspirations Incubator program through the Emanuel and Pauline A. Lerner Foundation that aims to increase the hopes of rural youth in Maine. To do that, the Lerner Foundation provided the Bryant Pond 4-H Center and other groups around the state with funding to offer mentoring, as well as experiential learning, travel and outdoor adventure opportunities to local youth from middle school through 12th grade.
In the first three years of the six-year program, 93% of students involved reported that it helped them feel connected to their community. Participants were half as likely to be chronically absent than their peers, and 70% reported positive growth on measures related to learning and school engagement. Meanwhile, 99% of the eighth graders in the incubator said they would finish high school, and 88% believed they would pursue a college degree.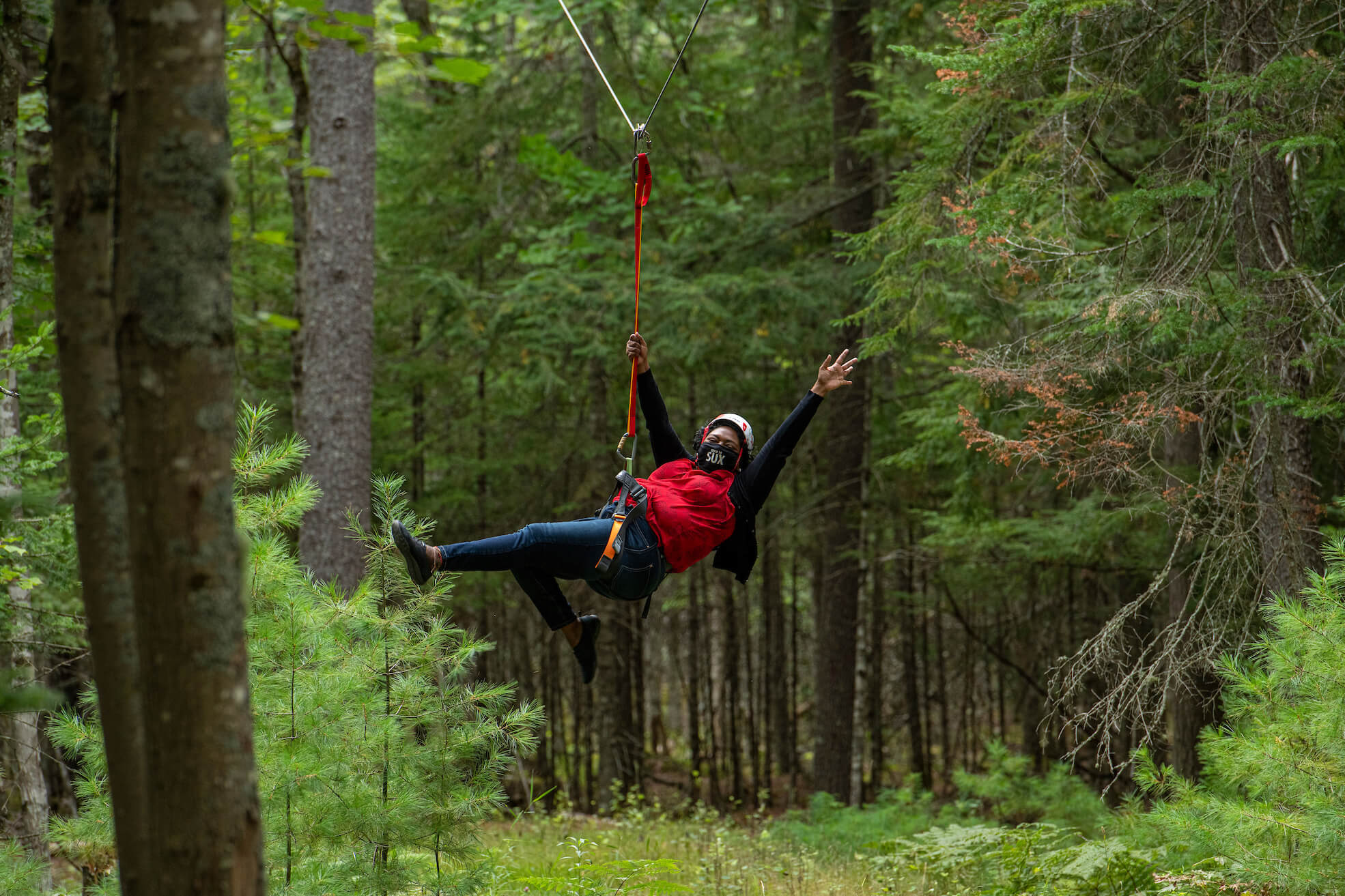 "Even if a kid doesn't go on to pursue an outdoors career, there's a lot of ways our leadership in the outdoors can impact their life," says Scott of the Lerner Foundation's findings.
Scott, Bartram and Jacobs, along with Karen Beeftink, an associate professor and coordinator of the UMaine Machias outdoor recreation and leadership program, meet regularly to align curriculum, build professional skills, and share resources and ideas for how to better coordinate programming across UMaine and UMaine Machias. One outcome of their working together: all Black Bear Bound orientation programs this past summer had components take place at one of Cooperative Extension's 4-H camps.
As the outdoor industry continues to expand, and as more students are attracted to the opportunities afforded by Maine's wilderness, the group sees the roles of UMaine and UMaine Machias as an outdoor leader continuing to grow. Jacobs notes that every February for the past three years, the outdoor leadership program has hosted an outdoor careers event with the UMaine Career Center.
"It's been really great to foster connections with businesses and nonprofits who are working in the outdoors," Jacobs says. "We're helping build this core group of students who live here, go to school here, and then hopefully want to stay here and be part of the outdoor community."
"In Maine, we have mountains, rivers, the coast, and everything from biking to kayaking to snowshoeing to camping," she adds. "We're so lucky to have all that in our backyard."
Outdoor Leadership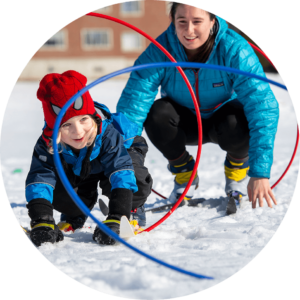 The School of Kinesiology, Physical Education and Athletic Training in the College of Education and Human Development offers an outdoor leadership program with a 21-credit concentration within the kinesiology and physical education major, or a 19-credit minor for students in other areas. Maine's outdoor resources serve as both classroom and teacher, preparing students for a variety of careers in outdoor industries. All students earn industry-standard certifications, including Wilderness First Responder and Swift Water Rescue. In addition, students in the four-year concentration can dive into their passions in two ways: first, through 12 credits of self-directed study in intensive outdoor coursework, which can be completed at another University of Maine System campus, or in another part of the country or abroad; second, in an individually designed capstone internship in a business, nonprofit, educational or other field setting.
Parks, Recreation and Tourism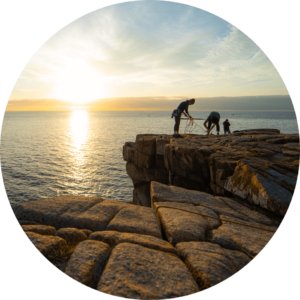 Based in the School of Forest Resources in the College of Natural Sciences, Forestry, and Agriculture, the PRT major features concentrations in conservation law enforcement, nature-based tourism, and parks and recreation management. The curriculum is designed to provide students with training that will qualify them to work in a variety of settings, such as parks and protected natural areas, the public and private business sectors, nonprofit environmental organizations, as well as state and federal natural resource agencies. The PRT program emphasis on the integration of natural, social and management sciences reflects the interdisciplinary context in which recreation, tourism, natural resource planning and environmental concerns are addressed. The program takes advantage of Maine's coasts, mountains, national and state parks, the Appalachian Trail and other outdoor resources.
Outdoor Recreation and Leadership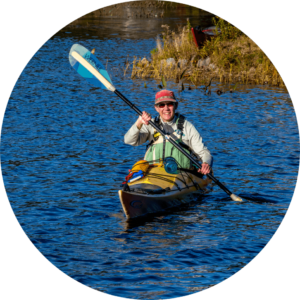 The outdoor recreation and leadership major at the University of Maine at Machias provides for integrated study of recreation and tourism services to prepare students for careers ranging from game wardens to park interpreters, professional guides, recreation resource managers, camp directors, municipal recreation directors, nature-based tourism providers, fitness center directors, experiential educators and more. Students get hands-on experience in their nature-based coursework and fieldwork. Students gain a broad understanding of leisure and recreation in society while developing managerial skills. The program's Down East location among coves, rivers, lakes and forests lends itself to the enjoyment of outdoor recreational experiences and
Early College Outdoor Leadership Pathway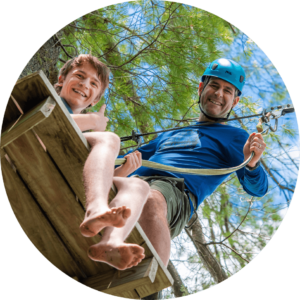 A gateway for high school students to explore outdoor career paths while earning up to 15 college credits, the outdoor leadership pathway includes a wilderness first responder course (3 credits), an outdoor and adventure activities course (3 credits), and a foundations of leadership course (3 credits), as well as two electives in areas the student wishes to explore, such as creative writing, business or Native American studies. The Early College pathway is designed for students interested in a career in fields such as outdoor education, guiding and natural resource management, or who want to major in areas such as forestry, kinesiology and physical education, or parks, recreation and tourism in college.
Maine Bound Adventure Center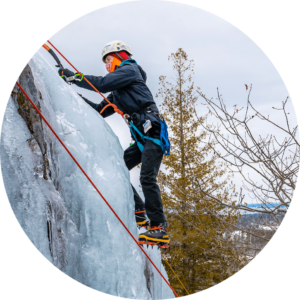 A division of Campus Recreation, Maine Bound offers comprehensive outdoor experiences for students and community members of all skill levels. The Maine Bound building is home to a 32-foot-high indoor climbing wall and a 12-foot bouldering wall, and gear rentals to students and community members. It hosts various events, educational clinics and adventure trips during the academic year and the summer. Maine Bound also offers Challenge Course facilitation for both university and nonuniversity groups at a high- and low-ropes course, located behind the New Balance Student Recreation Center. By combining recreation and education, Maine Bound programs offer diverse adventure opportunities while instilling skills that are used in everyday life. The professional staff and devoted student instructors are passionate about educating everyone about all the responsible fun and adventure that the outdoors has to offer.