For a decade, the University of Maine Graduate School of Biomedical Science and Engineering (GSBSE) has trained the next generation of biomedical leaders in Maine through one of the state's most successful partnerships.
GSBSE's strength is the result of unprecedented collaboration among the premier biomedical research and education institutions in the state — UMaine, The Jackson Laboratory, Mount Desert Island Biological Laboratory, Maine Medical Center Research Institute, University of New England and the University of Southern Maine. The partnership also includes leading biotechnology businesses in Maine that need highly skilled employees for new opportunities in the rapidly growing life science industry.
With more than 150 affiliated faculty members and 41 current graduate students performing research statewide, GSBSE has depth and breadth. Much of its research is vital to finding the causes and treatments for some of the most intractable diseases and medical conditions, including those prevalent and particularly relevant to Maine — cancer, muscular dystrophy and aging-related illness.
GSBSE is one of UMaine's Emerging Areas of Excellence.
In their highly interdisciplinary work, GSBSE students are experts in their fields — biological sciences, chemistry, computer science, psychology, engineering — and well-positioned to communicate across disciplinary lines. Their skills are unique and highly valuable to both academic institutions and businesses, allowing graduates to succeed in varied professional fields.
Graduates of the GSBSE — 38 to date — are working at research institutions and businesses throughout the state, nation and world, and, combined, hold more than 150 publications in many top scientific journals.
For the 10th anniversary observance this fall, GSBSE students, alumni and faculty gathered at UMaine to share their research and celebrate their collective role in the many successes of the program. They included Andrew Doyle, the first GSBSE graduate who launched his career in Maine in 2008.
He credits the interdisciplinary skills he gained in the program with helping him achieve his goals and ensuring his success in the state's growing biotechnology industry, despite entering the workforce during the challenging economic recession.
Also attending was Elisabeth Kilroy, a second-year GSBSE student working to gain the technical skills and knowledge to understand the genetic mystery of her family's muscular dystrophy. Solving the puzzle could lead to new insights and treatments for the disease.
The stories of these two GSBSE student researchers exemplify the program's legacy in the state and its role in Maine's future.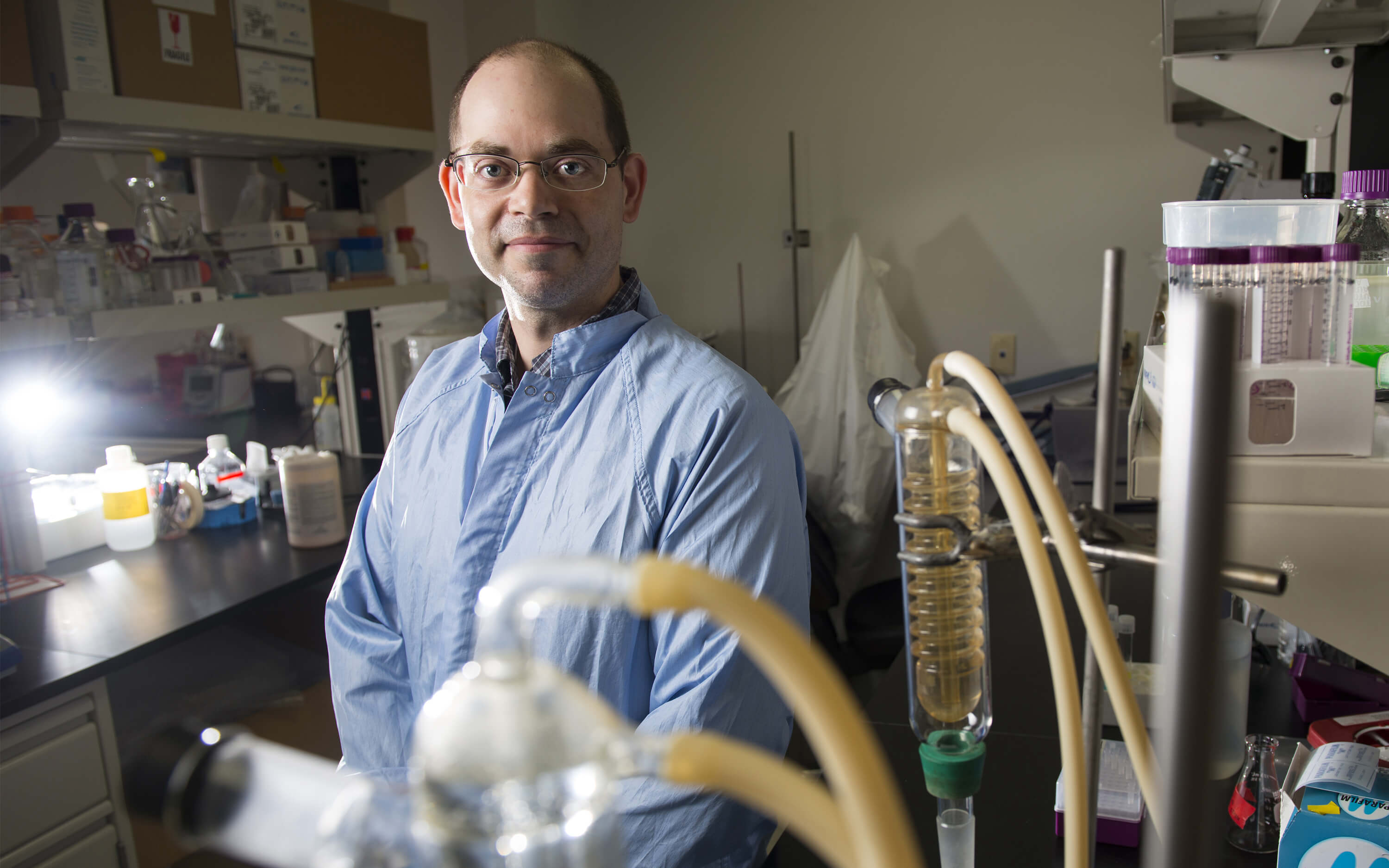 Andrew Doyle
On a computer monitor in a quiet, unassuming laboratory office, Andrew Doyle inspects microscope images of protein arrays that have been organized on glass slides. The slides, gridded with a series of small, square patches of a nitrocellulose polymer, allow scientists to track the interactions and activities of proteins which fluoresce in bright neon colors.
Doyle is a senior scientist at GVS North America, a company based in Sanford, Maine, that designs and manufactures the array slides for biomedical research applications worldwide. It is one of the company's many products that Doyle is particularly proud of.
Doyle leads the research and development of GVS North America's chemically intensive products.
"The company I work for has grown tremendously over the years and as we expand our business, I am constantly challenged to learn new things," Doyle says, "which is very exciting for me."
Doyle, a Lyman, Maine native, earned a bachelor's degree in biochemistry at the University of Maine and a Ph.D. with dual concentrations in chemical engineering and functional genomics in 2008 from UMaine's Graduate School of Biomedical Science and Engineering (GSBSE).
When he received his doctorate — the very first awarded by GSBSE — he entered the job market during one of the most challenging economic downturns since the Great Depression.
Living and working in Maine following his graduate education was priority for Doyle and it's a goal he has been able to achieve in large part due to the strong interdisciplinary nature of GSBSE. The skills he gained during his time in the program allowed him to take advantage of highly competitive opportunities and stay valuable in a rapidly changing industry.
His graduate work at UMaine focused on the transfer of proteins through cellular membranes, so after completing his Ph.D., he was a membrane scientist.
When G.E. Healthcare-Whatman began the hunt for a membrane scientist to aid in the research and development of its manufactured track-etched filtration membranes, Doyle's resume floated straight to the top. But the membrane material the company manufactured and those that Doyle studied were a far cry from one another.
"Shortly after sitting down for the interview, I realized that there had been a terrible misunderstanding," says Doyle, "and I very honestly explained that I was not 'that kind' of membrane scientist."
Despite the confusion, the interview continued. He had been familiar with the track-etched membrane material, having used it during his laboratory rotation at Maine Medical Center Research Institute. Combined with his strong interdisciplinary background in both the life sciences and chemical engineering, Doyle got the job — a mere three weeks after finishing school.
Due to the recession, G.E. Healthcare-Whatman ultimately announced the closure of its facility and in 2010, a small startup, Maine Manufacturing, LLC, took over the operation and retained 65 of the original 225 jobs. Doyle was the new company's fourth employee.
"In my career, I am most proud that I was able to work with a great group of people and take a small startup company and help grow it into the company it is today."

Andrew Doyle
"Over the years I have had many different roles, depending on the needs of the business," he says. "I would often work with cell culture, surface science and polymer chemistry, all within the course of a single day, particularly when we were small and everyone had to wear many hats."
The ability to wear many hats is a huge advantage for Doyle and he credits GSBSE for giving him the adaptability to grow with the new company.
"This combination of skills was incredibly valuable to the company and it remains so to this day," Doyle says. "It allows me to speak to a customer with a very specific scientific need. I can understand that need and I can design a product to address it. Then I can figure out how to manufacture that product in the most cost-effective way possible."
In 2014, the Italian-based company GVS Life Sciences partnered with Maine Manufacturing and integrated them into GVS North America. Now, many of the products Doyle has helped develop over his eight-year tenure at the facility are manufactured in Maine and sold globally.
The facility currently employs more than 200 people.
"In my career, I am most proud that I was able to work with a great group of people and take a small startup company and help grow it into the company it is today," Doyle says.
Today, the halls of GVS North America are lined with laboratories, warehouse spaces, clean rooms and a large production facility filled to the brim with custom-engineered robotic manufacturing equipment, much of which Doyle has helped create.
"While I am only a part of this success, seeing how many jobs were saved and created through a very difficult economic time is very rewarding," he says.
Doyle says he has a great deal of emotional investment in seeing the continued success of GSBSE. He sits on the program's external advisory board and champions student diversity.
"GSBSE is why I can raise my children in Maine, why my wife and I can see our families on the weekends," says Doyle. "It's a priceless opportunity and I'm very hopeful some of my efforts help to grow the program."
In an address to current GSBSE students and alumni at the program's annual meeting earlier this year, Doyle stressed the valuable skill set GSBSE offers.
"The GSBSE will allow you to be nimble and unafraid," Doyle told the audience. "You can do whatever you want, you are all problem solvers."
Elisabeth Kilroy
When Elisabeth Kilroy heads to the gym at dawn, in the middle of the winter and often after a long night in the lab, she's doing it because her father, brother and thousands of others who have muscular dystrophy cannot.
"Regardless of how tired I am or how cold it is outside, I am going to go lift weights and get stronger because they can't," says the certified personal trainer turned biomedical graduate student.
"I wake up, and I build muscle for my dad and my brother."
Kilroy is a second-year doctoral student in the University of Maine Graduate School of Biomedical Science and Engineering (GSBSE) who is searching for the root cause of the disease affecting her family.
Muscular dystrophy (MD) refers to a group of genetic diseases that can cause progressive muscle weakness and wasting. It is a disease with no cure and many types that have little-understood or outright unknown causes.
Kilroy's father and brother — as well as her aunt and cousin — have an unknown type of the disease. She hopes to change that by identifying the gene causing the illness, naming it, and ultimately, opening the door to future treatment.
Much of the variation between different types of MD relates to the specific gene mutations responsible for the illness, and identifying the mutations can greatly inform patients and clinicians about the onset, pace and course of the dystrophy. This information is key in developing therapeutic agents.
"You don't have a chance to win a fight if you don't know what you're fighting," says Kilroy.
Kilroy, originally from Brewer, Maine, moved to South Carolina in middle school and received a bachelor's degree in exercise science from the College of Charleston before returning to her home state to pursue her Ph.D. in biomedical science.
While she has spent the past year and a half at UMaine studying the causes of the disease, Kilroy has spent most of her life trying to understand its effects.
Her father, Timothy, was recruited out of high school to play ice hockey for Boston University. But after struggling through the summer training regimen and not making the physical gains necessary, he went to a doctor. At the age of 18, he was diagnosed with MD. Now 56, he uses a wheelchair.
Keegan, Elisabeth's older brother, was training at Carrabassett Valley Academy to compete in the Olympics as a freestyle skier when he began to exhibit symptoms. Keegan also was diagnosed with the disease when he was 18.
And while her oldest brother Killian is free of the disease, it is unknown if her 17-year-old brother, who plays high school hockey, carries the same gene responsible for the disease.
"There are so many unknowns for our family," Kilroy says. "This is why it is so important to identify the gene."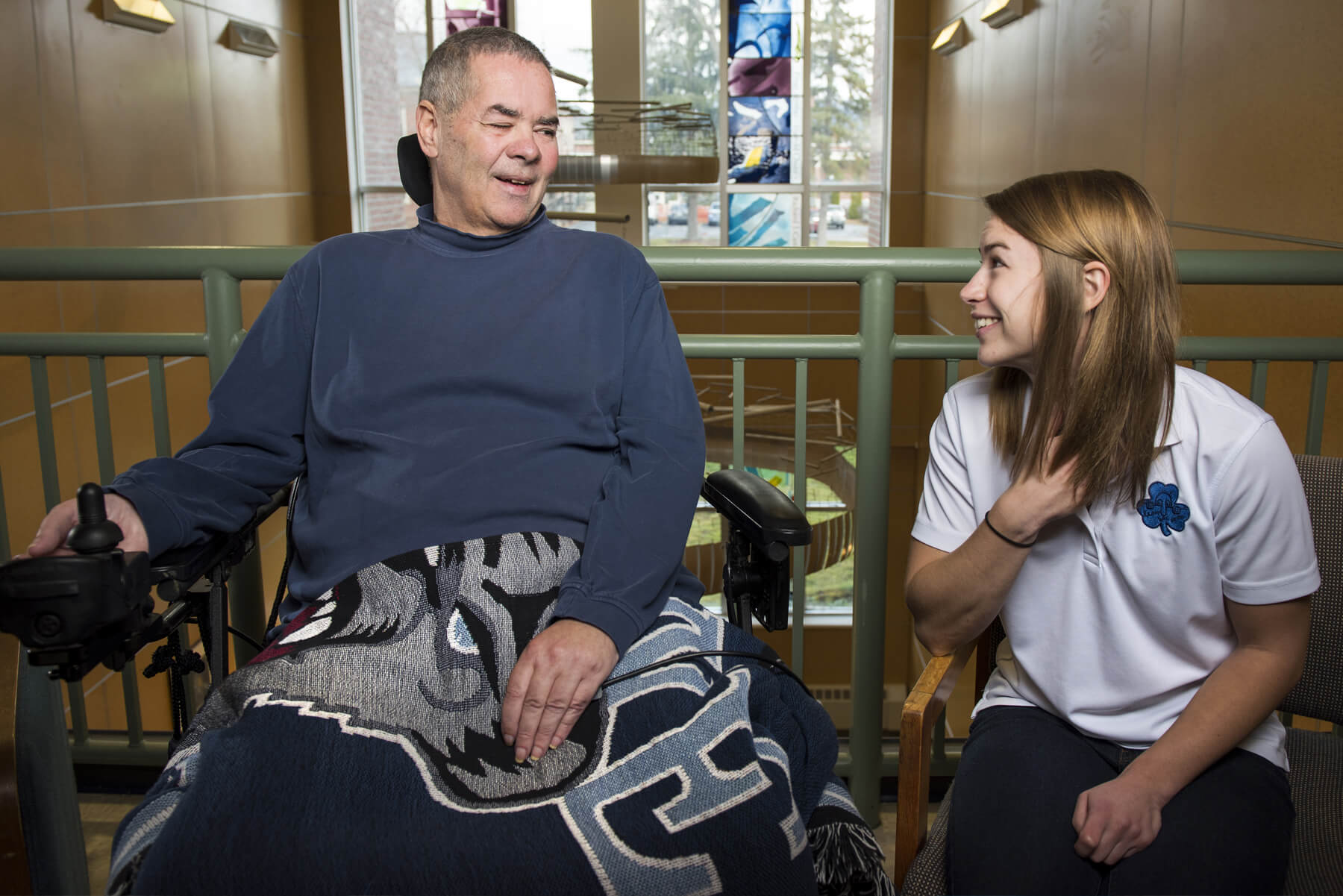 Working with Clarissa Henry, UMaine associate professor of biological sciences, Kilroy hopes to develop a zebrafish model of her family's genetic mutation.
Zebrafish have a similar genetic structure to humans; 84 percent of genes known to be associated with human diseases have a counterpart in the fish's genome. The fish also share the same major organs and tissues as humans, including muscle. Studying the genetic sequence of zebrafish has led to the discovery of several previously unknown genes involved in other rare forms of MD.
Kilroy is beginning her search for answers by sequencing her family's DNA to look for the differences in the genetic code between those with, and those without, MD.
This understanding will help begin the development of treatments and therapies for this, and potentially other, rare types of MD.
"I can't wait for the day I can call my dad and my brother and say 'I found the gene. Now what do you want to name it?'" Kilroy says.
Kilroy applied to several universities before deciding on UMaine and said it was her father who insisted she turn her attention to the GSBSE. She said her father wanted her to move back to Maine and have the full support of her family close by. So he introduced her to the research of Henry at UMaine as well as that of Greg Cox, associate professor at The Jackson Laboratory, a GSBSE partner institute.
"I was more than impressed," Kilroy says. "Every other program was too big and the research wasn't exactly what I wanted, but the GSBSE was perfect. I didn't have to make compromises, and I would have my family."
"I can't wait for the day I can call my dad and my brother and say 'I found the gene. Now what do you want to name it?'"

Elisabeth Kilroy
Despite a very competitive acceptance rate — less than 10 percent — she says she knew GSBSE was the place for her after the first hour of her three-day interview. Kilroy was inspired by the exceptional quality of the program's students and faculty and their dedication to ensuring everyone's success. The GSBSE offers students entry into a professional network of partner institutions and industries which Kilroy said made the difference in her decision to enroll in the program.
Kilroy says her family's motto is "adapt and overcome."
Her father earned a Ph.D. in sports administration from the University of New Mexico and was a professor at Husson University.
Her brother Keegan graduated in 2012 from UMaine with a degree in electrical engineering. Today, he and Kilroy collaborate to design some of the analytical methods she's using to study the effects of exercise on MD in zebrafish.
It's unknown if Kilroy has the gene. The two other women with MD in her family did not begin to show symptoms until their late 30s and early 40s.
Kilroy is 24.