1 million views
DigitalCommons@UMaine, coordinated by Fogler Library, recently passed 1 million total downloads (since 2012), with more than 400,000 in the past year alone. DigitalCommons is an online repository of works produced by UMaine faculty, staff and students. The homepage of DigitalCommons shows a worldwide reader map with real-time download statistics.
---
A plan to protect pools
"Conservation doesn't get done without the people part of it. The reason this process was successful is that we worked with social scientists and diverse interests. This would not have happened without the colleagues from School of Economics and local real estate and development interests."

Aram Calhoun
The future just became a bit brighter for Maine's amphibians and fairy shrimp under a new plan that encourages protection of vernal pools — primary breeding habitat.
The Maine Vernal Pool Special Area Management Plan fine-tunes existing federal and state regulations to a local level. It will serve as a voluntary mitigation tool that helps towns control their vernal pool resources, provides incentives for rural landowners to conserve their vernal pools and helps developers with a streamlined environmental compliance process.
The plan, which was six years in development, was initiated by Aram Calhoun, a University of Maine professor of wetland ecology, and her colleagues at federal and state regulatory agencies. The Maine Vernal Pool Special Area Management Plan was approved as an alternative mitigation tool by the New England District Corps of Engineers and state Department of Environmental Protection on Sept. 6, 2016.
Calhoun collaborated with the development community, regulating agencies and other scientists at UMaine to ensure the plan would align with the biophysical and social needs of Maine's future. Two Maine towns are in the process of implementing the plan.
---
Arctic anomaly
The first half of October 2016 was likely the warmest across the North Pole for that time of year since at least 1948, says Maine state climatologist Sean Birkel, who also is a research assistant professor at the UMaine Climate Change Institute. In the Arctic on Oct. 7, 2016, the mean daily temperature
averaged a balmy minus 3.5 C (25.7 F) — 6.6 C above the 1951–2000 historical mean. A steep decline of sea-ice cover has been linked to changing weather patterns across the northern hemisphere, including in Maine. Rapid warming of the Arctic has reduced the mean temperature difference between the equator and pole, which some researchers suggest has slowed the westerly jet stream. This could lead to atmospheric blocking patterns that can cause heat waves, cold waves and extreme rainfall events.
---
Citizen guide to shorelines
The third edition of Public Shoreline Access in Maine: A Citizen's Guide to Ocean and Coastal Law, available online and in print, describes Maine law and prominent court cases related to public use and access to the coast. Those cases range from the 17th-century Colonial Ordinance that reserved the public's right to "fishing, fowling and navigation" in the intertidal zone to the recent decision by the Maine Supreme Judicial Court regarding public use of a private road to access Cedar Beach in Harpswell. The guide was produced by the Maine Sea Grant College Program at the University of Maine; Maine Department of Agriculture, Conservation and Forestry; and the Wells National Estuarine Research Reserve, with funding from the Maine Outdoor Heritage Fund.
---
Building on success
The University of Maine is one of 37 colleges, universities and educational groups nationwide to receive first-ever awards for the National Science Foundation's INCLUDES program. The comprehensive initiative aims to enhance U.S. leadership and collaborative impact in science and engineering by broadening participation in science, technology, engineering and mathematics (STEM).
UMaine will receive $300,000 for a two-year pilot project that builds on its successful Stormwater Management Research Team (SMART) program based in the College of Engineering that has created a diverse STEM educational pathway with community water research. The pilot projects were selected for their potential to deliver prototypes for bold, new models that broaden participation in STEM, according to an NSF news release.
Near the end of the two-year pilot projects, UMaine and the others in the INCLUDES community will be eligible to be one of the five initiatives selected for up to $12.5 million each in funding.
NSF INCLUDES (Inclusion across the Nation of Communities of Learners of Underrepresented Discoverers in Engineering and Science) aims to improve access to STEM education and career pathways at the national scale, making them more widely inclusive to STEM-underrepresented populations such as females and minorities in an effort to develop a diverse science and engineering workforce.
The new initiative is led by Mohamad Musavi in the College of Engineering and Jennifer Isherwood in the College of Education and Human Development. UMaine's SMART project will be introduced at City College of New York, Mississippi State University, University of South Florida, University of North Carolina at Charlotte and Boise State University.
---

Visualize discoveries
The Emera Astronomy Center at the University of Maine is hosting a Science Lecture Series the first Thursday of each month as part of a collaborative project with the Maine Science Festival. The lectures feature research from a variety of science disciplines and take advantage of the new digital planetarium to visualize discoveries in a dramatic, immersive way. Lectures have featured UMaine bioengineer Caitlin Howell exploring proteins; Elizabeth McGrath of Colby College on large-scale structure in the universe; and Paul Mayewski from UMaine's Climate Change Institute on how humans are changing our climate. Information on upcoming lectures can be found at astro.umaine.edu/events/science-lecture-series.
---

Seen on campus
Self-guided walking tours focusing on gardens, outdoor sculptures, the historic district and other distinctive sights of the University of Maine landscape are available. The self-guided walking tours are illustrated on a website that is designed to be compatible with mobile devices. The tours, an initiative of the UMaine Division of Marketing and Communications, were created for community members and campus visitors. Two of the principal researchers for the project are authors Marisue and John Pickering, who have multiple connections to UMaine. In the coming year, other self-guided walking tours will be added, including one on distinctive trees on campus.
---

Those were the days
The summer 2016 issue of the journal Maine History (Vol. 50), published by the Maine Historical Society in conjunction with the University of Maine History Department, features five articles related to UMaine history in the past half-century. The issue is guest edited by Howard Segal, professor of history, with guest associate editor Deborah Rogers, professor of English. The articles are: "Back to the Future: Envisioning the University of Maine's Next Decades from the Perspective of the 1965 Centennial Celebration," by Segal; "The Sixties: Turmoil and Transformation in the Nation, in Higher Education, and at the University of Maine," by former UMaine President Peter Hoff; "Marine Science at the University of Maine, 1960–2015," by Catherine Schmitt, Maine Sea Grant, and Shelby Hartin; "At the 'Busy Campus Crossroads': The Last Fifty Years at Raymond H. Fogler Library," by Desiree Butterfield-Nagy, Fogler Library; and "Orono: Growing as a University Town, 1965–2015," by Evan Richert and Sophia Wilson, town of Orono.
---
New microdevice
Researchers at the University of Maine MicroInstruments and Systems Laboratory, in collaboration with The Jackson Laboratory, have developed a new microfluidic tool that reproduces in the laboratory the same physiochemical environment that instructs embryonic stem cells to develop into organized tissue.
Using this device, the research team has successfully generated a portion of the embryonic spinal cord on a chip from stem cells.
During embryonic development, specific chemicals called morphogens direct stem cells to develop and organize into their appropriate tissues. Using the new microdevice to duplicate that spatial distribution of morphogens in the laboratory results in the same tissue organization, says UMaine chemistry professor Scott Collins with UMaine's Laboratory for Surface Science and Technology.
Using the same equipment and techniques employed in making integrated circuits and computer chips, the research team designed and fabricated a microfluidic chip consisting of a labyrinth of tiny culture chambers and interconnecting fluidic channels to generate the same morphogen distributions known to induce spinal cord development.
The research was the topic of a UMaine doctoral dissertation by Christopher Demers, now a postdoctoral research fellow at the Francis Crick Institute in London.
The microfluidic device promises to provide developmental biologists with a powerful new tool with which to study how cells make differentiation decisions during embryonic development.
The microdevice also has potential for studying limb and organ regeneration, diagnostics and therapeutics for neuromuscular diseases, such as amyotrophic lateral sclerosis (Lou Gehrig's disease), spina bifida and anencephaly, as well as drug discovery and personalized medicine.
---
Using diatoms to refine Arctic climate history
Just above the Arctic Circle, a University of Maine-led research team conducted a large-scale experiment to test the role of lakes' thermal structure on Discostella stelligera, a species of diatom whose abundance is often used as an indicator of warming-induced changes in lakes throughout the northern hemisphere.
UMaine researchers are studying the effects of a changing climate on lakes by looking at a species of single-celled algae that leave microscopic silica fossils in lake sediments, creating a paleolimnological record of past environmental conditions that can extend thousands of years.
The team, led by Jasmine Saros, professor of paleoecology and lake ecology in UMaine's School of Biology and Ecology, and the Climate Change Institute, shared the research findings in the journal Limnology and Oceanography Letters.
Saros and her team evaluated the abundance of the species in two small arctic lakes near Kangerlussuaq, Greenland. In many arctic lakes during the summer, a warm, less dense layer of water, heated by the sun, forms at the surface and "floats'"on the cooler, denser water below. The point at which these two layers meet is known as the mixing depth.
Many climate- and environmental-related factors can influence a lake's thermal structure, including atmospheric temperature, solar radiation, wind strength, changing water chemistry and turbidity.
The researchers confirmed that D. stelligera thrive in lakes with shallower mixing depths.
---
Maine's resilient kelp forests
"(Lobsters) typically don't like hanging out on a bare ledge that's like a parking lot with nowhere to hide. Kelp is a great habitat for lobster, so keeping track of kelp abundance is important. Fortunately, the coast of Maine is holding its own."

Robert Steneck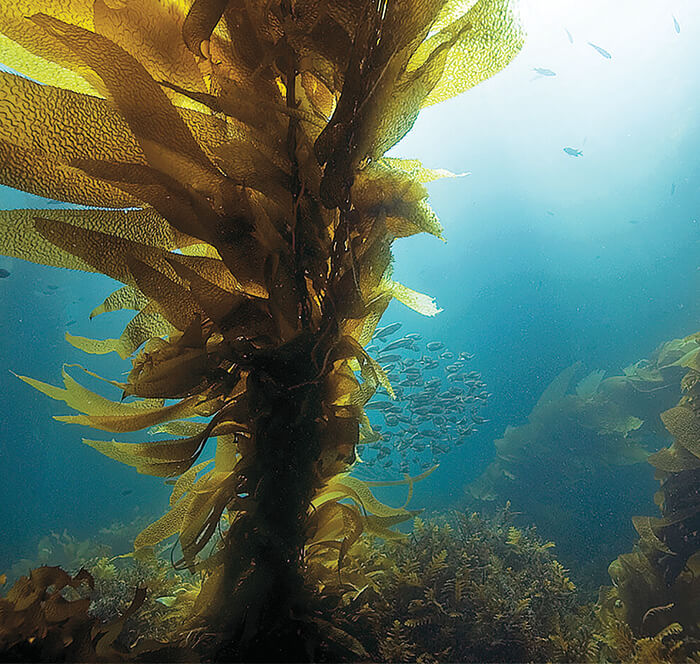 A half-century of global ocean research indicates that kelp forests are declining in some areas and increasing in others. Fortunately, kelp forests in Maine have been increasing since the 1990s. The large brown seaweed provides food or habitat for a number of species, including fish, sea urchins and lobster, says Robert Steneck, a University of Maine oceanographer and one of 37 scientists on the international project to study kelp around the globe. Lead author Kira Krumhansl from Simon Fraser University says understanding regional environments is central to maintaining the dense underwater forests. The research, published in the Proceedings of the National Academy of Sciences, is the largest study of kelp forests ever produced. Scientists found that while kelp in 38 percent of the analyzed regions showed clear declines, there were others where kelp has increased (27 percent) and others where no net change was observed (35 percent). While global factors associated with climate change affect kelp forests, regional effects vary depending on the species, local environmental conditions and other stressors, including the combination of fishing and climate change.
---
Delving into disorders
University of Maine research to provide molecular-level understanding of glycan-associated disorders, such as inflammation, pathogen infection and cancer, has been awarded a $1.2 million grant from the National Institutes of Health.
Matthew Brichacek, UMaine assistant professor of chemistry, leads the research to develop methods to synthesize glycans — a family of carbohydrates — that can attach to a wide variety of biological molecules.
Ultimately, the glycans produced by Brichacek and his team would enable investigations of numerous glycan-binding proteins in glycan-associated disorders.
"As a new investigator, I am poised to approach the complex field of glycoscience in innovative ways that will aid in the diagnosis and treatment of human diseases."

Matthew Brichacek
Glycans play an integral role in cell signaling, immune response and modulation of protein activity. Though researchers have long understood the importance of glycans in biological processes, the ability to study such structures has been inhibited by the complexity of the molecules, and by available tools and technologies.
Brichacek aims to develop tools for studying carbohydrates that will enable researchers in all biomedical fields to dramatically advance their understanding of the roles these complex molecules play in health and disease.
The technology would enable scientists from a wide variety of disciplines interested in carbohydrates to acquire the desired molecules inexpensively and without highly specialized training.
---
STEM education in the ice age
Thirty Maine middle and high school teachers were at the Schoodic Institute in September to learn more about the state's ice age history and evidence across the landscape, and how they could make Earth science lessons come alive. The teachers were joined by researchers from the Maine Center for Research in STEM Education (RiSE Center), based at the University of Maine, and glacial geologist Harold Borns. Maine Ice Age Trail: Down East, Map and Guide was developed by Borns, professor emeritus of glacial and Quaternary geology, and founder of UMaine's Climate Change Institute. Participants visited nine sites on the Maine Ice Age Trail and took part in student-centered learning activities. Based on these experiences, teacher teams began developing place-relevant science lessons for Maine middle and high school students.
---
Chemistry's CORE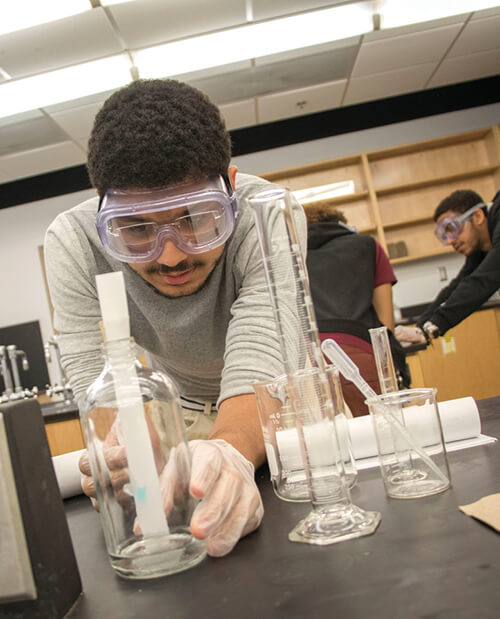 Scientists and science educators have emphasized the vital role that reasoning with analogies plays in innovation, making new discoveries and advancing science. Fostering college students' use of analogical reasoning in constructing scientific arguments in chemistry laboratory work is the focus of a more than $278,000 grant to UMaine from the National Science Foundation.
In the CORE learning cycle, students will develop analogical reasoning skills in a sequence that mirrors the process of experimentation and discovery.
Mitchell Bruce and Alice Bruce, UMaine associate professors of chemistry, will lead the three-year research project to establish the basis of a new learning cycle developed at UMaine called CORE — Chemical Observations Representation Experimentation.
Chemists are adept at using analogical reasoning to make connections between observations that can be made with the senses (macroscopic level), the behavior of submicroscopic particles such as atoms and molecules, and the various representations used in chemistry.
However, many chemistry students struggle with making these connections in college courses, which creates a barrier to learning. The development of strong analogical reasoning skills can foster the connections.
---
Norway spruce makes the grade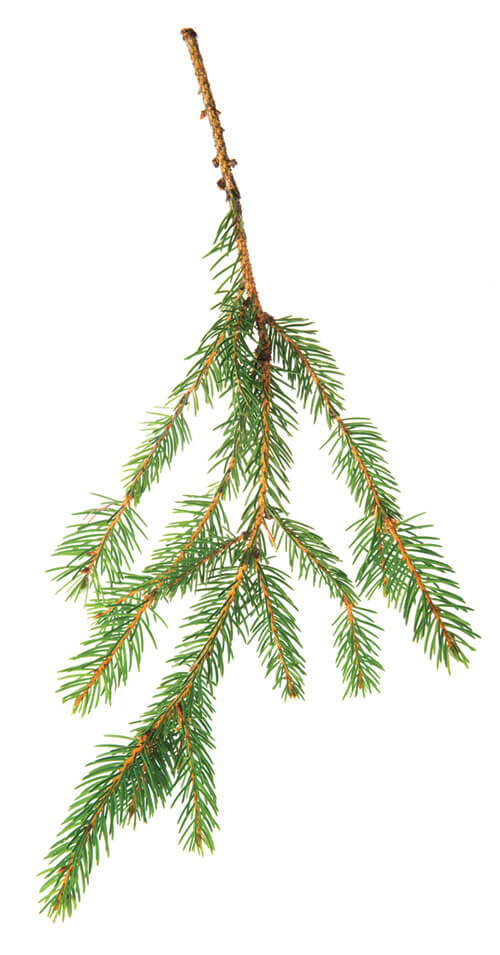 Norway spruce, a species extensively tested at the Advanced Structures and Composites Center at the University of Maine, has been approved for use as construction-grade dimensional lumber.
Based on the testing at UMaine, the American Lumber Standard Committee (ALSC) approved the inclusion of Norway spruce in the Spruce-Pine-Fir South grouping of wood species for home construction and industrial applications.
Introducing Norway spruce into the market marks a nearly once-in-a-lifetime occasion, says Jeff Easterling, president of the Northeastern Lumber Manufacturers Association (NELMA).
"This is a momentous occasion for the building industry," he says. "The addition of a new species hasn't happened in almost a century, and it's been a very exciting year as we've worked to shepherd it through testing and bring it into the mainstream."
Landowners, loggers and lumber mills are expected to benefit from being able to utilize lumber from some of the millions of Norway spruce trees, many of which the Civilian Conservation Corps planted in the United States during the Great Depression.
From October 2015 to February 2016, a team of staff and students at the UMaine Composites Center, led by Russell Edgar, wood composites manager, and Jon Hill, wood composites technician, tested 1,320 pieces of lumber milled from Norway spruce grown in Maine, Vermont, four regions of New York and Wisconsin.
The team then derived allowable design values (including bending, tension, shear and compression) for the species and wrote the final report that NELMA submitted to ALSC.
"The university is really important in its support of the forest products industry. We combine with industry, we combine with the federal government, we combine with the state government to be able to answer some of those questions that aren't proprietary for a single mill or single company — they're more industrywide," says Stephen Shaler, associate director of the Composites Center and director of the School of Forest Resources.
100 million Norway spruce seedlings were planted
by the Civilian Conservation Corps in the 1930s
2 billion board feet of standing saw timber is in Wisconsin, Michigan and the Northeast, according to U.S. Forest Service estimates
10th member species in Spruce-Pine-Fir South grouping
---
Valuing Maine seafood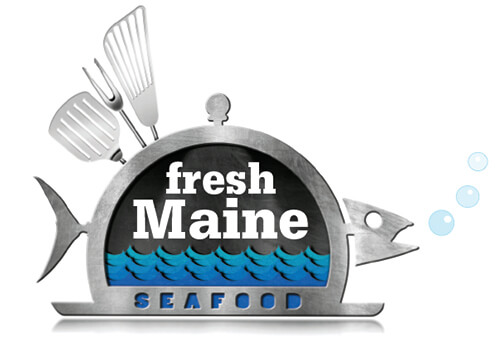 Maine consumers would be willing to pay more for food that is sustainably harvested and some may even be willing to spend extra for seafood harvested in Maine waters, according to a recent survey conducted by researchers in the University of Maine School of Economics and the School of Marine Sciences.
The issue, according to researchers, is that information about the source and sustainable practices of food production isn't always available.
In a survey of more than 1,000 Maine residents, 75 percent of respondents indicated they were willing to pay more for sustainably harvested food, and 30 percent believed Maine people are willing to pay extra for seafood from Maine.
Caroline Noblet, a UMaine assistant professor of economics who collaborates on the research with Teresa Johnson, associate professor of marine policy, says people do care where their food comes from and they might have preferences. But when information is incomplete or unavailable, especially in restaurants, customers' choices may be impacted.
Maine restaurant owners told UMaine researcher Brianne Suldovsky, a former Ph.D. student, that tourists — not Maine residents — were far more likely to ask about seafood origins.
The survey is part of a Maine Sea Grant research project called Seafood Links that is studying consumer perceptions of seafood and how Maine businesses source their seafood. Ongoing research focuses on issues of sustainability and willingness to purchase seafood.
75% willing to pay more for sustainably harvested food
30% willing to pay extra for seafood from Maine.
Survey of more than 1,000 Maine residents
---
Island life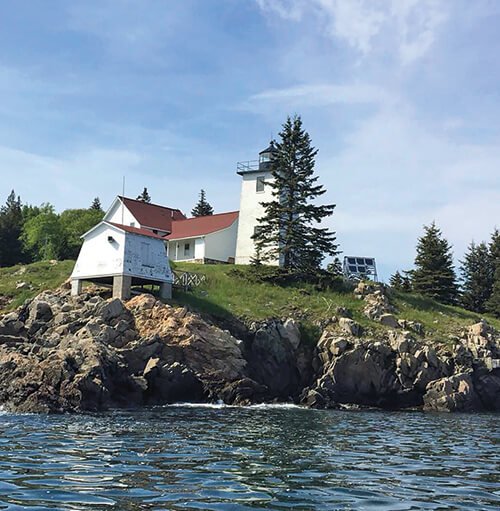 Thirteen students and two professors from the University of Maine spent the final week of May on Swan's Island doing community service projects, and taking in the natural and cultural attractions as part of a travel-study course, "Maine Island Culture and Community Engagement."
"We've gone there on field trips for the multicultural education and multicultural counseling classes," says Annette Nelligan, a lecturer in counselor education, who co-taught the class with Laura Cowan, chair of the English Department. "It's a good way to show students that Maine has many different cultures, and not just the obvious cultures of race and ethnicity, but that there can be a culture to a community."
Located six miles south of Mount Desert Island, Swan's Island is home to about 350 year-round residents. In the summer, the population swells to more than a thousand as seasonal residents and tourists inhabit the island.
A ferry shuttles people and vehicles between the community and Bass Harbor up to seven times a day — a trip that takes about 40 minutes each way, depending on the weather.
The main industry on the island is lobster fishing, but Nelligan says many residents also have creative economy jobs.
"In a place like Swan's Island, you can't extricate the culture from the natural world, because the natural world is so closely tied to everything that people do," Cowan says.
Students in the Swan's Island course renovated the island's historic lighthouse keeper's house or did volunteer work at the local school, library and historical society. Some also worked at Saturn Press, a local shop that makes greeting cards using antique printing presses.