Jennifer Moxley's life in poetry didn't begin with love.
Rather, it was a calling — "a moment when poetry said, 'I've come for you,'" she says.
"Such a moment is exciting, but also a bit terrifying," says the University of Maine professor of English of the pull of poetry that changed her life when she was in her 20s.
"There is no going back."
Moxley studied literature and writing throughout her college career, which culminated with earning a Master of Fine Arts degree from Brown University in 1994.
Her 2014 book of poems, The Open Secret, won the Poetry Society of America's 2015 William Carlos Williams Award and was a finalist for the 2016 Kingsley Tufts Poetry Award. Moxley also has published five other books of poetry, a memoir and a book of essays.
And while she adored opera from the first time she saw Carmen, Moxley didn't immediately recognize the symbiosis between the dramatic art form and poetry.
"Opera is having a kind of revival right now, especially small-scale, independent works. There's a wave of new opera companies, as well as many enthusiastic young singers willing to take a risk on the future of this wonderful genre."

Jennifer Moxley
"I made no connection between the word art I practiced and the musical drama I consumed. But this was a mistake," Moxley says. "For poetry and opera have, as American Poet Ezra Pound wrote of himself and his predecessor Walt Whitman, 'one sap and one root.'"
Composer and clarinetist Beth Wiemann knows the power of music and is passionate about poetry. Her recordings and her classical and electronic musical compositions — which incorporate computer-generated sounds with the music of a live performer — have received critical acclaim. Her works have been performed from New York to San Francisco, and from the U.K. to Havana, and are on the Capstone, innova and Americus record labels.
In 2011, after reading Moxley's work, including her "entrancing" memoir, The Middle Room, Wiemann sought out her UMaine colleague with a proposal to collaborate on a small chamber opera.

"Setting poetry has always been a big part of my composing life, but having that kind of language tied to a longer-form story line gives a real architecture for the music. Working with that is something I've been hoping to do for a while," says Wiemann, a professor of music who chairs UMaine's Music Division.
Their first step: possible story lines on which to base the opera. Moxley and Wiemann decided on an adaption of Bid Me to Live, the novel by American poet H.D. (Hilda Doolittle) that relates her near romance with English novelist D.H. Lawrence.
H.D. is one of the poets central to the scholarship of the National Poetry Foundation, based at UMaine.
The opera tells the story of a woman coming into her own as an artist, and that's a story Moxley says she can relate to. Wiemann was more drawn to H.D.'s melancholy tale of bohemian writers caught up in the trauma of World War I.
One reason the pair settled on Bid Me to Live: It was a subject they could "envision working on for a long time, a necessity for an operatic project," Wiemann says.
In spring 2012, Moxley began redacting the roughly 200-page work into a 25-page libretto, using the basic outlines of her favorite Baroque operas as models. Moxley not only used scenes from the roman à clef, but also language from several of H.D.'s poems, including "Hermes of the Ways" and "Eurydice."
According to Moxley, many modern operatic works are similar to the early musical dramas created in the 1600s in that the composition is not separated neatly into aria, the emotional songs; and recitative, the narrative parts. Instead, it follows a continuous melodic flow of the vocal line.
"This is most suitable to the words of a writer like H.D. — written with a great subtlety of rhythm, without rhyme or meter," Moxley says.
The libretto, titled Until the War Is Over, was then passed to Wiemann to compose the score. She wrote most of the music in 2013 and 2014.
Although Wiemann had written Deeds, a short comic opera with librettist Ron Singer in 2003–04, this project marked the first time she would write music for a dramatic piece.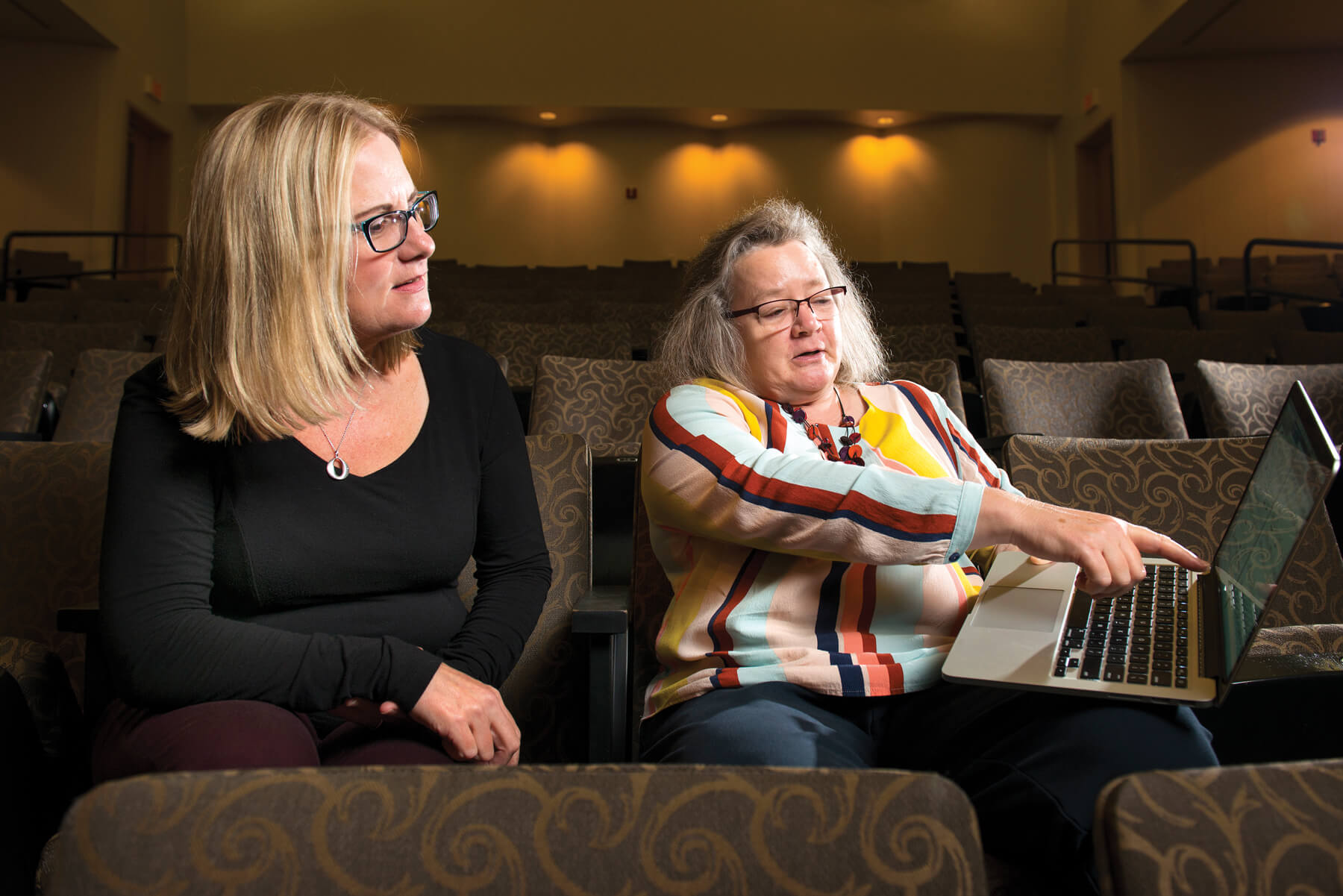 "Once the libretto had a complete form, I worked on individual sections that Jennifer had marked off as solo arias," Wiemann says of the creative process. "That way, I could have a sense of what the music for the individual characters would be. Then, I worked outward from those arias, eventually completing the four scenes that feature H.D. in conversation with three other characters."
A chamber opera is shorter than most operas and written for a small ensemble. In this case: flute, piano, alto saxophone, double bass and electronic sounds. Wiemann wrote for a small ensemble partly because of the intimacy of the source material but also for practical considerations for future performances.
Once a first draft of Until the War Is Over was finished, Wiemann started exploring ways sections could be performed.
In 2013, selections from the opera were performed by UMaine students in School of Performing Arts events. In addition, a 10-minute scene featuring the title characters, H.D. and Lawrence, was selected for performance by Hartford Opera Theatre as part of its New in November festival in 2015 — one of six new operas chosen from more than 40 submissions.
With funding from a Maine Arts Commission grant and additional support from the UMaine Humanities Center and College of Liberal Arts and Sciences, the School of Performing Arts also presented selections from the opera in June 2016. The public event, which included a lecture by Moxley, was presented to a full house in the Black Box Theatre in the Class of 1944 Hall.
The performance was directed by UMaine theatre professor Tom Mikotowicz and conducted by Boston-based Patrick Valentino. Soprano Lindsay Conrad sang the role of H.D. and tenor Stefan Barner sang D.H. Lawrence. Both vocalists also are from Boston.
The workshop was fulfilling for Moxley and Wiemann, as they watched their work move from the page to the stage.
"It was such a thrill to watch Tom Mikotowicz help the singers create a wonderful interpretation of my words and Beth's music. It was magic to see it all come together," Moxley says, adding that the project has allowed her to learn about the complex world of musical performance.
"When I write a poem, there is an expectation of performance, but of a sort so different that there's no comparison," she says. "When I'm invited to read my poetry in New York or Chicago, I don't need to pay a person to rehearse and perform it, I can just get on a plane, go to the venue, and read it myself. With opera, as with all the performing arts, it's much more complicated. You need talented professional people to help bring your vision across."
Although Wiemann, who studied composition and clarinet at Oberlin College and Princeton University, is well-versed in musical performance, the workshop served as a learning experience for her as well.
"This was the first time I saw the singers work with both a music director and a stage director to shape the scenes presented. The way the singers and directors figured out what was possible for staging within the framework provided by the words and music was inspiring," she says.
Video and audio recordings of the work will be used in an attempt to secure further funding, as well as interest opera companies into the possibility of staging a full production. Future workshops and productions of the opera are planned.
It's a slow process, but an exciting one.
"Opera is having a kind of revival right now, especially small-scale, independent works," says Moxley. "There's a wave of new opera companies, as well as many enthusiastic young singers willing to take a risk on the future of this wonderful genre."