Weather models
Brogan Tooley, a graduate student in the Plant, Soil, and Environmental Sciences program at the University of Maine, is using a computer simulation model to assess climate adaptation strategies for potato and grain systems.
The objective of the project is to address the effects of weather variability on crop yield by looking for new management strategies to increase crop resilience and mitigate potential detrimental impact of variable weather on year-to-year yield stability.
This past summer, Tooley, who earned an environmental science degree from the University of Maine at Farmington, conducted fieldwork to calibrate the model for varieties and weather conditions found in Maine.
"Once calibrated, the model gives us the freedom to adjust parameters and investigate 'what if' questions," says Tooley, of Camden, Maine. "We can then virtually increase irrigation, change planting dates or even increase soil health to experiment with outcomes and look for sustainable management practices to strengthen agricultural systems under potential climate pressures."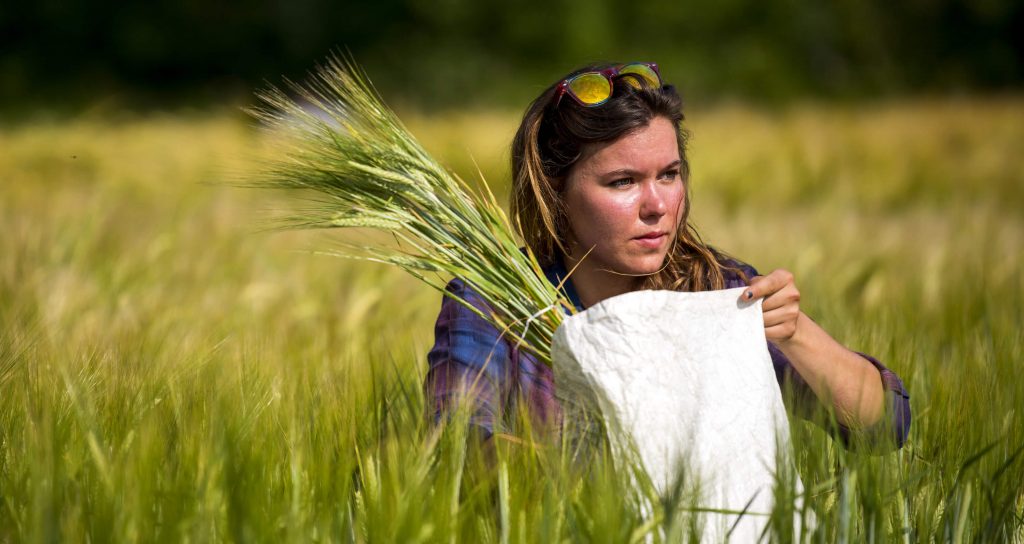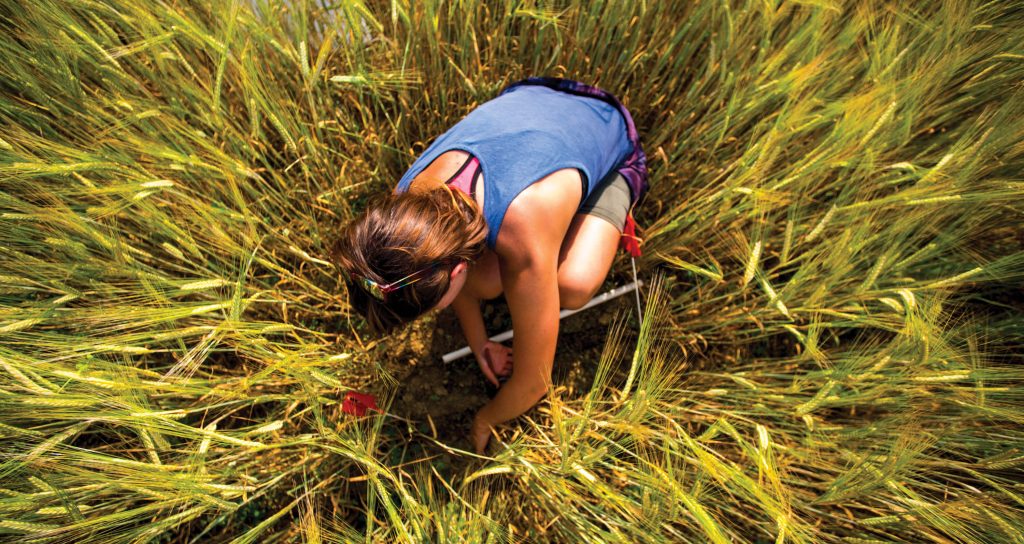 For her research, Tooley is using the Decision Support System for Agrotechnology Transfer (DSSAT), a software application program that comprises crop simulation models.
Observing effects of long-term trends on crop growth through field experiments could be costly and take years, Tooley says. Using a crop model gives the researchers statistical power to simulate for a range of variables multiple times under the impacts of long-term trends, such as weather variability.
Ellen Mallory, a University of Maine Cooperative Extension specialist and associate professor of sustainable agriculture in the School of Food and Agriculture, brought Tooley aboard in January after spending most of her sabbatical last year on the project.
"My motivation was to try to do something to talk to farmers about climate change," Mallory says. "We know things are going to get less and less predictable weather-wise. What does that mean specifically for our crops and what management practices could we adopt to reduce the potential negative impacts on yields?"
Mallory notes that Maine already has witnessed changes in the length of the growing season and distribution of rainfall. The model will allow researchers to evaluate whether changes in planting dates or other management practices are warranted.
"I'm excited about the applicability for the here and now, as well as for the future," Mallory says.
In the weeds

Growing up in Hampden, Maine, Margaret McCollough was inspired by the region's rich agrarian history, and the resurgence of interest in local foods and sustainable farming.
After earning a bachelor's degree in sustainable agriculture from the University of Maine in 2015, she went on to own and operate an organic, diversified vegetable farm in southern Maine.
McCollough is now pursuing a master's degree in ecology and environmental sciences at UMaine under the advisement of Eric Gallandt, a professor of weed ecology and management. Her research is focused on identifying improved weed management strategies for organic grain growers in the Northeast.
"My experience as a farmer has instilled in me a practical understanding of those challenges facing organic growers when it comes to managing on-farm weed problems," says McCollough, who adds weeds are one of the most common production problems facing organic grain farmers. "I'm passionate about helping farmers address those obstacles."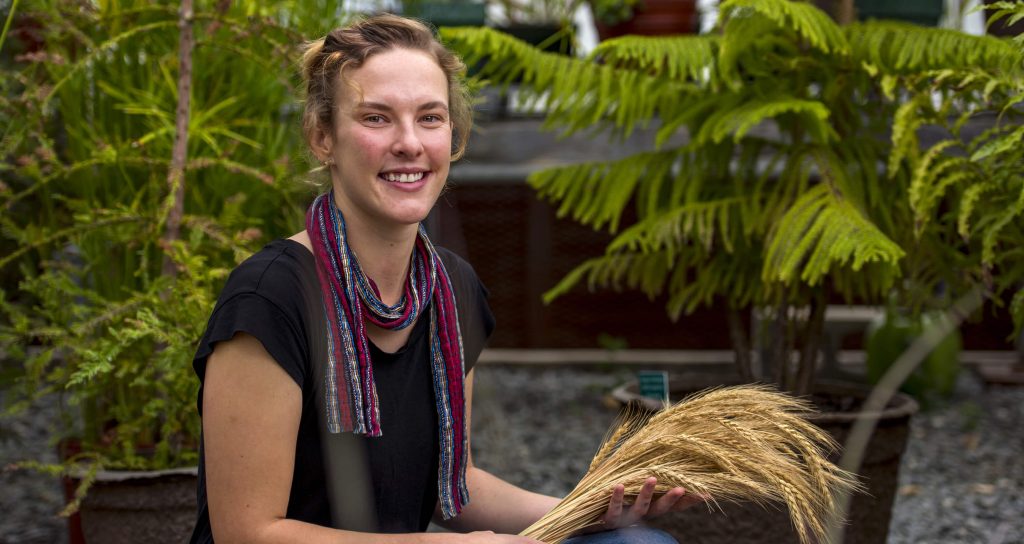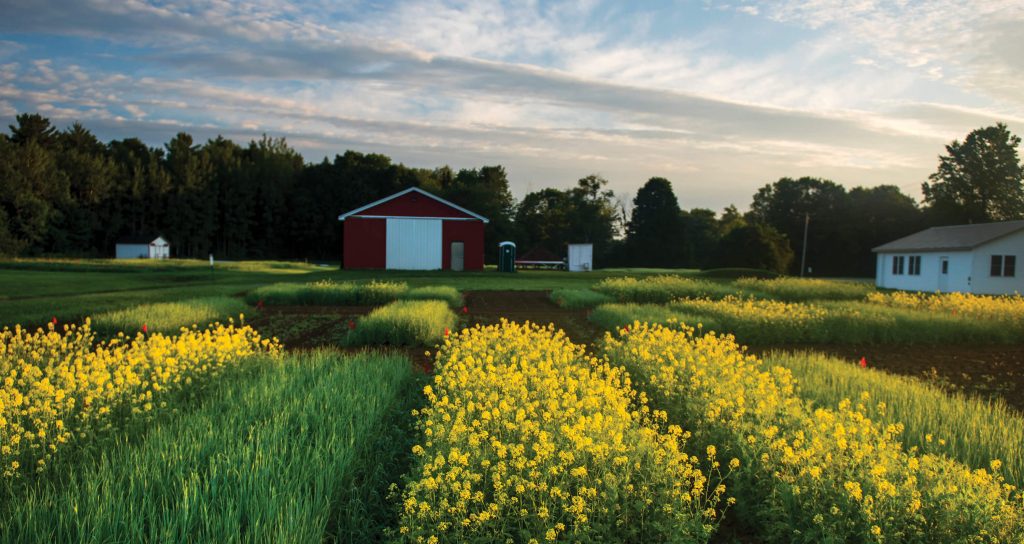 To identify ways in which growers can better manage weeds, McCollough's research compares sowing strategies that alter the spatial arrangement of the crop, as well as cultivation strategies, including killing weeds by uprooting, severing or burying them.
One cropping strategy McCollough is particularly interested in is band sowing, where the crop is planted in wide bands instead of typical single-file rows.
"The area between the bands is cultivated throughout crop growth with aggressive cultivation sweeps, a practice that's unconventional in New England," she says. "Band sowing aims to better utilize the innate competitive ability of the crop by altering the crop's spatial arrangement, and uses a more robust cultivation tool to more effectively kill and control weeds growing between the bands."
At UMaine's Rogers Farm in Old Town and the University of Vermont's Borderview Farm in Alburgh, Vermont, McCollough is testing the band sowing practice, along with other alternative cropping strategies, and comparing them to standard practices currently used by growers in the region. Each strategy will be tested on its effectiveness at reducing weeds, while mediating high yields. Economic viability, and disease incidence and severity among treatments also will be evaluated, McCollough says.
While data is still being analyzed, McCollough says her team has been successful in growing multiple crops using the band sowing strategy over the last two summers.
The project, which is expected to be completed in June 2018, is supported by the USDA National Institute of Food and Agriculture's Organic Agriculture Research and Extension Initiative.
After completion of her master's degree, McCollough says she hopes to continue to be involved in agricultural field research.
"It's the dream job," she says. "I am continuing to do farmwork outdoors in the summer months while conducting field research and constantly learning new things that will in turn help farmers."
Nourishing nitrogen
Margaret Pickoff, a graduate student in the Plant, Soil, and Environmental Sciences program at the University of Maine, is evaluating different methods of terminating legume-based green manures to optimize soil cover over the winter and nutrient availability to a subsequent grain crop.
The research aims to help farmers manage green manures more effectively, allowing them to provide their crops with adequate nitrogen from an affordable, on-farm source, according to Pickoff, of Morristown, New Jersey.
"Anything that helps the farmer produce high-quality grain will also benefit everyone down the production line. Millers, bakers, dairy farmers, maltsters, brewers, and consumers of local grain products all stand to gain from work of this sort," she says.
Leguminous green manures, such as red clover and peas, are the nitrogen fertility engine of organic grain systems, where access to more expensive animal manure is limited, according to Pickoff.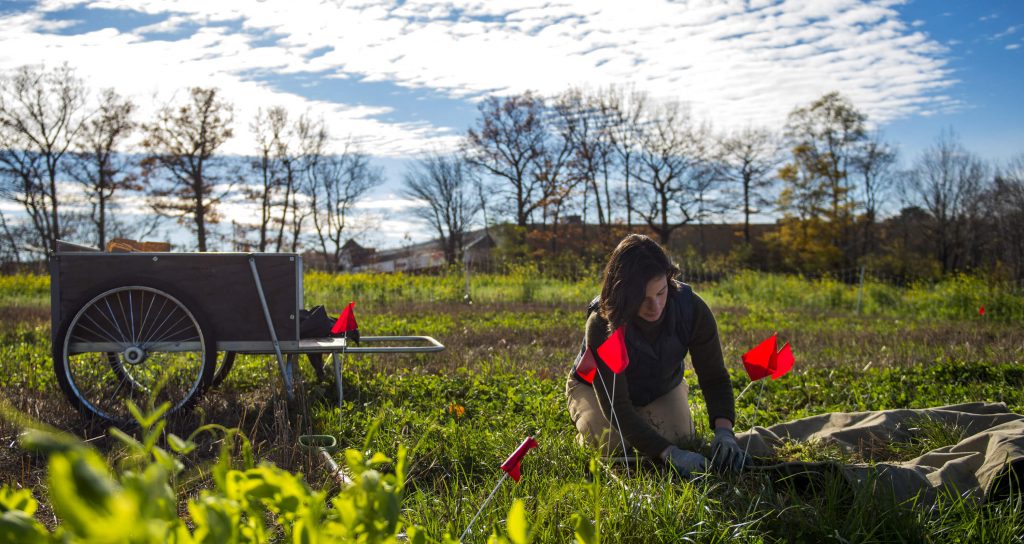 As part of her termination trial — at UMaine's Rogers Farm in Old Town and the University of Vermont's Borderview Farm in Alburgh, Vermont — Pickoff is testing methods of killing the legumes in the fall. The method and timing of termination can impact how nitrogen makes its way from the green manure to the subsequent crop, she says.
Pickoff hopes the trial will provide better understanding of how green manure management affects crop growth, yield and quality, so grain growers can more easily and confidently adopt the practice.
In the fall, Pickoff planned interviews with local grain farmers to get a better sense of the challenges they face with nitrogen fertility and green manures.
"Consumer demand really drives positive change and innovation in agriculture," Pickoff says. "Lovers of beer and bread should be vocal about the fact that they care about where grain comes from, and how it's grown. That support goes a long way."