In 1993, during Christopher White's first year as head of University of Maine sports bands, the men's ice hockey team advanced to the Frozen Four.
A day before the team and pep band flew to Milwaukee to take on the University of Michigan in the National Collegiate Athletic Association Men's Division I Ice Hockey Tournament, White received a query from a Wisconsin college sports representative.
Could the pep band play Wisconsin's fight song during the UMaine game against Michigan, Wisconsin's arch rival? It would mean a lot to the many fans who wouldn't be seeing their home team compete.
During the flight, White talked to then-UMaine head coach Shawn Walsh about the bizarre phone call.
"You have to do that," was Walsh's unequivocal response.
Sheet music was faxed to the band's hotel, where the manager offered free use of the ballroom to practice.
"At some point in the game, we'll play this and see what happens," White told the band during the impromptu rehearsal.
Come game time, both teams were welcomed onto the ice with their fight songs, followed by alternating performances by the UMaine and Michigan pep bands to a raucous arena of about 17,000 spectators.
At one point, White told the band, "Let's try this 'On, Wisconsin' thing."
"You heard the arena get a little bit quiet, and then probably 10,000 people, all wearing red-and-white shirts, stood up and cheered. It intimidated the band," White recalls. "You could see all their eyes get big — they almost stopped playing — they didn't know what was going on. It went really well, much to our surprise."
The UMaine hockey team won 4–3 in overtime, advancing to the championship game against Lake Superior State. The Black Bears won 5–4 to earn the national title.
"Does having 10,000 people all of a sudden swing to your side and cheer make a difference in the game? Obviously we're not on the ice, we don't know. But that was my first thought, that maybe it does make a difference.
"We certainly are not the event where we play, but we do try to make the event better," White says. "That's what we do. We go out and entertain."
At the University of Maine, White leads several music ensembles, as well as a summer program for Maine youth. But it is as director of UMaine's Pride of Maine Black Bear Marching Band — 120 students strong this year — and the high-energy Screamin' Black Bear Pep Band that his influence is most far-reaching.
These groups provide the UMaine soundtrack that successfully links generations of students, alumni and fans — near and far — under the direction of one of the country's top "50 directors who make a difference," according to School Band and Orchestra magazine.
"Chris' stewardship of the university's memorable fight song is an important part of his job, but he also has built a catalog of songs with the athletic bands that have become traditional for many generations of students here," says Beth Wiemann, a professor of music who chairs UMaine's Music Division. "He has to balance this aspect of musical tradition for the students alongside newer songs for the general audience, so he is always looking at both sides of the band repertoire."
The pep band plays the same four songs before every home men's ice hockey game. When White changed the lineup once, he received emails from fans demanding the traditional songs.
"'The Stein Song' has a tremendous amount of history to it," White says of UMaine's school song made famous by Rudy Vallee in 1930. "It's important for us to play it because it represents the University of Maine in song form. When people hear that, they associate the song with the university. Especially (for) alumni, it triggers all the memories of being on campus and the reasons why they loved the university when they were here. It provides a connection back to the university."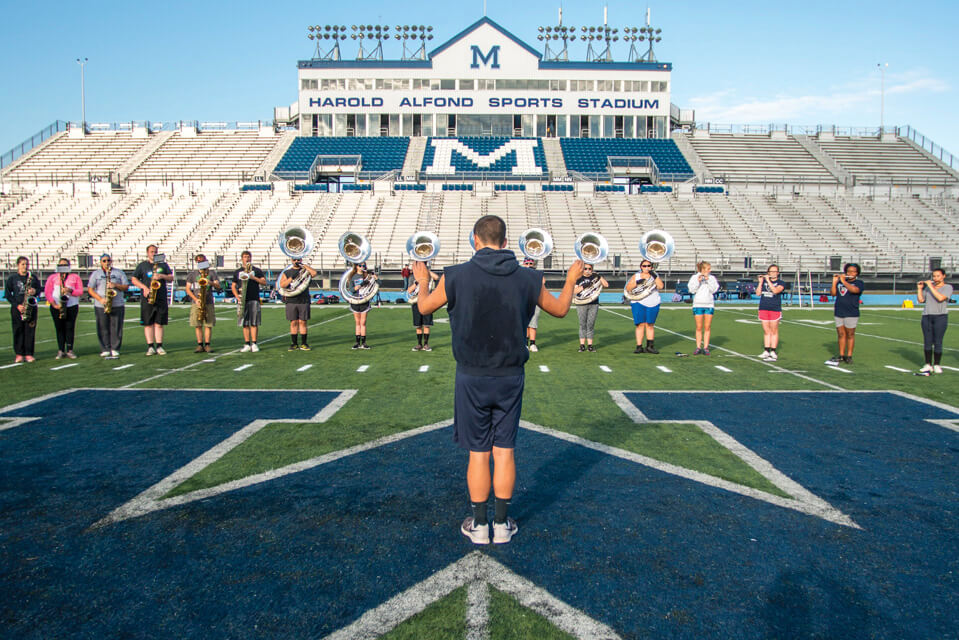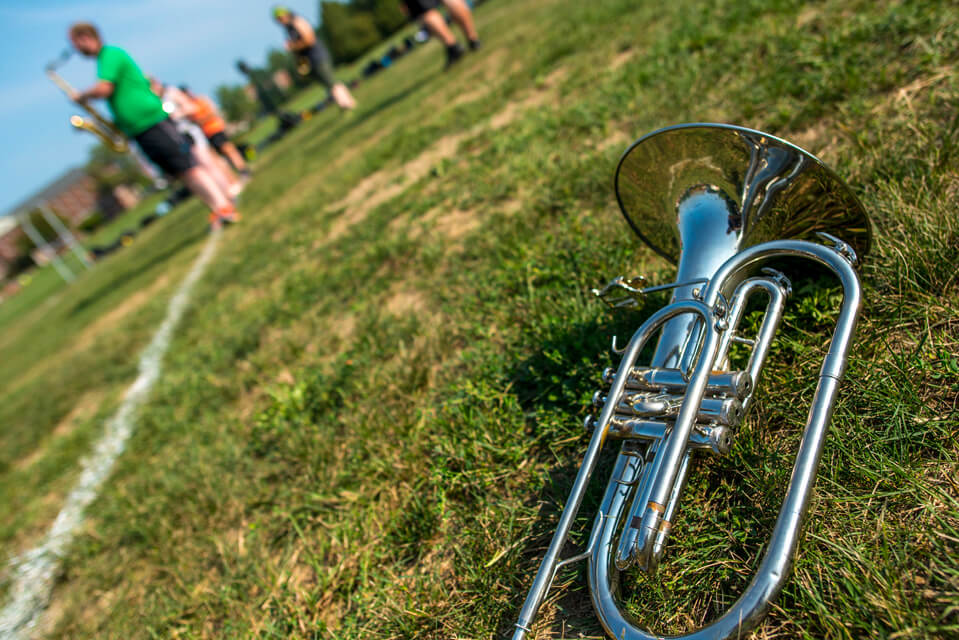 White began leading the pep and marching bands as a graduate student in 1992 while pursuing a master's degree in conducting. His assistantship was to run the sports bands, as well as conduct the concert band. He was offered the opportunity by Curvin "Chip" Farnham, a UMaine music professor, whom White met while he was the band director and district music supervisor of MSAD 11 in Gardiner, Maine.
In fall 1994, White served as interim director for a year before getting the permanent job. Today, he continues to lead the Pride of Maine Black Bear Marching Band and Screamin' Black Bear Pep Band, as well as the Symphonic Band, UMaine's highest-level audition group.
"They all fulfill something I do," White says. "I couldn't do just the sports bands without the challenge of the Symphonic Band. It balances me out pretty well."
White also teaches advanced conducting and percussion methods for music education majors, and leads Maine Summer Youth Music (MSYM) camp, a 45-year tradition that attracts about 325 of the state's most talented middle and high school musicians annually.
Weeklong camps, offered by UMaine's School of Performing Arts, feature instruction by educators from the university and across the country. Camp activities include jazz and string ensembles, symphonic and concert bands, chorus, and musical theatre.
This past summer marked White's seventh year as MSYM director and 27th year working at the camp, which encourages youth to hone their musical abilities.
Like so many of the young performing artists he and the other MSYM faculty mentor, White was surrounded by music at an early age. Growing up in Durham, Maine, he was inspired by his grandfather, a professional musician.
"Around age 10, I thought it would be nice to play an instrument, so I started playing the drums," White says. "My grandfather bought me my first drum, and my parents were very supportive. Shortly after that, I decided I wanted to be a band director, and I followed that path."
In the absence of a school music program, White took private lessons, and marched in a drum and bugle corps before joining his high school band.
"When I went to college, all I was looking for (were) music schools," says White, who earned a bachelor's degree in music education from Ithaca College in 1988 and a master's at UMaine in 1994.
When it comes to performing, White expects the best from his musicians. His conducting style is firm without being strict, and his compliments are just as frequent as his critiques.
Jay Baines of Hampden, Maine first met White through MSYM. Now, Baines is a drummer in the sports bands, as well as one of three drum majors, or student conductors, for the marching band.
"I'd describe his teaching style as very regimented and organized," Baines says. "It's pretty simple: Show up on time, follow the system and everything else will fall into place."
"I tell the students on the first day of band camp to look around because your best friends in college are sitting in the room… . Those connections are wonderful, and they tie people to the university. They'll come back 20 years from now and remember those days."

Christopher White
White's attitude sparks a drive that inspires musicians to do their best — not only for themselves, the group and university, but also to possibly get their reserved leader to crack a smile — a sign that a piece is coming together or a performance is going well.
Drum major Jessica Oriente, a civil engineering major and student in the Honors College, says White recognizes the need for student involvement.
"No one is forced to be in band. We're all here because we choose to," says Oriente of Jamison, Pennsylvania. "He looks to his students, whether drum majors or section leaders, to aid in everything the band does — from recruitment to show design. That involvement allows his students to develop leadership skills early on that extend far beyond just being able to lead a band."
Baines says White has taught him the importance of punctuality, and understanding the value of pertinent and timely communication, as well as what to do when you make an error, such as hitting the wrong note or taking the wrong turn while marching in front of hundreds.
"When making a mistake, make it big and sell it. No one learns from a tentative mistake. Keep performing and convince everyone else that you're right," Baines says.
UMaine bands under White's direction average 70 public performances per year. The marching band mainly performs during home football games in addition to local parades and events, while the pep band holds court at men's and women's basketball, as well as men's ice hockey games.
"We're very much the soundtrack when we're present," Baines says of the sports bands. "It's ingrained in people's minds, it's an expectation."
In the last five years, the marching band has grown from an average of 75 members to 120. Pep band has 132 members this year, with about half of the students playing in both groups.
The pep band's objectives are to provide a representative group for the university, team spirit and a musical outlet, White says.
"The fourth unwritten rule is you gotta get on TV," White says. "You don't get on TV by just sitting there. I encourage the choreography, and I let them come up with the moves."
The marching band involves more planning, including a week of band camp before the fall semester begins. The camp itinerary reads, "To be early is to be on time, to be on time is to be late. Everyone is important." During camp, the band, dancers and majorettes strive to perfect pregame and halftime shows.
"The pregame show is not part of the game, but it's part of the show," White says. "Probably 250–300 people are just there to see their kids in the band. That's OK, they're still coming to the game, they're part of it."
Music for pep and marching band includes a range of pop hits, ranging from those popular today to those as far back as the 1960s.
"We have a very specific audience," White says, talking about the pep and marching bands. "They're not there to listen to Beethoven; we're not going to play that. We try to be relevant, we try to find stuff that's catchy and that people in the band can move to."
The 15 student band leaders selected at the end of marching season meet in the spring to build the next season's two halftime shows, which often revolve around a theme. This year's shows were "Musicals that have been on TV," and a '60s, '70s and '80s decades show that included songs by Styx, Lionel Richie, The B-52's and The Beatles.
"I tell the students on the first day of band camp to look around because your best friends in college are sitting in the room. That's rewarding to know that there's something we're doing here that allows people to make and carry on those relationships," White says. "Those connections are wonderful, and they tie people to the university. They'll come back 20 years from now and remember those days."
Every Homecoming, former marching band members return to perform as part of the Alumni Band.
The UMaine Dance Team joins the bands for basketball and football games, including halftime performances. White and a local dance teacher started the team, in lieu of a color guard, about 16 years ago.
As part of the marching band, White oversees the group, but is quick to add he does not take responsibility for choreography, because if he did, "it would just be the lawn mower and sprinkler."
The team typically has 35–40 men and women audition every year for the 20 slots.
"It adds visually to what we do," White says. "It gives the university another performing group, and it's another creative outlet for students."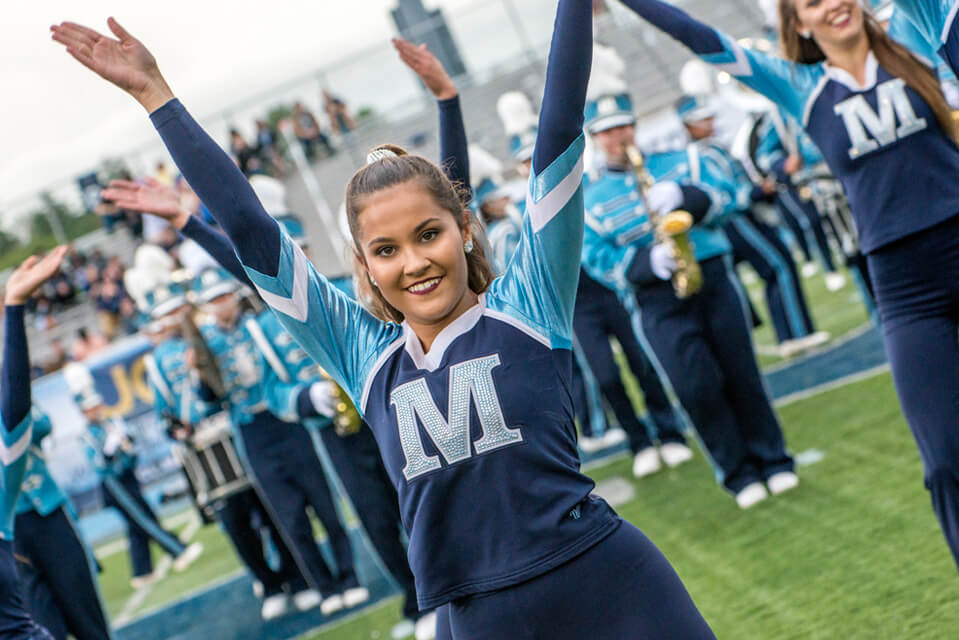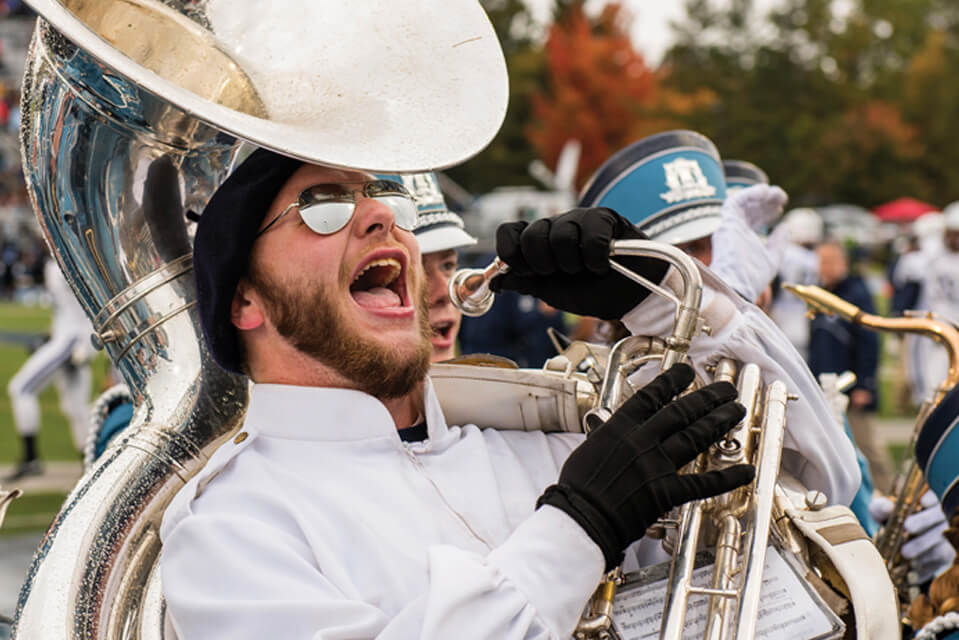 The Symphonic Band has 45 auditioned members representing the best wind and percussion players on campus. The smaller, select group tours a region of the state for several days each spring, performing concerts at schools and community centers, usually with local bands.
"It's wonderful to get that group into the schools so they can see and hear what we have for ensembles," says White, who adds about two or three students from a school the group visited audition to be music majors the following year.
Although Symphonic Band exists primarily for music students to have a high-level ensemble to perform in, over a third of the group's members are not music majors, White says.
"What determines if you get in is your ability on your instrument," he says.
In March 2018, White will represent the Symphonic Band at the College Band Directors National Association 2018 Eastern Division Conference in New Haven, Connecticut. He was selected to present a recording of the group during the small band showcase.
"We certainly are not the event where we play, but we do try to make the event better. That's what we do. We go out and entertain."

Christopher White
"It's not magic what we do; it does take work. And most of our students come here with eight years of training on their instrument," White says.
"These are phenomenally dedicated students. They all work super hard," White says of their rehearsals several hours a week, including evenings, and weekend performances. "Without any one of them, we wouldn't be who we are."
Some students go beyond the normal requirements, White says, volunteering to help with tasks such as organizing and handing out music, keeping track of uniforms and performing instrument maintenance.
"Many of these students have chosen music as their primary area of interest and give everything they can," he says. "It's wonderful to work with them. They're there because they want to be, so it makes my life really easy. I just have to give them what they need to be successful."
Music is important for many reasons, according to White.
"We're spending a tremendous amount of time educating in science and math, and getting those technical skills, but music and the arts educates our emotional side. We have to have that balance of arts because it allows us to see the world in a different way; it allows us to give things life," he says.
In addition to MSYM and Symphonic Band concerts, White's outreach efforts include conducting at music festivals and visiting schools to work with the next generation of musicians. In March, UMaine will host the second annual Festival of Winds, which brings bands to campus to work with wind and percussion faculty. The sports bands also offer days when high school bands and dance teams from around the state are invited to perform with them during a game.
"We do anything to get students here and get them involved," White says. "If you survey our band students, they'll say the band they are in was an influencing factor in them choosing UMaine."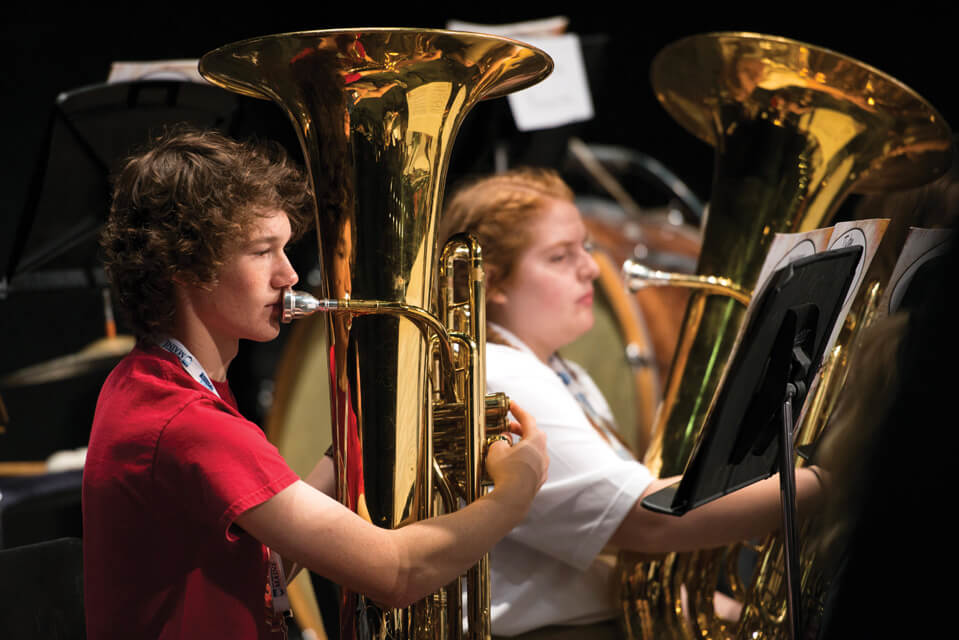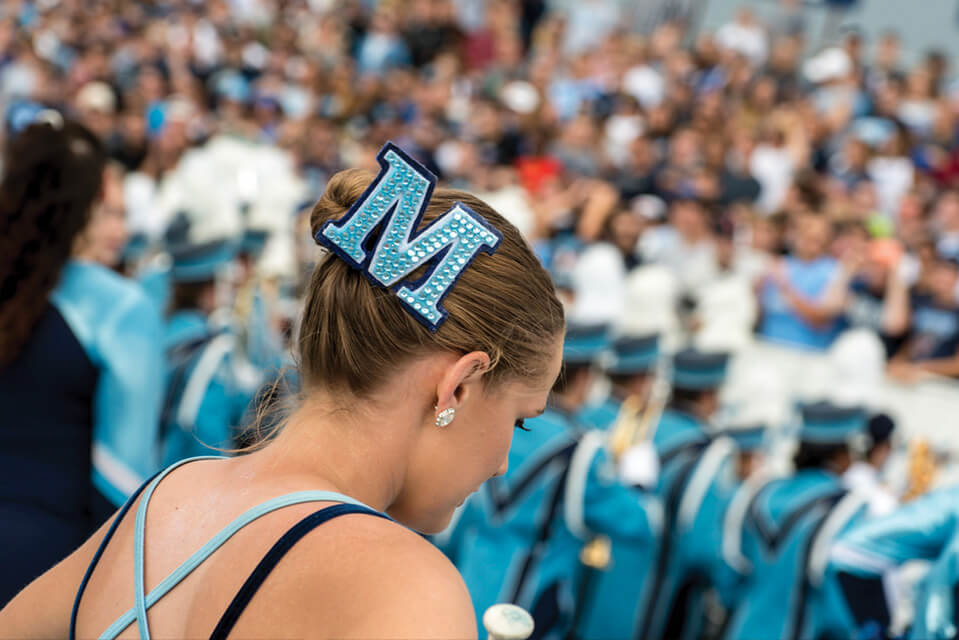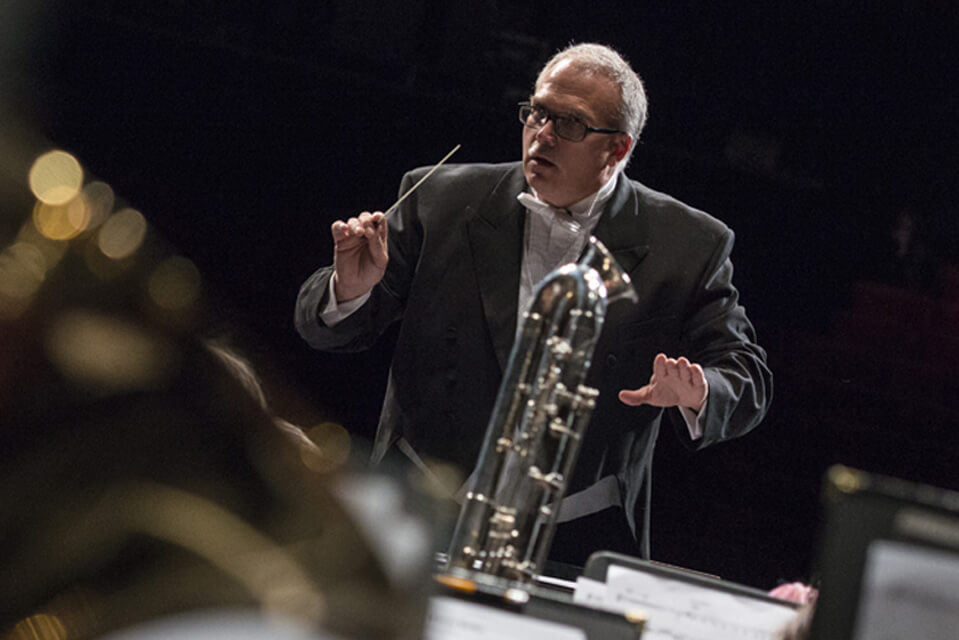 Baines, a civil engineering major, says the thought of being a UMaine student and not being part of the band program had never crossed his mind. He vividly recalls his first memory of the marching band 20 years ago.
"A beautiful fall Saturday in Orono in October 1997, a triple overtime win over Connecticut, and a large group of people with instruments and matching blue uniforms will forever stay ingrained in a wide-eyed 2-year-old's mind," Baines says.
White has taught the students to have pride in every performance, because you never know when that will be someone's first or last impression of the university, according to Oriente.
"Whatever my last impression of the band may be, it'll be hard to top the memory that inspired me to join the group in the first place," Baines says.
There are always obstacles with keeping students interested in music, according to White, as well as educating why the arts are important.
"There are challenges every day, but the rewards outweigh the challenges, which is why I still do this," White says.
White enjoys interacting with students, making music, engaging in a creative process, teaching students the university's traditions, and sharing parts of the university with those outside the campus community.
"Seeing students smile when they get done playing an event, that's nice," he says. "You're providing an outlet for them where they are letting part of their expressive self be shown; that's satisfying."