The Sabattis Tomah Project
Micah Pawling, an assistant professor of history and Native American studies at the University of Maine, is one of eight humanities scholars nationwide to be awarded a 2017 Public Engagement Fellowship from the Whiting Foundation.
The eight were selected from more than 80 scholars nominated from over 50 institutions.
The fellowship supports scholars as they engage the public in humanities-focused projects that encourage community building and cultural literacy.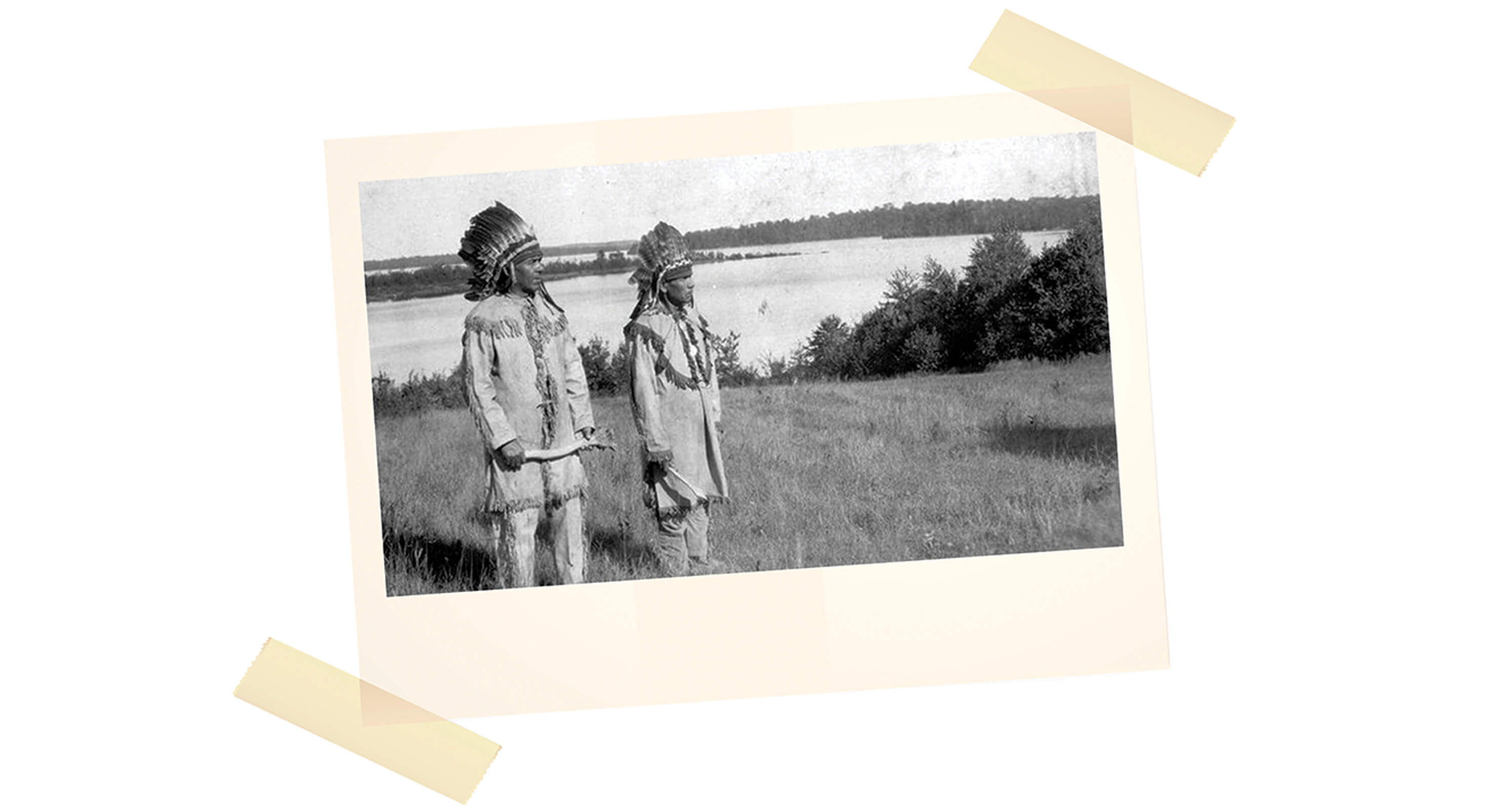 Pawling's initiative, "The Sabattis Tomah Project: Making History in the Community," focuses on the significance of Passamaquoddy cultural leader Sabattis Tomah of Peter Dana Point in Indian Township, an isolated community in Down East Maine. Tomah (1873–1954) was an important keeper of ceremonial songs, plant medicine, traditional stories and intimate knowledge of Passamaquoddy homeland.
Weekly conversations took place in the early 1950s between Tomah and ethnographer Nicholas N. Smith. As part of Pawling's community engagement project beginning in spring 2018, Smith's ethnographic field journals, transcribed stories and original photographs will be "brought home" to the Passamaquoddy community for the first time in over half a century.
Pawling and Passamaquoddy historian Donald Soctomah will lead intergenerational workshops to help young members of the Passamaquoddy tribe interview their elders in an effort to preserve traditions and tribal stories, including memories of Tomah.
Pawling will work with the Passamaquoddy tribe to finish transcribing and annotating the notes of ethnographer Nicholas N. Smith, which will be part of an exhibit in Indian Township.
---
Global span
Advanced Infrastructure Technologies, a University of Maine Advanced Structures and Composites Center spinoff company, has signed an exclusive distribution and marketing agreement for North America with Terre Armee Group/Reinforced Earth Company. The agreement will help grow adoption of UMaine's patented composite arch bridge technology in North America, with the intent to expand into global markets. The innovative composite bridge system lowers construction costs, extends structural life span up to 100 years and is an alternative to traditional construction.
---
AAAS Fellow
R. Dean Astumian, University of Maine professor of physics, has been named a fellow of the American Association for the Advancement of Science (AAAS). His selection brings the number of full-time UMaine faculty members named AAAS Fellows to 10. Astumian was cited for significant contributions to the field of biological and synthetic molecular motors; particularly, for clarifying the role of microscopic reversibility in governing molecular machines. His work was cited in the scientific background for the 2016 chemistry Nobel prize on synthetic molecular machines.
---
What's Now — and next

The University of Maine College of Education and Human Development, Riverside Adult Education Partnership and Literacy Volunteers of Bangor have teamed up to provide much-needed educational opportunities for female inmates at Penobscot County Jail.
In the pilot program called "What Now? What's Next?," women choose from a menu of services, ranging from help with completing high school and preparing for college, to child development and parenting classes, to one-on-one tutoring in reading and writing.
"A more literate community is one that is stronger, safer and more vibrant," says Mary Marin Lyon, executive director of Literacy Volunteers of Bangor, which has a longstanding working relationship with the college. With a high percentage of state prison inmates lacking a high school diploma or classified as low literate, "we know that this work is another way we can have a positive effect on our community," she says.
One of the services offered through "What Now? What's Next?" is a writing group, led by UMaine literacy professors William Nichols and Susan Bennett-Armistead. To date, about 30 women have participated in the group, which, in addition to teaching writing skills, provides opportunities to tell personal stories.
Other services offered by the UMaine team include child development and parenting classes provided by Associate Professor of Education Sid Mitchell and doctoral student Janet Nichols. Rachel Sirois, a junior pursuing a teaching degree, also is working on the project, which will be a focus of her honors thesis.
---
Clam cam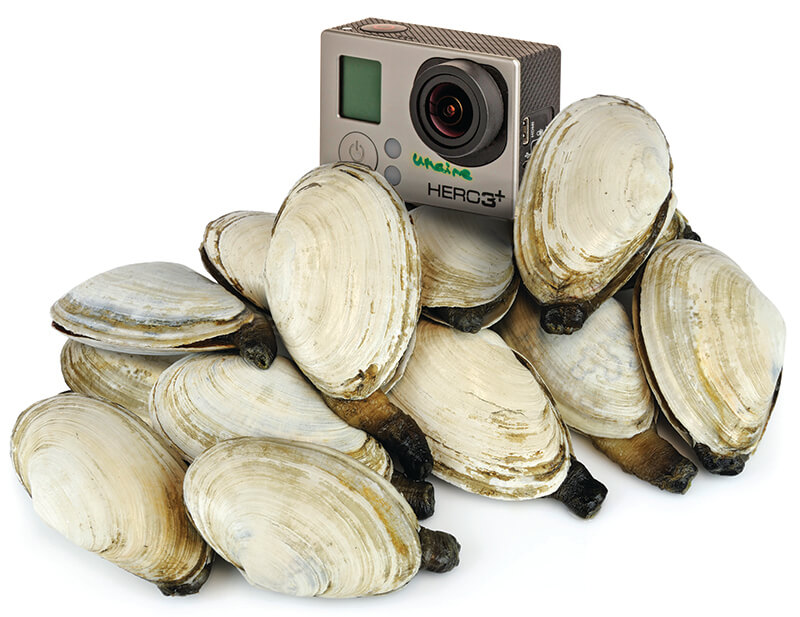 Bridie McGreavy grew up in Brownfield, Maine, but until coming to the University of Maine in 2010, she hadn't been on a clam flat.
Walking on exposed intertidal mud for the first time, she says, was like entering a "world that was so foreign, so beautiful."
Soon, thanks to the Clam Cam — which opens a window into the lives of Maine clam harvesters — others will be able to experience that world, too.
McGreavy is an assistant professor in the Department of Communication and Journalism. She's collaborating on the project with Tyler Quiring, a Ph.D. student in communication from Kelowna, British Columbia, and Carter Hathaway, a 2017 UMaine graduate in journalism from Turner, Maine.
A goal, says McGreavy, is to share the unique way of life and some of the pressing challenges of people who harvest clams for a living on the coast of Maine.
The team uses ethnographic methods (detailed, in-depth descriptions of people's daily life and practices) and digital media in its research to help foster communities' resiliency and sustainability.
"The clammers have a substantial, embodied role in shaping how their industry is depicted. This variation on traditional data generation supports engaged and ethically mindful research."

Tyler Quiring
After a harvester suggested the public could learn about his livelihood by vicariously digging clams, McGreavy's team supplied GoPros for harvesters — from Freeport to Roque Bluffs — to strap to their chests.
The videos depict what harvesters see — including sunrises, thick fog and mud. They also show the tools of the trade — rakes, buckets, hods, mesh bags and gloves, as well as various digging or pulling techniques. And more mud.
McGreavy says the Clam Cam captures the hard physical labor that goes into securing even a few pounds of fresh local clams for dinner.
The researchers have a website (nest.maine.edu/clamcam) showcasing the project's videos, interviews, information and data. The goal is to educate the public about people who are essential to this vital Maine industry, and the environmental, economical and social challenges they face.
A National Science Foundation award to the Senator George J. Mitchell Center for Sustainability Solutions and a grant from the University of Maine Humanities Center are supporting the project.
---
The 'rural school problem'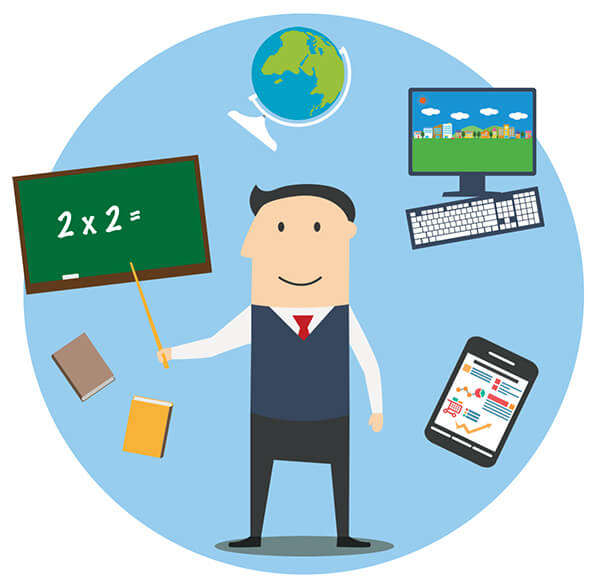 What can you learn by studying 100 years of academic writing about rural education in the United States? For Catharine Biddle, assistant professor of educational leadership at the University of Maine, it's this: The more things change, the more they stay the same.
"Rural schools have always had a hard time attracting teachers, and then the teachers they do attract have to do a wide variety of things and teach a wide variety of subjects, which they wouldn't necessarily have to do in a more specialized urban environment."

Catharine Biddle
"A lot of literature at the turn of the century focused on the things that rural schools lack, and there's a tendency to still do that today. That's kind of the echo forward of the 'rural school problem,'" says Biddle, who co-wrote an article in the Review of Research in Education titled "Constructing and Reconstructing the 'Rural School Problem': A Century of Rural Education Research."
Biddle and co-author Amy Price Azano, an assistant professor of adolescent literacy at Virginia Tech, trace the origins of the "rural school problem" to the progressive education reformers of the early 20th century. They examined nearly 150 academic articles published between 1910 and 2015 and focused on rural teacher recruitment, retention and training.
A long view of this critical topic shows that rural schools continue to have a difficult time attracting and keeping teachers.
An aspect that has changed, Biddle says, is that rural America has lost population since the early 20th century. That's had a negative impact on the political capital of rural communities and, in turn, rural schools, she says.
Biddle and Azano conclude their article by cautioning researchers against seeing rurality itself as a cause of the problems facing rural schools. They recommend education researchers take a more holistic look at issues of place.
---
A better look at the base of the marine food web
To gain greater understanding of the annual cycles of free-floating, life-sustaining ocean phytoplankton in the Arctic and Antarctic, University of Maine oceanographer Emmanuel Boss and colleagues from around the country utilized NASA's Cloud-Aerosol Lidar with Orthogonal Polarization (CALIOP) instrument.
Lidar is an active sensor that emits a pulse of light and measures, as a function of time, the return signal due to interaction with matter along the light path. Return signals from the ocean measured by CALIOP have only recently been found to provide a good predictor of particle concentration in the upper ocean, Boss says.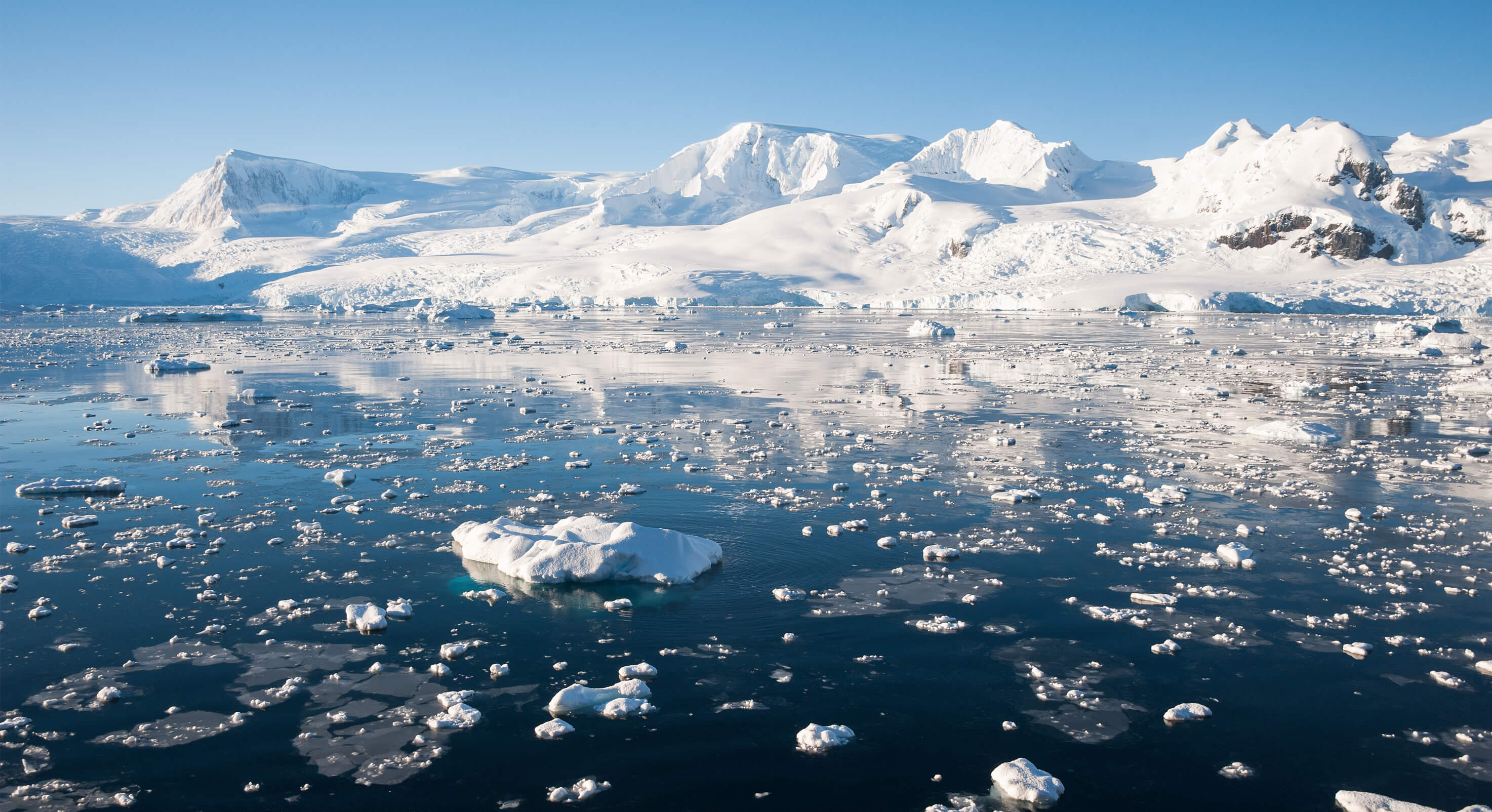 With this technology, the team examined a decade of uninterrupted growth-decay cycles of polar phytoplankton biomass (microscopic algae), including when no light was available during polar winters.
Boss said the project yielded several important takeaways.
One is that if NASA optimizes lidar technology for ocean measurements (CALIOP was designed for atmospheric measurements), quantifying phytoplankton vertical distribution on a global scale will be possible.
Boss and his colleagues also concluded the annual cycle of plankton biomass can be explained as a slight imbalance in herbivore-phytoplankton dynamics.
And the team learned that during the last 10 years, ice cover changes dominated the variability in Antarctic phytoplankton stocks and that ecological processes — light, nutrients and grazing — predominantly drove changes in Arctic phytoplankton stocks.
---
She's the expert
This year's annual Maine Science Festival in Bangor, Maine included a taping of "You're the Expert," a live show featuring a panel of comedians who "try to get to the bottom of what a distinguished scientist studies all day." The goal of the program is to "make academic research more accessible and exciting"to the public. Kristy Townsend, UMaine alumna and assistant professor of neurobiology, joined host Chris Duffy and the other comedians — Roy Wood Jr., Michelle Buteau and Charlie Hankin — for the raucous game show segments focused on ferreting out her research field. In the lab, Townsend works to unravel the mysteries of the nervous system and how the brain regulates energy balance. The Bangor show is expected to air early this fall, and a podcast will be available.
---
Dawn of a new geological epoch
There are roughly 5,200 officially recognized minerals on Earth, according to the International Mineralogical Association (IMA), two of which — edgrewite and hydroxyledgrewite — are named after University of Maine mineralogist and petrologist Edward Grew.
Grew, a research professor in the School of Earth and Climate Sciences, has studied and helped discover new minerals from five continents — from Antarctica to Australia to Europe — particularly those containing the elements boron and beryllium.
Most recently, he helped identify and catalog, for the first time, a group of 208 mineral species that formed either principally or exclusively through human activities.
The research, a collaboration led by Robert Hazen of the Carnegie Institution for Science, suggests that humans have done more to increase the diversity of minerals on Earth than any other agent since the Great Oxidation Event impacted the planet over 2.2 billion years ago.
Many of the 208 minerals are attributed to human activities related to mining. Others are attributed to industrial environments. A few were even found in association with archaeological materials.
5,200 officially recognized minerals on Earth
208 mineral species that formed either principally or exclusively through human activities
---
A matter of balance
Concussions are in the news these days as numerous professional and amateur sports leagues look for ways to ensure the long-term health and safety of players who sustain head injuries. A team led by researchers from the University of Maine and Logan University recently conducted a pilot study that might lead to a new method of monitoring people who sustain concussions. Using a device called OptoGait, which evaluates how a person walks, they are developing measures of balance that could indicate when a person has sufficiently recovered from a concussion to resume physical activity. Since loss of balance can be an indicator of a concussion, OptoGait may give athletic trainers and medical professionals additional information about a patient's symptoms. OptoGait could be a tool for understanding variations in balance that could indicate long-term concussion effects, says Christopher Nightingale, UMaine assistant professor of athletic training and physical education.
---

Spring break getaways
Spring Break 2017 for some members of the University of Maine community involved a variety of engagement activities. Among them: Fifteen students and a faculty member from the School of Nursing were in Costa Rica on a medical mission trip. For the 19th year, UMaine's Alternative Breaks program sent volunteers into communities to undertake service projects, this time at sites in Virginia and New York state. Eighteen students majoring in anthropology, zoology, wildlife ecology, and ecology and environmental sciences were in Tanzania for a field studies course in ecology led by two faculty members. And four engineering majors traveled to Florida to work on a Habitat for Humanity project.
---

Hungry 100K
May 3, members of the University of Maine community set a meal-packing record. During The Hungry 100K: Maine Day Meal Pack-out at the Memorial Gym on campus, UMaine set a record for the most meals packed in one event by a university. UMaine is now ranked in the top 10 of all pack-outs held in 18 states. More than 250 volunteers helped the UMaine Honors College and Bodwell Center for Service and Volunteerism exceed their goal by packing 107,562 meals — about 5.5 tons of food — that were sent to food banks and shelters around the state. The pack-out was one of more than 70 volunteer projects undertaken by over 1,500 students, faculty, staff, alumni and community members on UMaine's annual day of service.
---

One of the best battalions
Black Bear Battalion, the University of Maine's Army ROTC unit, has won the prestigious MacArthur Award, which recognizes the top eight schools, selected from among the 275 senior Army Reserve Officers Training Corps (ROTC) programs nationwide. The award, presented by Cadet Command and the Gen. Douglas MacArthur Foundation, recognizes the ideals of "duty, honor and country." It is based on achievement of the school's commissioning mission, its cadets' performance and standing on the command's National Order of Merit List, and its cadet retention rate. Cadet Command and the MacArthur Foundation have given the annual awards since 1989. Black Bear Battalion won top honors for 2nd Brigade, whose 42 schools include MIT, Northeastern, Boston University and Rutgers. It's the first time Cadet Command has selected UMaine Army ROTC for the award.
---
Plants in the pits
For tens of thousands of years, the warm, sticky natural asphalt that occasionally bubbled to the Earth's surface in the area now called Los Angeles was a death sentence for some ice age animals.
Woolly mammoths, camels, rabbits, horses, bison, sloths, rodents, snails, turtles, birds and saber-toothed cats perished after becoming mired in the liquid asphalt — sometimes referred to as tar pits.
For Jacquelyn Gill, the fossils, twigs and plants encased in this sticky petroleum at the La Brea Tar Pits and Museum in downtown Los Angeles provide opportunities to examine the climate and flora and fauna of the past, and observe evolutionary changes.
The University of Maine paleoecologist's findings will be added to the broader mosaic of what's already known about the very large animals of that era.
Gill and other scientists involved with Project 23, as it's called, intend to reconstruct the food web — from mastodons and bison to rodents and plants — during 2,000- to 5,000-year snapshots across an approximate 50,000-year period.
"Many of these are ice age survivors," Gill says of the animals and plants trapped in the oil seeps. "What made them so resilient to climate change and extinction?"
By reconstructing the food web, Gill and the team of researchers will learn how various species were connected for extended periods of time when they were not under climate stress.
Understanding those connections could help protect today's biodiversity in a changing climate, she says.
"We can see how species relied on each other, and use those relationships to predict extinction risk based on food web connections," says Gill. "It's a useful model to apply to our modern ecosystems."
Fossils in the tar pit tombs were unearthed recently when the Los Angeles County Museum of Art, which is adjacent to La Brea Tar Pits and Museum, excavated a site to build an underground parking garage.
---

Retirement saving
New research by the University of Maine commissioned by AARP Maine reveals the fiscal impact of inadequate retirement savings in the state.
"The Fiscal Implications of Inadequate Saving for Retirement" report shows that an aging Maine workforce moving into retirement is increasingly reliant on public assistance, signaling a trend that could have important fiscal implications for the state, according to AARP Maine.
The study was led by Philip Trostel, an economics and public policy professor at the UMaine School of Economics and Margaret Chase Smith Policy Center.
"This report can serve as a catalyst for change," Trostel says. "Helping workers save during their career will reduce government spending for retiree benefits. It is important for the state of Maine to consider options that will create more vehicles for workers to save toward retirement through their workplace."
---
Age-friendly living
When AARP announced last summer that Bangor would be named the 100th community in the country to earn "age-friendly" status, leaders in Maine's third-largest city had to make a big commitment. To receive this distinction, a city must agree to devise a comprehensive strategy to become more livable for its oldest residents.
AARP had already done one survey on how well Bangor currently meets the needs of its seniors. But city leaders, including Patty Hamilton, director of health and community services, felt they needed to dig deeper.
"We remain the only campus in the system that has a Center on Aging that's devoted to the research of issues of aging. This is what we do."

Lenard Kaye
Bangor partnered with the University of Maine's Center on Aging to hold seven community forums last fall to gather feedback from seniors on how well Bangor is complying with the eight domains of livable communities, as defined by the World Health Organization: outdoor spaces and buildings, transportation, housing, social participation, respect and social inclusion, civic participation and employment, communication and information, and community and health services.
Attendees also were asked to fill out voluntary demographic forms.
The Center on Aging research team found that Bangor has already made significant progress living up to its age-friendly status, says Lenard Kaye, Center on Aging director.
"We're not starting from scratch here," he says. "Bangor has pretty good grades on all counts."
Kaye says the Center on Aging is committed to working with Bangor officials and residents to figure out how to prioritize suggestions — from improving sidewalks to the need for housing and expanding bus service.
The older adults living in Bangor who attended the community forums and responded to the Center on Aging's survey also noted that they want an intergenerational community that they can benefit from, where they can interact with folks of all ages.
---
Walk Bangor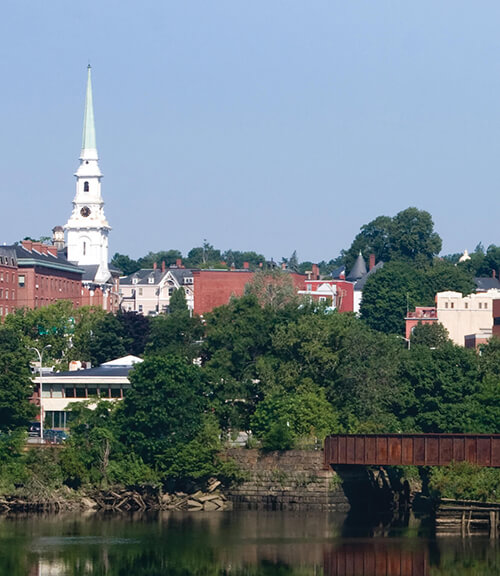 Last fall, a group of UMaine students gave a presentation on what could be gained by Bangor becoming a more walkable city, as well as the steps needed to get there. The students outlined the potential benefits and costs of two scenarios: creating about 5 miles of new bike lanes, and launching a "Walk Bangor" campaign by placing 30 signs citywide. Their analysis found that taking these two steps could save residents money, bring local businesses more customers, improve home values by attracting more people to the city, increase social activities and make Bangor greener and less car dependent.
---
Acadia's small critters
Alessio Mortelliti, an assistant professor of wildlife habitat conservation at the University of Maine, is one of three scientists who have been awarded fellowships to conduct research in Acadia National Park.
The fellowships were awarded as part of Second Century Stewardship, an initiative of the National Park Service, Schoodic Institute at Acadia National Park, and the American Association for the Advancement of Science (AAAS).
Second Century Stewardship launched in 2016 during the centennial of the National Park Service to provide top-quality science research for park stewardship, build public appreciation for science, and pursue solutions to critical issues for parks and society.
The collaboration is initially focused at Acadia National Park, with plans to partner with national parks across the country over time, according to the Schoodic Institute.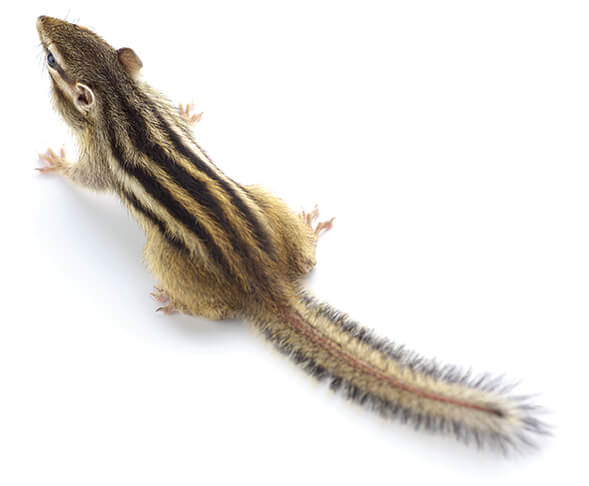 The fellowship will fund Mortelliti's research on how small mammals may affect the expansion of plants due to climate change in Acadia National Park.
The results of the field experiments will allow managers to predict how local forest communities might change in the coming years and take the appropriate actions, Mortelliti says.
---
Lessons in storytelling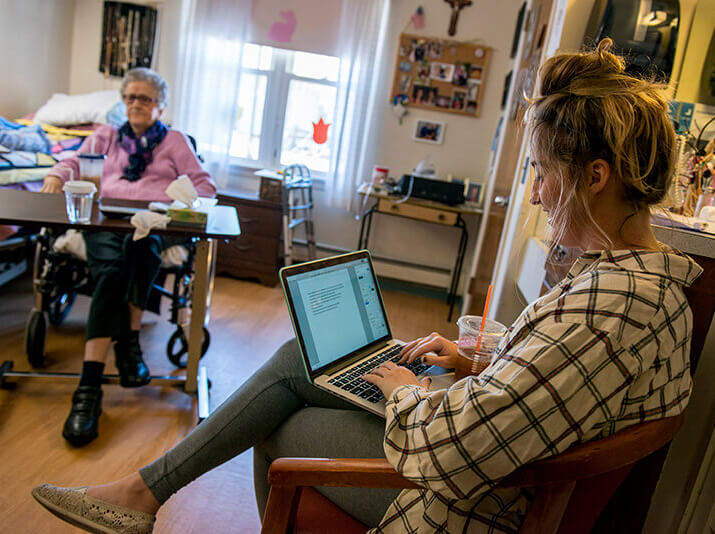 This spring, 11 undergraduates in a class on adult development and aging in the College of Education and Human Development participated in a project called Legacy Storytellers through the Alzheimer's Association of Maine. They interviewed elders with early to middle-stage Alzheimer's or another form of dementia about their life and wrote narratives to give to their families.
The students worked from a list of questions covering different parts of a person's life: childhood and early adolescence, adolescence, young adulthood, adulthood and parenthood, and, finally, life's wisdom.
Ian Cameron, a lecturer in human development and family studies, teaches the course that examines the misconceptions, myths and stereotypes about the aging process and the elderly, with a focus on social, physical, cognitive, economic and demographic issues. Cameron wants students to understand that as humans live longer, rates of Alzheimer's and other forms of dementia increase.
The Legacy Storytellers program came to UMaine through a partnership with the Alzheimer's Association, Eastern Area Agency on Aging, and the UMaine Center for Community Inclusion and Disability Studies.
Cameron says the primary goal for the students was to produce a story about the residents' lives. A secondary goal was to have the students form a personal relationship with someone living with Alzheimer's.
---
Online Spire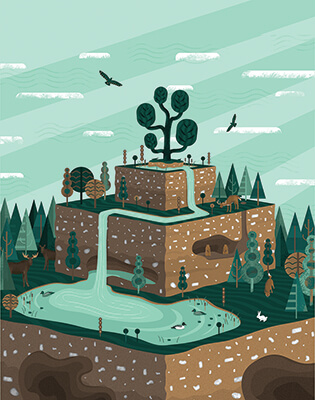 The inaugural issue of Spire, an online journal of conservation and sustainability at the University of Maine, launched in May. The student-produced journal promotes "awareness-raising dialogue" to unite Maine communities to affect positive environmental change. The first issue features photos and original artwork, and articles from the fields of biology and ecology, folklore, climate science, English, graphic design, nursing and forest resources. Kaitlyn Abrams, a graduate student in English, founded the journal and is editor-in-chief.