Sharon Klein has always been interested in how diverse groups of people come together to solve problems.
That innate passion led her to volunteer for a community service-learning mission in Virginia when she was an undergraduate in environmental science at the University of Massachusetts Amherst.
When she graduated, Klein joined the Americorps National Civilian Community Corps to work in seven states in the Southeast on humanitarian projects. But it was while teaching high school students at the American School of Quito in Ecuador for two years that she had her eureka moment.
There, in an interdisciplinary science program, students had to undertake projects that solved a local problem. Klein taught students in the environmental systems component and led them in field work to help local communities improve the sustainability of their fisheries.
"Although my undergraduate experience had taught me a lot about environmental problems, teaching about these issues made me realize how so many of them were connected to how we use and produce energy," says Klein, an assistant professor in the University of Maine's School of Economics.
Klein knew that understanding the underlying technology and policy of what drives people to make different choices was key to understanding energy issues. At Carnegie Mellon University, she pursued a doctorate in engineering and public policy, researching the economic and environmental impacts of thermal energy storage for concentrated solar power.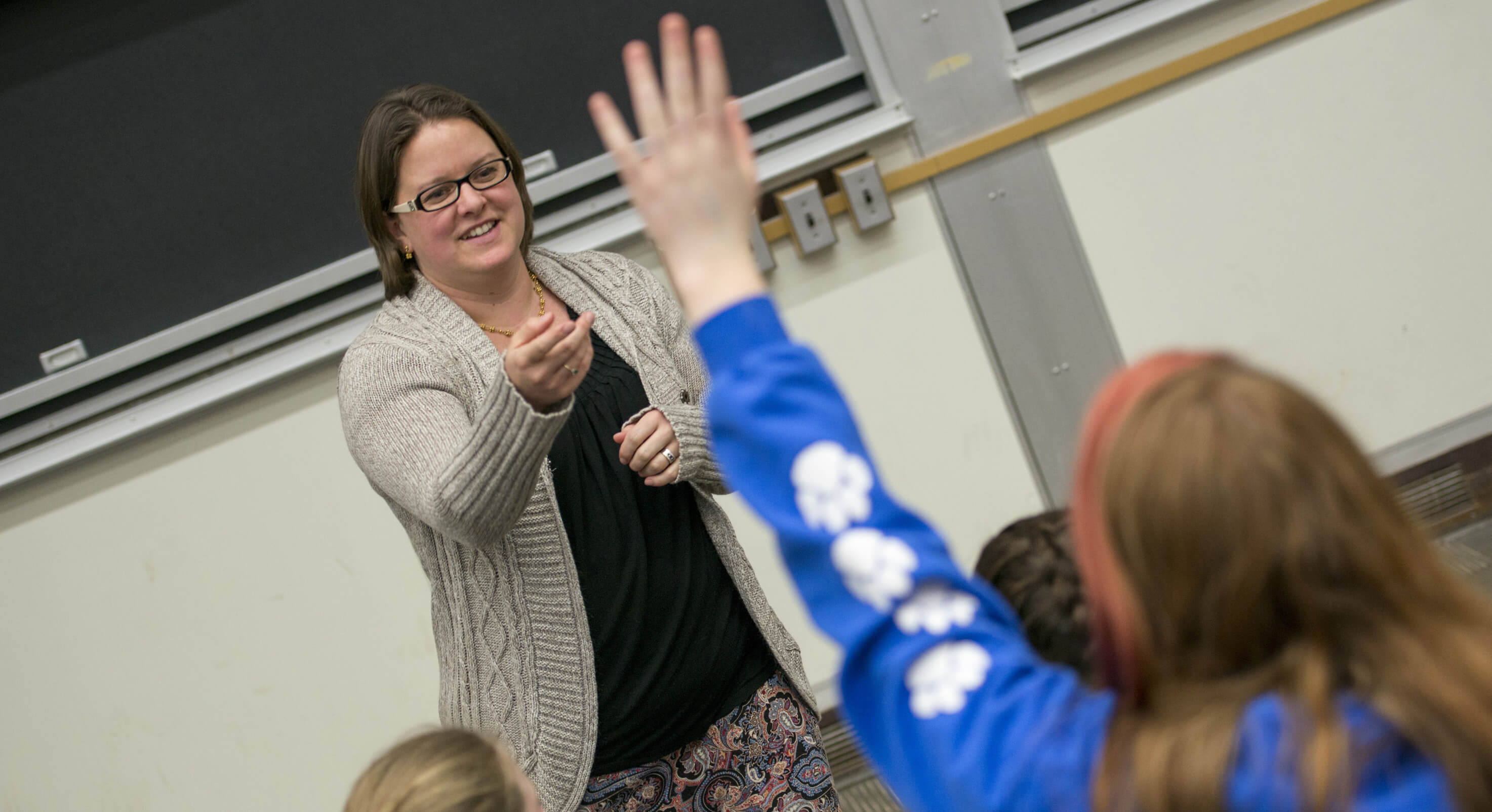 Today, Klein holds a Maine Agriculture and Forestry Experiment Station appointment to research renewable energy in Maine and works on a variety of projects related to sustainable energy, including two large interdisciplinary projects funded by the National Science Foundation that focus on biofuels and hydropower.
Her growing emphasis is on community energy movements — community solar and energy efficiency efforts, in particular — funded for the past two years by UMaine's Senator George J. Mitchell Center for Sustainability Solutions.
"Community energy is a growing movement in the U.S. and around the world," she says. "People are adopting sustainable energy technology and strategies — renewable energy, energy efficiency, conservation — in groups and/or on shared property in contrast to the traditional individual adoption."
Klein and then graduate student Stephanie Coffey were conducting research in the field of community solar in the United States when, in summer 2015, the White House put out a call for a National Community Solar Partnership with a mission to leverage the momentum in the public and private sector to expand solar access to new markets. The partnership aimed to bring together relevant stakeholders to assess market barriers and catalyze deployment in low- and moderate-income communities.
Klein immediately joined the Solar Partnership, which is led by the U.S. Department of Energy. UMaine, the University of Houston, University of Minnesota and North Carolina State University are the four academic partners. Additional partners include federal, state and tribal government organizations, utilities, nonprofits and industry.
Although the Solar Partnership was a one-year program, Klein notes that it's still active and that she hopes it will be instrumental in helping spread the word about a new website she and colleagues have developed based on investigating U.S. community solar efforts.
The website is a user-friendly means of accessing more than 6,000 community renewable energy projects nationwide that Klein and Coffey identified. Professor Silvia Nittel in Spatial Informatics and Katrina Stinson, a former undergraduate student in computer science, helped develop the interactive website. Katie Manzo, an undergraduate student in computer science with a Margaret Chase Smith Policy Center Public Affairs Scholarship, is advancing the social networking side of the website to help make it a place for people to connect, learn from each other, and help projects develop. "There's a lot of learning that has to happen with these solar projects, especially to the extent that they develop from the ground up rather than top down.", Klein says.
In an attempt to better understand the ways community solar is being implemented, Klein and Coffey surveyed community solar participants, including solar farms, Solarize programs, and solar projects installed on schools, municipal and community-serving nonprofit property. For the more than 500 projects in Maine, Massachusetts and Vermont, the researchers compared community solar policies, and developed a model of the economic costs and benefits of different types of community solar energy.
In Maine, Klein acknowledges that there is a lot of uncertainty regarding the future of solar energy as regulators attempt to restrict the electric bill credit solar adopters have been receiving for the energy they send back to the electric grid. Nevertheless, the industry is staying alive and many Mainers are fighting to keep the solar industry strong.
Another of Klein's community energy projects has involved UMaine students and community members in Bangor and surrounding towns to create inexpensive, customized window inserts that provide an extra layer of insulation to existing windows.
"I did a pilot course in the fall 2015 semester with funding help from the Mitchell Center to do this work as a student-run research project," says Klein. "The Mitchell Center's stakeholder-engaged, solutions-driven, interdisciplinary research approach was a perfect fit for the project."
The project was done in collaboration with the Rockland, Maine-based nonprofit organization WindowDressers program, Unitarian Universalist Society of Bangor, UMaine Office of Sustainability and Rotary Club of Old Town. The Mitchell Center provided Klein with additional funds to continue the project for a second year and has supported her community solar research.
In 2015, community partners and 10 students built 375 window inserts for customers in the greater Bangor area. As part of the course, students researched the number of similar social movements around the country and how much energy they saved.
"We couldn't find any other similar programs, so it seems pretty unique. It's just such a great example of people coming together to solve an energy problem," Klein says  "And there's the community element as well, where people are learning from each other, creating a greater sense of community, and learning a new skill."
Steve Shaw, a WindowDressers volunteer from Portland was drawn to the project because of Klein's "great ideas and infectious enthusiasm."
"WindowDressers across Maine thrives on the ideas and energy of its volunteers, but Sharon stood out. Her program introduced whole new dimensions of academic research, education and student involvement. It's wonderful to collaborate with her," he says.
Klein has now incorporated the service-learning component into all her undergraduate and graduate student coursework.
In the fall 2016 semester, students in Klein's energy courses had the opportunity to select a service project — community solar, window inserts, making Bangor more walkable or the EnergySmart Bangor program.
Citizens and officials in Bangor expressed interest in partnering with Klein and her students to help improve the sustainability of the city through improved walkability and residential energy efficiency. At the end of the semester, several students gave presentations on their research to the Bangor City Council. Some of this work is continuing in Klein's Fall 2017 ECO 180 Citizens, Energy and Sustainability class, where 5 students are working on a Bangor Transit Study to present to the City in December.
"Sharon has been really great about getting her students involved in this kind of community work — work that probably wouldn't have happened otherwise. It's evidence-based, you can see and measure the results, " says community volunteer Karen Marysdaughter, who had the idea for the walkable city project and Bangor Transit study.
Klein's former graduate student Dan Mistro served as volunteer coordinator for both previous window insert builds. He completed his master's thesis on the window insert program in August 2017, calculating energy savings and environmental benefits, and surveying participants to understand the social benefits. Mistro also helped the Rockland-based Island Institute with its growing window insert program — one of 17 WindowDressers locations across the state.
Klein has continued the window insert service-learning project in Fall 2017, co-coordinating a third build with Dan Dixon (UMaine Director of Sustainability), Stan Peterson (former student in Klein's ECO 370 class, and teacher at Old Town High School) and 23 students from her ECO 405 Sustainable Energy and Economics class in October. Students from Klein's ECO 180 class also volunteered to help build 200 inserts. Klein now serves on the Board of Directors for WindowDressers and is a faculty supervisor for an Americorps volunteer (Alicia Oberholzer) funded by Maine Campus Compact to coordinate a fourth Bangor window insert build with more than 250 inserts in December 2017, along with several campus and community energy efficiency events.
Campus Compact is a coalition of nearly 1,100 colleges and universities nationwide committed to the public purposes of higher education. It focuses on campus-based civic engagement and enables campuses to develop students' citizenship skills and forge effective community partnerships. Klein, along with several other UMaine faculty, are active Campus Compact participants.
Klein also spent part of the last two summers teaching young African leaders in the Mandela Washington Fellowship program at UMaine about solar energy economics. In 2016, she took them to Jonesport, where the Maine Solar Energy Association taught the participants to build solar phone chargers. In 2017, she, Dixon, and Klein's student research assistants (in collaboration with the Electrical and Computer Engineering Department) led their own solar phone charger building workshop for the Fellows at UMaine.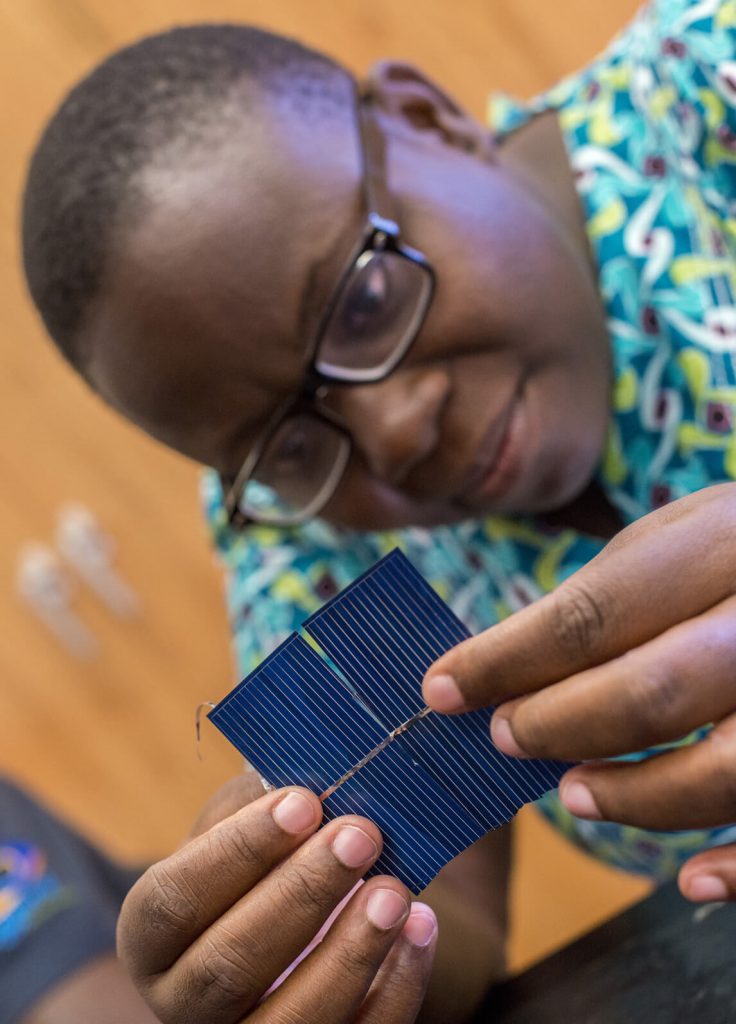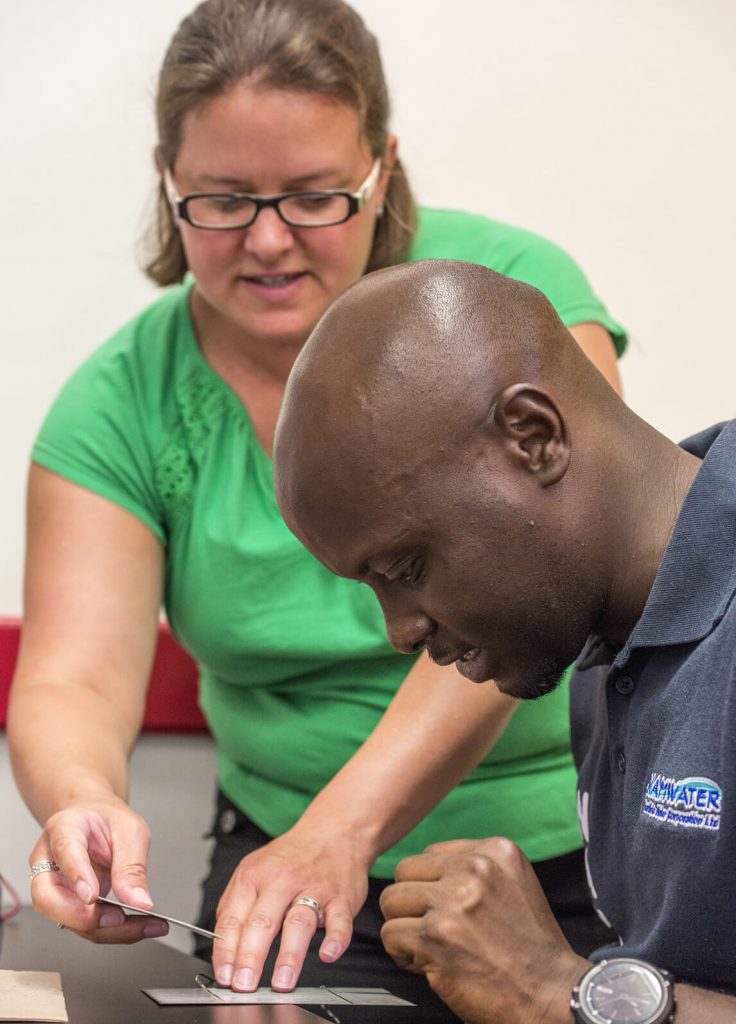 Klein notes that an abundance of research shows that hands-on learning is more impactful for students who tend to remember concepts better, and gain a broader sense of what they can do to solve problems.
"It deepens their problem-solving ability and critical thinking and helps them become more confident. And when you fan that with service — not just active learning, but actually serving the community — that can enrich their learning even more, teach them how to be an active citizen in society, and it certainly provides a benefit to the community as well," Klein says.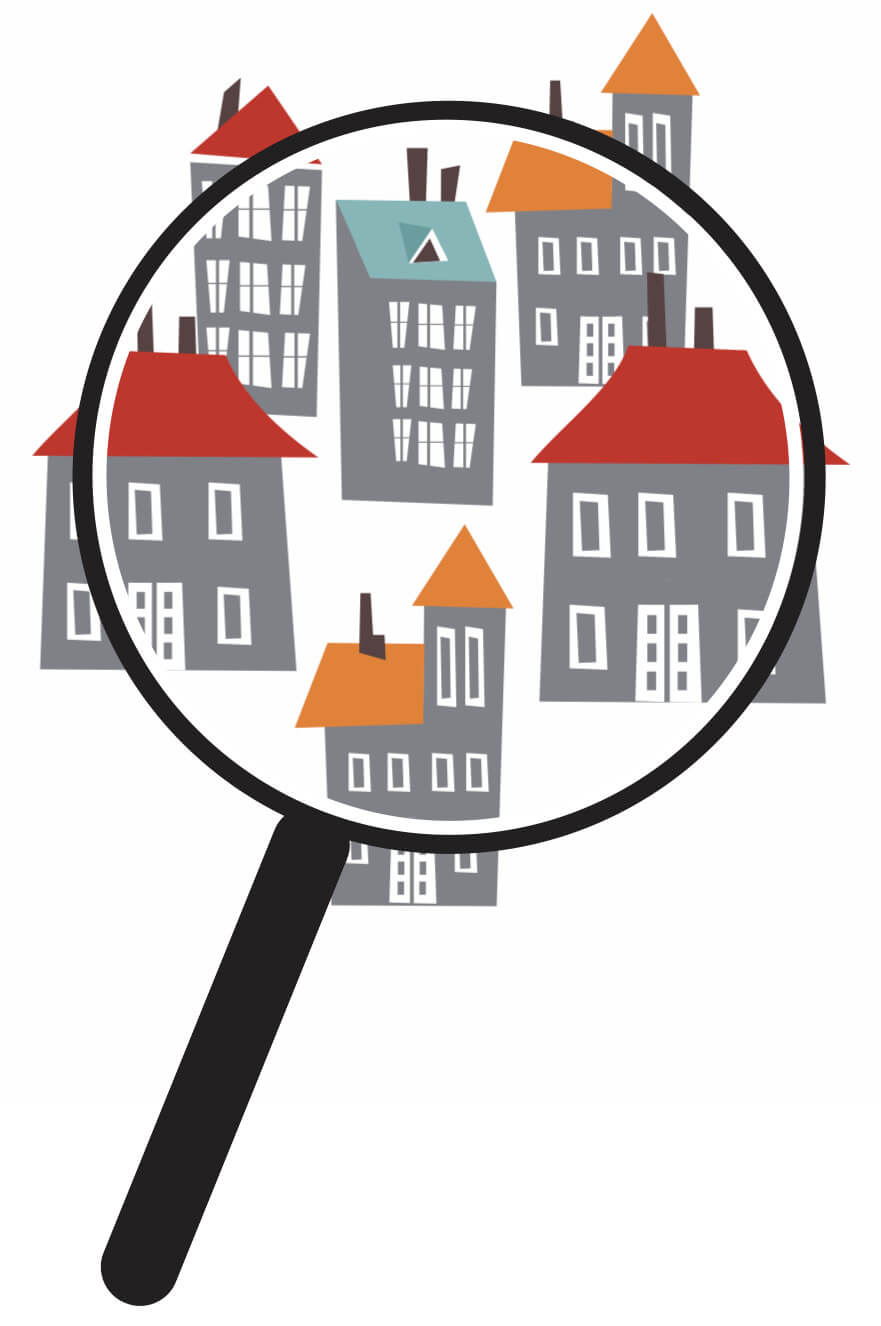 When Klein started teaching courses on energy and sustainability, it became clear that lecturing students wasn't working, especially when dealing with issues students could help solve.
Getting students out of the classroom into communities helped them realize "the power they have to help change things in sustainable ways for the future," Klein says.
A great example of this is Garrett Raymond, a student in Klein's ECO 405 class in 2015, where he introduced a service-learning project about developing a sustainable energy license plate for Maine.
Garrett took this idea much farther than Klein could have imagined, securing funding for further research in 2015–2016 through a Margaret Chase Smith Policy Center Public Affairs Scholarship, and now, as Klein's graduate student, leading undergraduate students from across campus in actually implementing the idea. The new student-run organization Garrett founded (Maine Community Energy Advocates) will begin accepting pre-orders for a new community energy license plate in December (contact Garrett at garrett.t.raymond@maine.edu for more information).
Before taking Klein's class, ECO 370 — Building Sustainable Energy Communities Through Service Learning — undergraduate student Erica Sturrock didn't know anything about the economics of energy, had never participated in service learning, and hadn't thought much about sustainability. Sturrock's classwork and community service experiences with Klein have been life-changing.
"Focusing on sustainability is really appealing to me," says Sturrock, noting that she plans to continue working on community energy in her community. "For a lot of our assignments we have to reflect on what we'd done and how it changed our view of the community and ourselves."