In October, Amy Blackstone was at a conference in Cleveland when her email alert began to ding. Repeatedly.
The New York Times had published Jodi Kantor's investigative piece in which Ashley Judd and others had accused Hollywood producer Harvey Weinstein of sexual harassment and assault spanning two decades.
Reporters with CNN, FiveThirtyEight, Yahoo and USA Today wanted to speak with Blackstone, a University of Maine sociologist. Blackstone — who studies the childfree choice and was presenting at the NotMom Summit — also is an expert on workplace sexual harassment.
For two decades, she has examined multiple facets of workplace sexual harassment, including repercussions ranging from depression to derailed careers.
Blackstone was back in Maine on Oct. 15 when actress Alyssa Milano extended an invitation to her 3 million-plus Twitter followers: "If you've been sexually harassed or assaulted write 'me too' as a reply to this tweet."
The tweet included: Me too.
Suggested by a friend: "If all the women who have been sexually harassed or assaulted wrote 'Me too' as a status, we might give people a sense of the magnitude of the problem."
Blackstone, who is a survivor of sexual violence, says witnessing the torrent of #MeToo posts, some accompanied by personal stories, was empowering.
"I knew I was not alone and that was so powerful," says Blackstone, who subsequently typed the two words on her Facebook timeline.
Facebook statistics indicated that 4.7 million users worldwide had accounted for 12 million posts, comments and reactions about #MeToo in the 24 hours after Milano's tweet.
And within nine days of Milano's tweet, more than 1.7 million tweets had included #MeToo. And #MeToo had been tweeted at least 1,000 times in 85 countries.
With 68 million users in the United States and 328 million worldwide, Twitter presents unprecedented opportunities to create cultural and social change, says Judith Rosenbaum.
The assistant professor of communication and journalism recently analyzed thousands of tweets — including those with the hashtags "PantSuitNation" and "AllLivesMatter" — to inform her book Constructing Digital Cultures: Tweets, Trends, Race, and Gender.
"Twitter is seen as one of the moving forces behind many of the social movements that have shaped public discourse and altered political agendas, and, in some cases, overthrown governments," she writes in the book.
Twitter's stated mission: Give everyone the power to create and share ideas and information instantly, without barriers.
From schools to workplaces to the halls of Congress, every single person who has faced sexual harassment must be able to get the support and justice they deserve. #TimesUp
Rosenbaum's former students at Albany State University, a historically black university in Georgia, sparked the idea for the book. During class discussions, her students, the vast majority of whom were African-American, said they felt their conversations on Twitter gave them a voice, made them feel included and helped shape their opinions.
People take to Twitter when a topic is particularly relevant to them, says Rosenbaum, as well as when they feel marginalized or ignored by the mainstream media.
McGill University sociologist Eran Shor's study, "A Paper Ceiling," exposes the media's inaccessibility to some groups. Eighty-two percent of people cited in U.S. newspapers, online media and magazines from 1983–2009 were men.
In addition, men at the 20 top media outlets produced 62.3 percent of news reports, according to a Women's Media Center report, Status of Women in the U.S. Media 2017.
For women of color, the news is bleaker. Women of color comprise less than 8 percent of staff in print newsrooms, less than 13 percent of personnel at local TV outlets and just over 6 percent of employees at local radio stations, according to the center's Status of Women of Color in the U.S. News Media 2018.
Twitter, though, is said to be more inclusive and participatory, says Rosenbaum. Unlike mainstream media, Twitter provides anyone who wishes the opportunity to contribute to dialogues on topics of their choosing.
"The participation of such a varied group of people means that Twitter conversations produce a rich collection of ideas and beliefs that are not necessarily represented in the mainstream culture," she writes in Constructing Digital Cultures.
Marginalized groups can galvanize on Twitter, says Rosenbaum. The 12-year-old platform magnifies groups' voices, which can influence public opinion and ultimately drive the media agenda.
One of Twitter's stated values: "We believe in free expression and think every voice has the power to impact the world."
Sexual harassment includes unwelcome sexual advances, requests for sexual favors or other verbal or physical conduct of a sexual nature that alters conditions of a person's employment and creates an abusive working environment.
It includes touching and sexist remarks directed toward employees — with the implication that employment or a promotion depends on their acquiescence.
Me. too. Always dreamed of a huge day for all of us survivors to be together. We are not alone, we are strong, powerful people. #MeToo
Lin Farley, a former journalist and Cornell University lecturer, coined the term "sexual harassment" in the mid-1970s after every female student in her women and work course indicated they had either left a job or been fired for rejecting a boss's advances.
Farley was quoted in a 1975 New York Times article, saying sexual harassment "is literally epidemic."
In 1986, the U.S. Supreme Court ruled that sexual harassment is a form of sex discrimination that violates Title VII of the Civil Rights Act of 1964 — a federal law prohibiting employment discrimination on the basis of sex, race, color, national origin and religion.
Twenty-seven years later, in 2013, a HuffPost/YouGov poll reported 32 percent of women said they had experienced workplace sexual harassment; 70 percent of those women said they didn't report it due to fear of retaliation.
Because so much sexual harassment goes unreported, Blackstone says as many as 70 percent of women and 45 percent of men may have experienced workplace sexual harassment.
A frequent, yet dated characterization of workplace sexual harassment is of a male boss chasing a female secretary around a desk. But the realities of sexual harassment are much more varied, says Blackstone.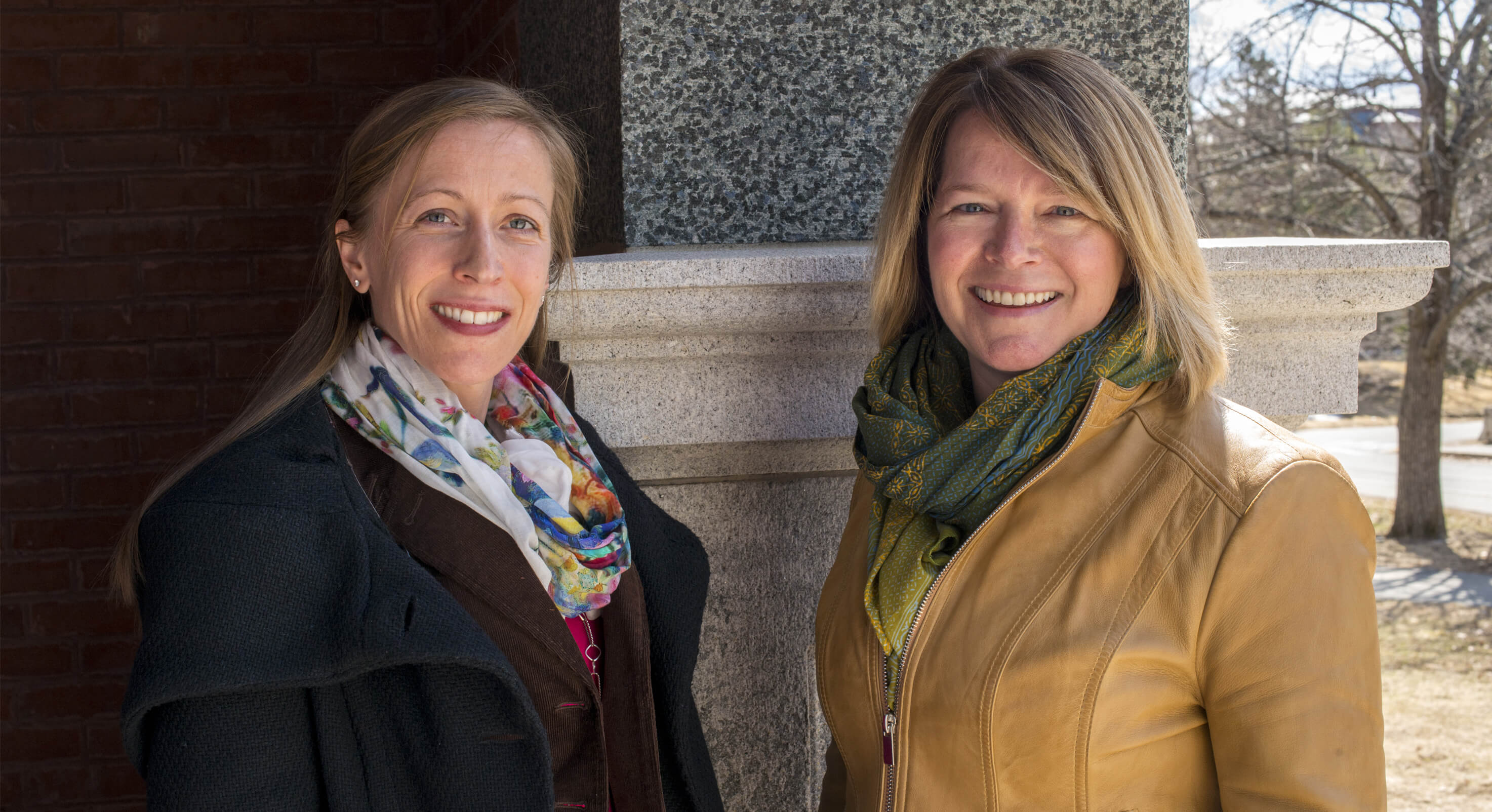 Women in positions of authority may be more frequent targets than those in subordinate positions, she says. Female supervisors, relative to nonsupervisors, are more likely to report harassing behaviors and to define their experiences as sexual harassment, say Blackstone and research colleagues Heather McLaughlin and Christopher Uggen.
McLaughlin, a UMaine alumna, is now a professor of sociology at Oklahoma State University. Uggen, who is Blackstone's mentor, is the Regents Professor and Distinguished McKnight Professor of Sociology and Law at the University of Minnesota.
Their study, "Sexual Harassment, Workplace Authority, and the Paradox of Power," indicated female supervisors reported a rate of harassment 73 percent greater than that of nonsupervisors. Male supervisors, though, were no more or less likely to experience harassment than other male workers.
Sexual harassment, says Blackstone, can act as an equalizer against women in power, including female supervisors who have authority over men and therefore challenge men's presumptive superiority.
#MeToo We were colleagues. He's a doctor, I'm a nurse. Guess who had no choice other than to quit?
Harassment can be motivated more by control than sexual desire and serves to keep women who don't conform to perceived gender roles — particularly in male-dominated work settings — in line.
Cultural images of harassers and targets haven't kept up with changing workplace realities, says Blackstone. And moving beyond dated stereotypes is important so policies and training can more accurately reflect the diversity of workplace harassment experiences.
In addition, effective grievance procedures must enable those who are targeted to come forward without undermining their authority, she says. The team's findings and suggestions were published in 2012 in American Sociological Review.
That same study revealed that men who diverge even slightly from rigid gender expectations are subject to more taunts and menacing responses than those who conform to societal gender expectations.
Blackstone and Uggen reported similar findings in a study, "Sexual Harassment as a Gendered Expression of Power," published in 2004 in American Sociological Review.
Results indicated women are the most frequent targets of sexual harassment, including unwanted touching and invasion of personal space. Findings also suggested that financially vulnerable men are likely to experience harassing behaviors.
The researchers also discovered that men who seek more egalitarian gender relationships are most likely to identify behaviors as sexual harassment.
"It's about the privilege of being male," says Blackstone. "Those who don't fall in line with a very narrow, heteronomative image of what it means to be a man — both in terms of gender expression and sexual orientation — are more likely to be targets."
Sexual harassment, she says, serves to police what we perceive to be "appropriate ways of doing gender" in the workplace and to penalize nonconformity.
People's understanding and awareness of sexual harassment evolve due to maturation, experience and changing historical and workplace contexts, says Blackstone.
She examined "Age, Experience, and Workers' Perceptions of Sexual Harassment" with Uggen and former UMaine sociology student Jason Houle, now an assistant professor at Dartmouth. The findings were published in 2014 in Sociological Spectrum.
The team examined data from interviews with 33 participants in Minnesota's Youth Development Study that tracked annual responses of 1,010 people who were 14 or 15 years old in 1988 and 26 or 27 in 2000. In 2002, the team then interviewed 14 men and 19 women from that survey who in 2000 indicated they had experienced sexual harassment at work.
Three themes emerged.
Respondents indicated some interactions they thought of as acceptable for adolescent workers may be less so for more professional adult workplaces.
#TimesUp The same attitude that has allowed a gender wage gap and under-employment epidemic in Hollywood has paved the way for rampant sexual harassment sadly.
While flirting and other sexually charged behaviors may be "normal" for some adolescent employees for whom socializing with co-workers was an important aspect of the work experience, they said the same behaviors felt less acceptable when considering adult employees. Thus, they labeled some behaviors differently depending on the life stage of those involved.
And they labeled other behaviors — even those they had once deemed acceptable — as "always inappropriate.'' One behavior involved interactions between young employees and older co-workers, employers or customers.
An example included a teenage baby sitter who was subjected to unwanted touching by the father of children she baby-sat. Another was a high school-age waitress subject to an older customer's sexually explicit remarks.
Participants — both targets and harassers — also later redefined experiences as harassment when the interaction was between multiple harassers and one target. Some participants said their outlook had changed because of historical context, including cases that garnered national attention.
One case was the Clarence Thomas Supreme Court confirmation hearings in 1991 in which law professor Anita Hill testified that Thomas had, despite her objections, talked to her about pornography, bestiality, rape scenes and his own sexual prowess.
"I was surprised by the number, without any prompting from me, who noted the impact the Thomas hearing had on their awareness of harassment as an issue, and the impact it had in terms of their reflections on their own experiences," Blackstone told CNN Money.
While all adolescents may be vulnerable to workplace harassment because of their age and lack of power, Blackstone says some females understood they were at particular risk because of their gender.
One participant, Angela, recalled that her early workplace experience was "a watershed where I really understood that being a woman in a workplace is really significantly different sometimes than being a man.''
Effectiveness of sexual harassment training, particularly on younger workers, could be examined, says Blackstone, as many adolescents considered training to be a joke. Training and policies might be more effective if they were tailored to workers at particular life stages, she says.
Workplace sexual harassment can take a heavy toll. Women and men who experience more frequent workplace sexual harassment have significantly higher levels of depressed mood than those who aren't harassed, even after controlling for prior harassment and depressive symptoms, says Blackstone.
She and a research team found that sexual harassment early in a person's career can have long-term effects, including depressive symptoms that last as long as a decade.
Harassed workers feel annoyed, angry and conflicted, says Blackstone, which can lead to self-blame and self-doubt.
In addition to negatively impacting mental health, sexual harassment can have long-term economic consequences, say McLaughlin, Blackstone and a team of researchers.
In a longitudinal study that incorporated data from surveys and interviews, 80 percent of women who had reported either unwanted touching or other forms of harassment had changed jobs within two years. Among women who weren't harassed, 54 percent had changed jobs during the same time frame.
Thus, women who were sexually harassed were 6.5 times more likely than those who were not to change jobs. This was true even when taking into account childbirth, which also can result in job changes.
The effect of sexual harassment is comparable to strain caused by other negative life events, such as serious injury, illness or being in jail.
Blackstone says women who experienced unwanted touching or offensive sexual jokes in 2003 reported significant greater financial stress in 2005.
In interviews with a subset of survey respondents, some women indicated they had left their job to avoid harassers, while others left because of how employers had responded to reports of harassment.
While some women can't afford to leave a job, one interviewee said: "I'll eat rice and live in the dark if I have to."
Sexual harassment can knock women off course during the formative early years of their careers, says Blackstone. Some women switched to less lucrative careers in fields where they thought sexual harassment and other sexist or discriminatory practices would be less likely to occur.
For women who stayed in their job, many faced toxic environments. And women who challenged the harassing environments often were labeled as troublemakers and experienced career stagnation, says Blackstone.
"What was surprising was just how much harassment can derail a person's entire career," she told Elle magazine.
Time magazine named the "Silence breakers" — including Judd and Milano — its 2017 People of the Year for being "voices that launched a movement."
While women have talked about and reported sexual harassment for decades, people in power — including those in the media — often have not listened, believed or responded. And in prior decades, women did not have Twitter.
These "silence breakers" do. And the platform has amplified their resonating messages and calls for change in real time, in a politically charged climate.
It's important to remember that a decade before #MeToo, there was "Me too." Tarana Burke, program director of Girls for Gender Equity in New York, coined the phrase to help young women of color who were survivors of sexual assault. While known locally, the phrase didn't spread virally. But a decade ago, Twitter, or rather Twttr, was in its infancy. Then, people's "chirps" often initially informed friends about mundane aspects of their day.
By December 2017, people were sending 6,000 tweets a second — 500 million each day — many about politics, sexism and racism.
Stories on Twitter provide a rich tapestry of meanings that reflect every imaginable perspective on race and gender in American culture, says Rosenbaum. And people use the platform "to share, lament, celebrate, reject, and mock the mainstream understandings of race and gender."
In prior decades, Rosenbaum says tackling social injustice and being part of a social movement meant sitting-in, marching or participating in consciousness-raising groups. But today, a 280-character tweet with a predesignated hashtag has the potential to start a movement.
"The logistics of aggregation have changed," Rosenbaum says. "Now it takes one person, one idea, at the right time."
It's taken me months to muster up the courage to admit this to myself and to say this, but ... #MeToo
The platform has become the thermometer for the country's mood, says Rosenbaum, and it plays an inexorable role in writing and recording history.
Since the #MeToo movement started in late 2017, high-profile men in power have been fired, suspended or have resigned — including mogul producer Weinstein, NBC Today host Matt Lauer, New York Times reporter Glenn Thrush and U.S. Sen. Al Franken.
#MeToo gave rise to #TimesUp. And #TimesUp inspired the Time's Up Legal Defense Fund. Formed by about 300 women in Hollywood, the fund seeks to address "systemic inequality and injustice in the workplace that have kept underrepresented groups from reaching their full potential" and seeks to shift "society's perception and treatment of women."
As of March 8, the campaign that originated just three months earlier had raised more than $20 million and helped 1,500 women file harassment suits against their employers for abuse and assault.
The fund also supports legislation to discipline companies that tolerate pervasive harassment, as well as to dissuade using nondisclosure agreements to silence survivors.
"From movie sets to farm fields to boardrooms alike, we envision nationwide leadership that reflects the world we live in," states the Time's Up Legal Fund letter.
Blackstone, whose parents worked to improve lives of migrant farmworkers, hopes the #TimesUp movement results in positive cultural and workplace changes.
"We know that male-dominated environments have been found to foster higher harassment rates, so hiring and promoting more women is one strategy employers can use to reduce harassment," says Blackstone.
Twitter, says Rosenbaum, will continue to provide space for millions of people to respond to, discuss and make sense of events — including sexual harassment — in real time. While Twitter, like the rest of society, is not free from misogyny and mansplaining, dialogue on the platform — even when uncivil and combative — can ultimately be constructive and serve to strengthen democracy, she says.