On an unseasonably warm September morning in Maine, four men work together to harvest kale, peppers and tomatoes.
One of the men is about twice the age of the others. With a bachelor's degree in environmental horticulture, he's viewed as a mentor, this day providing gardening guidance in how to harvest the ripest produce.
They work in close proximity, gently tossing vegetables from person to person and into a wheelbarrow. Once harvested, the produce is wheeled down a sidewalk — past compost piles, beehives and flower gardens — to a locked door. When all four men are standing there, present and accounted for, an officer permits them to proceed.
The men cart the day's bounty through an empty cafeteria and an  industrial-grade kitchen buzzing with activity. In an adjoining room, the weight of the produce is recorded.
The fruits of the group's labor will be cleaned, chopped and served as part of the evening meal for them and more than 1,000 other inmates of the Maine State Prison in Warren.
Over the past few years, the Maine State Prison has reinvigorated its agriculture program. Under the direction of Warden Randall Liberty, the maximum security facility has expanded the amount of garden space to provide more food, cut costs for the prison and state, and assist inmates in developing employable job skills.
University of Maine Cooperative Extension has partnered with the prison to provide horticulture skill training to inmates.
The training began in 2001 for prisoners who were looking to develop job skills in the horticulture industry, according to Mark Hutchinson, a UMaine Extension professor, who helped initiate the program.
"The landscape industry was really short on labor, and it's traditionally that way," Hutchinson says. "We thought that training people who were incarcerated with employable skills they could actually come out with and go into an industry that was looking for labor was a really good idea."
Since then, the course was offered almost every year, until 2014, according to Hutchinson. When Liberty joined the prison staff in 2015, he reached out to Hutchinson to see if UMaine Extension could restart the program. Hutchinson returned to organize a horticulture training course in 2016.
In the winter and early spring, UMaine Extension staff lead an eight-to-12-week program at the prison that focuses on gardening skills, including botany, plant fertility, soil health, crop rotations, vegetable production systems, integrated pest and weed management, and seedling production.
The program, which is offered for free, is capped at 12–15 participants at a time and includes many hands-on activities. Each class runs two hours and 30 minutes.
Hutchinson provides the dates and subject matter for the courses. Prisoners then apply and are selected based on criteria including recent behavior. Currently, 30 men are on a waiting list to take the course.
Hutchinson estimates that almost 200 inmates have taken the horticulture training course throughout the 14 times it has been offered.
According to Hutchinson, prison staff have noticed positive behavioral changes among those who have taken the course.
"There are less incidences of demerits or behavioral issues for this group," he says. "It gives them a purpose and they have a sense of belonging, and they feel good about what they're doing and why they're doing it."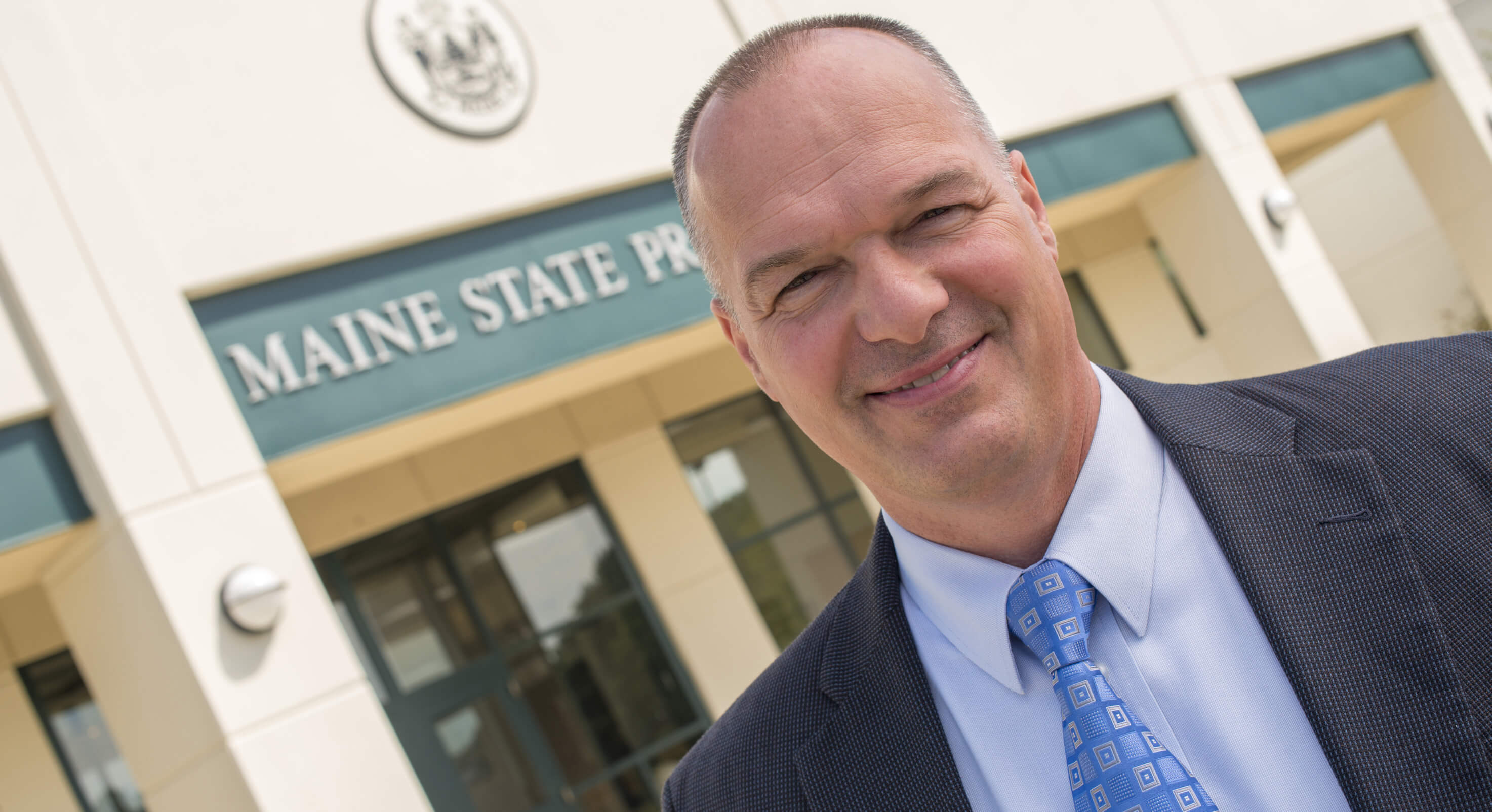 Before becoming warden of the Maine State Prison two years ago, Liberty worked at the Kennebec County Sheriff's Office for 26 years, nine as sheriff. He also took the Master Gardener Volunteer program with UMaine Extension, and initiated similar gardening efforts with inmate crews.
In Kennebec County, he oversaw the farming of 40 acres, which annually provided about 50,000 pounds of produce that was donated to food pantries, soup kitchens and schools.
At the Maine State Prison, Liberty saw potential in the yard's unused green space. He figured the facility could compost waste generated from the kitchen and rotate it into the soil. Now an estimated 1.5 acres of the prison grounds are used for gardening, as well as two greenhouses for winter planting.
"We started small as a pilot and we grew it; we may have quadrupled the size this year," Liberty says of the prison's gardening efforts, which evolved from mainly growing ornamentals to producing food.
The prison has about 20 men employed in the composting, recycling and gardening program, according to Liberty, who hopes to double the number this year.
"It's gone very well," he says of the reinstated agriculture program. "There are some things we can do here at the prison that soften the culture, and the garden program is one."
"The landscape industry was really short on labor, and it's traditionally that way. We thought that training people who were incarcerated with employable skills they could actually come out with and go into an industry that was looking for labor was a really good idea."

Mark Hutchinson
One of the prison's challenges is making sure inmates have a reason to get out of bed in the morning, Liberty says. To provide outlets for purposeful, paid work, the prison offers the agriculture program, as well as a K-9 program where prisoners train dogs to assist disabled veterans, and a woodshop where inmates build everything from birdhouses to furniture.
Per Liberty's suggestion, the latest horticulture training program, offered January through March 2018, was taught as a UMaine Extension Master Gardener Volunteers program.
The Master Gardener program provides participants with around 40 hours of in-depth training in the art and science of horticulture. Trainees receive current, research-based information from UMaine Extension educators and industry experts. In return, trained Master Gardeners volunteer for community programs and activities.
To satisfy the volunteer requirement, the prisoners started seedlings for school and community gardens throughout the state and will donate produce to local food pantries.
The Master Gardener program started in the state in 1982, and Maine currently has 1,030 active volunteers.
While any inmate can apply for the training program, getting assigned to the gardening crew requires completing a job application and vetting process.
"Somebody who's willing to work and learn is sometimes better than somebody with a lot of experience," says Ryan Fries, captain of the Maine State Prison, who helps select participants for the gardening program.
Fries says most of the men selected for gardening are dedicated to it.
"They see the future in it," he says. "They see the ability to give something back to themselves."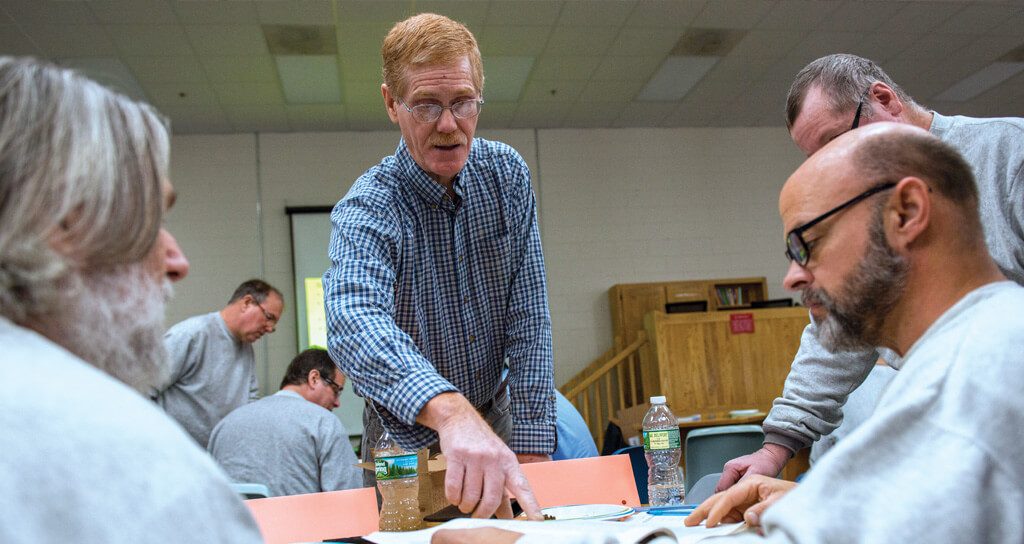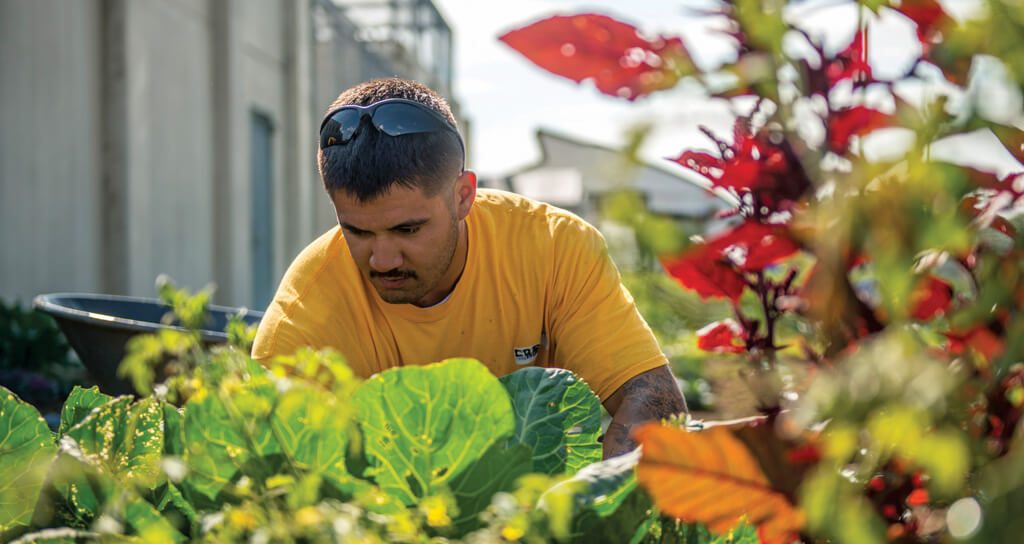 In addition to leading several of the classes, Hutchinson visits the prison throughout the growing season to check on the gardens' progress and offer feedback.
In September, the prison gardeners consulted Hutchinson about static pile composting. Hutchinson, an instructor for the Maine Compost School, took core temperatures and offered advice on different waste to use in order to get the materials to decompose properly, according to Liberty.
Hutchinson often brings other UMaine Extension experts to assist with vegetable production, according to Liberty, who calls Hutchinson critical to the program's success because of his dedication throughout the years.
Even though Greg, the inmate with a formal education in horticulture, is familiar with gardening practices, he still appreciates having Hutchinson and other experts available to answer questions either in person or by email via Fries, who oversees the gardening efforts.
Greg recalls a time the gardeners noticed radish plant leaves were getting chewed. After consulting with Hutchinson, they learned what type of bugs were threatening the plant, as well as strategies to keep them away.
"We can find out the answers to stuff almost immediately, it's wonderful," he says.
"A lot of these people have not had success in their lives. One of the first things they tell me is how many pounds of vegetables they have put into either the food bank or the kitchen, and they are so proud of that. It's really a pleasure for me to see them have that success."

Mark Hutchinson
Fries also sees the benefits of working closely with Hutchinson.
"The knowledge he brings guiding us to help our gardens flourish is just amazing," Fries says. "And he makes it fit our environment, which is super. A lot of people come in and give ideas, but they don't realize that we're working inside a prison system."
Gardening in prison offers its own set of challenges. Prisoners aren't allowed to use traditional tools, such as shovels, rakes and hoses, without supervision, if at all. Instead, they use their hands, cups and three-gallon water buckets.
"Every time we come up with an obstacle, we also try to find a reasonable solution to help them maintain and actually succeed," Fries says.
Despite the extra work, the men look forward to gardening for about six hours a day.
"Gardening is very therapeutic," Hutchinson says, noting that it's a way to eliminate some of the inmates' mental stress. "They look forward to the time out there and getting their hands dirty and working."
Greg agrees. His favorite aspect of gardening is working in the soil.
"Whether it's planting seeds or pulling weeds or flipping compost piles over, I like the hands-on aspect of it," he says.
Greg's father was a landscaper. After earning his degree, Greg owned a landscaping company. When he was sentenced to 37 years, Greg was relieved to see a greenhouse at the prison. Now he often mentors inmates who are new to the program and even led one of the horticulture training classes when Hutchinson was double-booked.
"To me, it's just like second nature; almost like I live and breathe horticulture because I've done it my whole life," he says.
Greg says he enjoys seeing new inmates come onboard, especially those who have no prior gardening experience, but have the drive to learn.
"It's really nice to see people start out not knowing things and as the season progresses, they just flourish and they become experts," he says. "They'll come to me and say, 'Hey, I was thinking we could do this.' At the beginning I had to encourage them to do it, and now they're part of the program and they just take hold of it and get things working, and to me it's so rewarding to see that."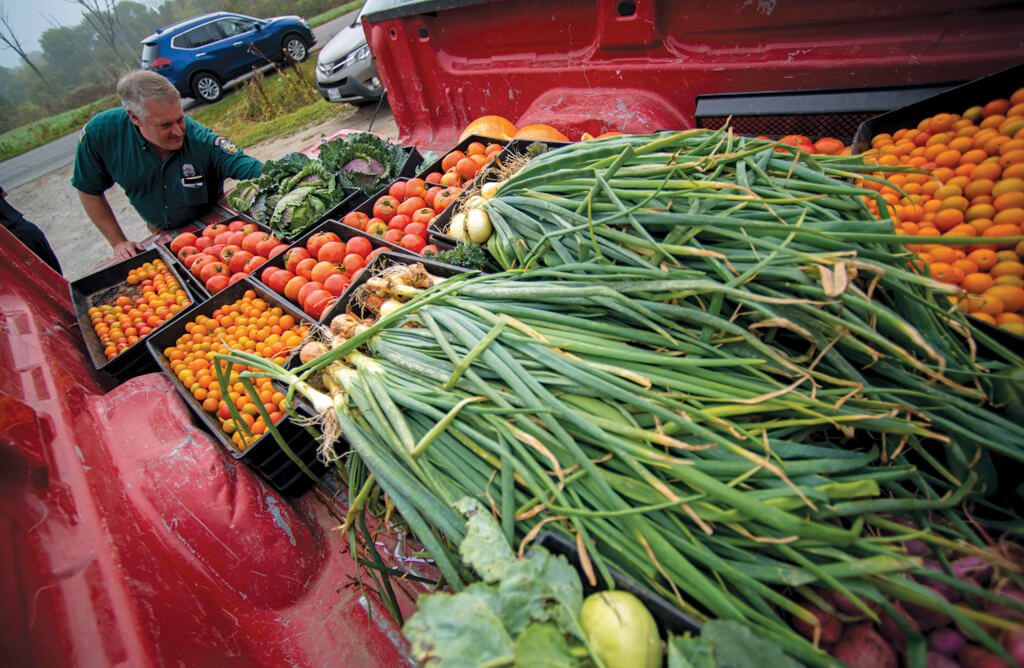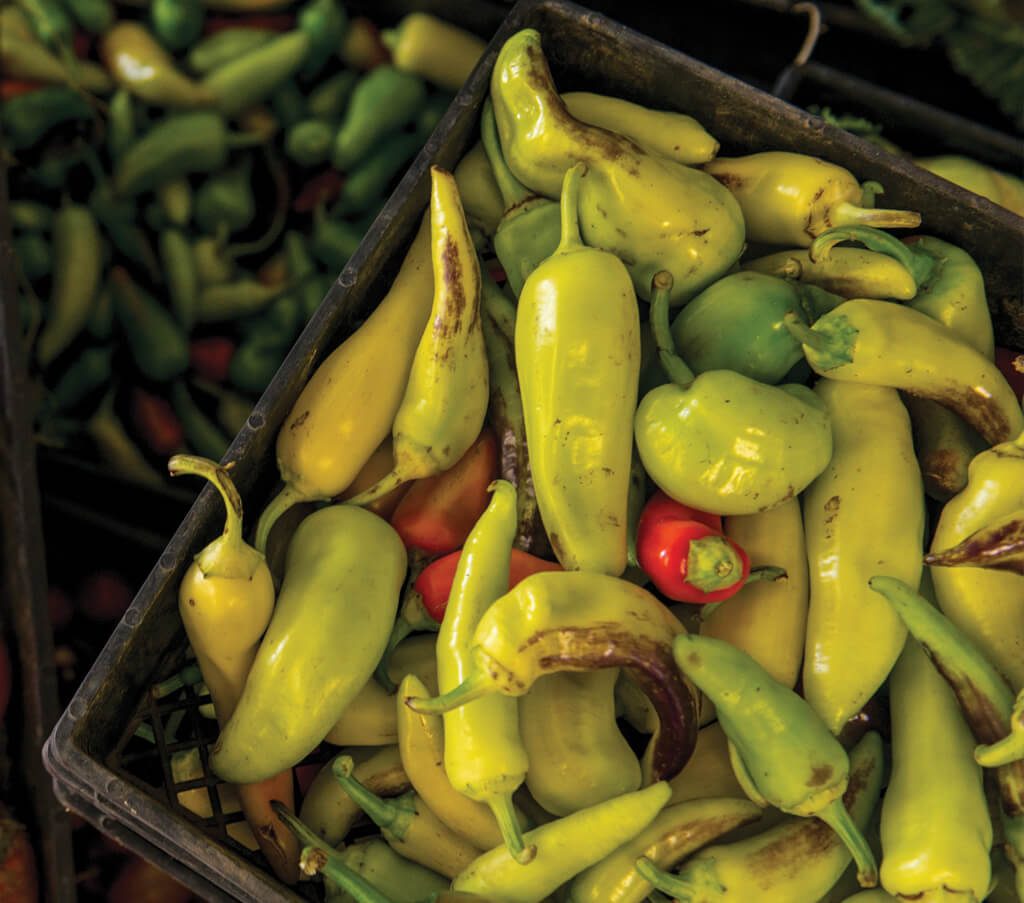 Today, the prisoners grow a variety of produce, including Swiss chard, kale, lettuce, collard greens, cauliflower, tomatoes, beets, string beans, cabbage, kohlrabi, chives, root vegetables, peppers and herbs. They also continue to grow flowers, both as Mother's Day gifts and to attract bees.
In 2016, the inmates grew around 3,500 pounds of food and donated 600 pounds to a Rockland food pantry. In 2017, 8,000 pounds were grown, with another 700 pounds donated, this time to the Area Interfaith Outreach (AIO) food pantry in Rockland.
"Fresh produce is so expensive in grocery stores and the people who come to AIO for help feeding their families are so pleased to find such beautiful food," says Sherry Cobb, former president of the AIO board of directors. "We at AIO are grateful to the gardeners at the Maine State Prison for their hard work and for giving so generously to their midcoast neighbors who need this food."
To determine what type of vegetables should be grown each season, Fries consults with Roger Cordes, correctional cook supervisor at the prison. The pair determine what would best meet the needs of the kitchen while also making the most financial sense.
Cordes says he is always asking for any kind of greens because the inmates favor salad.
"Everyone talks about how good the salad was because there are fresh veggies," says Chad, a prison gardening crew member. "We don't really get that much stuff in the salad throughout the wintertime. So everybody looks forward to the cucumbers and the tomatoes and the fresh onions in the salads."
Currently, the prison is saving about $3,000 a month on salad greens, which it hopes to supply annually from March through December, according to Cordes.
The kitchen prepares more than 3,000 meals a day so everything that is grown can be consumed quickly, according to Liberty, who says the prison also uses food from the farm at nearby Bolduc Correctional Facility.
About 64 inmates work in the kitchen preparing the meals, according to Cordes, who says the experience gives them skills for future use in the restaurant industry.
"It's nice to reduce a little bit of the tax burden, and the inmates are doing the work themselves," Liberty says. "I think there's an expectation on the outside from the taxpayers' standpoint that the inmates are gainfully employed and they're growing some of their food, so it satisfies all those needs. With the salad bars, since we produce them here, there's no cost to the taxpayer; there's limitless salad, so they appreciate that."
In 2016, the inmates grew around 3,500 pounds of food and donated 600 pounds to a Rockland food pantry. In 2017, 8,000 pounds were grown, with another 700 pounds donated, this time to the Area Interfaith Outreach food pantry in Rockland.
Significant savings in the prison also are being found through composting and recycling efforts.
According to Liberty, the kitchen produces about a quarter million pounds of organic waste each year, which was costing about $45,000 to be hauled off the property. Now the prison is collecting that waste, along with shredded paper, grass clippings and leaves, and composting it instead of paying to have it taken away.
"We rotate that back into the soil, greatly enhancing the nutritional value of the soil and increasing the production of the vegetables," says Liberty, who adds the prison also is incorporating beehives with Hutchinson's guidance.
In March 2018, Hutchinson and Fries were awarded the Source Trailblazer Award by the Portland Press Herald for their work within the prison. Every year, the newspaper's Source Awards honor Maine residents, organizations and businesses working in sustainability.
James, who is serving a five-year sentence, took the horticulture training program at the prison and has worked on the garden crew for several years. He says gardening lets him spend time outside and gives him a small sense of freedom.
Having had some prior gardening experience, James says the program seemed like a good place for him and offered an opportunity to make a difference with his time in prison.
"People ask about you and what you're doing all the time," James says of the other inmates' interest in the gardens. "They ask about the food, how long certain things grow."
He recently was transferred to Bolduc Correctional Facility, a minimum security institution that houses incarcerated men who are transitioning back into the community. At the facility's farm, James intends to continue practicing his gardening skills in preparation for reintegrating into society and finding employment.
"On the outside, I'll be growing (plants) a lot," James says. "I hope to work at another greenhouse."
After all, the primary purpose of the Maine State Prison is to reduce recidivism, according to Liberty.
"We're not here to punish them. Their punishment is being here," he says.

Liberty says prison staff work to address the common factors that play a role in most convictions, such as substance abuse, mental health, anger management issues, poverty, neglect and learning disabilities.
"We try to address all those needs," he says. "I think the agriculture program goes a long way to calming them and making them feel proud of something they're doing."
Liberty says having mentors such as Hutchinson also is meaningful.
"To spend time with a guy like Mark is priceless," he says. "They can see the example of a good man that makes a difference in the community."
UMaine Extension has been a major player in the prison's gardening efforts, says Hutchinson, who sees it as part of the university's comprehensive outreach mission to engage learners of all ages and improve their lives.
"A lot of these people have not had success in their lives," he says of the inmates. "One of the first things they tell me is how many pounds of vegetables they have put into either the food bank or the kitchen, and they are so proud of that. It's really a pleasure for me to see them have that success and be proud of what they're doing."
Hutchinson says he often sees men come in with little or no gardening experience who end up finding a passion.
"Having that response from them has been a really positive experience for them and for me," he says.
Eugene, who was sentenced to 30 years with all but 15 suspended, had limited gardening experience before coming to the prison. He says he likes the homesteading lifestyle and plans to continue gardening once he is released.
"It's rewarding, it is. Granted, everything takes time, but I have nothing but time," Eugene says.