A team of University of Maine researchers has been awarded $1.17 million from the U.S. Department of Agriculture to develop and test land management practices to protect Maine forest workers from exposure to tick-borne diseases. The three-year project, "Developing adaptive forest management practices to mitigate impacts of climate change on human health," is led by Allison Gardner, an assistant professor of arthropod vector biology, and Carly Sponarski, an assistant professor of human dimensions of wildlife and fisheries conservation.
Other researchers involved in the study are Jessica Leahy, a professor of human dimensions of natural resources; Anne Lichtenwalner, a professor, veterinarian and director of the Animal Health Laboratory; and Laura Kenefic, a research forester with the U.S. Forest Service Northern Research Station.
The team aims to develop and test adaptive land management practices to protect private forest owners, foresters and loggers against exposure to tick-borne diseases. They also hope their recommendations will manage the spread and persistence of tick-borne diseases in Maine's forests.
"Our forest management decisions can have dramatic effects on the abundance and behavior of vertebrate hosts of tick-borne pathogens and also the abiotic conditions that influence tick survival during the large proportion of the tick life cycle spent off-host," Gardner says. "Because our state is dominated by forest land cover, it is important that Mainers understand the numerous ecosystem services provided by healthy forests, including buffering zoonotic disease transmission."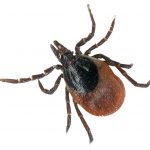 Maine has experienced a fivefold increase in Lyme disease cases over the past decade, likely due to climate change and land use change, according to the researchers. The increase in cases, combined with the high percentage of nonindustrial private land ownership in southern Maine, provides an urgent need and a unique socio-ecological context to investigate the effects of forest management on infectious disease.