Michael Socolow arrives mornings at his book-filled corner office in Dunn Hall and promptly checks Twitter to catch up on the previous eight or so hours of news and commentary.
"I feel like I'm plugged in after that," says the University of Maine associate professor of communication and journalism, who likens Twitter to the wire services he monitored in the early 1990s when he was a CNN assignment editor in Los Angeles.
"You could find out stories before anybody else. That's what I enjoyed about journalism, being at the nerve center," Socolow says. "If a breaking story occurs today, it happens first on Twitter. If you want to be informed, that's the place you have to be."
And that's where he is.
@MichaelSocolow is one of about 335 million Twitter users worldwide. In 280 or fewer characters, he adds to the conversation about breaking news.
He also writes analyses for news outlets in which he seeks to put journalism's "first draft of history" into broader context. Sometimes Socolow pitches columns to editors. And because of his presence on Twitter and his expertise about the intersection of media and history, editors reach out to him.
In the last year, his commentary has run in The Boston Globe, Chicago Tribune, The New York Times, Columbia Journalism Review and other outlets. His work provides historical perspective on current political, cultural, sports and media topics.
Which makes sense.
Socolow earned an undergraduate degree in history at Columbia University and a doctorate in the same discipline at Georgetown University.
"I always loved history and I loved the media," he says. "And I wondered how these two things combined. I wondered where the media universe we live in today came from."
Socolow searches for repeating patterns in American media history. And he takes away lessons they offer for the media and others in today's political and cultural climate. He found both in the Thai boys' soccer team's rescue from a flooded cave.
In his Boston Globe piece titled "The Thai teens and the baby in the well," Socolow compares the coverage of the soccer squad's plight with that of the 33 Chilean miners trapped underground for more than two months in 2010, and to the retrieval of Jessica McClure, the baby trapped for 58 hours in an abandoned well in Texas in 1987.
Socolow says "baby-in-the-well" stories show journalists and their employers that "storytelling is not about the technology, it's about the narrative."
"Media history teaches how these and other formulaic narratives continually reoccur and prove irresistible to audiences," he wrote. "Looking to the most foundational aspects of journalism as a cultural practice might help reverse the economic devastation facing the media industries in this era of transformation. You might even say these stories could rescue journalism."
"Looking to the most foundational aspects of journalism as a cultural practice might help reverse the economic devastation facing the media industries in this era of transformation."

Michael Socolow
These thrilling stories resonate because they build community and "demonstrate to readers and viewers that life and death, and heroism and courage, are a part of daily existence," he wrote.
They also encourage "us to reflect on our own courage and resilience. Like a good myth or parable, these stories reaffirm the most basic elements of humanity."
This summer, Socolow wrote about another familiar pattern when Alex Jones' InfoWars material was being banned by Apple, Facebook and others. His piece for The Conversation was titled "Audiences love the anger: Alex Jones, or someone like him, will be back."
"Confrontational characters spouting conspiracy theories and promoting fringe ideas have been with us since the invention of American broadcasting," he wrote. "First on radio, then on television, the American audience has consistently proven eager to consume the rants of angry and bitter men."
Jones isn't unique because when the "American Dream isn't working out so well, scapegoats must be found" and the Joneses of the broadcasting world "simultaneously soothe and stoke the anxieties and insecurities of Americans living in a world that's increasingly complex and beyond comprehension."
And "as long as insecurity and anxiety can be exploited," Socolow predicted "there will be new versions of InfoWars to pollute our nation."
Five days after Michael Wolff's best-selling book Fire and Fury: Inside the Trump White House was published, Socolow penned "As an industry rots, Michael Wolff laughs his way to the bank" for Columbia Journalism Review.
Media critics had written withering reviews, and cited a slew of media ethics violations and editing blunders. Socolow says there's another reason the press pilloried Wolff: He was making millions "when ethical, professional, nuts-and-bolts political journalism is collapsing."
And when "the job of the newspaper is to comfort the afflicted and afflict the comfortable" as Chicago Evening Post columnist Finley Peter Dunne asserted, "to exploit journalism ambitiously — to plan reporting so as to make millions and facilitate social climbing — would seem a betrayal of classic journalistic values," wrote Socolow. "It's precisely that betrayal that bothers so many journalists watching Wolff laugh his way to the bank."
Socolow gave props to Mad Magazine in his analysis "Mad Magazine's clout may have faded, but its ethos matters more than ever before" in The Conversation.
He credited the magazine with performing a key public service when it "preached subversion and unadulterated truth-telling when so-called objective journalism remained deferential to authority. Long before responsible organs of public opinion like The New York Times and the CBS Evening News discovered it, Mad told its readers all about the credibility gap."
That credibility gap, though, appears to have widened since 2001. As evidence, Socolow cited the failure of the media before the Iraq War and "the acquiescence to the carnival-like coverage of our first reality TV star president."
Before he transitioned to academia, Socolow worked for the host broadcast organizations at the Olympic Games in Sydney, Barcelona and Atlanta. And as assignment editor at CNN, Socolow helped direct breaking news coverage in Los Angeles and on the West Coast. He worked extensively on the O.J. Simpson trial, and was part of the team awarded the CableACE Award for coverage of the 1994 Northridge earthquake.
Socolow pivoted from broadcasting when he sensed the scale and pace of reporting were rapidly changing. Many top journalists are adrenaline junkies and Socolow says he's "a bit too contemplative and too slow" for that lifestyle.
For a professor, media historian and author, though, being contemplative is an asset. And an appreciated one.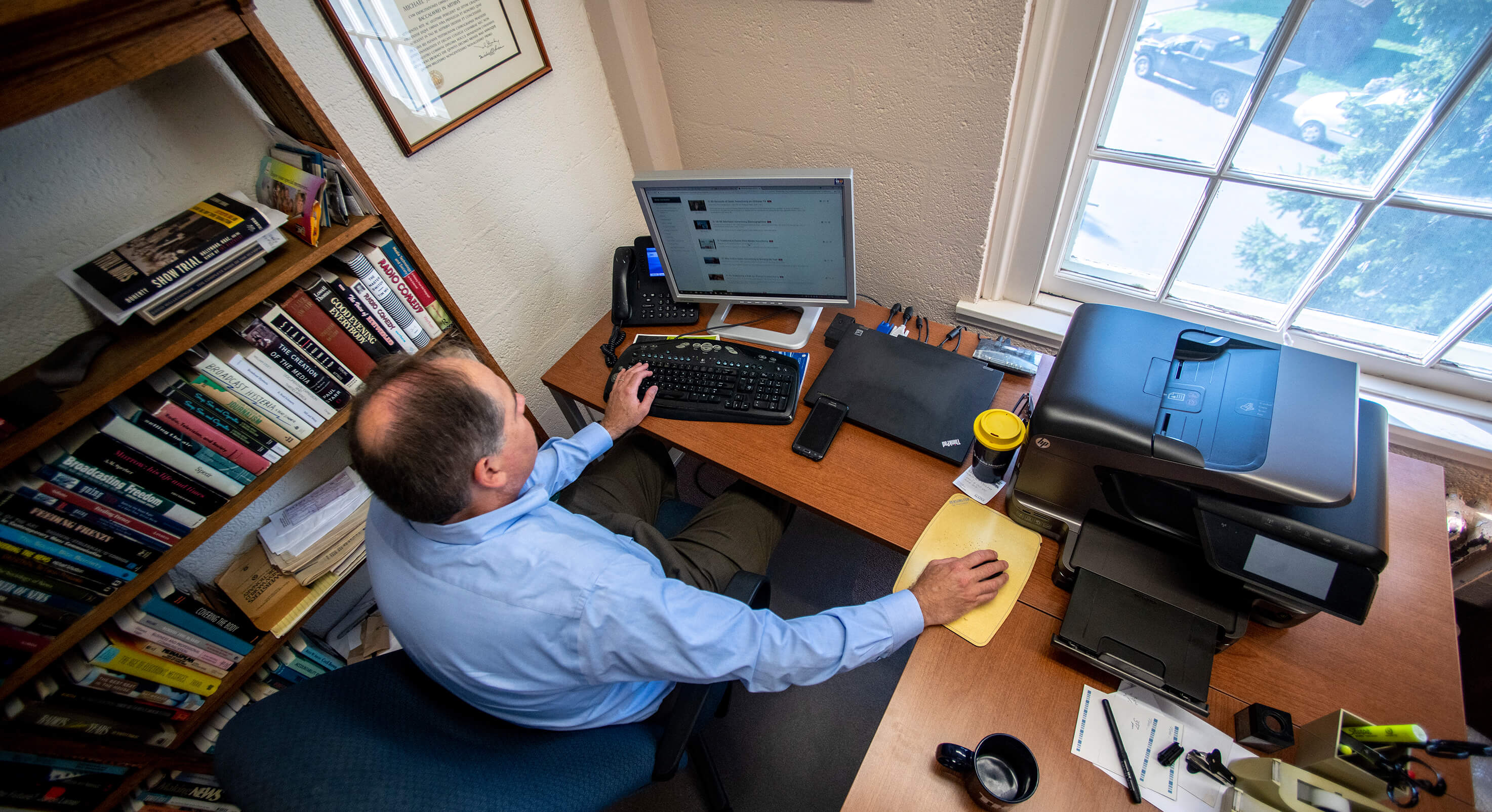 In 2018, UMaine's College of Liberal Arts and Sciences recognized Socolow's curiosity and contributions, presenting him with an Outstanding Faculty Award for Research and Creative Achievement.
Also, in spring 2018, the Library of American Broadcasting Foundation presented Socolow with its 2018 Broadcast Historian Award for his book Six Minutes in Berlin.
The book — which combines Socolow's passions for writing, history and crew — details the University of Washington men's crew team's improbable and thrilling win at the 1936 Olympics in Berlin.
Socolow puts readers in the boat with the Huskies, in living rooms with Americans riveted to the broadcast of the race, and with the broadcast professionals working to bring the Olympics to 300 million people around the world.
In a release about the award, a portion of Allen Guttmann's review in the Journal of American History was cited. "The stroke-by-stroke story of the Huskies' come-from-behind victory is a masterpiece of sports journalism. (T)he text reads as if Socolow had discovered that his true vocation is to be a novelist," wrote Guttmann, a retired professor of English and American studies at Amherst College.
Former sports writer Ron Bishop, an author and professor of communication at Drexel University, also is a fan. He wrote in American Journalism that Six Minutes in Berlin "belongs on all history of sports or sports journalism syllabi" and "is among the best works of sports history."
Socolow, who rowed at Phillips Exeter Academy and at Columbia, says rowing taught him to value process as much as results. In a column for The Boston Globe, he describes the "great exultation" known to rowers as "swing."
"Swing is ephemeral and almost indescribable. It's the challenge that keeps oarsmen rowing. It's the moment when the physical propulsion of a shell evolves into a metaphysical feeling of transcendence. This is the essence of crew," he wrote.
"Every oarsman, and coxswain, knows when swing occurs. They sense their effort has become transcendent; the boat is now flying but the effort to maintain — and even grow — speed eases. Everything flows as the boat glides. Everyone feels it but nobody acknowledges it. It is unity made manifest. It's surrender to process rather than demanding results."
Socolow's adopted a similar perspective about writing. He surrenders to the process, which is what matters. He isn't fazed when editors reject his pitches.
A good number, though, are accepted.
James Freeman, assistant editor of The Wall Street Journal's editorial page, views Socolow as an active participant in the media business because of his interesting commentary.
"His work has a richness not just because he is still a curious reporter who understands trends in our age of digital media abundance, but also because he has studied the early history of electronic media scarcity," says Freeman. "While we don't always agree, he always makes me think."
Freeman says Socolow was already an informal culture journalist when the two were friends at Phillips Exeter.
"He would play music none of us had ever heard and tell us all about the people who made it. And then years later when it became popular, we could confidently report that we'd been listening to it for years," says Freeman.
"Same thing with sports. Some Americans have recently started tuning into English Premier League soccer on weekend mornings, but Mike was a fan when I met him in 1983. So he was a naturally curious reporter, always looking far and wide for whatever was new and different and interesting and then sharing it with others."
For a semester beginning in January, Socolow will be based at the University of Canberra's News and Media Research Centre in Australia, where he'll be a Fulbright Senior Research Scholar. He'll examine how Australian media interacts, and has historically interacted, with media on a global scale.
"I always loved history and I loved the media. I wondered how these two things combined. I wondered where the media universe we live in today came from."

Michael Socolow
Socolow says persistence has been key throughout his careers. In 2003, when he initially applied for a teaching position at UMaine, he didn't get the job. Socolow still has the rejection letter.
He seeks to impart lessons about persistence to students in courses he teaches, including Journalism Across Platforms; Propaganda and Political Communication; and Media History. He also helps them hone skills so they write clear, precise, engaging prose and think about a story from a multitude of angles, rather than "both sides."
"I got that from dad. He used to say that anybody can get both sides," says Socolow. "But real journalists can find sides five, six and seven."
His dad, Sandy Socolow, would know.
He was a producer on CBS Evening News with Walter Cronkite for much of the 1960s and '70s, and produced and coordinated much of the coverage of the Vietnam War, the moon landing and Watergate.
Prior to his long career in television, Sandy Socolow was an overseas wire service reporter.
Socolow's mother, Nan Socolow, is an accomplished poet. Rolling Stone and The New Republic have published her poems.
Growing up, Socolow says the television was on in his home much of the time. He recalls that his father frequently joked that TV "paid the rent."
Socolow doesn't watch a lot of television anymore. His preferred mediums are Twitter, the web, radio and newspapers. When he travels, Socolow reads local papers to get a sense of place.
Media, he says, will continue to evolve.
"It's always in an era of transformation. So if you don't like Twitter right now, if you don't like Facebook right now, wait a decade. They won't look the way they look right now."
That's the way it is.