After the storm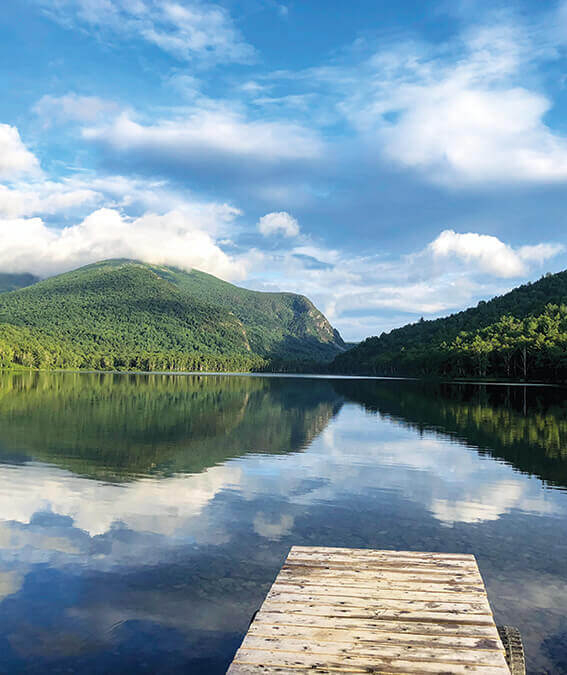 Monitoring concentrations of dissolved organic carbon in Maine lakes before and after severe rainstorms could inform management strategies to help ensure consistent, high-quality drinking water, according to University of Maine researchers.
In their study, working with local drinking water districts, Kate Warner and Jasmine Saros, researchers in UMaine's Climate Change Institute and the School of Biology and Ecology, found that increasingly frequent and extreme rain events can contribute to short-term abrupt changes in the quantity and quality of lakes' dissolved organic carbon, which is derived from leaves, pine needles and other terrestrial debris in watershed runoff.
The goal was to better understand the effect of severe rainstorms on freshwater ecosystems and, in particular, how dissolved organic carbon is changing in Maine lakes that are used for drinking water. Dissolved carbon can interact with some of the drinking water treatment processes and form harmful byproducts.
By sampling dissolved organic carbon in six Maine lakes before and after five severe rainstorms, the researchers found three response patterns. Some lakes had an initial spike in dissolved organic carbon that returned to prestorm levels within days. The largest lakes sustained no changes in the concentrations of dissolved organic carbon. In other lakes, dissolved organic carbon levels increased and remained high. Such a sustained response is particularly important for water districts, which might have to modify treatment strategies following extreme storms.
Maine has 6,000 lakes, 45 of which are drinking water sources, say the researchers.
---
In the field
The students actively contribute to the preservation of irreplaceable data threatened by severe erosion at a site that is an important cultural space to the Passamaquoddy people.
University of Maine students spent four weeks in an archaeology field school in the Machias Bay area, directed by assistant professor of anthropology Bonnie Newsom. This is UMaine's seventh season of coastal archaeological fieldwork in the region.
In the field school, funded by the Maine Academic Prominence Initiative grant, students were immersed in experiential learning that blends fieldwork with cross-cultural community engagement. Students learn archaeological science techniques centered on systematic data collection from a site that spans roughly 3,000 years of Maine's pre- and post-contact history.
The fieldwork focuses on one of Maine's most fragile shell midden sites — an area of discarded shells that contains material remains of past peoples and long-term paleoenvironmental data. Shells preserve organic materials (animal bone, textiles, wood, plants, seeds, etc.) in Maine's acidic soil. The organics help archaeologists examine the cultural context and environmental aspects to learn what they can tell us about humans and climate change, including whether the climate was different throughout the occupation of the site.
The students actively contribute to the preservation of irreplaceable data threatened by severe erosion at a site that is an important cultural space to the Passamaquoddy people.
Since its inception, the UMaine field school has been conducted in cooperation with the Passamaquoddy Tribal Historic Preservation Office. As part of this summer's field school, the students also worked on a community service project with Passamaquoddy Tribal members to assist with their language preservation efforts.
---
Patented innovation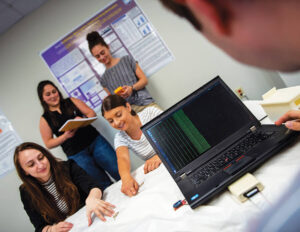 The University of Maine was recently issued a patent for a device that detects brain injury by measuring sleep movement patterns. This technology will be licensed by Activas Diagnostics, a UMaine spinoff company. The invention is a fitted mattress sheet equipped with more than a dozen sensors that gather information about sleep-wake and respiratory patterns while a person sleeps in their own home rather than in a sleep study facility. The SleepMove monitoring system has the potential to detect early symptoms of mild cognitive impairment and Alzheimer's disease. The UMaine inventors are Marie Hayes, professor of psychology, and Ali Abedi, assistant vice president for research, and professor of electrical and computer engineering.
---
Human-vehicle collaboration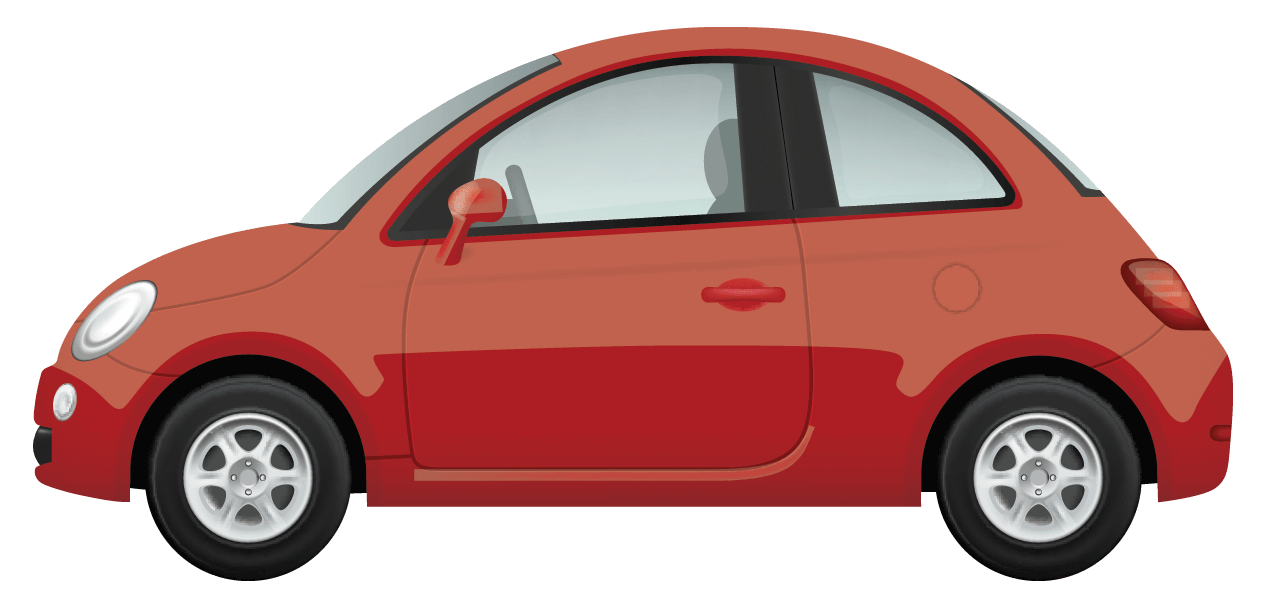 A $500,000 National Science Foundation research grant to the University of Maine to study self-driving vehicles aims to make the transportation of the future more accessible, usable and trustworthy.
The project, co-led by Nicholas Giudice and Richard Corey, who run and direct the UMaine Virtual Environment and Multimodal Interaction (VEMI) Lab, is designed to improve user trust of fully autonomous vehicles through a new study they call human-vehicle collaboration (HVC). The goal is to explore new ways of sharing how decisions are made and information is communicated between the human passenger and the artificial intelligence "driver," thereby addressing the key human factors of perceived loss of control over driving activities and fear of not "knowing" what the vehicle is doing during autonomous operation.
Although the autonomous vehicle market is predicted to reach $500 billion in the next five years, the majority of R&D has focused on the technical challenges of making these vehicles work well for roads, Giudice says. Far less is known about the challenges of making these vehicles work well for people. Indeed, an annual AAA survey released in March found that 71% of people are afraid to ride in fully self-driving vehicles.
HVC represents the science of identifying the best ways for people to interact and partner with the vehicles of the future. It is an essential step in the "trust race" to ensure that autonomous vehicles are still able to meet our needs, even when we're not at the wheel, Giudice says.
---
Smartphones and sadness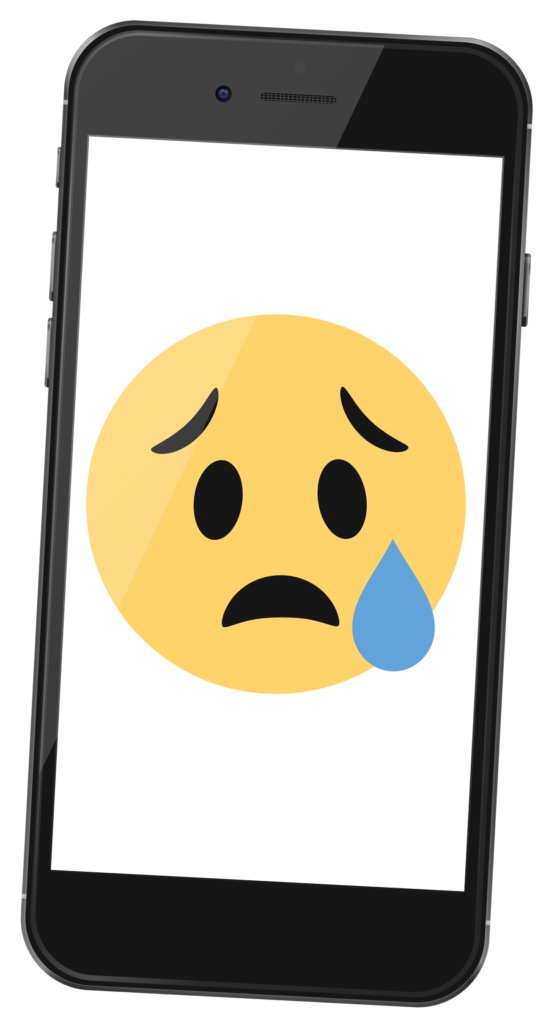 What did you use your smartphone for today? For University of Maine clinical psychology doctoral student Colin Bosma, smartphones are a research tool. This fall, 110 volunteer participants in his study are filling out a series of questionnaire assessments and watching a video clip from a sad movie scene while attached to an electrocardiograph. Then they'll download an app developed in the Onnela Lab at the Harvard T.H. Chan School of Public Health to their smartphones that will collect data in real time for a week.
Colin Bosma says the data-driven psychological assessments will lead to a better understanding of individual mental health issues, including depression, and accelerate personalized treatment.
Bosma will analyze participants' digital footprints to assess whether people who struggle to regulate sadness in response to an event — as determined by the questionnaires and electrocardiograph — are less social and less mobile.
Emotion regulation is the ability to intentionally reduce the intensity of an emotion. For example, a person saddened about the death of a friend might purposefully recall funny memories of the friend to feel better. People who have difficulty regulating sadness are more vulnerable to mental health problems, including depression.
To completely understand emotion regulation, Bosma says an unobtrusive assessment of the construct — the person's responses to sadness, anger or fear — as it occurs in the environment is needed. Digital sensors in smartphones can provide that.
---
Native plant loss
Caitlin McDonough MacKenzie, a postdoctoral researcher at the University of Maine, and her research team compared 19th century botanical records from Mount Desert Island — most of which is protected as Acadia National Park — to a recent survey of plants. They found approximately one of six plants documented in the late 1800s are now extinct on the island. Causes are likely a combination of habitat loss, climate change, damage from deer and pollution, she says.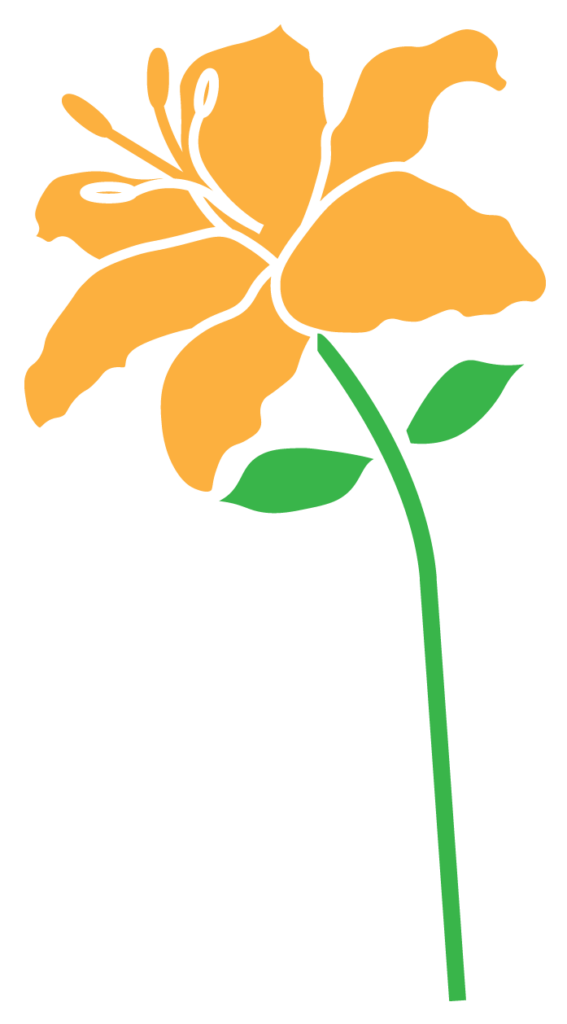 Each of the 13 Northeast sites examined by the research team showed a drop in the proportion of native plant species in local flora.
25% of local plant diversity across areas in the Northeast has been lost in the last 50–100 years.
16% of plants documented in the late 1800s are now extinct on Mount Desert Island.
43% of orchids and lilies recorded in 1894 on MDI are gone.
Another 33% of the species declined in abundance on MDI.
---
Newsom awarded AAUW fellowship
Archaeological research focused on the World War II German prisoner of war (POW) camp that was located on Passamaquoddy land in eastern Maine has been recognized with a 2019–20 American Fellowship from the American Association of University Women (AAUW).
The fellowship provides a $6,000 grant to support the work of UMaine assistant professor of anthropology Bonnie Newsom with Passamaquoddy Tribal Historic Preservation Officer Donald Soctomah, leading to publication of the results of their archaeological study of the former site of the POW camp — one of seven in Maine. In 2013, Newsom collaborated with Soctomah and supervised an archaeological study of the site as part of a U.S. Department of Defense munitions clean-up effort.
Newsom will use the technical report from that study as the basis for a broader manuscript focused on the history of the POW camp in Passamaquoddy homeland, including results of the site excavations. The current community-based research expands on the social aspects of a World War II POW camp on Passamaquoddy land.
---
Improving rural health care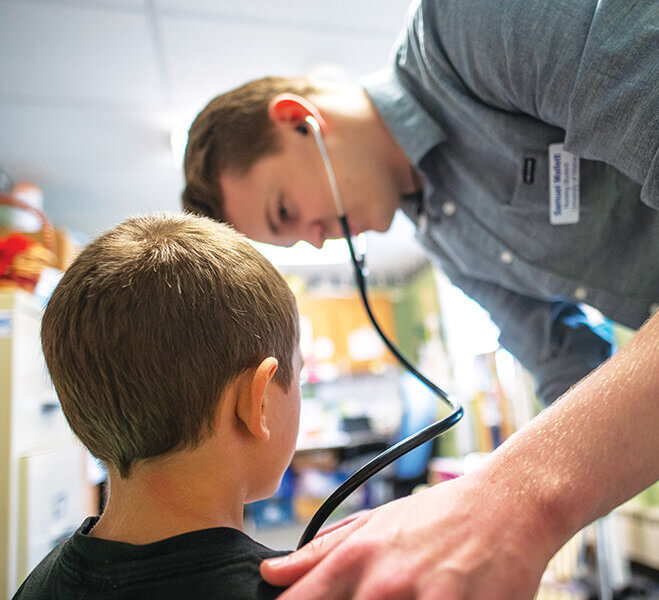 A nurse practitioner (NP) residency program will be reestablished next year with the help of a $1.7 million grant to Penobscot Community Health Care (PCHC), in partnership with the University of Maine School of Nursing, Harrington Family Health Center and Hometown Health Center in Newport.
The program, made possible by a U.S. Health Resources & Services Administration grant, has the potential to impact patients in at least five Maine counties — Penobscot, Somerset, Washington, Waldo and Piscataquis. PCHC last had a nurse practitioner residency program in 2014.
NPs are experienced registered nurses who receive intensive graduate didactic education and clinical training in preparation to provide safe, high-quality, patient-centered, evidence-based care across the lifespan, says UMaine assistant professor of nursing Kelley Strout. Patients who require care from NPs in Maine are more likely to be on Medicaid, uninsured or underinsured, live in poverty, experience multiple chronic conditions, and/or substance use disorders, compared to those in other geographic areas of the country. Currently, NPs are expected to assume the care of a full-panel of 700–1,200 complex patients with little to no on-the-job orientation or training.
The nurse practitioner residency program will provide an intensive clinical residency focused in primary care with robust, specialized didactic and clinical experiences aligned to meet the complex needs of Maine's patient population, says Strout.
---
Rapid response
New evidence shows that Arctic ecosystems undergo rapid, strong and pervasive environmental changes in response to climate shifts, even those of moderate magnitude, according to an international research team led by the University of Maine.
Links between abrupt climate change and environmental response have long been considered delayed or dampened by internal ecosystem dynamics, or only strong in large magnitude climate shifts. The research team, led by Jasmine Saros, associate director of the UMaine Climate Change Institute, found evidence of a "surprisingly tight coupling" of environmental responses in an Arctic ecosystem experiencing rapid climate change.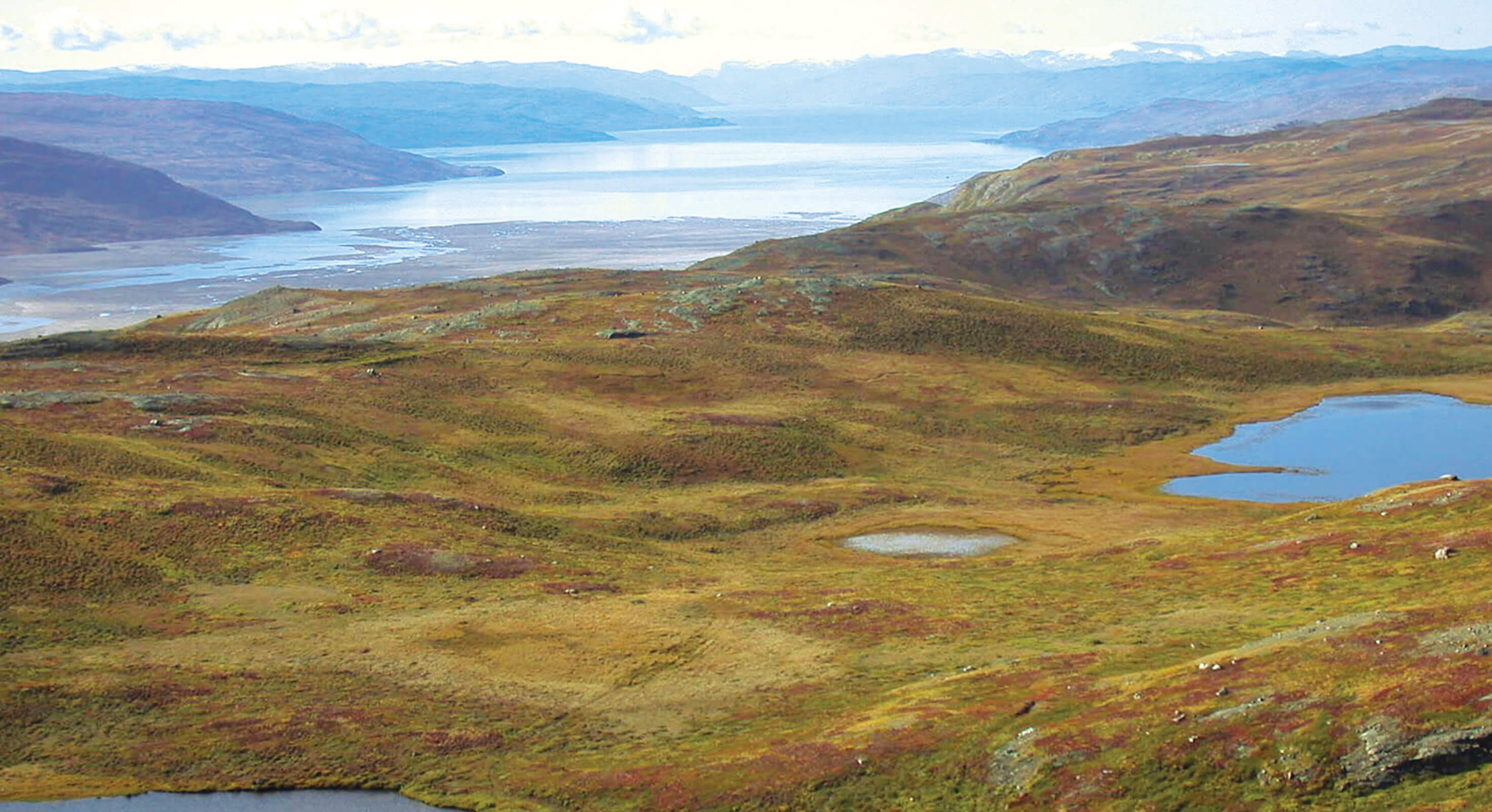 Using more than 40 years of weather data and paleoecological reconstructions, the 20-member team quantified rapid environmental responses to recent abrupt climate change in West Greenland. It found that after 1994, mean June air temperatures were 2.2 degrees C higher and mean winter precipitation doubled to 40 millimeters. Since 2006, mean July air temperatures shifted 1.1 degree C higher.
"We present evidence that climate shifts of even moderate magnitude can rapidly force strong, pervasive environmental changes across a high-atitude system."

Jasmine Saros
The "nearly synchronous" environmental response to those high-latitude abrupt climate shifts included increased ice sheet discharge and dust, and advanced plant phenology. In lakes, there was earlier ice-out and greater diversity of algal functional traits. The new evidence underscores the highly responsive nature of Arctic ecosystems to abrupt transitions — and the strength of climate forcing, according to the team, which published its findings in the journal Environmental Research Letters.
Understanding how ecosystems respond to abrupt climate change is central to predicting and managing potentially disruptive environmental shifts, says Saros, one of seven UMaine professors who have been conducting research in the Arctic in recent years.
---
AgingME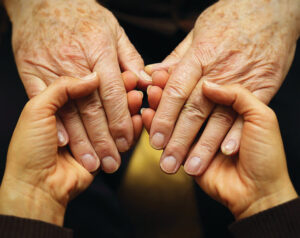 An initiative of the University of New England in collaboration with the University of Maine to improve the health and well-being of Maine's older adults through enhanced practitioner training has received a five-year award of nearly $3.75 million from the Department of Health and Human Services' Health Resources and Services Administration under its Geriatrics Workforce Enhancement Program.
The two universities will develop and lead a statewide collaborative called AgingME that will focus on training enhancements and practice transformation processes at the primary care level. In partnership with Maine's health systems leaders at MaineHealth and Northern Light Health and federally qualified health centers, as well as Area Agencies on Aging and other community agencies, AgingME will bring together practitioners,
health professions students and educators statewide to improve primary care for older adults and their caregivers.
UMaine's Center on Aging will serve as the lead evaluator for the statewide geriatrics training initiative, documenting the impact of its work by collecting input and data from students, partners, older adults and caregivers reached in the program.
At UMaine, AgingME efforts will entail the integration of geriatrics and specialized clinical content into simulation lab training for students in the School of Nursing Family Nurse Practitioner program and gerontology courses in the Interprofessional Graduate Certificate program. The School of Social Work will develop a geriatrics field practicum unit, and the School of Food and Agriculture will incorporate a geriatrics nutrition practicum.
UMaine's clinical psychology doctoral program will advance its training related to the health and well-being of older adults.
---
Innovation for rural youth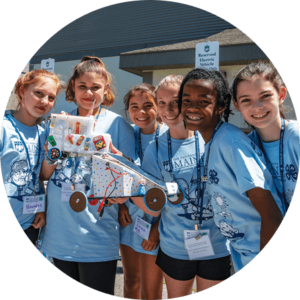 A $4 million fundraising campaign is underway to purchase the Magic Lantern, a theater and pub on Depot Street in Bridgton, Maine and expand the community engagement it offers with the development of an innovation lab and learning center for youth.
To date, the Maine 4-H Foundation has raised half of the $4 million needed to purchase the facility to create the Magic Lantern Innovation Lab and Learning Center. The center, which will be led by University of Maine Cooperative Extension, will provide a hub of creative activity for rural youth in the Maine Lakes Region. Under Maine 4-H Foundation ownership, the Magic Lantern will continue to operate a three-auditorium theater, a pub with upgraded movie projection capabilities, and a venue for community engagement.
The UMaine Extension 4-H youth development program will increase the educational offerings, and outreach to schools and educational nonprofit organizations. The goal is to have proceeds from the Magic Lantern fund local youth education, making the facility as self-sustaining as possible.
Magic Lantern opened in February 2008 as a community center with state-of-the-art technology, including high-definition projection and sound systems, and full stages. The facility was put up for sale in 2017. The following year, talks began with the co-owners of the Magic Lantern, community members and the Maine 4-H Foundation to explore the possibility of the philanthropic and educational venture. The planning team included Magic Lantern co-owner Frank Howell, Maine 4-H Foundation executive director Susan Jennings and community member Dan Cousins, and had input from school superintendents, headmasters, and nonprofit and foundation leaders and educators.
---
An app for monarchs
When spotting a butterfly, a common reaction may be to whip out a phone and snap a photo.
A team of University of Maine researchers is hoping another response could be to use the phone to log details about areas where butterflies are likely to be found. Using a mobile app, anyone can become a citizen scientist by visiting potential monarch butterfly roosting sites from Maine to Georgia and answering questions based on their observations.
"We are trying to create a model that predicts areas that have a high suitability for monarchs for roosting during their fall migration to Mexico."

Brandon Boxler
Brandon Boxler, a UMaine graduate student in ecology and environmental sciences, and Cynthia Loftin, associate professor of wildlife ecology and leader of the United States Geological Survey Maine Cooperative Fish and Wildlife Research Unit, plan to use data collected from the app to validate a model that predicts the location of monarch roosting sites.
The monarch butterfly conducts one of the most dramatic migrations in the world, according to the researchers. Every fall, the fourth generation of butterflies that came north from Mexico in the spring turn south and begin a 3,000-mile journey to their overwintering grounds. However, the number of monarchs completing the migration has fallen by 90% in the past two decades, the researchers say that's due to multiple causes, including loss of overwintering habitat to logging, loss of breeding habitat — native milkweed — to herbicides, as well as exposure to pesticides, disease and parasites/parasitoids.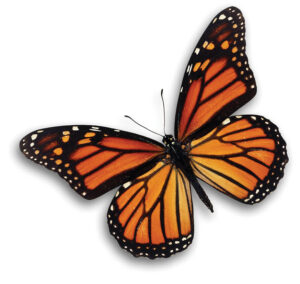 Researchers nationwide are learning more about the monarch and its behavior in an attempt to curb the population decline. Among them are Boxler and Loftin, who completed a model that seeks to determine where the roosts occur and what the sites have in common. Their model suggests the butterflies tend to roost in vegetation, often in trees or bushes in otherwise open areas. They are more likely to be found near open water, and in areas with fall blooming flowers from which they can feed. Learn more about accessing and using the app at the project's website.
---
Forest health monitoring with remote sensing
State-of-the-art geospatial data collection and modeling to assess, monitor and forecast the quality, health and value of Maine forestlands is the focus of a new NASA-funded project led by the University of Maine.
"Advances in remote sensing technology are revolutionizing the way in which forests are continually measured and monitored."

Parinaz Rahimzadeh
The three-year project, which received a nearly $750,000 grant, is led by Parinaz Rahimzadeh, assistant professor of remote sensing of natural resources in the UMaine School of Forest Resources. The research team will use remote sensing technology to develop comprehensive models with more detailed, accurate, higher resolution and near-real-time data on forest tree species identification, and forest tree decline detection and damage assessment.
The project will connect remote sensing information, such as NASA air- and space-borne hyperspectral and multispectral data, with traditional and ground-based data to address immediate needs for precise pest and pathogen control and early intervention, as well as preservation of economic, ecological and cultural assets of forest resources.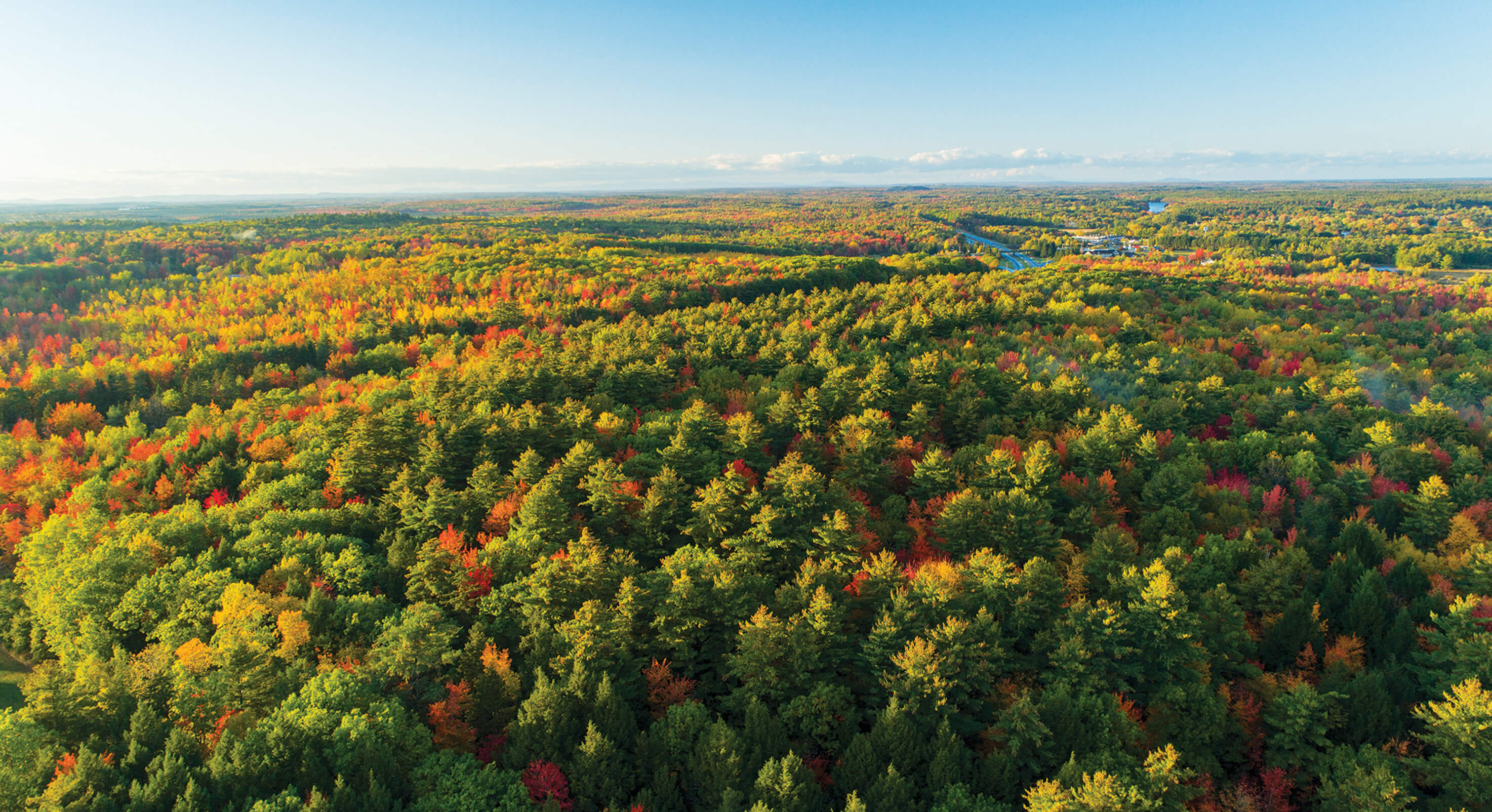 Ultimately, the remote sensing framework for geospatial data collection and modeling will provide information on forest composition, as well as damage caused by recent pest and pathogen outbreaks, such as spruce budworm, emerald ash borer and Caliciopsis pine canker.
Other members of the research team include UMaine faculty Aaron Weiskittel, Center for Research on Sustainable Forests; Daniel Hayes, School of Forest Resources; and Wilhelm Friess, Department of Mechanical Engineering. They are joined by Peter Nelson of the University of Maine at Fort Kent, and U.S. Forest Service and NASA scientists.
---
BadgedToHire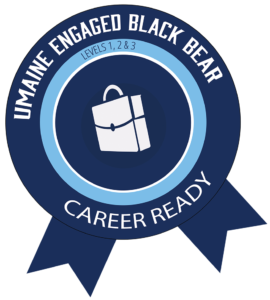 The University of Maine is one of three higher education institutions nationwide selected to participate in a two-year microcredentialing initiative with employer partners statewide, made possible by a grant from Lumina Foundation to Education Design Lab.
Since last fall, UMaine has been one of seven colleges in a yearlong 21st Century Skills initiative of the Education Design Lab, a Washington, D.C.-based nonprofit dedicated to reenvisioning the school-to-work pipeline.
The university partnered with Northern Light Health and Bangor Savings Bank in the project designed to identify, recognize and match the workforce skills that college students need and employers want.
As part of the new BadgedToHire program, UMaine will work with employer partners in Maine and the region to evaluate the value of 21st-century skills microcredentials as a hiring signal for career readiness, particularly for underserved learners.
"The 21st-century skills employers say they need in employees, including communication, creative problem-solving, empathy and critical thinking, are difficult to quantify and assess," says Claire Sullivan, who developed UMaine's Engaged Black Bear digital badging initiative in 2015. "A badge is a way to demonstrate that an employment candidate clearly has those skills.
Through intentional practice and application, they are assessed, and badges are attached to the competencies."
In the two-year program, participating Maine employers will provide input into advancements in digital badging, and will be involved in mentoring and incentivizing students pursuing badging pathways. In the next two years, BadgedToHire participants will contribute to the understanding of how digital badging can impact hiring and whether it contributes to employee success on the job.
---
Unsafe salsa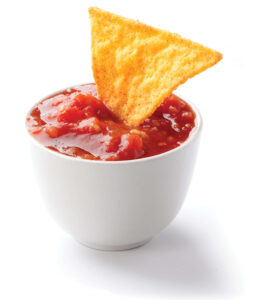 Homemade canned salsa recipes are abundant on food blogs, but the majority of them fail to follow USDA home canning guidelines and are a cause of food safety concern, according to a new University of Maine study. UMaine Cooperative Extension professor Kathy Savoie and Jen Perry, assistant professor of food microbiology, examined 56 recipes for home canning of salsa from 43 food blogs. They found that in 70% of the recipes, USDA home canning guidelines were not included in four categories: acidification, thermal processing, contaminants and vacuum sealing. Historically, home-canned vegetables have been the most common cause of botulism outbreaks in the United States.
70% of the 56 recipes examined did not include USDA home canning guidelines
719 to 3.2 million Facebook users follow these 43 food blogs
21% of recipes failed to meet the minimum USDA acidification guidelines
---
Southern hemisphere climate change
To understand industrial-age glacier recession and climate warming in New Zealand, an international research team led by the University of Maine will document the past 10,000 years of natural variations by studying the moraines of retreating glaciers and rings of temperature-sensitive trees in the Southern Hemisphere.
The data will allow scientists to compare the Holocene-era glacier and climate changes in the Southern Alps of New Zealand and the European Alps — mountain ranges on opposite sides of the planet. The goal is to understand natural climate drivers, and whether documented climatic anomalies of the Northern Hemisphere were regional or global in scope.
The three-year collaborative research project, funded by a nearly $637,000 award from the National Science Foundation, is led by Aaron Putnam, UMaine assistant professor of Earth sciences. Putnam studies how interactions among Earth's surface, atmosphere, cryosphere and oceans produce glacial cycles and abrupt climate change.
Temperature reconstruction from the Southern Alps also will provide a key
metric for evaluating global climate and Earth-system models developed by NOAA Geophysical Fluid Dynamics Laboratory.
In New Zealand's Southern Alps, the research team will use the latest in cosmogenic nuclide technology to date glacial landforms and recently deglaciated organic remains to establish accurate timelines of glacier changes. In addition, tree rings of South Island silver pines will be used to document climatic fluctuations on annual timescales.
Co-principal investigators on the project are George Denton, UMaine; Joellen Russell, University of Arizona; and Joerg Schaefer, Lamont-Doherty Earth Observatory of Columbia University.
Additional collaborators include David Barrell from GNS Science of Dunedin, New Zealand; Edward Cook of Lamont–Doherty Earth Observatory; Jonathan Palmer of the University of New South Wales; Andrew Mackintosh of Monash University; and Brian Anderson of University of Victoria Wellington.
Embedded with the team each field season will be a graduate student of science journalism from Northwestern University, and UMaine undergraduate and graduate student researchers.