When Brianna Hughes was pursuing a master's degree in food science and human nutrition at the University of Maine, she heard about a program at the Foster Center for Student Innovation that would give her an edge in the professional world.
The initiative, Innovation Engineering, transforms the seemingly random art of idea creation into a repeatable, systematic science. At UMaine, students from any major can learn the innovation process — from identifying problems worth solving to making their ideas a reality — in the classroom through real-world, hands-on experience.
Students can pursue an undergraduate minor or certificate, or a graduate certificate in Innovation Engineering.
Hughes earned a graduate certificate at UMaine and then went on to earn an Innovation Engineering Black Belt through a mastery course offered at Eureka! Ranch, an Ohio-based company that uses the Innovation Engineering principles to provide training and consulting services to corporate clients.
The company, led by UMaine alumnus Doug Hall, partnered with the university to create the Innovation Engineering academic curriculum, which is being licensed by other colleges and universities across the country. In fall 2019, the University of Houston will begin offering the program to students in its College of Technology.
Even though Hughes' main goal in pursuing Innovation Engineering was to take her food science education to another level, working with students from a variety of majors was an added benefit.
"The diversity of the classroom made my time at the Foster Center so much richer and prepared me for the cross-functionality of teams today," she says. "You get a richness of thought and they challenge you to think differently than when you're only working with people that are in your exact same discipline."
Hughes works as an innovation R&D manager at Ocean Spray Cranberries in Massachusetts. Her team of product developers is tasked with finding unique ways to transform cranberries into value-added products.
"We are responsible for developing products that delight our current consumers, as well as new products for more niche or up-and-coming markets," Hughes says. "Innovation Engineering plays a foundational role in my approach to those challenges."
"Today's businesses are changing exponentially and Innovation Engineering will train you to be an agile thinker with cross-functional breadth."

Brianna Hughes
Hughes says her Innovation Engineering education enhanced her training as a food scientist and allowed her to systematically think outside of her area of expertise to connect consumer insights to real solutions.
Innovation Engineering is the foundation of several programs the Foster Center offers to meet the entrepreneurial needs of UMaine community members, and to contribute to the economy, in Maine and beyond. The center helps students, faculty and staff develop a mindset and skill set for creating, testing and achieving ideas.
The center, established in 2006 and named after UMaine alumni Bion and Dorain H. Foster, provides free business coaching to anyone with an entrepreneurial idea, runs a student business incubator, offers academic courses in Innovation Engineering and manages the Innovate for Maine Fellows internship program.
More than 1,000 UMaine students have taken advantage of the center's business counseling services. Annually, upward of 100 students, faculty and staff come to the Foster Center for entrepreneurial assistance.
For students looking to earn course credit while starting a company, StartUp Lab, a new accelerator course, was piloted in spring 2018. The curriculum, based on Innovation Engineering principles, helps students build and test a business model while working with community mentors in opportunities beyond the classroom.
UMaine research teams also can immerse themselves in the Innovation Engineering process through two of the Foster Center's newest commercialization initiatives — I-Corps and the Maine Innovation, Research and Technology Accelerator (MIRTA). These programs are designed to speed up the process for moving research and technologies out of the lab for use by the public.
"The goal is to significantly advance research innovation to marketable new products and services that will impact the Maine economy," says Renee Kelly, UMaine assistant vice president for innovation and economic development. "The faculty, staff and student teams developed plans to either start new companies or to partner with existing Maine companies to bring these innovations to market."
Nine projects have been part of the first two MIRTA cohorts, including Healthy Hives, a beehive activity monitoring system, and Neuright, a medical device for early detection and diagnosis of peripheral neuropathy, a result of damage to peripheral nerves. The faculty and students involved in both projects are starting new Maine-based companies.
Based on the Foster Center's track record of supporting entrepreneurs developing new technologies, the National Science Foundation (NSF) in 2018 selected UMaine as Maine's first I-Corps Site.
The I-Corps program was designed by NSF to help academic researchers identify valuable product opportunities, and gain entrepreneurship skills through training and guidance from established businesspeople and mentors. Participants spend six weeks in the program. Stipends of up to $3,000 per team are available to interview potential customers and develop a basic prototype.
In addition to the academic offerings and programs designed to move research out of the lab and into the market, the center also focuses heavily on workforce development. The Innovate for Maine Fellows program, which began in 2012, strives to match the best and brightest Maine college students with the state's fastest-growing companies.
To date, the center has served 181 companies, with 187 fellows representing 33 colleges and universities.
The goal of the Innovate for Maine program is to provide interns with a large network, an understanding of the state's economy, and a foundational knowledge of Innovation Engineering through a weeklong boot camp experience.
"The most rewarding thing I hear from interns is that they just had no idea about all the opportunity there is in Maine," says Angela McCue, innovation outreach manager at the Foster Center. "They actually see that Maine is a really great place to live, work and play."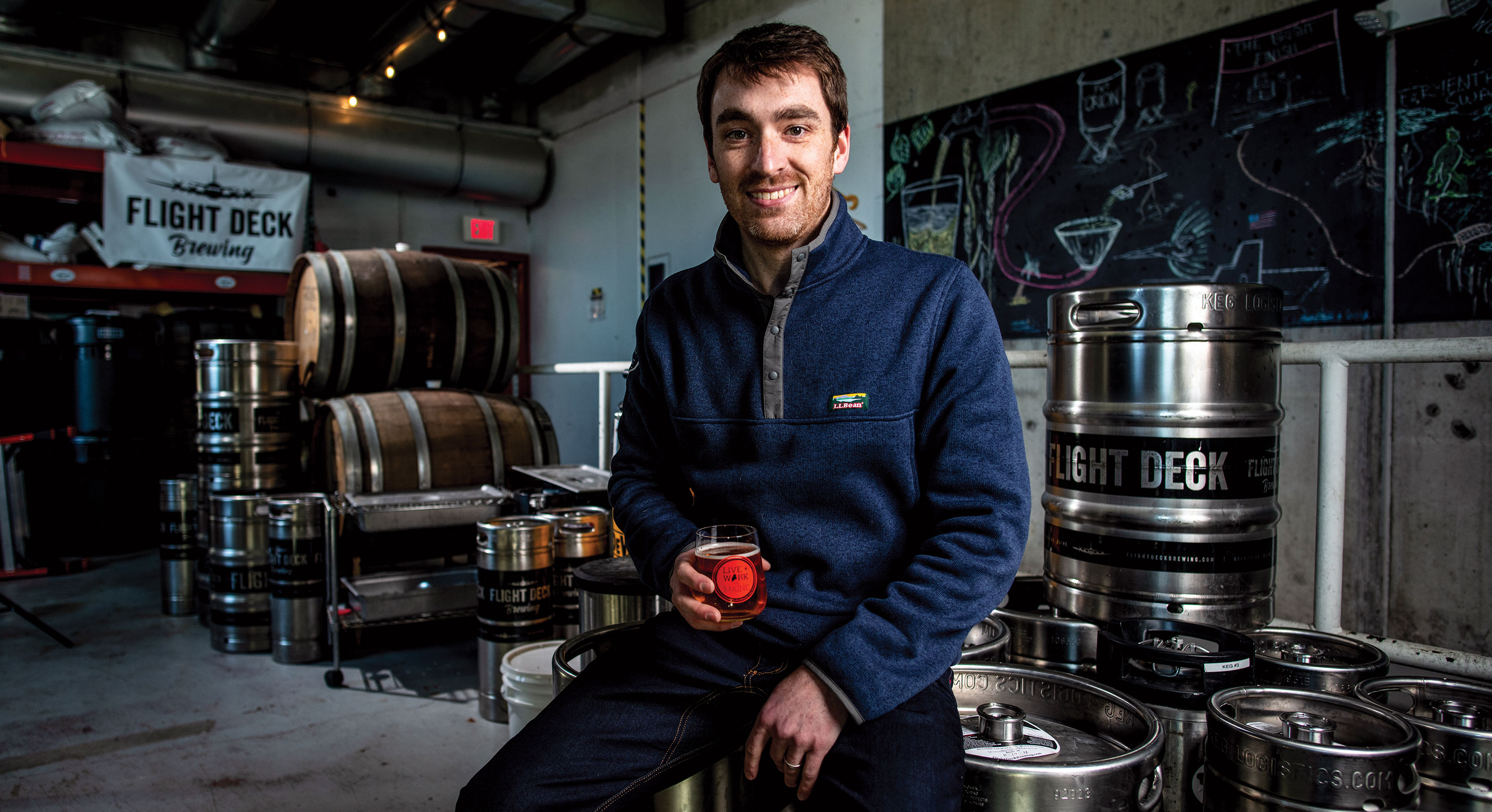 Nate Wildes, who graduated with a political science degree and Innovation Engineering minor in 2012, worked as an intern for Eureka! Ranch in Cincinnati. Upon graduation, he was offered a full-time job at the firm, where he worked for two years before returning to Maine.
"The value I found in Innovation Engineering is pretty simple," says Wildes, who describes the concept as a systematic approach to creativity. "It gave me a toolkit to apply to whatever I wanted to do next."
Today, he is the co-founder of Flight Deck Brewing in Brunswick and serves
"Innovation Engineering has been a crucial tool in helping us find that balance between quality of life, quality of business and having a good time at work"

Nate Wildes
as executive director of Live and Work in Maine, an initiative to promote the state as a career destination.
Wildes says he uses Innovation Engineering every day, whether it's applying
it to product creation in developing new beers, or optimizing the marketing message for promoting opportunities in Maine.
"Innovation Engineering has been a crucial tool in helping us find that balance between quality of life, quality of business and having a good time at work," says Wildes, who names the Foster Center as the main reason he attended UMaine.
Like Hughes, Wildes enjoyed the interdisciplinary dialogue.
"The opportunity to learn a lot from a lot of different people was really important," he says. "The Foster Center was that perfect concentration of a huge crosscut of majors, of backgrounds, of individuals all studying the same program but all coming at it from different angles. Diversity of interest and diversity of background was what made my time so enjoyable."
Hughes and Wildes encourage current and future students to explore programs at the Foster Center and consider an education in Innovation Engineering.
"It was so rewarding. It's so hands on, it's interactive, the classes are small, the instructors are phenomenal. There's no other program like it, and you can make it what you want," Hughes says. "Today's businesses are changing exponentially and Innovation Engineering will train you to be an agile thinker with cross-functional breadth. The value of those two skills alone will help you drive change in your future organizations and contribute actionable solutions to real problems facing your industry."