When Catharine Biddle imagines a school in small-town Maine, she sees a building with a beautiful courtyard overflowing with lush flowers and foliage — an open, inviting place, at the center of the community.
Biddle, an assistant professor of educational leadership at the University of Maine, knows this is not an image most people associate with schools. For many, she says, schools can seem closed off. Even prison-like.
At the beginning of the 20th century, there was a lot of public concern about the quality of rural life, ensuring communities had access to modern amenities, like electricity, paved roads and schools, she says. These social changes led Progressive-Era reformers, including Stanford University education professor Ellwood Cubberley and philosopher John Dewey, to bemoan what came to be known as the "rural school problem" — the idea that rural schools were falling behind the rest of the country in educating the nation's children.
Often, the solution to this perceived problem involved modernizing the one-room schoolhouses that dotted the American countryside during the United States' first 150 years or so, and imposing strict mandates — developed in far-off places like Washington, D.C. — to bring these schools to an "acceptable" level.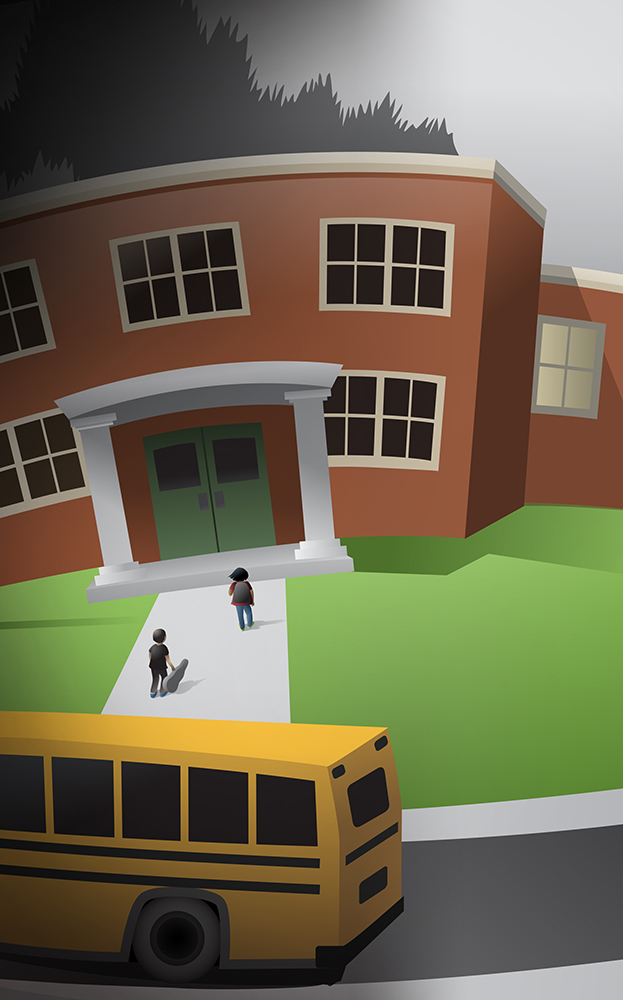 That's partly due to the times in which we live, where mass shootings and concerns about other types of violence have led to heightened security at many schools. But Biddle, who studies how rural schools and communities respond to social and economic change, says the image largely has to do with how the modern public education system developed.
But in their rush to improve the quality of rural education, Biddle says these reformers largely forgot and alienated an important constituency: the communities where these schools were located.
"They were successful in phasing out the one-room schoolhouse, but it didn't make the challenges for rural schools disappear," Biddle says.
For the past three years, Biddle and her colleagues in educational leadership at UMaine have been involved in a collaborative effort to address some of the most challenging issues facing schools nationwide. Their laboratory is Washington County, one of Maine's most rural and impoverished areas.
The project is called TREE — Transforming Rural Experience in Education — and is a division of the nonprofit Cobscook Community Learning Center (CCLC) in Trescott Township. The core of the program is a unique research-practice partnership between CCLC's on-the-ground educators, and faculty from UMaine and Colby College.
Fundamentally, TREE provides support to schools so teachers can teach and students can learn. But it does more than that. For teachers and principals juggling issues from lesson planning and meeting state standards to classroom dynamics and student behavior, it provides the latest equity- and trauma-informed practices to help serve youth.
It gives students and families an extra hand to deal with the financial, logistical, and mental and physical health issues they face daily, including poverty and opioid abuse. It also provides hope to rural communities that are facing population decline and loss of traditional economic and institutional bases. It does this, not by imposing changes on schools and communities from outside, but by gathering local input and building the supports that each school or community needs.
"If you were to sit in our gym and watch a school concert, you would see parents and grandparents in the audience who also attended this same school."

Brittany Ray
"Schools are the heart of rural communities," Biddle says. "You've got families that have gone to the schools for generations. They host community events. Sports teams are a big rallying point."
When local schools suffer, the entire community suffers. Those involved with TREE have talked about the project through the theoretical framework of rural communities as vulnerable ecologies.
"We like to think that we're practicing regenerative ecology. If you nurture the school, it spreads outward. The school is healthier and the community itself is healthier," Biddle says.
It's 7:45 a.m. on a cold, cloudless Monday in late March, and students are filing into Down East Maine's Milbridge Elementary School. They shed their winter coats, boots and backpacks, and head to the gymnasium for an all-school assembly.
Several students are already in the gym, which doubles as the school cafeteria, eating breakfast. More than 70 percent of the approximately 115 students at Milbridge Elementary qualify for free and reduced-price meals.
Milbridge was one of three rural elementary schools in Washington County chosen for the pilot year of the TREE program, launched in January 2018. The others are Jonesport Elementary School and Charlotte Elementary School.
The rural county about the size of Delaware and Rhode Island combined is home to roughly 32,000 people. The poverty rate is 18 percent, compared to 12 percent for New England. The childhood poverty rate is even more stark — 30 percent versus 14 percent regionwide. Much of the economy is based on seasonal jobs: agriculture, including blueberries and Christmas wreaths; marine industries; and tourism.
"If you were to sit in our gym and watch a school concert, you would see parents and grandparents in the audience who also attended this same school," says Brittany Ray, who worked as a teacher and counselor in Washington County for more than 20 years, and was named Maine Teacher of the Year in 2007. Her ancestors started a sardine canning business, the L. Ray Packing Co., in Milbridge, three generations before she was born.
She took the job as Cobscook Community Learning Center's TREE director in 2016.
Milbridge Elementary principal Maria White also has roots in Washington County that go back decades. Her mother grew up in South Addison, about 30 minutes down the coast, and her father grew up in Harrington, the next town over. He was superintendent for 15 years into the 1990s.
"If you nurture the school, it spreads outward. The school is healthier and the community is healthier."

Catherine Biddle
White says she knew she also wanted to teach in the small towns where she grew up. Today, she is a principal, and teaches fifth-grade reading, as well as fifth- and sixth-grade health and social studies.
"I like getting to know the students and watching them grow, get excited about things," she says.
As the students take their seats for the Monday morning assembly, one of many community-building activities at Milbridge Elementary is evident: Older students sit next to younger children — sixth-graders with kindergarteners, fifth-graders next to first-graders, and so on.
"Generally speaking, the older children will rise to expectations, and they — most of the time — are pretty good role models for the younger ones," White says.
Since the TREE program started at Milbridge Elementary in January 2018, every week has begun with a schoolwide activity that is a fun, interactive way to reinforce behavior or classroom learning objectives. This day, one student from each grade comes to the front of the gym to lead a series of math exercises. The younger students perform simple tasks, like arranging numbers written on whiteboards in order from lowest to highest. The older children are given more advanced problems — addition, subtraction, multiplication and division. School officials hope to bolster math concepts before students and teachers embark on state-required testing.
Testing anxiety is just one of the challenges facing children and educators in Washington County. Poverty is another. Add to that substance abuse by adults in some of the students' lives, lack of access to mental health services and health care, a flagging economy, isolation and, for minority and Native communities, racism. It all combines into a toxic cocktail of stress and trauma that can impede learning and normal childhood development.
Ray points to a landmark Centers for Disease Control and Prevention-led study of adverse childhood experiences (ACEs) that indicated that young children's cognitive development and overall health can be negatively affected when certain events happen, such as physical or emotional abuse and neglect, exposure to domestic violence or substance abuse in the home, and parental separation or divorce. This can have consequences later in life, including engaging in risky behavior, chronic health issues — even early death.
The TREE model seeks to address trauma and poverty in rural schools and communities in four overarching ways. First, it looks to improve access to health and wellness resources, including bringing a mental health counselor into schools to engage with children and families.
Second, a resource coach, trained in the latest poverty- and trauma-informed practices, acts as an extra staff member in the school. In the morning, the resource coach might jump into the classroom and teach a lesson; in the afternoon, he or she might mediate between a parent and teacher.
TREE also provides professional development to all Maine teachers and principals on strategies and practices for schools affected by trauma and poverty. Lastly, the program emphasizes student voice and empowerment; TREE's research-practice partnership seeks the input of students and actively involves them in the process of transforming the educational experience.
"[W]e know we need to meet the social and emotional needs of students, and TREE seeks to help teachers and schools and families and communities do that for all children."
Brittany Ray
Ray says it's about creating supportive environments that recognize children are bringing more to school with them than their homework, and that in order for them to have success academically, schools need to meet children where they are.
It's also important that this model of student and community well-being support took its cues from interviews and focus groups involving hundreds of Washington County residents, led by Ray and researchers from UMaine and Colby.
"So often we put academics at the top," she says. "And that's not to say that TREE doesn't believe it's of utmost importance. But we know that we need to meet the social and emotional needs of students, and TREE seeks to help teachers and schools and families and communities do that for all children."
Pamela Cantor is a child psychiatrist in New York City specializing in trauma and violence in children's lives. She works with Turnaround for Children, an organization focused on issues related to trauma and poverty in urban schools in the South Bronx.
Not long after the Sept. 11, 2001 terrorist attacks, Cantor was asked by New York officials to assess the impact of the events on the city's public school students. She and her team recognized that, for students in the poorer neighborhoods, the day-to-day trauma of growing up surrounded by poverty and other social ills far eclipsed the trauma of 9/11.
The initial Turnaround for Children framework called for providing schools with three people with expertise in mental health or social work, instruction and leadership to be additional school personnel.
Cantor's brother is UMaine educational leadership professor Richard Ackerman. In 2012, Ackerman introduced Turnaround and Cantor's work to CCLC executive director Alan Furth, who went to New York to learn more about the program. Furth returned determined to find a way to bring a version of it to Down East Maine.
"In an incredibly supportive gesture, Pam said, 'If you can pull together a team of great experts in community development and education, you can have everything we've done, and create a rural model that is at least informed by Turnaround,'" says Furth, whose innovative educational leadership was recognized in 2011 with a UMaine Alumni Association Career Award.
The Maine initiative started with a seven-person advisory board that expanded to 32 community members in 2015. Ackerman says it was a struggle to agree on the challenges to address, and long conversations ensued about what was meant by the word "trauma."
In 2015–16, two catalysts helped bring the project into greater focus. First, Ray was hired as TREE program director. A "bridge-builder," she brought a wealth of experience working in Washington County schools, and an ability to see the big picture and know who to contact to make something happen.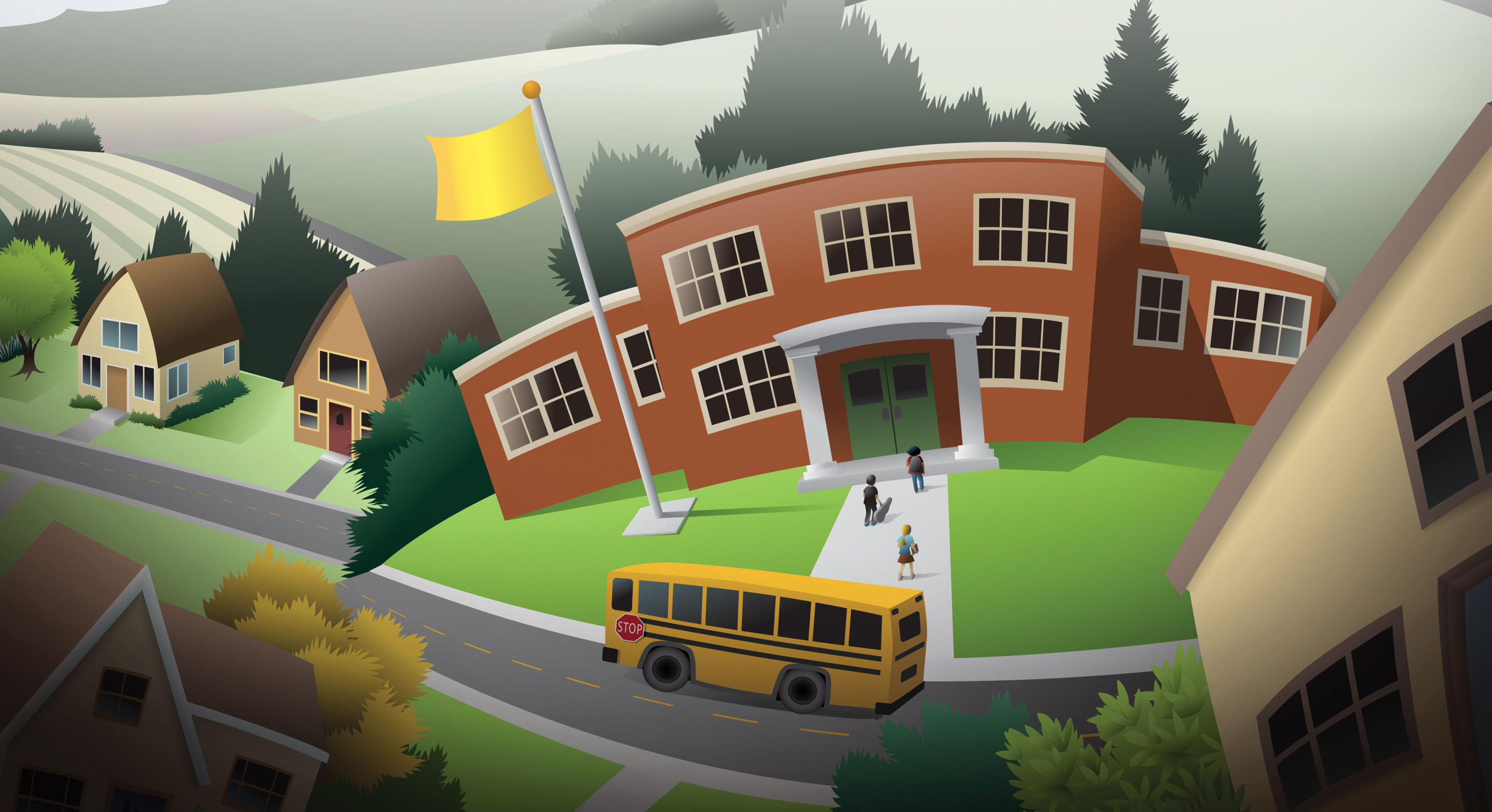 The second catalyst was formation of a research-practice partnership between TREE team members and faculty from UMaine and Colby. Like the connection between educational leadership colleagues Ackerman and Furth, the partnership came together through the unique personal and social circumstances likely to occur in a state like Maine.
Colby education professors Lyn Mikel Brown and Mark Tappan have deep roots in the state's academic community. Brown grew up in Calais and attended UMaine for two years as an undergrad. She and Tappan met in graduate school at Harvard, where they were completing their doctoral programs in human development at the same time that Ackerman was earning his degree in administration, planning and social policy. After graduation, Brown and Tappan shared a position at Colby, where Ray became one of their first students.
In 2016, the researchers interviewed more than a dozen TREE advisory board members and observed some of the board's meetings. Later that year and into early 2017, they conducted focus groups with more than 20 Washington County school administrators, 160 teachers, and 200 students, parents and community members. The goal was to evaluate issues and design a program tailored to the specific needs of the county communities.
Among the issues identified during interviews and by focus groups were lack of transportation for students; mental health support wait times as long as 16 months; and a shortage of nurses, school counselors and social workers in schools. Teachers told the research team they cared about their students, but didn't know how to handle difficult situations, such as students coming to school hungry or being unsure where they would sleep that night. Students said the best part about school was the support they got from teachers, but said they were frustrated by their lack of voice or input into what happens at school.
With this knowledge, the researchers designed a program to increase access to mental health services for children and families, and facilitate greater connection to and sharing of community resources to meet needs. In addition, they envisioned TREE supporting and empowering students to advocate for themselves, building up their social and emotional skills. And the program would seek to improve instruction and leadership in TREE schools.
Brown, with a background researching student voice and empowerment, says efforts to a transform school must include those who directly experience a school's policies and practices.
"Kids learn and are socialized in schools. They experience the gaps between family and school values and teachings," Brown says. "If we want to develop trauma-informed practice that meets children where they are, we have to learn from them and be willing to take what they say seriously."
CCLC raised more than $1.3 million to start the pilot project in three schools. The initial funding came from an anonymous donor through the Silicon Valley Community Foundation, says Furth. Other anonymous individuals backed the project, as well as the Elmina B. Sewall Foundation, Jane's Trust, the Charles G. Wright Endowment for the Humanities, the Maine Community Foundation and the Boston Foundation.
"If we want to develop trauma-informed practice that meets children where they are, we have to learn from them and be willing to take what they say seriously."
Lyn Mikel Brown
The pilot schools were chosen based on criteria such as percentage of students receiving free and reduced-price lunch, special education rates and test scores, as well as the willingness of faculty and staff to look critically at their operating assumptions.
It also was important that the schools had a history of partnering with community agencies or organizations, "and really were collaborative in nature," Brown says.
Although the TREE program is in its early stages, some evidence has emerged that its focus on creating safe and supportive environments for students is making a difference. Ray points to state testing data at Milbridge, where last school year there was marked improvement in math and literacy scores.
A homemade poster regularly adorns the trophy case in the Milbridge Elementary School hallway. This day, the poster featuring a tree, sun and colorful cartoon animals proclaims "Today is Kayla's 4th grade Someday."
Students are asked to submit their recommendations for "something special they'd like to have happen someday at school," says Laura Thomas, TREE resource coach for Milbridge.
Throughout the year, the TREE program seeks to fulfill everyone's someday.
"Some of them have been just eye-opening," she says of the student requests, including several from second-graders who asked to have seconds at lunch. And then there were the predictable requests for extra-long recess.
But other suggestions have provided opportunities for the students to feel more engaged. Kayla, the student whose name is on the poster, wanted to do a cooking competition like on the reality show "MasterChef Junior."
"They made pizzas that were judged on creativity, uniqueness (and) originality. And we talked about what kids can accomplish in being thoughtful about what you do," Thomas says.
Thomas knows the challenges facing many students in Washington County. She was a nontraditional, first-generation college student when she attended UMaine, where she earned her degree in elementary education in 2009. She worked for a year in Bangor before accepting a position teaching English as a second language in Milbridge.
Thomas noticed how many students in Milbridge needed assistance to cover basic needs like food, clothing and showers. The school offered a small meal assistance program in addition to free and reduced-price lunch, but there was never enough food to meet demand.
"We had kids (who) on Wednesday would be asking if it was food day, which wasn't until Friday," she says.
The school collaborated with Maine Seacoast Mission to build a food pantry in an unused corner of a resource classroom. Today, the pantry shelves are filled with nonperishable goods, including snacks that students can grab when they're hungry.
Last year, the school bought a refrigerator with a grant from Good Shepherd Food Bank, which now delivers 36 half-gallons of milk a week to the school — a portion of which goes home with students whose families need it. The refrigerator also means the pantry can accept cheese, yogurt, meat and other perishable products.
Thomas says it has been incredible to see students taking advantage of the food pantry. One student, the oldest of several siblings, has used supplies to help prepare meals for her brothers and sisters.
"And to think, having this be something she can use, but at the same time also thinking, that's a lot to think about when you're a fourth- or fifth-grader," Thomas says.
In a tiny room connected to the school library is a clothing closet, stocked with items such as winter boots, socks, soap, shampoo and toothpaste. All of it has been donated and is free for students.
"Teachers know it's here now," Thomas says. "I think if there's a kid that they feel like has worn the same clothes every day, it's just checking in with the kid and checking in with parents, you know: 'We have lots of stuff here. Is there stuff that we can send home with you guys?'"
"We had kids (who) on Wednesday would be asking if it was food day, which wasn't until Friday."
Laura Thomas
Kandi Robertson, a therapist working with TREE in Milbridge, says in the first year of the program she interacted with clients in the school one day a week. Now in the second year, she sees clients twice a week.
"I get to walk down the hall and directly talk to teachers where they're having difficulties," says Robertson, who uses a play therapy approach to help children process trauma and other issues. "I can take my session with the child from the playroom — strategies and things that we're working on — and walk right into the classroom and put those in practice."
Robertson says she has noticed a difference in the students she's working with; they play more openly and build friendships. A fourth-grader recently told her he's so happy that he now has some hope, that he has friends and things are going to get better for him.
The same boy, she says, almost made the honor roll after having never come close before.
"He's just feeling more confident and better about himself," she says.
Catharine Biddle says working with TREE has changed how she thinks about her research on how school-community relationships contribute to the vitality of rural life. In the past, she viewed the role of schools as fostering connections to local places through curriculum, or as helping students and schools think about opportunities for young people to return to a community after college.
"There's a lot that schools can do in terms of addressing students' well-being right now, through their cultivation of wraparound services, through their cultivation of opportunities for kids to develop their voices," Biddle says.
Biddle and UMaine colleagues Ackerman and Mette argue that the problems facing rural communities and schools — poverty, substance abuse, domestic violence and other traumas — are "adaptive challenges," meaning they "do not lend themselves easily and/or always to technical expertise and solutions."
Trying to solve adaptive challenges is at the heart of TREE's work in Washington County.
In educational leadership classes at UMaine and in their academic work, Biddle, Ackerman and Mette focus on collaborative approaches to adaptive challenges. In practice, that means having school leaders who welcome student input, value teachers taking part in shared decision-making, and empower people to help themselves.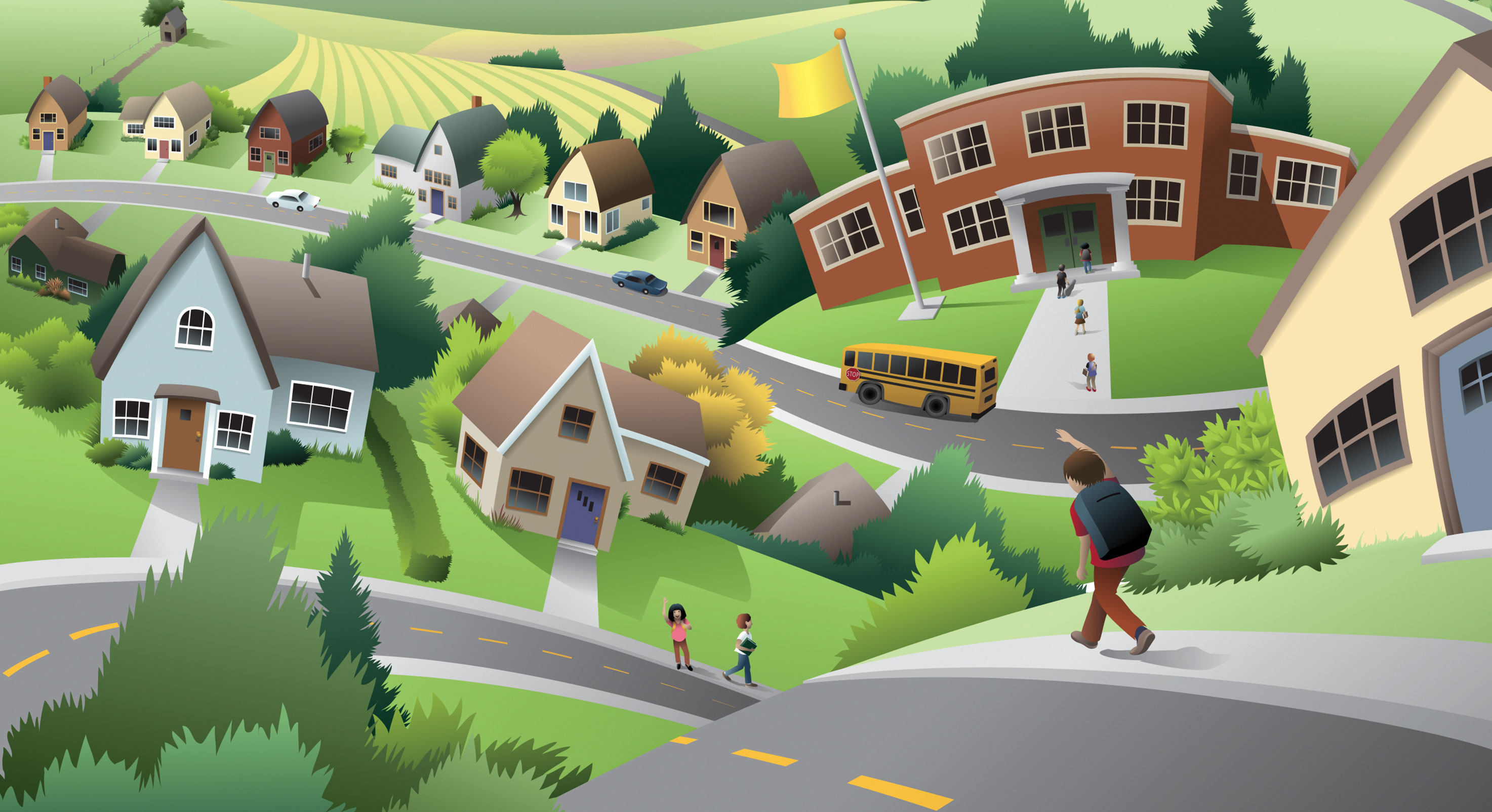 Ronald Heifetz, founder of the Center for Public Leadership at Harvard's Kennedy School, has written about how adaptive challenges require adaptive leadership. Ackerman says that means not ignoring tensions created by thorny issues such as poverty or improving students' math scores.
It's about promoting competing points of view and civil conversation among school faculty. And it's about recognizing which problems can be solved by technical solutions, and which require an adaptive approach.
Ray says that teachers and parents she has talked with have indicated the TREE program seems to be making a positive difference. In time, she expects to see that positive change reflected in concrete data, as well — better test scores and lower special education rates. Moving forward, she says collaborations with UMaine and Colby will be key to ensuring TREE's trauma- and poverty-informed framework makes it into more Washington County classrooms.
"Preservice teachers need to be learning about it," Ray says. "Another goal of TREE is to make sure that we have the opportunity to cooperate with University of Maine, Colby, University of Maine at Machias, University of Maine at Presque Isle, and University of New England, so that anyone going into the field of teaching in Maine knows about this approach."
For now, CCLC continues its drive to secure funding to keep the pilot project going through 2021 in Milbridge, Charlotte and Jonesport. What comes next could be expanding the TREE model into more Washington County schools with additional support from the project's backers, or sharing data with other schools and finding an approach that works best for them.
CCLC director Furth says no matter what happens, TREE has opened avenues of collaboration with UMaine and Colby that are "inspiring confidence and hope in our communities, including all who have contributed time, heart, knowledge and financial resources to this work."
He says he hopes TREE is "just the beginning of a deep and long collaborative commitment."
Just like Biddle's vision of a flourishing school ecology spreading into the larger community.
"I really believe we have the keys to doing what we're all in this work to do, which is to make sure that we have the best environment to raise our kids in for the benefit of a healthy democracy," Furth says.