The sun crests the tops of spruce and fir trees, the muted gray of dawn giving way to a bright, cloudless day in the mountains of western Maine. The sweet, warbling notes of a Bicknell's thrush welcome the new day.
Bicknell's thrush is one of many species that make the forested mountains home.
Amber Roth and her team of student researchers are working to help keep it that way.
For the past three years, Roth, an assistant professor of forest wildlife management at the University of Maine, has studied the health and habitat of the Bicknell's thrush and the rusty blackbird, two species of migratory songbirds whose populations are declining and are the focus of conservation efforts.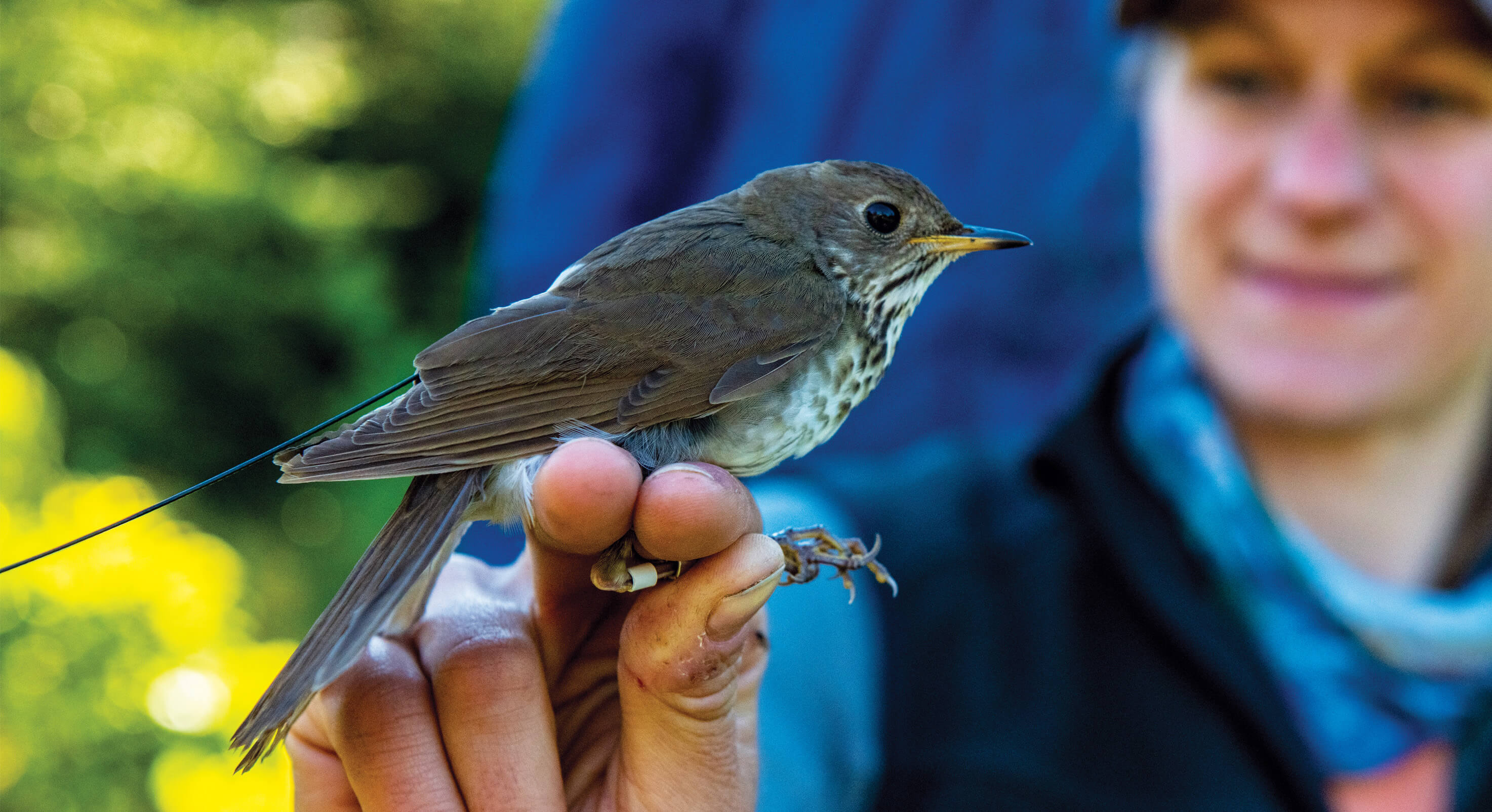 Bicknell's thrush is typically found high in the mountains. The rusty blackbird prefers wetlands at lower elevations. But now both have been found in the same intensively managed spruce-fir stands on the research sites, raising questions about what caused the birds' changes in habitat.
And that's just one piece of the puzzle Roth is addressing when looking at their habitat selection to inform land management strategies.
The rusty blackbird population is declining for unknown reasons, and Bicknell's thrush came close to being federally listed as threatened. Shifts in habitat use could help.
"One of the exciting things that we found during the summer of 2018 was that both of these species (were) using the same spruce-fir stands, which previously was not believed to occur very often because of this elevational divide that normally keeps them apart," Roth says. "But we're finding that they are willing to use the same stands for nesting, which is an exciting development and creates opportunities for conservation of both species."
Their shifts in habitat use could point to significant changes in the environment caused by certain land management practices, climate change or other factors. Roth and her students seek to understand more about those environmental drivers.
"There is an important role for managed forests in providing suitable breeding habitat, since our management of spruce-fir forest stands is aligned with these birds' needs," says Henning Stabins, wildlife biologist with the land management company Weyerhaeuser that owns some of the land where Roth's research sites are located. "Through our harvesting and regeneration practices, we are creating suitable habitat for both species across the landscape in Maine."
It's just before dawn on a reforested skid trail on the mountainside. The researchers set up mist nets in stands where they think they will find the birds, then play clips of bird calls from an audio device to attract them. The rusty blackbirds, which are more territorial, will investigate the perceived intruder. The more social Bicknell's thrushes will be drawn by the call, thinking there's a new member to welcome to the flock.
Once caught, the birds are affixed with an ID band, a telemetry tag and color bands to aid in identification from a distance.
Roth and her students have used several different types of tags — the most common is a very high frequency (VHF) radio tag that emits a signal that can be tracked by a researcher with an antenna on a receiver. They've also begun using GPS archival tags, which gather and store data on birds' locations. Later, researchers must catch the bird again to access the information.
They also use nanotags, a variant on the VHF radio tag. These send signals to receiver towers that are part of the Motus Wildlife Tracking System, an international collaborative research network that monitors birds and bats across a variety of landscapes, and provides data for migration on a large scale.
The research will help landowners and others learn more about the birds and the conditions that create their preferred habitat, which they can take into account when making management decisions.
According to Stabins, the spruce-fir forest conditions favored by both species are created by even-age management, a common strategy employed by Maine landowners.
"Without our management, the breeding habitat for these species may be more limited across the landscape and rely on natural disturbances like spruce budworm epidemics and fires" to create similar conditions, he says. The research will inform whether the current management strategies are meeting the needs of the birds, and what changes to management could enhance their long-term sustainability, Stabins says.
"This research will help us be proactive and address these birds' issues to hopefully help them avoid becoming endangered," says Stabins.
"Understanding the benefits of managed forests for these species will further demonstrate the value of the forestry industry in Maine."
The rusty blackbird project began with Carol Foss, senior adviser for science and policy with New Hampshire Audubon Society. For a decade, she has pursued the birds in sites near the Maine-New Hampshire border, and two years ago she collaborated with Roth to further the project.
"Our goal was to include some new forest management techniques in the collection of sites that she's been studying," says Roth, "expanding the scope of the types of management that rusty blackbirds might be using in terms of the different types of forest structures or how they were created."
Roth also noted concerns that rusty blackbirds — nestlings, in particular — could be susceptible to higher rates of blowfly parasitism due to increased temperatures.
"It could be that with warmer temperatures, those parasites are able to thrive more so than they could before," says Roth. "We have a lot of concerns about the role of climate, and temperature and precipitation, and what that means for survival and habitat quality."
Continuing previous work, the researchers are monitoring nesting success, site fidelity and survival, while learning more about how bird blowfly parasites affect survival and where the rusty blackbird population overwinters.
UMaine students have been key in driving the research. Luke Douglas, a forest resources master's student; Emily Tomak, an ecology and environmental sciences student; and Hateya Levesque, a forestry student, all have individual projects focusing on rusty blackbirds.
"Students bring a fresh perspective to everything they experience. When they really engage in the project intellectually, they sometimes come up with insights that the more seasoned researchers haven't thought of," Foss says.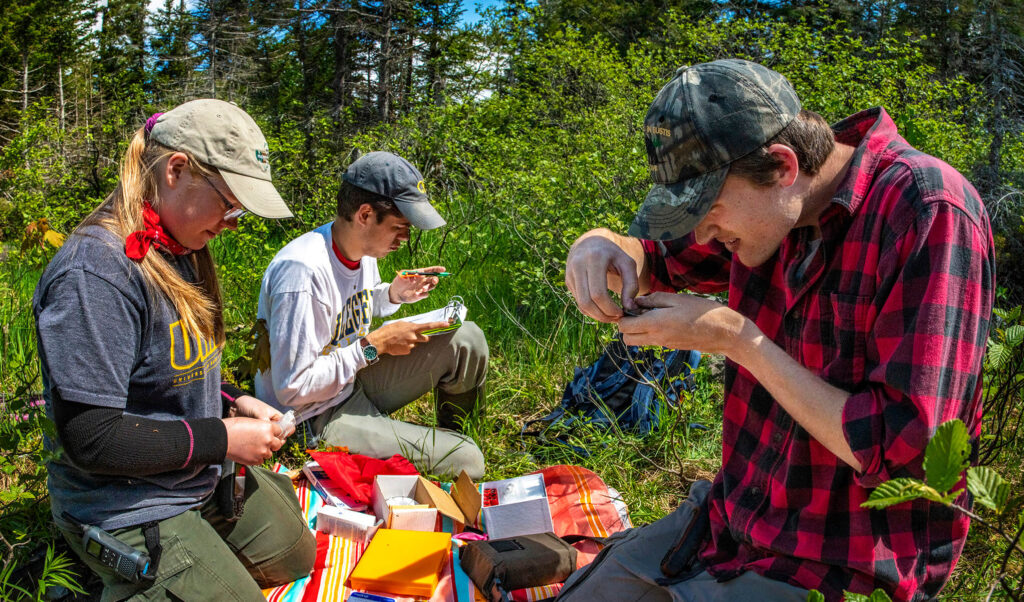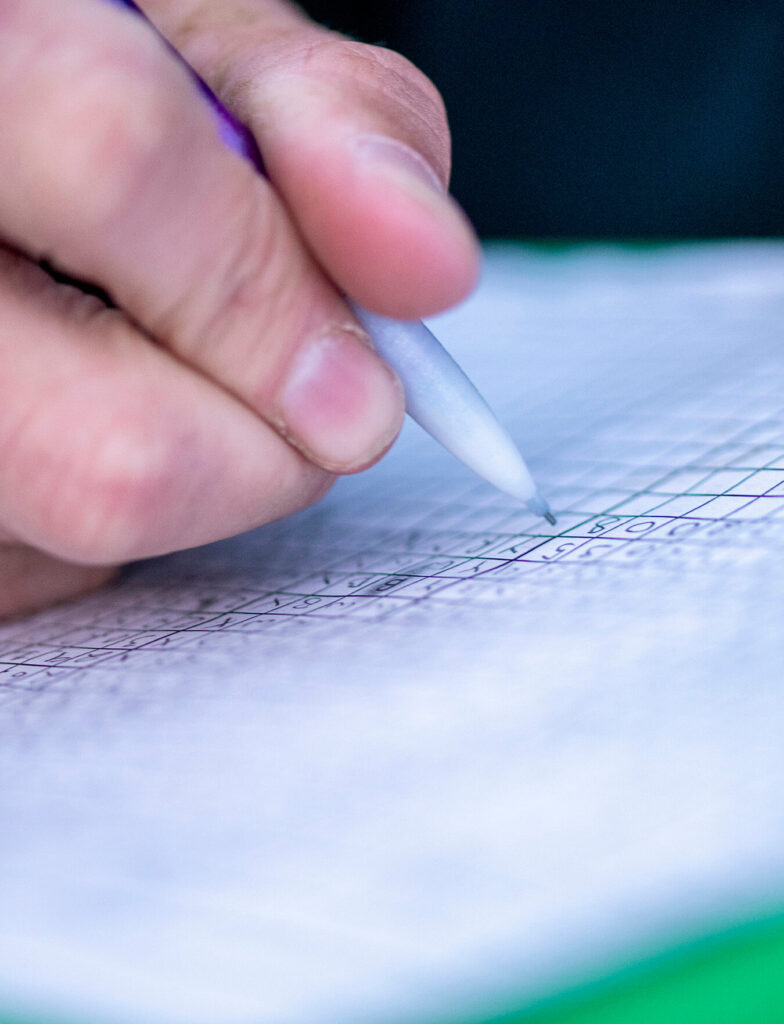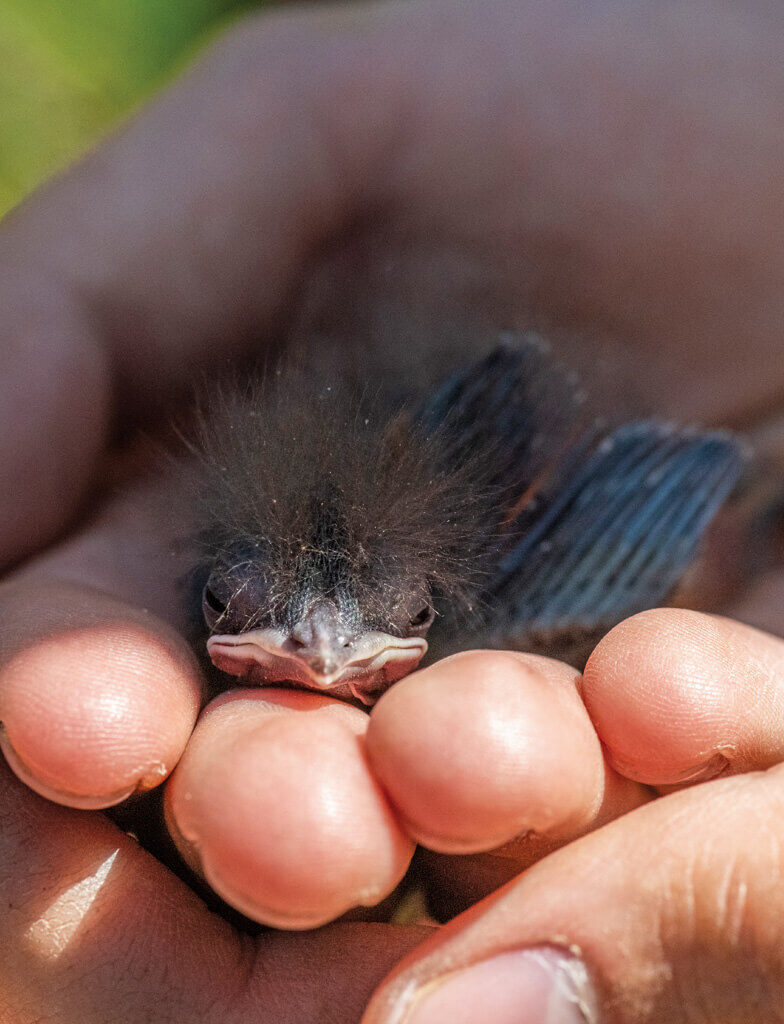 The rusty blackbird research team is looking at the birds' use of commercial forestlands to determine why the population is declining. They are working with landowners to see how birds use areas with different habitat characteristics and land management strategies, such as precommercial thinning, planted stands and herbicide treatments, according to Douglas. They collect vegetation and bird data from nests to learn more about nest site selection, fledgling survival and other factors that contribute to population levels.
Douglas says they're comparing Maine and New Hampshire because Maine has more intensive forestry practices and land management approaches that could be affecting the birds differently.
He has been surprised to see the birds in thinned stands. Typically, they prefer dense, young softwood stands because they'll often build nests on overlapping branches of multiple trees, rather than in areas that have been precommercially thinned and have more space between trees.
"I'm curious to see, once we can collect more data, how many birds choose to nest in thinned stands versus unthinned areas," Douglas says. "Studies focusing on other species have shown that thinning will increase the numbers of some, while decreasing those of others. So it's interesting to see that the rusties are readily using thinned stands. We'll have to see how this choice is affecting their survival."
For her undergraduate thesis, Tomak is examining connections between temperature and parasites found in the nests of rusty blackbirds. She's looking at sites in New Hampshire and Maine, monitoring temperature data around the nests, and looking for trends and possible causes, such as climate change.
"Our hypothesis right now is that during warmer years, there are more parasites in the nest and (they) will affect the health in the long run of those birds," says Tomak. "This year is actually great because it was colder, so we're going to be able to see if that hypothesis stands true. This year, if there aren't as many nest parasites as previous years, then we'll know that there is a solid climate change component to the project."
The sites Douglas and Roth worked on in Maine are farther north, at higher elevation and use different land management practices than the sites Tomak and Foss worked on in New Hampshire.
Foss hopes data from the 2019 and 2020 summer field seasons will yield conclusions on whether and how rusty blackbirds respond to these differences in habitat, and will aid in the development of science-based recommendations for landowners.
"These recommendations would be relevant not only in Maine, but in the Maritimes, as well, and potentially other areas of Canada where intensive forest management is practiced," says Foss. "I hope that our overall research effort identifies factors contributing to the population decline and range retraction, and contributes to long-term conservation strategies for the species."
Until recently, Bicknell's thrush and gray-cheeked thrush were classified as one species. In 1998, they were split into two official species based on differences in body size, feather coloration, song, winter ranges and other factors. Bicknell's thrush has been well studied in New Hampshire, Vermont and parts of Canada, but not so much in Maine.
"It's important to understand what's happening in Maine, because a lot of the birds are located on private industrial forestlands, so there's a lot of potential for forest management to impact them where disturbance by harvesting is less frequent," says Roth. "You've got different types of disturbance regimes in terms of how we manage forests in different states. Understanding what's happening in Maine is really important because it's a big part of the population."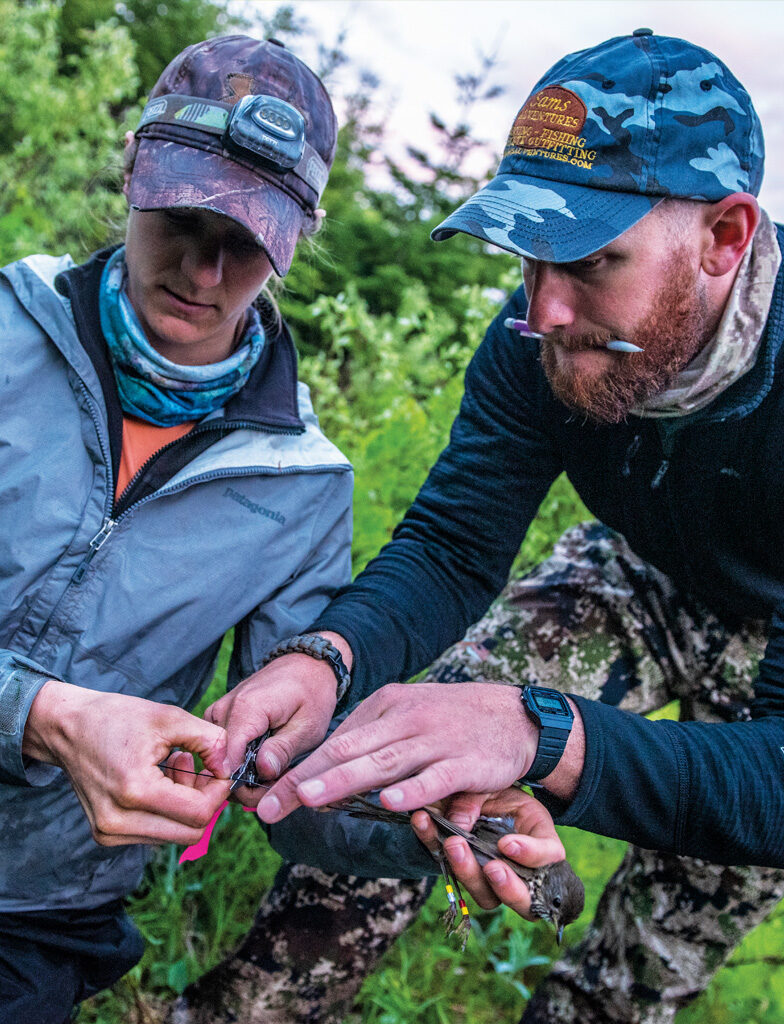 According to Roth, the thrush has a narrow breeding range and is therefore sensitive to any landscape changes within that range. For instance, deforestation on the Caribbean island of Hispaniola, the primary wintering location for the birds, is having a significant effect on the species' population.
"When you have such narrow geographic scope for a species, that elevates the conservation concern. And in addition to that, this is not a species that has a lot of individuals," says Roth.
There is an estimated global population of up to 126,000, which Roth says is small for a songbird. According to the Vermont Center for Ecostudies, the Bicknell's thrush population in the U.S. in 2016 was projected to be 71,618. The American robin, by comparison, has a population of about 310 million, with nearly 245 million spending some of the year in the U.S., according to Partners in Flight.
In addition to the species' high elevation habitat, Bicknell's thrush seems to be using habitat at lower elevations in Maine. Temperature increases related to climate change could influence the birds to move to higher-elevation habitat, but the land management practices also could be making habitat at lower elevations more attractive.
Among the questions: What habitats are the birds using and most successful in? Where are fledglings going and where are they surviving? "That's our important role, to give (landowners) the information they need to make informed, sustainable forest management decisions," says Roth.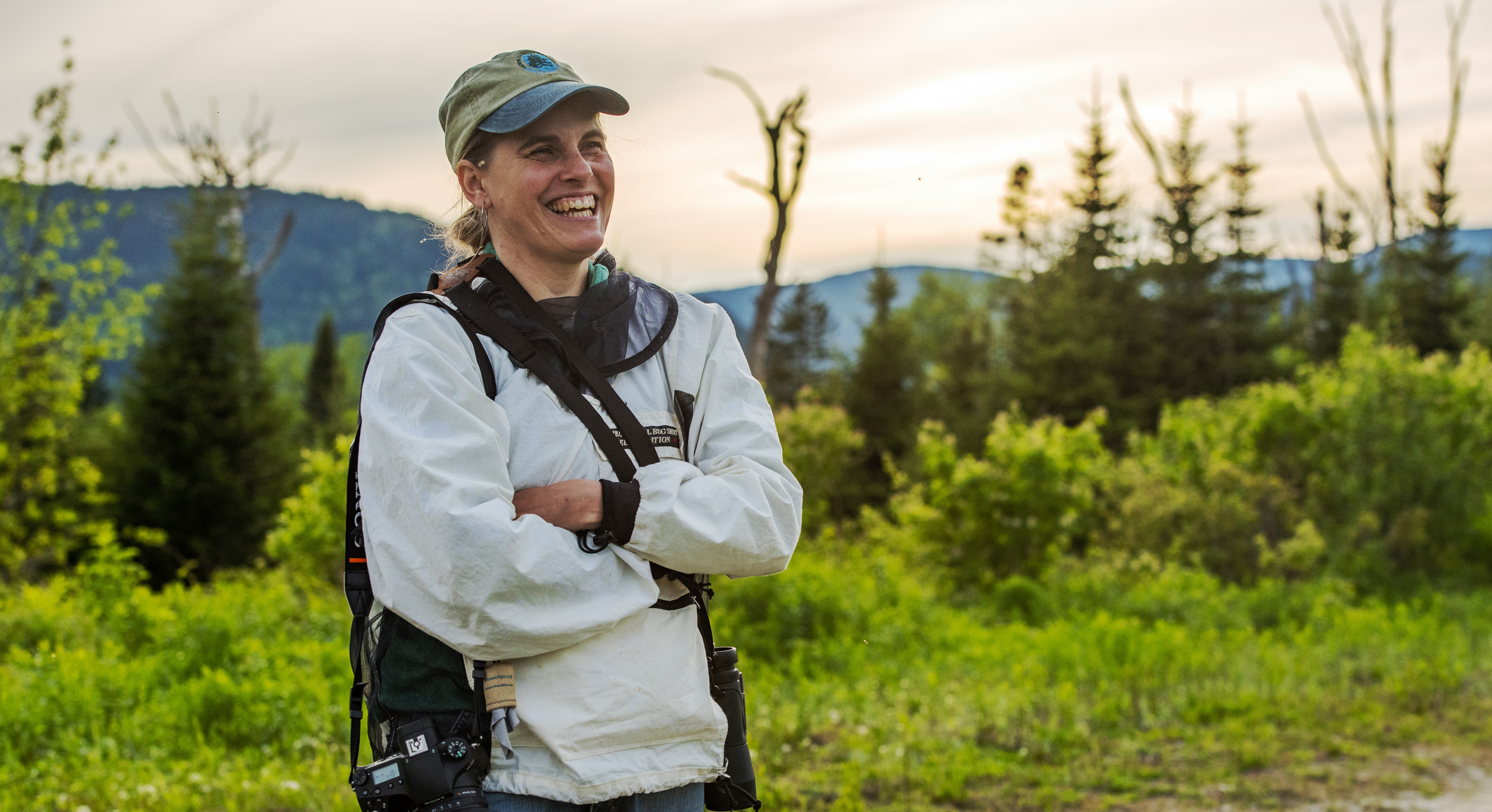 Kaitlyn Wilson, a UMaine wildlife ecology master's student, is instrumental to the Bicknell's thrush research. It's the second year she and Roth have worked with the species to study its habitat selection in commercial forests. This summer, she was in the field by daybreak when the birds are active and chances of capture are highest.
"Their high-elevation habitat is shrinking and is going to continue to shrink as the climate continues to warm," Wilson says.
"And since they're actively managed, our hope is to find out what the birds are using when they're here, so we can make recommendations to forest managers so that they can continue to harvest, but do so sustainably with the birds in mind."
A question Wilson addressed in her research was whether the thrushes would be in stands that had been precommercially thinned. She says that in those areas, she has not found any Bicknell's thrush.
"It means that forest managers need to keep in mind that if you have habitat on a landscape and it's thinned, then maybe leaving patches for the birds to use is an important consideration, but more research is needed to make specific recommendations," she says.
And collaboration plays a role in making research and conservation a possibility. Properties of land management companies span a variety of habitats and management approaches across different states and, in some cases, into Canada.
Mike Turso, a senior wildlife ecology student at UMaine, studies the birds from a slightly different angle. He's testing acoustic monitoring as a method of collecting data to supplement, and possibly replace, radiotelemetry tracking, which is resource-intensive. Acoustic monitoring, if successful, also would be easier to apply on larger scales.
"If acoustic monitoring is an equally or more effective method of monitoring the species, it can be used as a pretty good substitute to assess things like habitat use, maybe abundance, occupancy, things like that," says Turso, who adds he is enjoying spending time out in the field as well as knowing he's contributing to research.
"It's a privilege to be able to learn here. And the landscape is beautiful," says Turso. "It's really been an awesome experience so far, and I'm looking forward to seeing what's next."
Roth says landowners are especially interested in conserving species like the rusty blackbird and Bicknell's thrush, not just because of their intrinsic value, but because they enable them to have more freedom over land management decisions. If a species receives endangered status, the state and U.S. Fish and Wildlife Service could impose management measures. For example, Weyerhaeuser has an agreement with the Maine Department of Inland Fisheries and Wildlife (MDIFW) regarding rusty blackbirds and their management, so that's a species whose population the company is especially interested in maintaining.
Roth thinks of herself as a facilitator, and is responsible for orchestrating the collaboration on both projects, as there are many partners in the research.
"The landowners are really critical in helping us logistically, giving us access and helping us get around, and giving us information about their property," says Roth.
Weyerhaeuser and other large forest landowners, such as Wagner Forest Management and J.D. Irving, Limited, are part of the Cooperative Forestry Research Unit (CFRU), a stakeholder-driven research cooperative at UMaine that includes 33 organizations representing half of all forestland in Maine. Through CFRU, Weyerhaeuser has identified relevant issues in forestry and answered questions through scientific research, according to Stabins.
 "For those projects that occur on our land, we have a direct connection, can be more involved, and more finely understand the details of the methods and results," he says.
"These CFRU projects are evidence of our efforts to protect biodiversity, contribute to forestry research, and continually improve our practices. We consider many factors during the planning and design of each individual timber harvest and use a host of remote-sensing, ground-based, and internal/external data sets," says Stabins. "The incorporation of environmental stewardship and sustainability into our management is not only the right approach, but makes business sense due to the long-term nature of growing forests."
Wilson says Weyerhaeuser personnel have been involved and helpful throughout the research process, scouting for stands occupied by Bicknell's thrush or rusty blackbird that could be data collection sites, providing GIS mapping data for their managed land, and more.
Working in a remote area like the mountains of western Maine means resources such as lodging and internet are scarce, and the research sites can be difficult to traverse and only accessible via pothole-filled logging roads. Even the birds are "secretive," Roth says, and it can be a challenge to find and follow one to catch for banding. The more help they have throughout the process, the better their chances of gathering enough data to contribute meaningful insights to inform landowners.
Roth also credits Foss and Stabins, as well as Adrienne Leppold, the nongame bird biologist at MDIFW and a UMaine alumna. Leppold was instrumental in connecting Roth and Foss to work together on the rusty blackbird project.
Funding for the projects comes from The Nature Conservancy, the U.S. Navy, New Hampshire Audubon, William P. Wharton Trust, Maine Outdoor Heritage Fund, UMaine's Cooperative Forestry Research Unit, and Maine Agricultural and Forest Experiment Station.
"For me, the most rewarding outcome would be if we can come up with a win-win scenario for landowners where they can continue to harvest the trees that they need in order to continue to make income, and at the same time have high-quality habitat for these birds," says Roth. "If we can continue to create the forest products that we want as a society, but also create habitat for these species that are in need of some help right now, I think that's the big win-win."