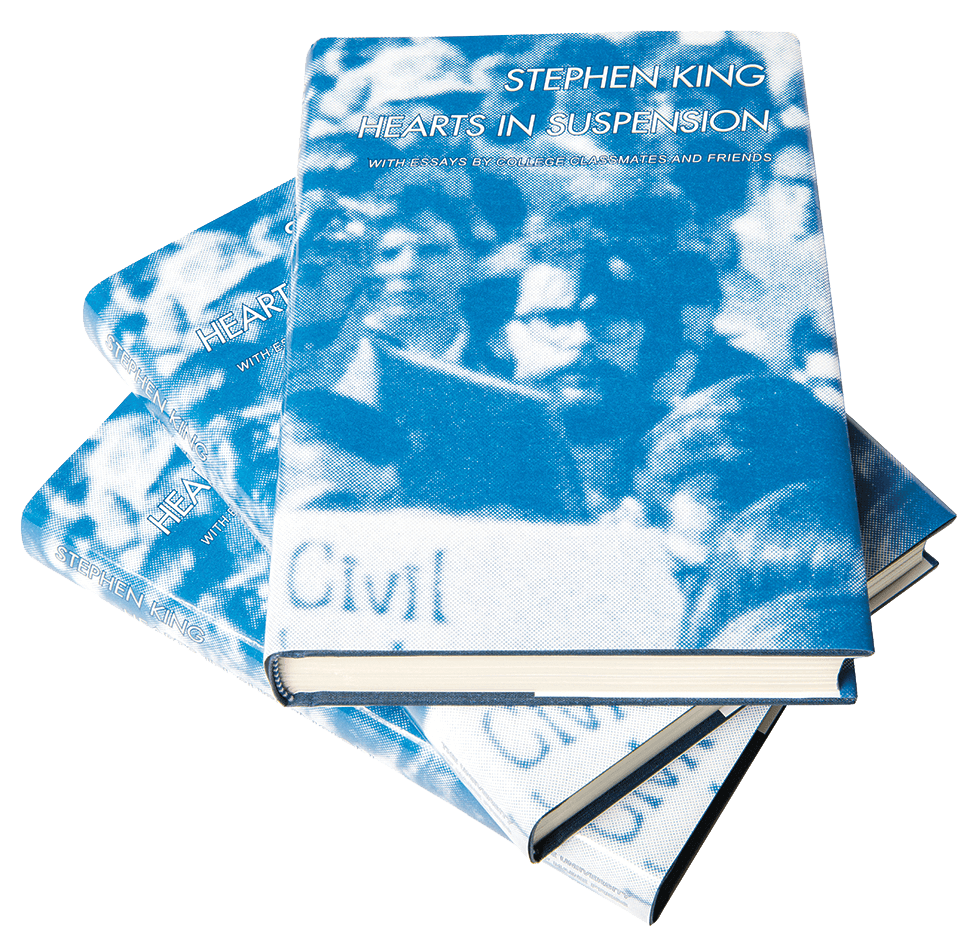 "Sometimes the magic sticks around."
It did when Stephen King and friends returned to campus Nov. 7 to launch a book about their experiences at the University of Maine during the Vietnam War era.
The night before Election Day, 10 of the 13 authors of Hearts in Suspension took the stage at the Collins Center for the Arts to talk about coming of age as activists in Orono during a time of war, protests, assassinations and the civil rights movement.
As the 1,400 attendees entered the center, songs of Creedence Clearwater Revival, Dion, the Supremes and the Righteous Brothers played while photographs taken at UMaine between 1966 and 1970 flashed on a large screen behind the stage.
King, wearing a T-shirt with a peace sign and the message "Back by popular demand," joked, shared stories and read excerpts from his nonfiction essay.
He and several other essayists had recommendations about being engaged in today's divisive political climate, including listening to those they don't agree with.
Sherry Dec, '70, a poet, painter and retired language arts teacher, said being on stage was like traveling back in time 50 years.
Dec was a first-year student when she was introduced to the music of Bob Dylan.
"I arrived here and heard his voice, his music, and for the first time I heard the truth that I had not heard before," said Dec, adding she was one of many students who dug deep in search of the truth and who tried to stay authentic.
Dec later paraphrased one of King's lines in his novella Hearts in Atlantis: "Sometimes the magic sticks around."
"I believe that," Dec said. "We come together because once in a while, we still hear the real voices."
She called UMaine an incredible place of learning, where students can gather, listen, share, understand and grow.
"Take this moment, take it into your future," she said. "You're going to be the architect and shaper of that."
King said that listening to others, including his first-year roommate Harold Crosby, altered his view of the Vietnam War.
When he entered UMaine in 1966, King said he was a right-wing Republican. When he graduated, he said he was a left-wing Democrat.
In a quiet, respectful way during a discussion about the war, King said that Crosby, now a retired dentist, told him, "'You're wrong. We have no reason to be over there.' It was good for me to hear and listen," King said.
"God bless Harold Crosby," King wrote in his essay titled "Five to One, One in Five: UMO in the '60s."
Union activist Frank Kadi said he, King and many others evolved at UMaine.
Kadi said he was once a member of ROTC and King penned an opinion piece against war protests. Kadi later dropped out of the ROTC and he and King participated in war protests.
Keith Carreiro, '71, said King told the truth.
"The truth was very hard to find in life in 1966. We found it in one another," said the author, classical guitarist and university professor.
"And we liked what we saw … because it was something we hadn't seen before. … I'm very humbled to be here in the presence of this kind of love for the search of truth. I hope that's our legacy," Carreiro said.
Organic farmer David Bright, '70, said that as an editor at the Maine Campus and later at the Bangor Daily News, he had been in positions to add disparate voices to discussions.
Bright edited "King's Garbage Truck" columns for the Maine Campus.
For Hearts in Suspension, four of those columns — about a protest march, the Apollo 11 landing on the moon, the shootings at Kent State and King's pending graduation — have been reprinted for the first time.
Fifty years removed, King said the columns he has re-read are snarky. "I winced. This is sophomoric stuff. But why wouldn't they be, I was a sophomore," he laughed.
Adjusting to college was comparable to jumping from Single-A baseball to Triple-A, said King, who has written more than 50 books — all bestsellers — and was presented the 2014 National Medal of Arts by President Barack Obama.
"UMaine gave me a lot in terms of growing into manhood," he said in an interview several days before the book launch. "It was an invaluable time in my life. Man, I learned to think and people challenged you."
Jim Bishop, King's first-year English instructor at UMaine, as well as the book's editor and author of an essay, was one of those people who challenged King.
When Bishop gave the first writing assignment of the semester, King said, "I thought to myself, 'I'm going to show this guy what real talent is.' He's going to say, 'I got a budding Hemingway in my writing class.'"
King earned a C+ from Bishop on that essay.
"That's going to go on my epitaph," said Bishop, who left the university in 1971, traveled throughout Europe and held several nonacademic jobs before returning to UMaine to teach English. He's now retired and lives in Bangor with his wife.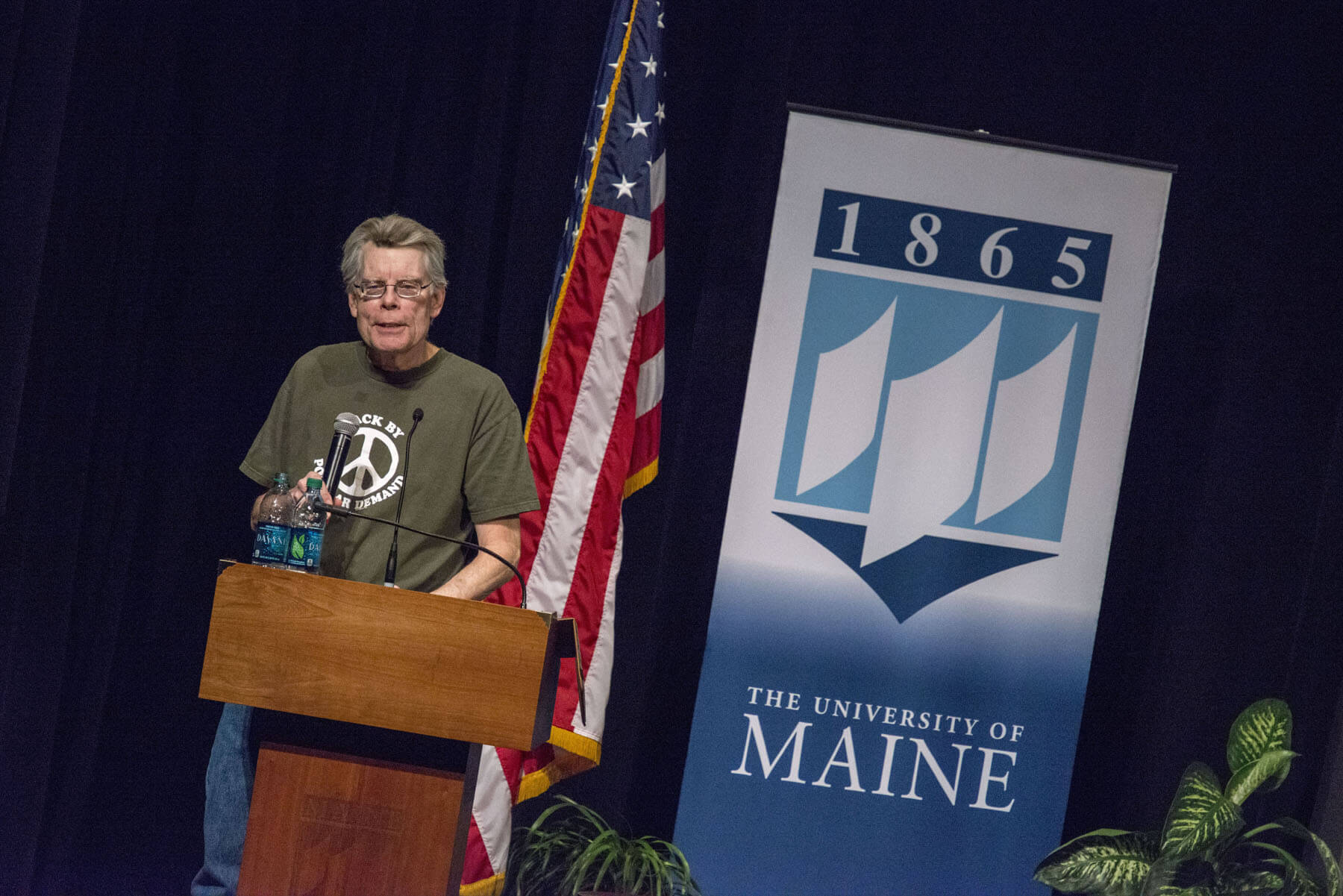 One excerpt from King's essay in Hearts in Suspension described a tour of UMaine the spring of his senior year at Lisbon High School.
"For me, UMO — a working-class college for the children of mostly working-class families — was the only game in town. … In 1949, Ruth King's husband Donald went out for a pack of Chesterfields and never came back, leaving her with a bunch of debts and two boys to raise on her own. … So yeah, the tour was a joke. It didn't matter if UMO looked like Harvard or Alcatraz, I was going there."
King also wrote that he was filled with rage much of the time he was in college.
"I felt like an outsider. I felt alone. And that was okay, because the anger was fuel. Besides, I liked the darkness. I felt at home there."
Essays by his friends and colleagues, including Bishop, Bright, Carreiro, Crosby, Dec, Kadi, Michael Alpert, Bruce Holsapple, Diane McPherson, Larry Moskowitz, Jim H. Smith and Philip Thompson — cover a range of topics, from curfews and dress codes for female students to cruel behavior by fraternity brothers and the draft.
"UMaine gave me a lot in terms of growing into manhood. It was an invaluable time in my life. Man, I learned to think and people challenged you."

Stephen King
King said reading the essays reminded him of the parable about a half-dozen or so blind men who all touch various parts of an elephant then describe the elephant in dramatically different ways.
"Some (essays) are very affectionate and remember college with a great deal of excitement and love, and then you have (an essay) that's very grim," King said.
"It's like a prism in that it reflects many different aspects of college life … and when you put them all together, you get a really fair picture of what college life was life. In that sense, Jim Bishop really did a service."
In "Five to One, One in Five," King wrote: "What I remember best is how completely and wonderfully wrong we were about so many things, and how blind we were allowed to be — at least for a little while — to the world's harsher truths. That is a near perfect definition of mercy, I think. I believed I had discovered true love with my high school girlfriend. I believed my novel, Sword in the Darkness, would be a prize-winning bestseller. I believed passionately in the Vietnam War for three semesters, and just as passionately that it was wrong for another five. I believed we could change American society, maybe even the world."
In a Nov. 4 interview, King said that for all the social upheaval in the 1960s, he doesn't believe the country has progressed politically or economically and he referenced the presidency of Ronald Reagan, the rise of Donald Trump and the growing gap between the 1 percent and working poor.
"There have been lots of changes on the social front. … but I think in a larger context, a political context and an economic context, I don't think a lot has changed. I'm not a real optimist about that. I still think it's the case of 'meet the new boss, same as the old boss,'" he said.
When Bishop proposed the idea for Hearts in Suspension, King said he was initially reluctant to relive that turbulent time and write a first-person essay about it. He agreed, in part, because royalties from book sales will go to the publisher, the University of Maine Press.
Michael Alpert is director of the University of Maine Press. He also authored an essay in the book, which includes photographs and the reprint of King's novella Hearts in Atlantis, a fictionalized rendition of King's first year at UMaine.
In 1966, Alpert transferred from UMaine to The New School for Social Research in New York City, where he witnessed extreme violence. Alpert said he returned to Maine traumatized.
Taking part in a writing workshop that included King and others was a form of rescue, he said.
"That writing workshop was what I needed. Until I wrote that essay for the book, I had never articulated where I was emotionally at that time, to anyone, including my children," Alpert said. "The book provided an opportunity, or a compelling reason … to talk about the truth of my experience in those years. I'm very thankful for that opportunity."
Today, Alpert also is president of the Greater Bangor Area NAACP and is on the city of Bangor's Board of Ethics. He encouraged audience members to be empowered and to make the place in which they live better through public service.
"I think it's important to be politically committed, which means to actually run for public office at the local level," he said. "These local offices can make a big difference. It's part of the way in which a movement is built."
Hearts in Suspension is dedicated in memory of Burton Hatlen, Edward "Ted" Holmes and Edward "Sandy" Ives, three of King's inspirational UMaine professors. The 373-page book may be ordered on the University of Maine Press website.