For two years as a high school student, Jessica Hayden of Milford, Maine spent part of her summers in University of Maine research laboratories, working on aquaculture and bioengineering innovations as part of her internship with Maine EPSCoR, the federally funded research and development program.
She did it for the experience — a natural extension of the variety of extracurricular activities she pursued throughout middle and high school.
This fall, Hayden, who graduated third in her Orono High School class, is back on campus, this time as a first-year college student on a Maine Top Scholar Award to study microbiology, collaborate on research with a faculty mentor and participate in the Honors College.
Hayden's ability to succeed in and out of the classroom is due in no small part to the health services she received as a toddler. And the advocacy of her parents.
Hayden was born deaf. She can hear with the help of cochlear implants, which she has had since age 2. Cochlear implants are surgically inserted electronic devices that provide a sense of sound for those who are deaf or hard of hearing. A microphone and electronic pack behind her ears send signals to the implants, which stimulate the cochlear nerves.
When she was 15 months old and not yet developing the ability to speak, Hayden was screened for hearing loss. Once diagnosed, her parents were proactive about getting her services, including the cochlear implants and speech-language therapy.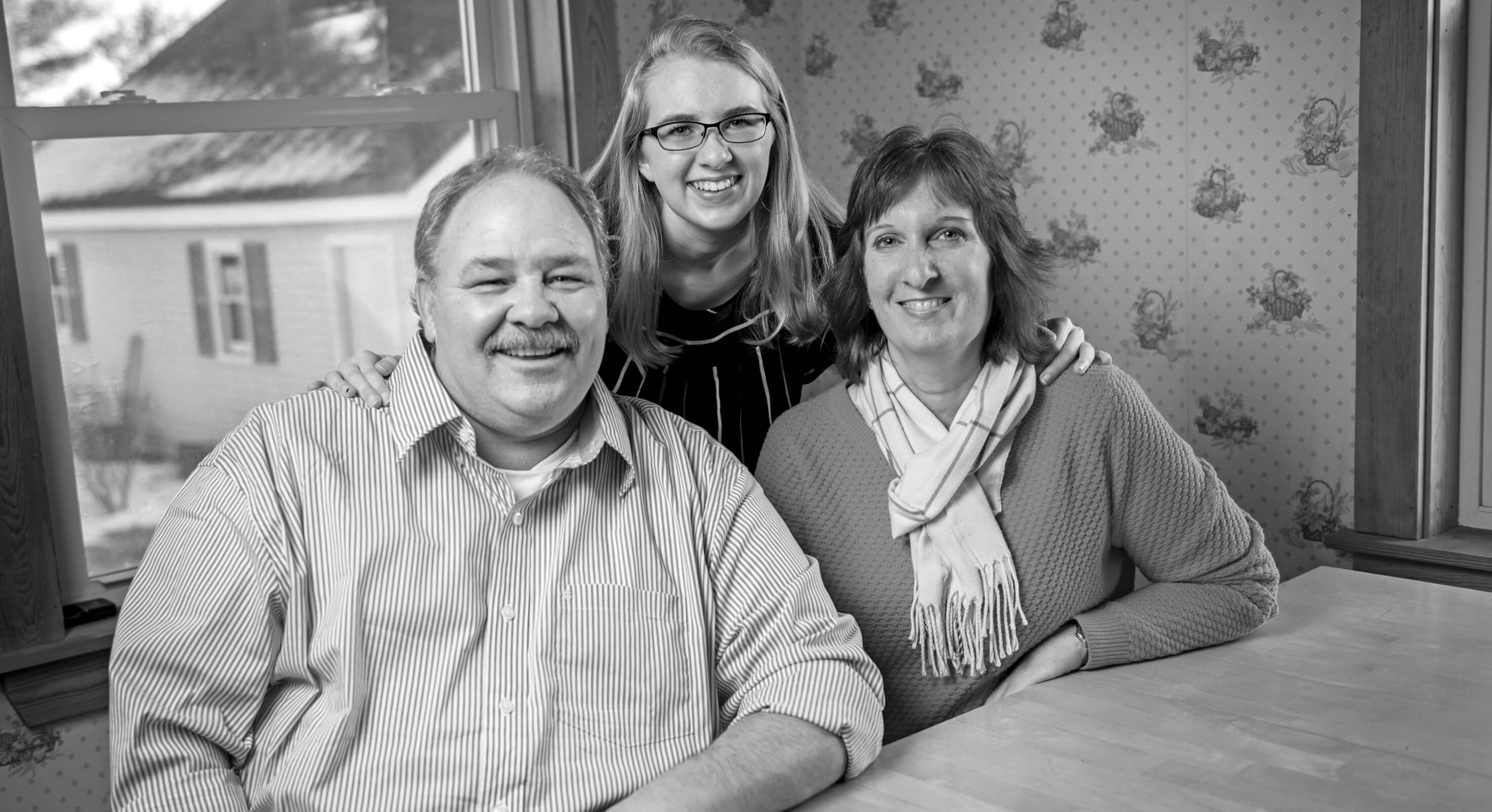 "The good news with hearing loss is if it's caught early and the child receives early intervention, such as learning sign language, using hearing aids or receiving a cochlear implant, the effects can be minimal," says Shihfen Tu, an associate professor of education and applied quantitative methods with UMaine's College of Education and Human Development.
Today, thanks to a partnership between UMaine and the Maine Center for Disease Control and Prevention (Maine CDC), it doesn't take 15 months for children born with hearing loss to be diagnosed.
In a system called ChildLINK, the university gathers data from newborn health screenings on behalf of the Maine CDC Children with Special Health Needs Program. The state's 30 birthing hospitals send test results for hearing loss, birth defects and metabolic disorders in newborns, and the data is tied to the state's electronic birth certificate information.
In 2016, the most recent year for which data is available, ChildLINK captured newborn screening information on more than 97 percent of the 12,480 babies born in Maine.
"We want to monitor the data to see if there's any kind of trend," Tu says. "And then the other part of it is alerting the Maine Newborn Hearing Program when a baby screens positive, so they can get services as quickly as possible."
Since 2003, ChildLINK has flagged more than 3,600 children born in Maine who initially screened positive for hearing loss. Of those, further diagnostic testing confirmed 330 cases of permanent hearing loss.
Tu helped create ChildLINK more than a decade ago, in collaboration with her husband and UMaine education colleague Craig Mason, and a team of computer programmers. Since 2003, the program has flagged more than 3,600 children born in Maine who initially screened positive for hearing loss.
Of those newborns, further diagnostic testing confirmed 330 cases of permanent hearing loss. Tu says they know that 214 of those babies were referred to receive early intervention.
The United States Centers for Disease Control and Prevention's Early Hearing Detection and Intervention (EHDI) program provides funding to states to support universal newborn hearing screening with the goal that babies with hearing loss receive services as soon as possible.
Tu's research team also is part of a national group that created the EHDI-PALS website (ehdi-pals.org). It features a searchable geo-coded national directory of facilities offering audiology services for children, birth to age 5, so parents can more readily find services their children need.
Now that the ChildLINK system has collected more than 10 years of data, Tu says she's able to tie some of the information about children born with hearing loss to data on their educational performance.
"What we found is that, on average, the children who received services through EHDI as babies are doing better with mathematics than children who have hearing loss but did not go through the EHDI system," she says.
Tu says they're also in the process of expanding the information collected by ChildLINK to include tests for critical congenital heart defects.
"I see it as the perfect combination of research and service," says Tu. "Our mission is to promote healthy child development whether cognitive or physical."
As part of her summer internship at UMaine, Hayden tested the ability of drones to take temperature readings at 20-second intervals, at varying distances from an object. The trials were designed to see if the remote-operated aircraft could collect and relay information about the condition of lost hikers — including body temperature and breathing rate — to search-and-rescue teams at a base camp or other remote location.
It's not lost on Hayden that these experiments are trying to give rescuers a head start, so they can be ready to provide the medical services needed, as quickly as possible — just as it was important for her to receive services for hearing loss as soon as possible.
Hayden was fortunate. While born in 1999 before the ChildLINK program began, she was tested for hearing loss at a relatively young age and her parents sought services for her once they had a diagnosis. That included an auditory-verbal speech therapist to work with the family on techniques for teaching her to speak.
After she got her first cochlear implants, Hayden remembers her dad carrying on a running conversation with her in the grocery store so she would get used to the sound of someone speaking and, in turn, learn to speak herself.
"He would pick up a can and describe (it)," Hayden says. "I couldn't talk yet, but I was enthralled with this information. I soaked it up like a sponge."
As a child, Hayden participated in sports, including basketball, track, soccer, swimming and T-ball. She also did gymnastics, despite her old cochlear implants that required a large, brick-like processor, for which her mom sewed special pockets on the back of her shirts.
In 2004, before she entered kindergarten, Hayden's father, Scott, testified before a Maine legislative committee in opposition to a proposal to cut funding for early intervention services. He told lawmakers that early intervention would allow his daughter to enter school not needing special services from the local school district.
"This represents a savings of $1.2 million to the state of Maine over the next 12 years," Scott Hayden said, and would allow his daughter to be "a fully integrated member of society."
Fourteen years later, Jessica Hayden notes that most people don't realize she is deaf.
"I definitely wouldn't be able to do the same things (without early intervention). I just can't imagine."