Nature literally and figuratively makes Greg Ondo's sculptures come alive.
It's elemental. Much of his inspiration comes from earth, air, fire and water. So, too, his materials and methods.
And for his large-scale works — from those measured in miles and lasting only minutes to those tallied by the ton and here indefinitely — nature in all its beauty, seasons and unpredictability is his choreographer.
The landscape, the setting, the sense of place are critical to his sculptures' meaning and, ultimately, their performances.
Take Northern Lights, a sculpture commissioned for the reception area of a health care facility in Bangor, Maine. The nearly 10,000 pounds of granite quarried from Mosquito Mountain in Frankfort, Maine was carved to inset five colors of kiln-fired glass. Maine pine timbers frame the work.
But the sense of place goes beyond Ondo's choice of materials.
His inspiration for the sculpture came from Maine's topography and natural beauty — from its algae and moss to the reflection of sunlight, the view of the Milky Way, and the way water meets land in the state.
And then there's the setting for this particular work. Skylights allow natural light to flood the large room, illuminating the sculpture in different ways hour by hour, day by day. As Donald Judd did with 100 Untitled Works in Mill Aluminum, Ondo factors in the moving ambient light and shadows to make his sculptures living life-forms.
The effect — the physicality, colors, abstraction, wonder of the piece — is electric and magnetic for visitors to the facility.
"I knew the location and what the sky was like," he says of the work that was more than 800 hours in the making. "With the materials and imagery, I needed to create something that spoke to the people of Maine.
"I wanted the piece to have its own life, to be abstract enough to evoke thought, but have enough recognizable aspects. Whether you see a heartbeat or the coast of Maine or the Penobscot, people in Maine relate to those shades of green and blue. It's not supposed to be a literal interpretation of the coastline of Maine," says the University of Maine associate professor of art. "I want people to have their own aesthetic experience and claim ownership."
Ondo's works are as diverse in scale — 1 inch to 16 feet tall, 1 ounce to 10 tons — as they are in scope — community events and land art to permanent installations. His works often contain materials not typically juxtaposed — granite and glass, slate and straw, fire and ice. His goal is to touch people's sensibilities, to have them explore the multifaceted, often unsettling associations.
"I want the viewer to be constantly questioning what's going on, to think about the possibilities," he says.
From the start of his career as a sculptor at Indiana University of Pennsylvania, steel has been Ondo's primary medium. He's been wielding a blowtorch since he was 12 years old, brazing exhaust systems with his dad.
Wood with steel was next. Precious metals. Ceramics. In the course of working with stone, such as obsidian, Ondo discovered the beauty of translucency and opacity. And he turned to casting glass.
Ondo also has a passion for incorporating found objects into his art, long after dumpster diving for materials was a necessity for the budding undergraduate artist.
As an undergraduate, Ondo studied with sculptor James Nestor, who introduced him to the importance of location-driven works. That spoke to Ondo's roots.
"Understanding the environment around me was important when I was growing up," says Ondo, who went on to study land arts of the American West with Bill Gilbert. As a graduate student at the University of New Mexico, Ondo found inspiration in the desert landscape so different from the Pennsylvania hills of home.
In the indigenous culture sites such as New Mexico's Chaco Canyon, he discovered the rich ceramic tradition of the Anasazi. In Marfa, Texas, Ondo found the monumental sculptures of minimalist Donald Judd.
The influences have informed Ondo's works.
He has created a granite and glass sculpture for the visually impaired, and a community event to celebrate the removal of Veazie Dam on the Penobscot River, complete with a fire installation called Salmon Ladder. For a group exhibition in Pennsylvania in 2012, Ondo created aDay, a 13-foot-high sculpture made of steel, straw, slate and a discarded 65-foot conveyor belt to memorialize the Holocaust.
This past August, Ondo completed a 9/11 memorial for the Cumberland County Sheriff's Office in Portland, Maine. The World Trade Center Memorial, unveiled Sept. 11 and a year in the making, features two granite columns flanking a piece of steel from one of the twin towers.
"It's important to have a conversation when the opportunity presents itself," Ondo says. "That's the thing with art. There are so many facets to it. You can escape reality or embrace reality.
"I knew the location and what the sky was like. With the materials and imagery, I needed to create something that spoke to the people of Maine. I wanted the piece to have its own life, to be abstract enough to evoke thought, but have enough recognizable aspects."

Greg Ondo
"The role of the artist is to offer anything that can help that conversation along. It's a different approach than, say, that of a politician. People may be more comfortable talking to an artist or each other (with art as the catalyst)."
Ondo's great-grandfather and grandfathers were coal miners. Ondo's father was a mechanic in the mines. In his off hours, his father customized Harleys and was president of the largest motorcycle gang in Western Pennsylvania. Ondo's mother was an LPN who played piano and introduced her son to the Carnegie Museum of Art in Pittsburgh.
Both parents were determined that their only child would be a first-generation college student.
As a college sophomore, Ondo took his first trip to New York City with his art class. He discovered the art galleries by day, and by night, CBGB in the Bowery, "the undisputed birthplace of punk."
Coming from a "one-light coal mining town," the city was new and exciting.
"I felt alive. It was a whole weekend of visual and performing art," Ondo says, recalling the large steel arches of Richard Serra, figurative bronze pieces of Magdalena Abakanowicz, and Mike Kelley's human form and found objects photos.
"Their youthful exuberance was like a first kiss. For me, it was knowing that something can be so playful yet so serious at the same time. It gave me belief in my own ideas.
"Twenty years later, those first impressions have stuck with me and I've watched their work over the years."
Ondo attended Indiana University of Pennsylvania to major first in physical therapy, then in psychology.
But when he took a drawing class, he discovered he was in his element, turning in 30 drawings to meet the 10-drawing course requirement and winning awards in the student exhibition.
Drawing was, after all, Ondo's early art form. By age 8, the focus was comic book characters in underwater scenes. By 13, he was creating photorealistic images of his parents and friends.
In his first sculpture class at Indiana University, work in plaster and clay was followed by metalwork, including welding.
At the suggestion of a faculty member, Ondo changed his major for a third time. Ultimately, he double-majored in sculpture and metalsmithing, with a minor in wooden furniture design. In those classes, where students were expected to produce a work every two weeks, Ondo had to get creative. On a couple levels.
"It got expensive buying materials," he says, "but because I grew up in the area, I knew where to find construction debris. I loaded my truck with old tires, rope — any material to build with. And then there was good stone from nearby Lucerne Mines.
"I'm always looking for materials," says Ondo, who admits to constantly keeping an eye out for disparate resources that he and his UMaine students turn into provocative works. Found objects, he says, all have a story to tell.
"To this day, I can't drive by dumpsters without having the urge to look inside," he says. "But now, people also let me know if they have items to repurpose. Yesterday, it was old parts of theater seats — steel, mahogany. Beautiful material with strength and integrity for the students to work with, and the possibilities are endless."
Ondo has created a granite and glass sculpture for the visually impaired, and a community event to celebrate the removal of Veazie Dam on the Penobscot River, complete with a fire installation called Salmon Ladder. He created the work titled aDay to memorialize the Holocaust.
One of his most intriguing finds: a 10-foot, 2-inch thick piece of bulletproof glass from a bank in Albuquerque. Ondo had to recruit a friend to help him wrestle it into his truck. The glass became a wind sail in a 1,800-pound sculpture of concrete, glass and ceramic titled Chariot.
There's only one time that his salvage efforts in the name of art backfired. Ondo was headed off campus after his graduate school interview at Notre Dame when a dumpster filled with pieces of steel caught his eye. He was loading up his truck when campus police arrived. A couple phone calls later, including one to the priest he had just met, and Ondo was returning the steel to the dumpster.
He went to graduate school at the University of New Mexico.
When Ondo was growing up, he had two posters on his bedroom walls — one of a motorcycle flying through the Carlsbad, New Mexico sky, and the other of the Maine coastline. Even then, they reflected his passion for "seeing the world from different perspectives."
What he didn't know is that those venues were his destinations.
As an undergraduate, he was drawn west to explore Yellowstone, the Grand Tetons and the Rockies. But it was in New Mexico as a grad student (1997–2001) that his art — both permanent and ephemeral performance installations — also took to the great outdoors to be more in sync with the landscape.
And be at its mercy.
Take Arroyo Del Fuego, a mile-long performance installation in Llaves, New Mexico in 1999. The work featuring a 1-foot wide swath of pine needles and slash took a week to install and was to be set ablaze in the twilight. All calibrated to be simpatico with nature that August night in the desert.
Until the heavens opened up five minutes before the performance, washing the installation away.
"I never saw such a flood in all my life," Ondo says. "The whitewater was incredible. (The loss) was intense, but I had to make (the piece) a reality, so the following March, we did it again."
That spring, the ephemeral installation went off without a hitch, leaving a charred mile-long line on the canyon floor on the eastern slope of the Continental Divide.
"Often I plan an event during the change of seasons or (daylight saving) time changes when people have a heightened sense of their surroundings," he says. "I use (the timing) as part of an art experience."
Taking cues from desert flowers that bloom for only two hours every year, Ondo created Flambé in 2001, an installation of fire, glass, water, steel and ceramic. The work was timed to appear at sunset against the Sandia Mountains in the distance.
On the Continental Divide near Llaves, New Mexico in 1999, Ondo built Bottleneck, an adobe wood-fired kiln, and invited ceramic artists to use it to create their pottery. The artists formed the New Mexico Wood-Fired Guild and built similar nature-based kilns in the area. By the time Ondo left New Mexico for Maine in 2005, he and the other guild members had created more than 40,000 pieces of pottery.
Ondo moved to Maine to join sculptor Andy Mauery, UMaine associate professor of art. The pair first met as work study students in the library at Indiana University of Pennsylvania, and have collaborated for nearly two decades.
In Maine, Ondo rediscovered ice — how it cracks and moves, "how I can see myself and other people in it," he says.
Ondo was determined to expand the "language" of sculpture using textures, changing colors and temperatures with shifts in light.
It was in Maine where Ondo undertook his first granite and inlaid glass sculpture with Glow. He learned how to cast glass through a mold-making process, opening the possibilities for incorporating it into his works. And he was determined to expand the "language" of the sculpture using textures, changing colors and temperatures with shifts in light to provide an experience for the visually impaired.
Glass inlays read as braille.
His first sculpture is installed outside Salty Dog Gallery in Southwest Harbor, Maine. Glow II, now in progress, will be sited in the lobby of the Iris Network in Portland, Maine, that serves people who are blind or visually impaired.
"Ever since I was in graduate school, I've thought about how I, as a visual artist, could reach as many people as possible. The poetry in sculpture limits people who don't speak the languages using their sight," he says. "I came up with incorporating braille into the work, but for years didn't feel like that was enough there for the conversation. But with glass and granite together, different textures and colors heating up from the sun with different temperatures, it becomes a different conversation."
Ondo also has been a linchpin in UMaine's growing body of granite sculptures on campus. He and his students collaborated with the Schoodic International Sculpture Symposium when it came to campus in 2012. Ondo coordinated the Littlefield Artist-in-Residence Series, sponsored by UMaine and Littlefield Gallery in Winter Harbor, Maine that placed sculptors on campus for demonstrations and lectures as they completed their works.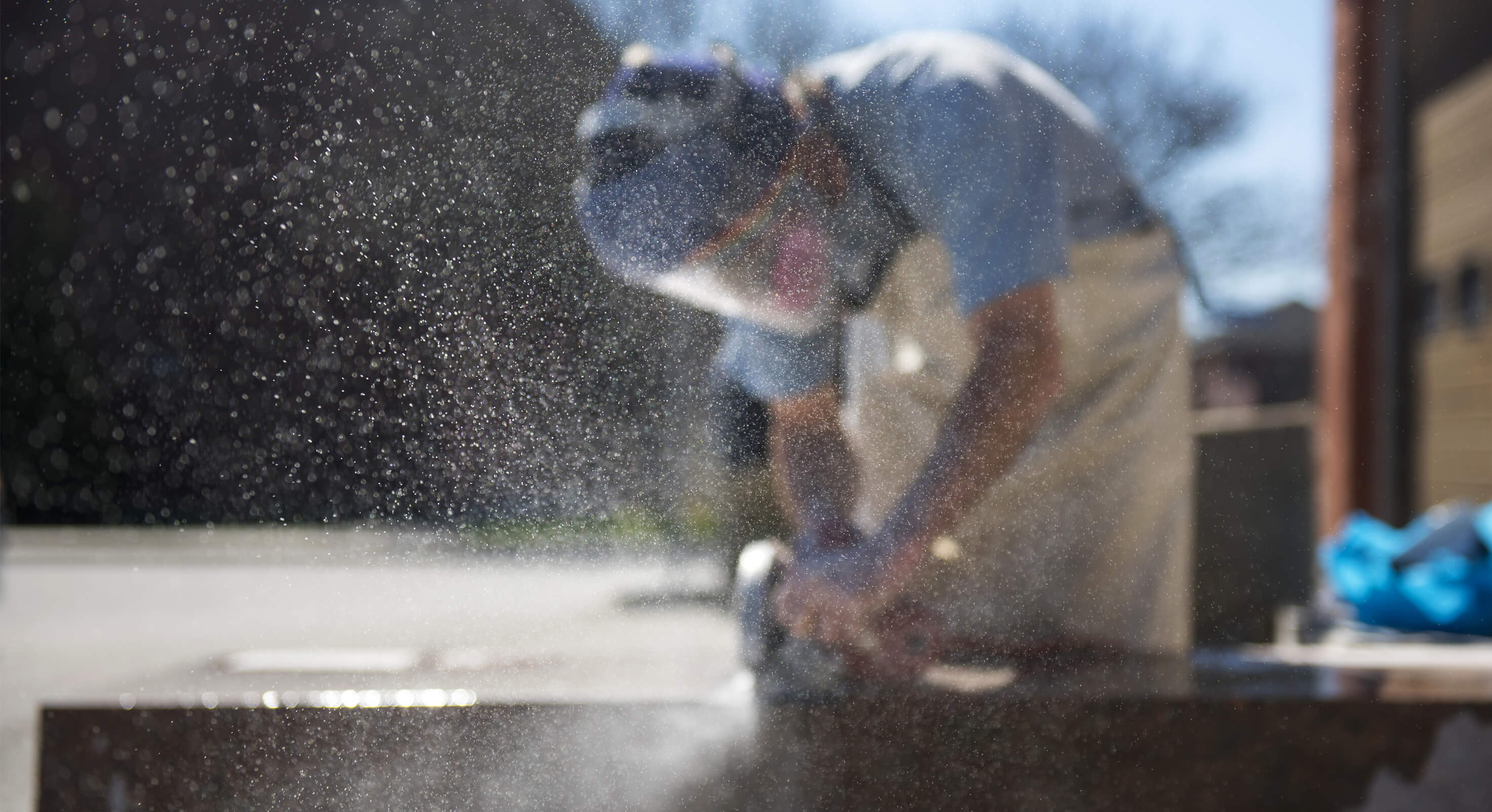 Today, nearly a dozen granite sculptures are sited throughout campus, highlighting the art of internationally recognized artists and Ondo's former students, including Matt Foster. His work, Relic in Time, is in the Buchanan Alumni House south garden. Schoodic Bench, a granite work created by the 2012 sculpture class, is near Alumni Hall.
Ondo teaches classes in sculpture, glass and metal casting. More often than not, he's introducing the artists in his class to new mediums and methods. He also introduces his students to other Mainers in the arts, providing inspiration for what's possible.
"I tell students that everybody has a story, and that's the beauty of making your art," Ondo says. "They need to associate their story with their art. And as they develop as persons, their art is going to change.
"I ask them to think about what's affected them, informed them, and that will get to the meaning they will find behind their art.
"I still keep a box of 64 Crayolas (on my desk)," Ondo says. "If I'm in a funk or students are having a problem with a project, I pull out the crayons."
Senior Rebecca Morgan from Gray, Maine, a double major in art education and in studio art, with a minor in art history, describes Ondo as an enthusiastic advocate for sculpture students, "especially when they have been working hard on a process and they finally reach that aha moment when everything comes together."
"He is without a doubt one of the most influential teachers that I have had," Morgan says.
Alumna Stephanie Hare, who graduated in 2010 with a degree in art education and an additional major in studio art, and now has her own small business in Philadelphia, Pennsylvania, says Ondo makes students "eager to learn, and build and create and, definitely, think outside the box with confidence."
Sonja Allen was studying marine biology and interested in painting courses when she took a Sculpture I course in 2009 from Andy Mauery. She went on to take three more sculpture classes from Ondo.
"Sculpture lured me in because Greg showed us how the physicality of making could be an art form in and of itself," says Allen, who graduated from UMaine in 2011 with bachelor's degrees in marine sciences and studio art.
Allen was inspired by Ondo's "passion for the process of making and his way of approaching materials." She'll also never forget the day Ondo told her she has what it takes to go to graduate school.
"That idea had never crossed my mind," says Allen, who is pursuing an MFA in sculpture at Colorado State University and teaching a Sculpture I class. "I won't say that I moved out West because of Greg's stories about his time in the desert of New Mexico, or that I have slowly become more drawn to the Earthworks artists of the late 1960s because Greg works in this vein, but I can't deny that Greg's passion for his practice is infectious."