Susan McKay didn't plan to be a physicist when she enrolled at Princeton University.
She credits her strong K–12 science and mathematics background as a reason she could make the jump to explore theoretical condensed matter physics, spin glasses and nonlinear systems, and chaos.
Today, McKay is a University of Maine physicist. And she's founding director of the Maine Center for Research in STEM Education (RiSE Center). She leads a team of more than 50 faculty, staff and graduate students that strives to provide students with a robust background in science, technology, engineering and math (STEM) so they'll have multiple career options, just as she did.
The Maine STEM Partnership — a statewide education improvement community that engages more than 1,000 preK–12 and university educators — is one way the RiSE Center pursues its mission. The partnership that encompasses nearly 150 school districts and college campuses uses research-based strategies to improve STEM teaching and learning.
UMaine Today visited schools from Damariscotta to Danforth to learn how the RiSE Center teams with and inspires Maine educators and students. Here are their stories.
Hermon Middle School
Jim Fratini got the teaching bug when he was in high school. His science teacher — whose forte was math — encouraged Fratini and his classmates to choose projects, conduct research, figure out concepts and make presentations.
"I remember her saying, 'Wow, you'd make a great science teacher someday,'" says Fratini.
Welcome to someday. The Hermon Middle School science teacher wants his students to be similarly engaged and take ownership of their learning. One rainy June morning, that was the case for seventh-graders engrossed in a genetics lesson featuring dragons.
After reviewing vocabulary terms — genes, alleles, dominant, recessive, phenotype, genotype, homozygous, heterozygous and heredity — each student in the life science class flips two pennies.
When a student's flip results in two heads or a head and a tail, their dragon gets tail spikes, a dominant trait. When both pennies turn up tails, the dragon gets the recessive trait — tails without spikes. Students flip to determine other beastly characteristics, including ear frills, eye color, freckles and fire-breathing capacity. After nearly every coin toss, tablemates compare their dragons-in-progress.
As students draw and color their beasts, one youth does some computations and shares that there are 327 possible dragon combinations, including one resembling the Hungarian Horntail that Harry Potter battled in the Triwizard Tournament.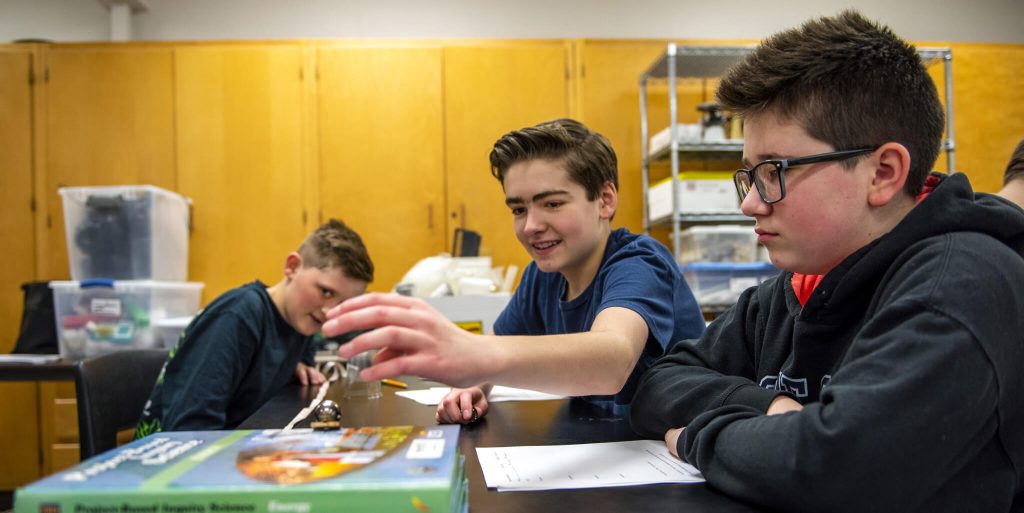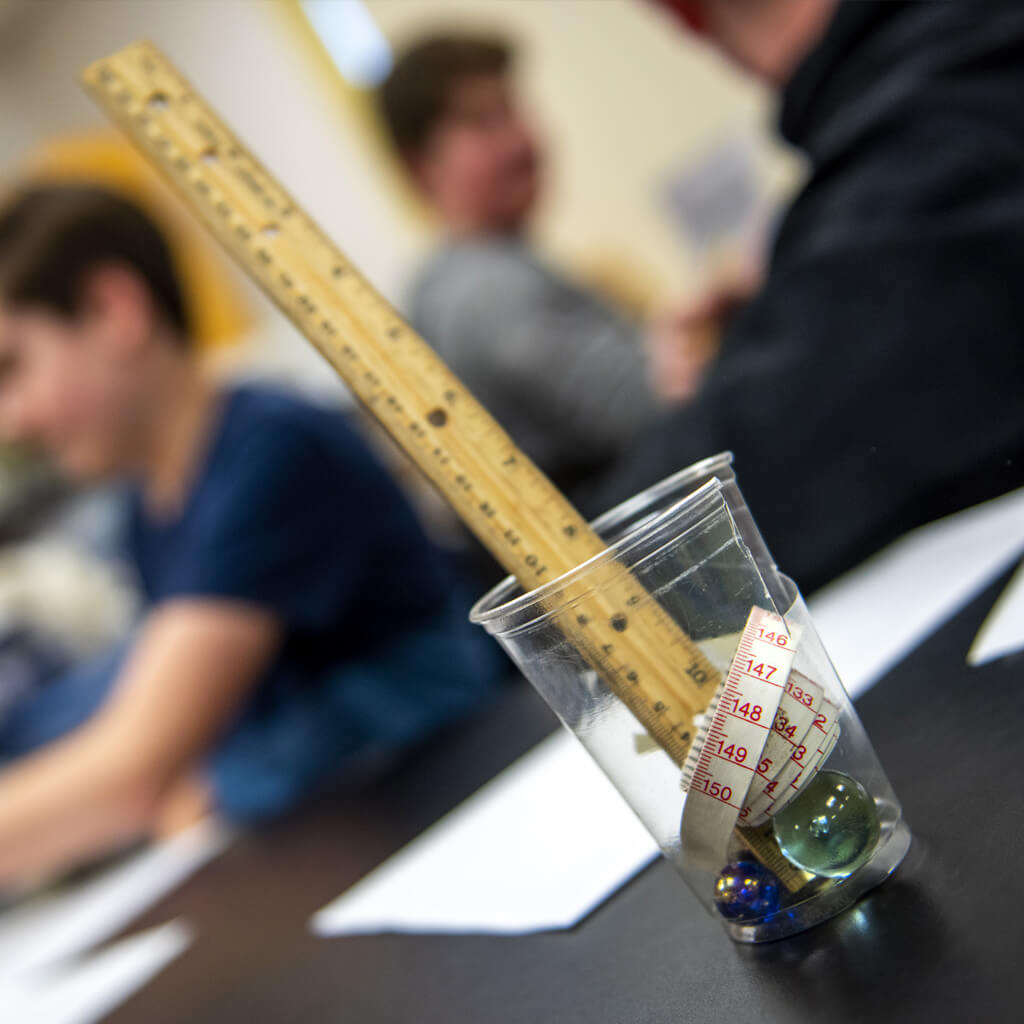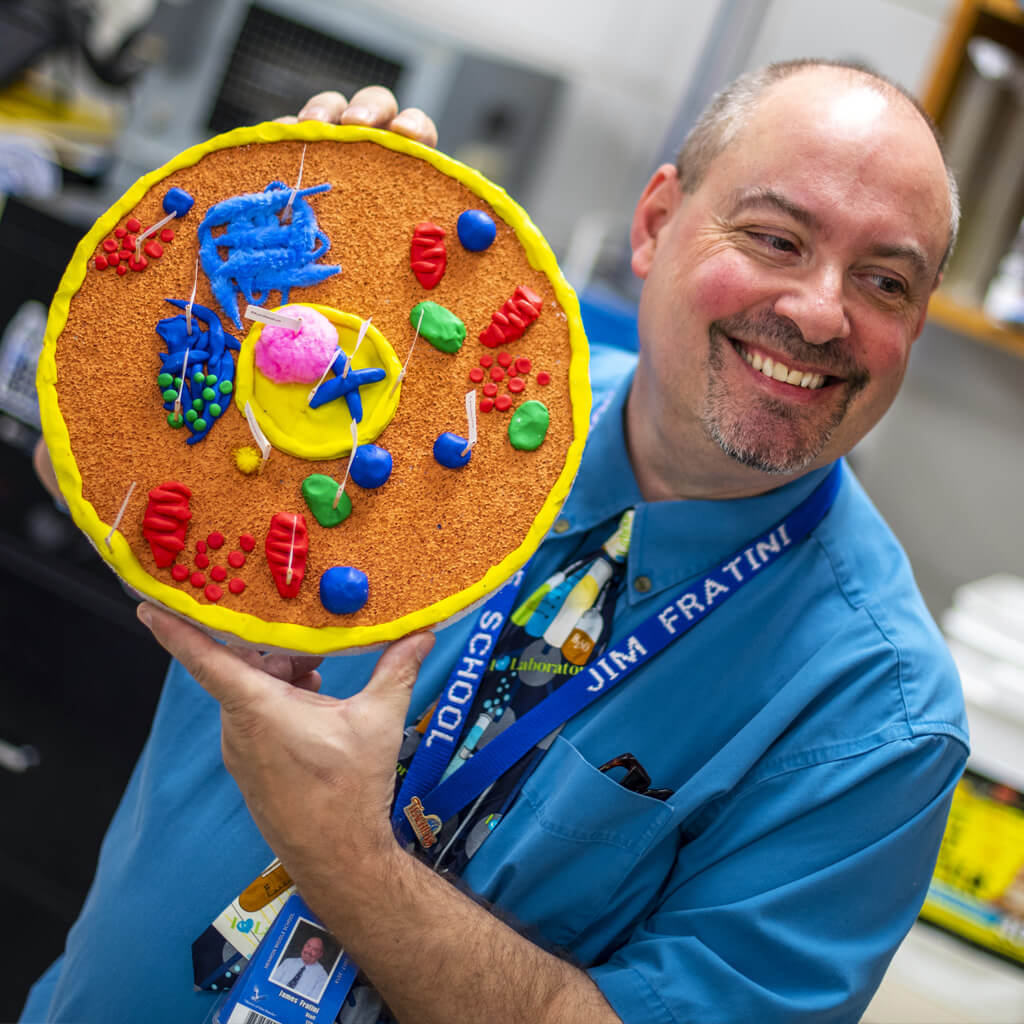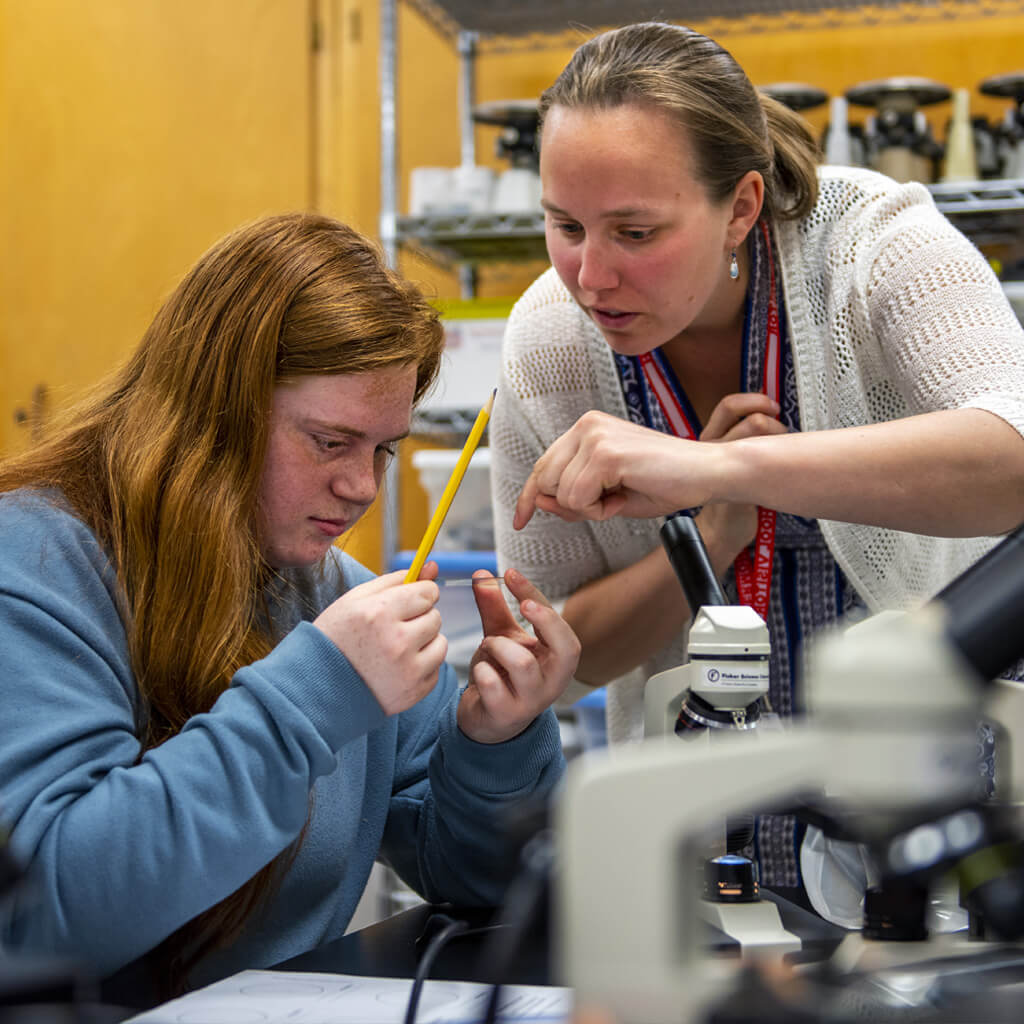 As the 40-minute class draws to a close, Fratini calls out: "Pencils down. Eyes on me. Your dragon's name is your last name spelled backward."
"Whooooa" comes a collective gasp. A student writes "Tteltrab" and tries out pronunciations. Fratini promises the next class will be exciting too, as they'll be figuring out dominant and recessive traits of the dragons' offspring.
The bell sounds and, as seventh-graders filter out, Fratini gulps some coffee.
Seconds later, incoming eighth-graders glance at a projection screen to see which four-person table they've been assigned for the week. Energy transfer is the focus of the day's physical science lesson. Fratini asks the group to define conduction, convection and radiation, and to give an example of each.
Each student designs and draws a Rube Goldberg machine — named after a cartoonist who sketched complicated, zany contraptions to perform simple tasks. Fratini encourages students to use classroom items — dominoes, for instance — to create machines that demonstrate five energy transfers, resulting in a lightbulb being turned on or off.
Piece of cake for Amber Stokes, who participated in the Maine Invention Convention, and represented the state at the National Invention Convention and Entrepreneurship Expo at the Henry Ford Museum in Michigan. Stokes' invention — a container with an electromagnet — was designed to thwart the theft of postal packages from porches and backyards.
"I like how we did hands-on stuff (in class) so I decided to build my own thing," Stokes says. "There (already) are things (built to prevent thefts), but those things aren't as good as my thing," she smiles.
Fratini smiles, too. He has taught 31 years in Hermon, and says the training he's received with the RiSE Center has transformed him as an educator.
He initially balked when offered an opportunity to participate. Hermon Middle School, which has about 300 youth in grades 5–8, already had a good science curriculum and students routinely fared well on state tests. In hindsight, he says, "it's probably one of the best things that has happened to me as a teacher."
Fratini says the professional development has deepened his understanding of concepts, particularly in physics. And adopting the practice of pre-testing and post-testing students allows him to better track student progress and ascertain areas to focus on. And whereas Fratini used to buy materials for class experiments, the RiSE Center now supplies him with items he needs for hands-on projects.
When Fratini has a question about a lesson or concept, or he wants to share something that's worked particularly well in his classes, he appreciates that the RiSE Center staff, as well as numerous teaching colleagues whom he considers friends around Maine, are just an email away.
East Grand School
RiSE Center staff and math teacher colleagues also are just an email away for Jennifer Gilman.
Good thing. The grade 7–12 math teacher at East Grand School is 84 miles — about a two-hour drive — northeast of Orono. She's considerably closer — 30 miles — to Canada.
East Grand School is situated on a hill in Danforth. Youth from Bancroft, Brookton, Reed Plantation, Weston and Wytopitlock also attend. Gilman refers to the 150 students in preK–12 and the 16 teachers as family. Hallway lockers don't have locks. Her classroom, with comfy chairs, blankets, window valances and a lizard named Alex, resembles a living room.
A sunny, early June school day begins with the Pledge of Allegiance, a moment of silence, a weather report and a snippet from Louis Armstrong's "Bare Necessities": Wherever I wander, wherever I roam, I couldn't be fonder of my big home.
More than 1,000 Maine elementary, middle and high school teachers are involved in ongoing Maine RiSE Center professional development. Students in participating teachers' classes showed improved MEA science scores and more interest in science
Gilman taught in Japan before earning a master's degree in literacy education at UMaine. About 25 years ago, when she accepted the grade 1–2 teaching position at East Grand, she immersed herself in the community, taking a spin in a skidder and advising extracurricular activities.
"Many people live their whole lives in Danforth. Twenty-five years ago, when I came to Danforth, that was an option. With the decline of the woods industry, that isn't as easy an option."
So she strives to provide students with more options. Her classroom is equipped with whiteboard-top tables and almost as many 3D printers as Algebra II students. RiSE Center staff taught her how to incorporate printers into a variety of lessons. The center also introduced Gilman — the lone middle and high school math teacher at East Grand — to a statewide support system of educators.
"Collaboration is a key to successful teaching and as the only teacher, I was really struggling," she says. Her first RiSE experience was through the High School Collaborative. Five times a year, she drove two hours to Bangor to meet with other math teachers. They learned about and discussed best practices and innovation in math instruction and technology. In her first RiSE conference about instructional practices, Gilman says she grew as an educator. She continues to learn about impactful classroom strategies, standards-based education and instructional technology.
At East Grand, Gilman says teachers seek imaginative ways to individualize learning experiences. "We are free to be creative and innovative while our grounding is built on academic standards," she says.
One innovation is the virtual reality (VR) lab. A hand-made sign reminds anyone with orange cheese puff-coated fingers to refrain from using the equipment. The lab was built after Gilman met Justin Dimmel and Camden Bock at a RiSE Center conference. Dimmel is a UMaine assistant professor of mathematics education and instructional technology, and Bock is a research assistant in the IMRE (Immersive Mathematics in Rendered Environments) Lab. The lab's mission is "to investigate how virtual and augmented reality technologies can transform STEM education."
When Bock showed Gilman a VR program at the RiSE conference, she vowed to find a way to bring it to East Grand. "He promised that if I found the funding, he would help me implement it in my school."
She found the funding. He kept the promise. Dimmel and Bock set up equipment, and trained staff and students. Dimmel FaceTimes during classes to troubleshoot and provide guidance. "It's inspiring as a teacher," says Gilman. "It keeps me thinking and growing and being creative. And it's super-engaging to the kids."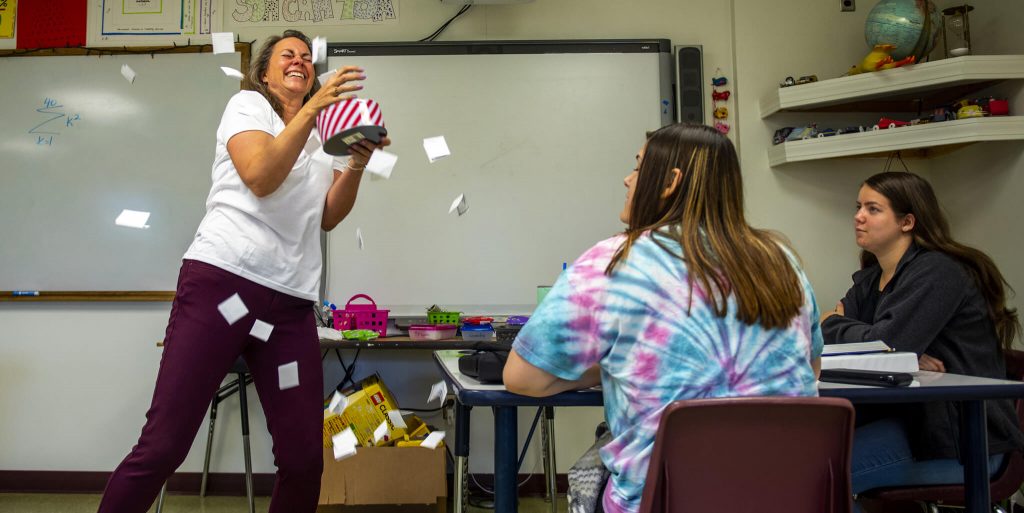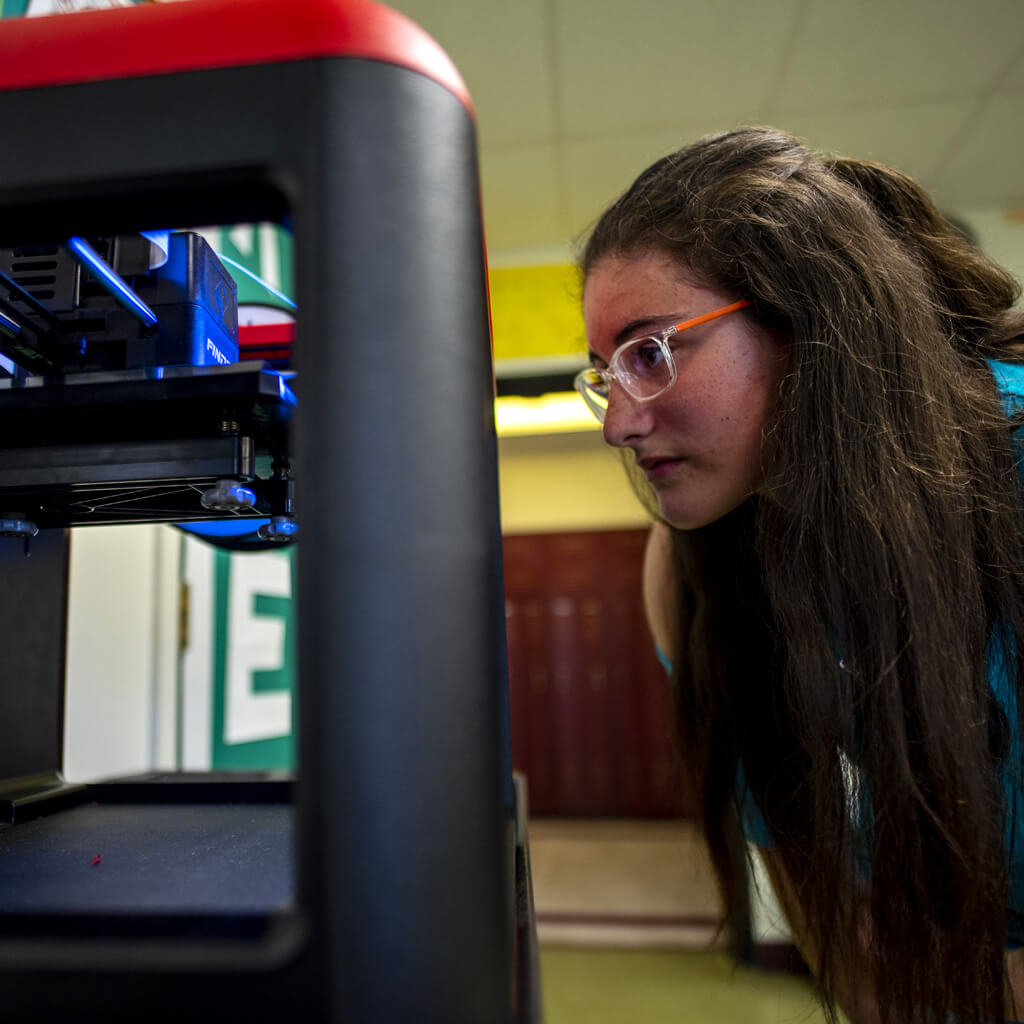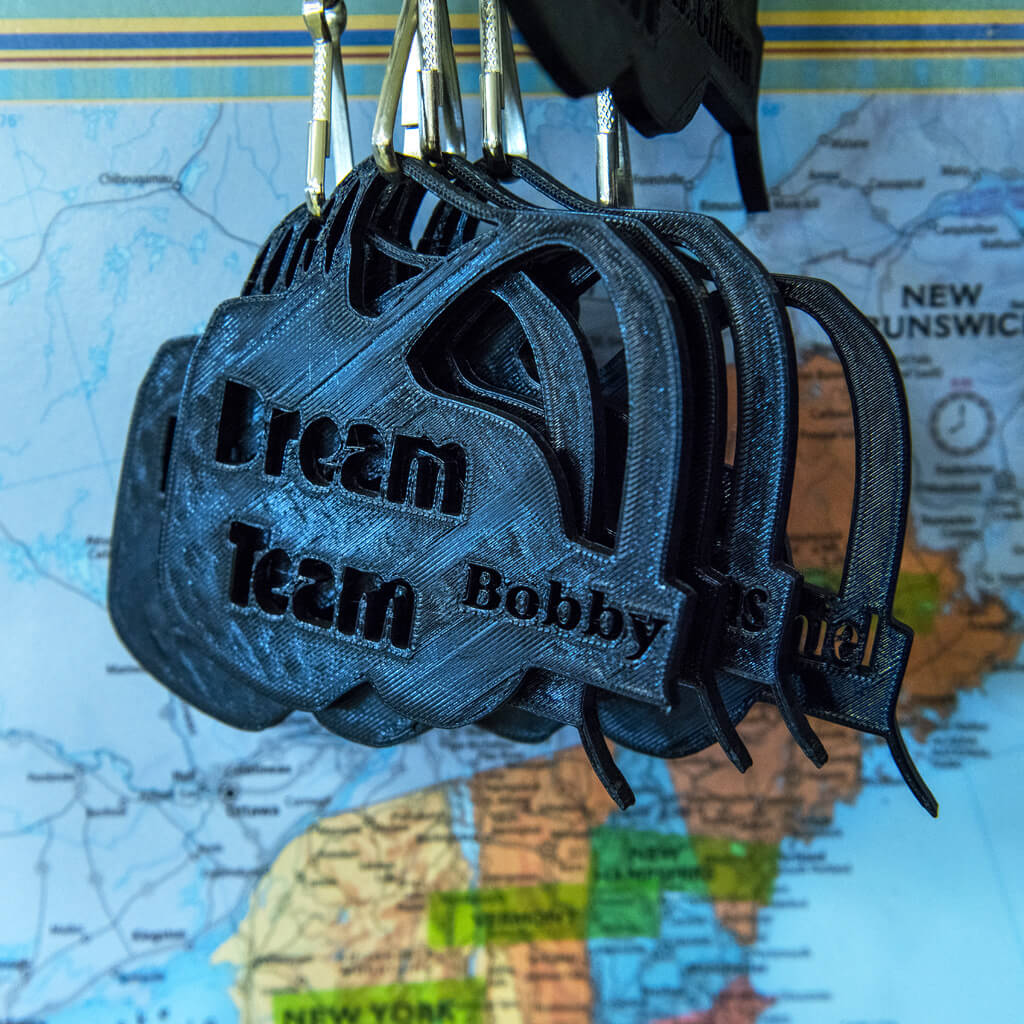 The geometry class utilizes UMaine's HandWaver program, "a gesture-based virtual mathematical environment in which students make, modify, measure and explore objects in a virtual 3D space." The program is designed to provide learners access to meaningful math experiences.
Gilman says ratios and scale proportions are easier to understand with HandWaver. "We can discuss concepts and really delve deeply into it. We pair it with the work that we do with 3D printers," she says. "It really makes them think in three-dimensional spaces."
Sophomore Bobby Massey says HandWaver suits his hands-on learning style. By making and manipulating objects in 3D, Massey says he better grasps concepts than when listening to a lecture. He plans to study computer science in college.
Math used to be a problem for seventh-grader Emma Jo Davis. But hands-on learning and VR programs have helped her progress. "I'm passing, so it's good," she grins.
This spring for a business project, Davis and classmates made and sold "slime" and used 3D printers to make a prototype container. In June, they made a video to share with other schools. Complete with a script and costumes, the video touts the benefits of VR education.
Gilman is thrilled that VR provides youth who may not have traveled far outside of Washington County the opportunity to explore craters on the moon, art in a museum in Italy and organs inside the human body. The RiSE Center, she says, also has dramatically changed who she is as an educator.
"I'm always trying to either bring things into our school or bring our students out. But schools don't have enough money for lots of different things. This (VR) brings opportunities to kids in an engaging and educational platform."
Bucksport High School
Teri Jergenson is familiar with budgetary limitations. Field trips may not be financially feasible, but making clouds in class is.
So, too, is learning about plate tectonics with chocolate frosting and Fruit Roll-Ups. And so is using salt, food coloring, tap water and thermometers to see how temperature and salinity affect ocean water.
Jergenson teaches Earth science, computer science and forensic science at Bucksport High School. About 300 students attend the grade 9–12 school near the mouth of the Penobscot River.
Jergenson, who earned a degree in ocean studies at Maine Maritime Academy, was a curious child who enjoyed science. "I like to ask questions and I like that you can sort of work at your own pace, and be wrong, and learn from it. I think that's really why science kind of clicked with me."
Science still clicks with her.
Jergenson says "it was the greatest thing ever" when a former Bucksport colleague introduced her to the RiSE Center. She relishes opportunities to work, plan and share ideas with RiSE Center staff and colleagues around the state, especially since she's the lone Earth science teacher at Bucksport High School.
At RiSE Center conferences, Jergenson still experiments, or plays, as she calls it. She's learned how to incorporate 3D printers into classes and conducts experiments while helping develop and tweak an Earth science curriculum.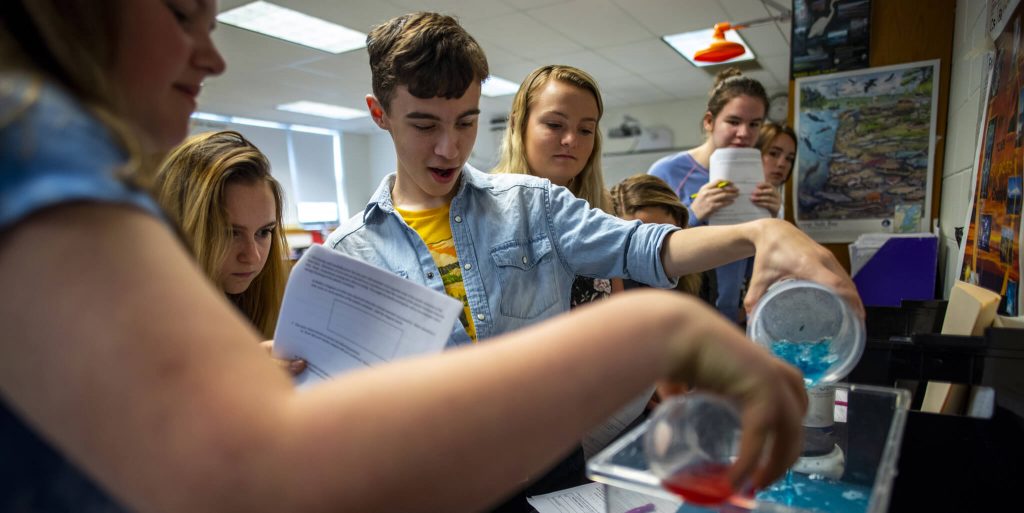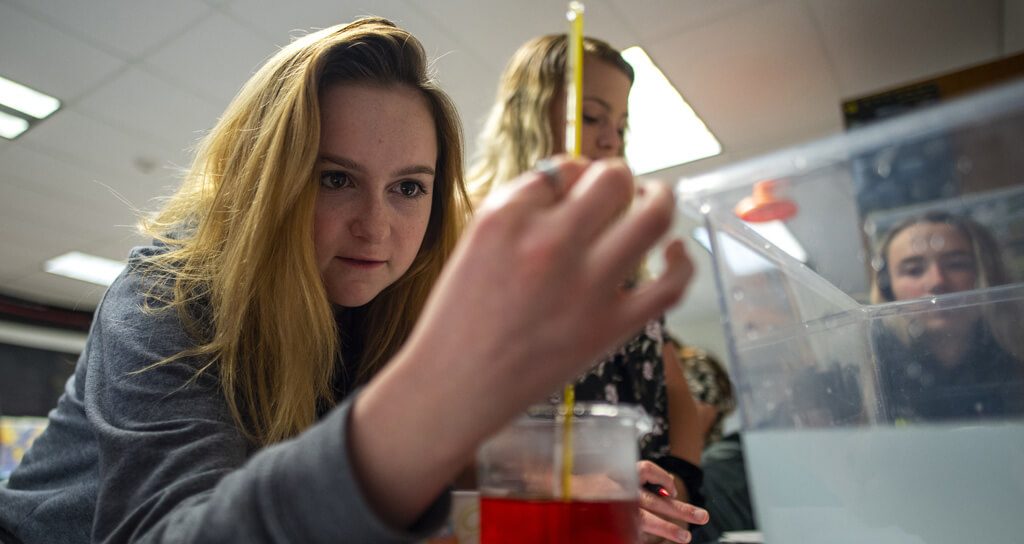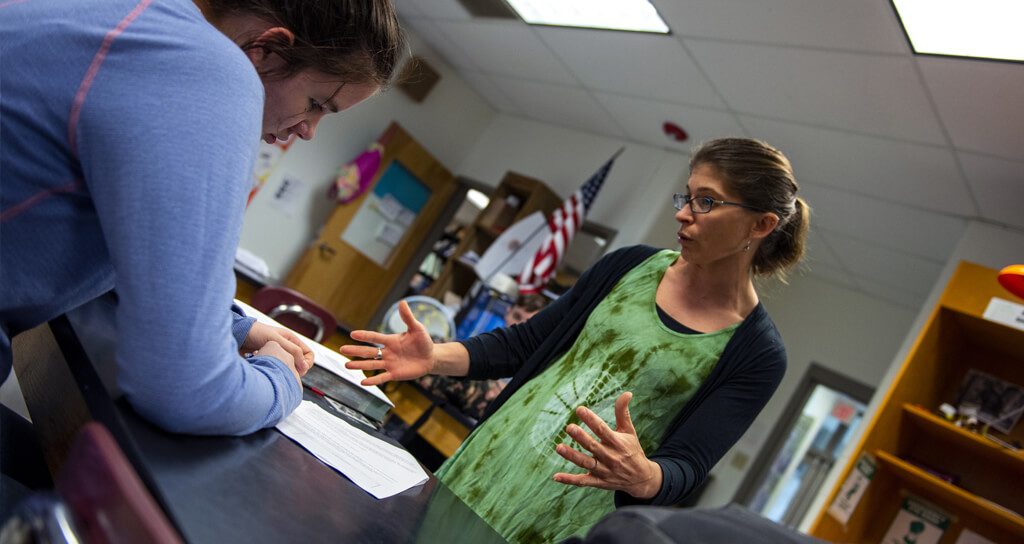 Part of ensuring that students have a good experience is incorporating lots of hands-on lessons and labs. The RiSE Center supplies materials for the many projects. Prior to labs, students share educated hypotheses about what may happen. After they've conducted experiments, they talk about and write about their findings and conclusions.
Seeing youth have aha moments when they make discoveries is rewarding for Jergenson.
First-year students Alexis Leeman and Kam Landry are enthusiastic about experiments and their aha moments in honors Earth science class. Science clicks with them, too.
In one of Landry's favorite labs, Fruit Roll-Ups represent Earth's tectonic plates and chocolate frosting is the magma.
In the past eight years, the Maine RiSE Center has received more than $19 million in National Science Foundation grants and $1.7 million in Maine Department of Education grants to seed research-informed STEM education improvement preK–16+, including teacher recruitment, preparation and retention.
In addition to seeing how magma — fluid molten rock — seeps up between spaces of shifting plates, Landry says it's a bonus to eat the chocolate frosting afterward.
"It makes me more interested," he says of hands-on learning opportunities. "It's easy to connect what you're learning to what you're seeing."
Landry also likes connecting with peers and Jergenson during experiments. "We blend well together. It shows how fun science can be. It's more of an adventure. I really enjoy learning why things work and it's very interesting to walk outside and see it rain and go, 'Oh, I know why that happens.' It makes me connect with the world around me."
Leeman agrees. She says she retains what she uncovers during hands-on lessons better than when she reads information from a book.
Leeman, who says she may pursue a career in meteorology, liked a lab in which Jergenson made a cloud. She also enjoyed a lab — that highlights the release of carbon dioxide gas — in which Mentos added to a bottle of carbonated soda inflated a balloon.
"I can go up to my parents and say, 'Guys, I know why this happens' and I feel so smart. I think it's great," she says.
Jergenson, who has been involved with the RiSE Center for about five of the 10 years she's taught, employs Productive Talk strategies to develop a classroom culture in which students deepen their understanding of concepts by discussing ideas and theories.
"They vocalize their thoughts without a lot of teacher input," she says. "It's really good to get the students to be able to discuss with each other their thoughts and reasoning. It breaks down barriers — (they're) all on the same page."
Great Salt Bay Community School
Third-graders at Great Salt Bay Community School are adept at conversing. They get lots of practice.
Thanks in part to Productive Talk, they're budding conversationalists and scientists. Just ask Nathaniel Hufnagel.
"I learn the most from talking because it's a group of people putting together ideas to make one big idea," he says. "And then people add on to that to make an even bigger idea, then you sort of get what you're talking about and understand more about the subject."
Third-grade teacher Jennifer Wright Gregg was introduced to Productive Talk at the RiSE Center, and shared the concepts and strategies with colleagues at Great Salt Bay, a K–8 school with about 430 students from Damariscotta, Newcastle and Bremen. She's done the same with HOT (Higher Order Thinking) Skills and Write Science.
"Everybody adopted it in the school," she says. We now have, in science and in all content areas, students who are very comfortable with that kind of discussion."
When engaged in Productive Talk, Wright Gregg facilitates a structured discussion so students find answers together. "It's a different approach than telling your students answers. It gets them curious and wondering and trying to find answers on their own, and figuring out what steps need to be taken next in order to come to some conclusions about content," she says.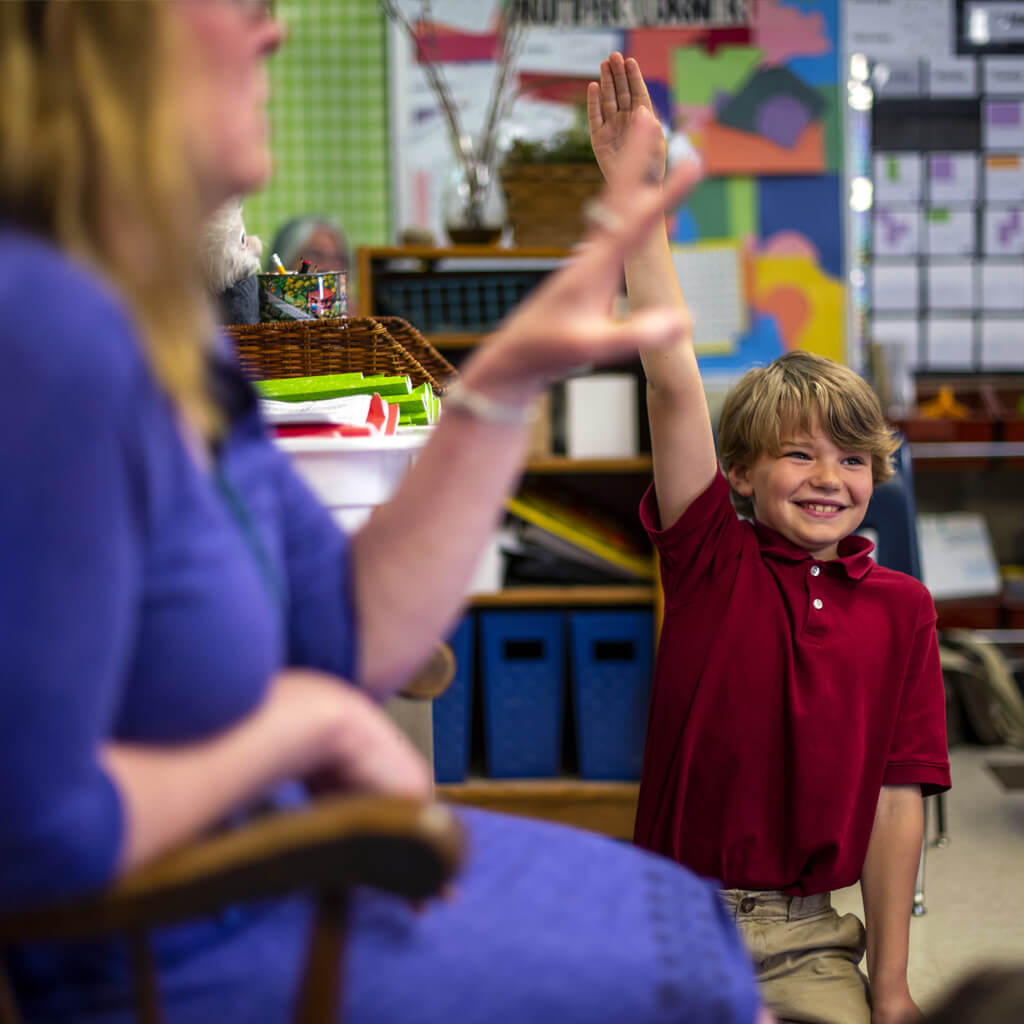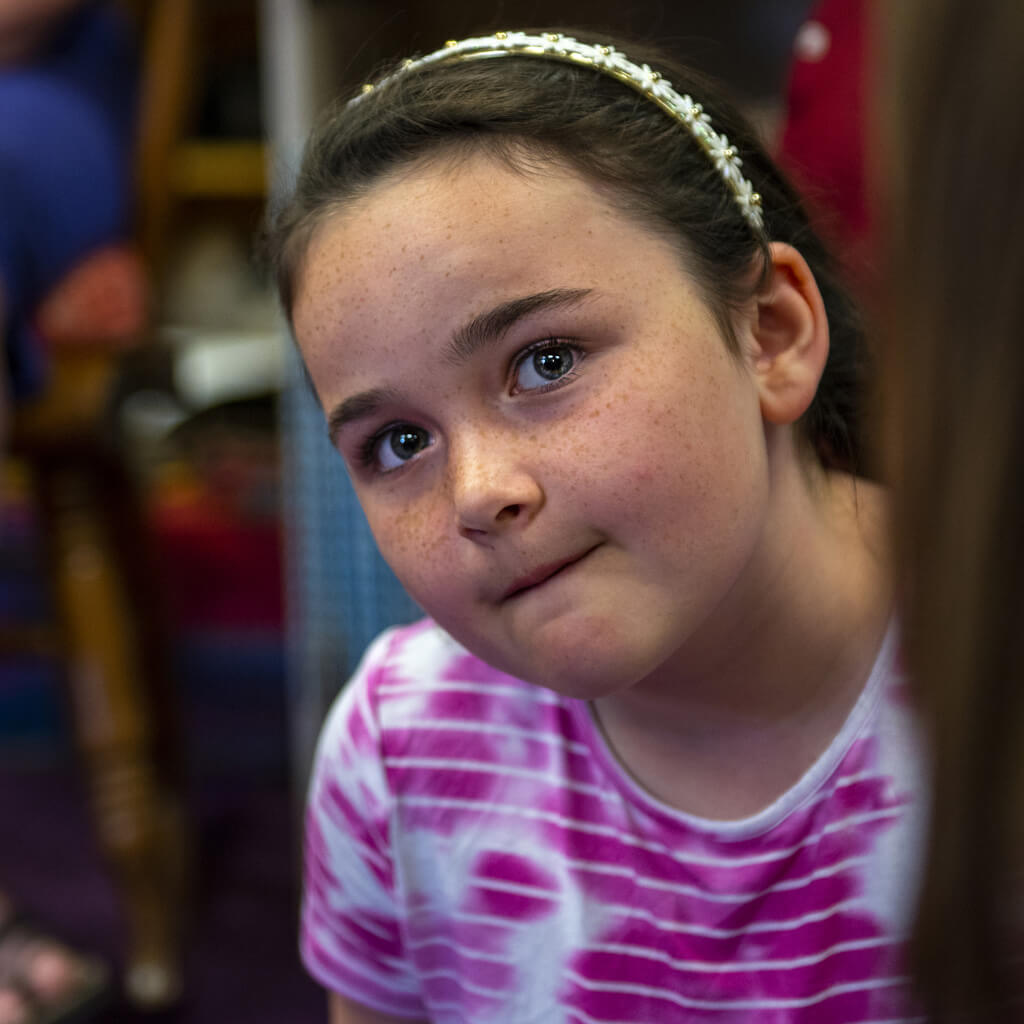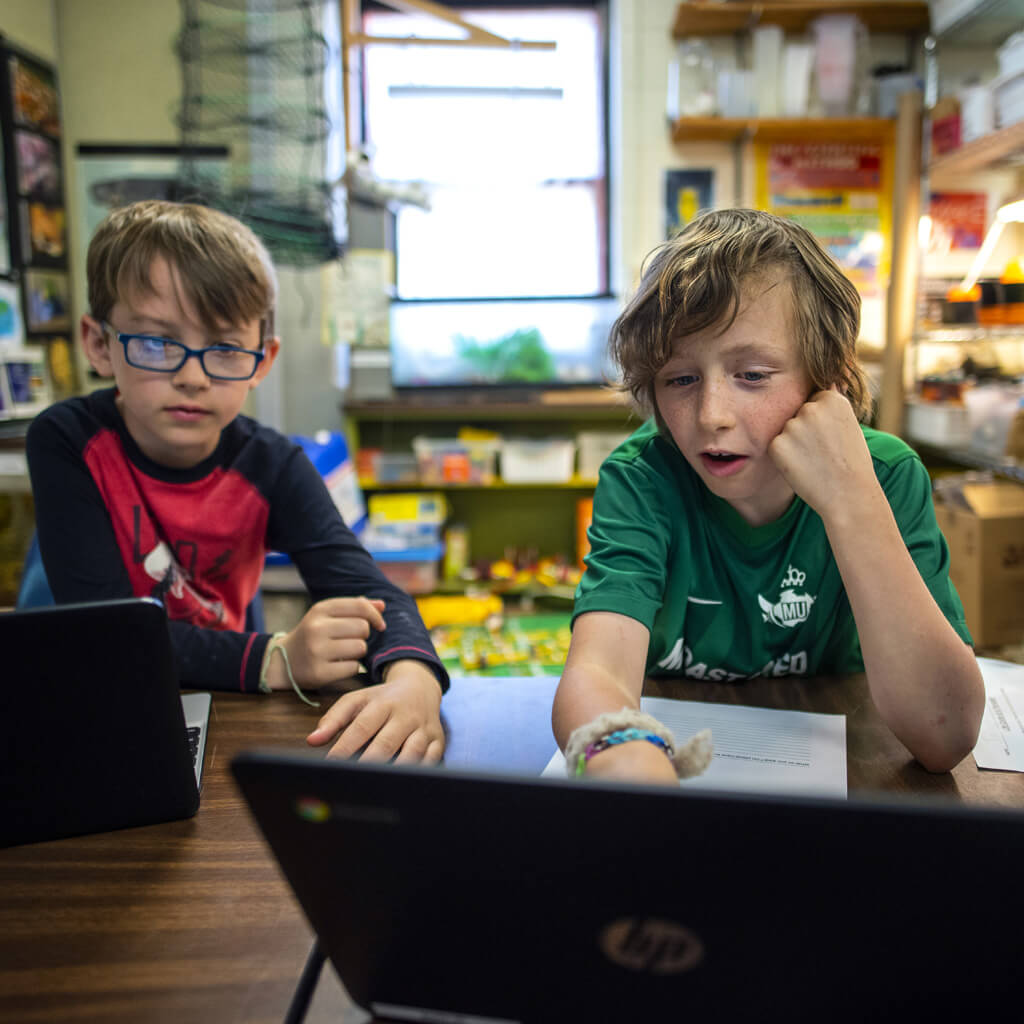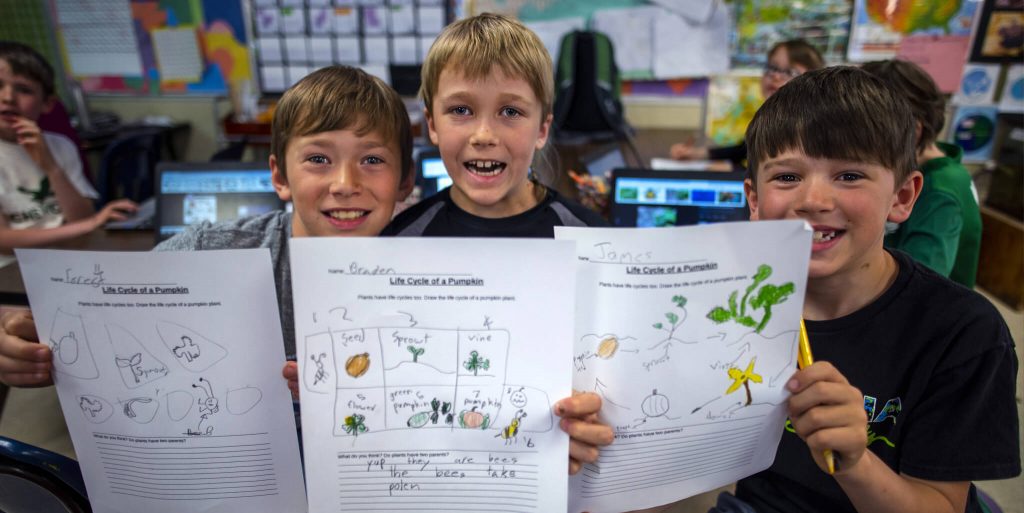 On a sunny May afternoon in Damariscotta — home of the annual Pumpkinfest — Wright Gregg's class plants pumpkin seeds and discusses the life cycle of pumpkins.
Students sit in a circle on a purple rug and eagerly raise their hands when Wright Gregg asks questions. "Are there two parents?" "How are pumpkins pollinated?"
They listen, acknowledge their classmates' thoughts and contribute theirs. Productive Talk is valuable, in part, because during discussions, Wright Gregg hears what her students understand and what they don't. The approach also boosts language development and social skills, and helps youth remember ideas.
After the directed discussion, children disperse to sit on pillows, in rocking chairs and at small tables to do a scientific drawing of the life cycle of a pumpkin. They use books and computers to look up information.
Drawing diagrams and talking about science topics with classmates earn top marks from third-grader Caroline Allan. Sharing knowledge is fun, says Allan, who's considering becoming a neurosurgeon or astronaut.
"It's kind of nice being outside and knowing what the thing is. Like pumpkins seeds. And you can teach family members. And the best part is, I can school my sister on it. She's in second grade," says Allan.
Wright Gregg, who has taught at Great Salt Bay for 10 years, has always loved teaching science, but didn't initially have an extensive background in it. She became involved with the RiSE Center six years ago to glean more content knowledge and best practices.
"I have become a much better teacher because of all my experiences with the RiSE Center. I will do anything that the RiSE Center offers. I am a lifer for the RISE Center," she laughs. "I'm sort of anxiously awaiting the next thing."
Since Great Salt Bay teachers have come together to share ideas and utilize RiSE Center strategies and techniques, Wright Gregg says there's been a powerful culture change at the K–8 school. And the culture change has been recognized. Wright Gregg was named Lincoln County Teacher of the Year in 2015 and two of her colleagues have since won the award.
When teachers statewide share their ideas and expertise, Wright Gregg says the educational ramifications can be transformative for a generation of Maine students.
Through Twitter and other forms of communication, Wright Gregg has gotten to know and learn from brilliant educators.
"It's a wonderful way to approach this career of being a teacher. "It (the RiSE Center) broadens our horizons, which then helps our students."