In May, Mariusz Potocki breathed the rarefied air near Everest's summit. So too, though, did hundreds of others.
Potocki was astounded by the view just below Mount Everest's Balcony at about 8,300 meters. Clusters of brightly outfitted climbers stood in a line, then moved, inch by inch, single file, toward the 8,850-meter-high (29,035-foot) peak.
"It was a little bit irrational," says Potocki, a University of Maine Climate Change Institute (CCI) glaciochemist who was working his way to the roof of Earth as part of the National Geographic and Rolex Perpetual Planet Extreme Expedition to Mount Everest.
A bit ironic, too. The goal of the two-month multinational, multidisciplinary endeavor was to document people's impacts on one of the planet's most severe environments.
Thankfully, Potocki, one of six CCI scientists who took part in the single most comprehensive scientific expedition to Everest, already had accomplished his mission. He had collected the highest ice core on the planet.
"Dreams do come true," Potocki says of conducting science on the 60-million-year-old mountain.
The researcher, cave explorer, mountaineer, underwater diver and photographer drilled the 10-meter ice core at 8,020 meters on South Col.
He did it with an off-the-shelf ice-coring instrument modified by UMaine's Advanced Manufacturing Center.
Potocki had hoped to drill another ice core May 23 just off the summit. But that was the day dozens of people attempting to reach the peak bottlenecked in Everest's "death zone." Climber Nirmal Purja snapped a widely circulated photo of the human traffic jam near the top of the world.
The death zone is so named because at 8,000 meters and higher, there's one-third of the oxygen there is at sea level. People's cells — deprived of oxygen — begin to die. Consequences include impaired judgment, altitude sickness, heart attacks, strokes and death.
For safety reasons, the expedition climbers — two other climate scientists, 15 Sherpas (including climbing leader Panuru Sherpa who has summited 17 times) and three filmmakers — decided not to continue climbing the 430 meters to the summit.
"The biggest fear was the crowd," Potocki says. "It was too dangerous to wait in line."
Potocki had steeled himself for the real possibility that he would see bodies on the mountain. And he did.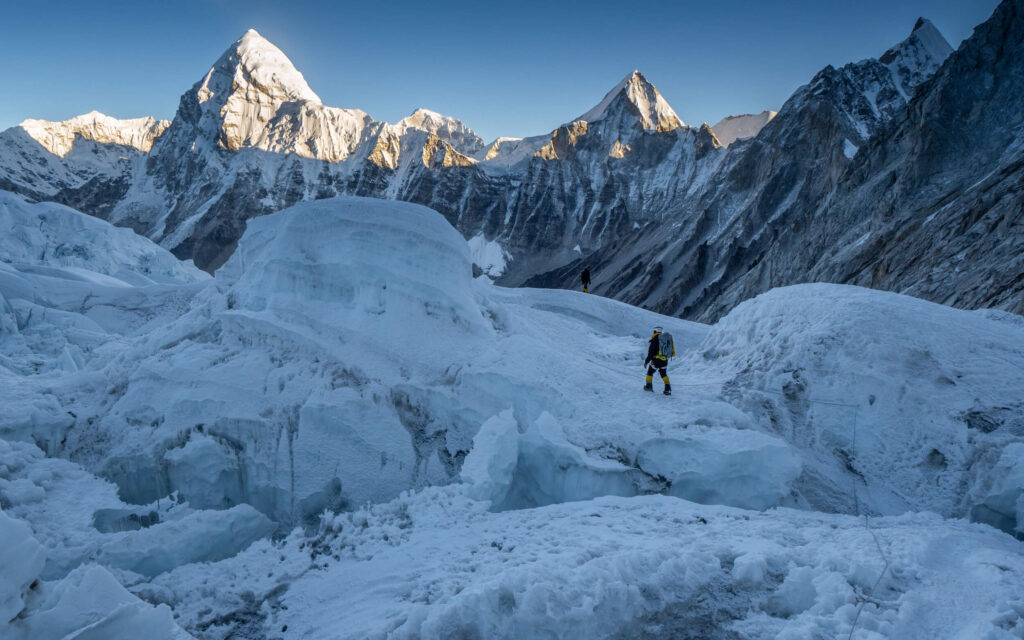 Earlier during the ascent, the doctoral candidate from Poland had to step over the body of a climber who had died adjacent to the safety rope a couple of days earlier.
At least 11 people perished during the 2019 season, for which Nepal reportedly issued a record 381 climbing permits. Sherpas aren't included in the number of permits issued.
Near Everest's peak, in addition to the dearth of oxygen and minus 30 degree Fahrenheit temperature, hurricane-force winds can rage at more than 100 mph.
Sean Birkel closely watched the weather conditions on Mount Everest from more than 7,000 miles away in Orono.
Throughout May, and leading up to the summit push, the CCI research assistant professor processed and interpreted weather forecast data from NOAA and the European Centre for Medium-Range Weather Forecasts.
He relayed forecasts of wind speed, atmospheric pressure and temperature at Everest's peak to CCI director and expedition leader and lead scientist Paul Mayewski, and climbing leader and high-altitude mountaineer Peter Athans at Base Camp. They provided the up-to-date information to the climbing team.
Potocki says if the ice core — which could be 2,000 or more years old — yields good preliminary results, he wants to return to Nepal, brave the conditions, have another shot at the summit and drill additional ice cores.
"Everest is still an amazing place, even if it's so commercialized," he says. "It's a very charming mountain, so it was really amazing to be there, especially with a fantastic team."
Mayewski led the fantastic team. He communicated via satellite phone with Potocki and other climbers as they maneuvered through the treacherous Khumbu Icefall — a steep, shifting, jagged, narrow stretch of glacier — and ascended to Camp I (19,861 feet), Camp II (21,015 feet), Camp III (23,573 feet), Camp IV/High Camp (26,314 feet), South Col and beyond.
Mayewski directed the biological, geological, glaciological, meteorological, mapping and multimedia enterprise from Base Camp, at an altitude of 17,514 feet.
"We believe the best way to do science on Everest isn't just to do one kind of science, but do many kinds of science," he told National Geographic.
The world-renowned climate scientist and explorer is grateful for his role in this pioneering project that National Geographic calls a "new model of exploration that expands understanding of the Earth's critical life support systems and delivers data to catalyze solutions for a Perpetual Planet."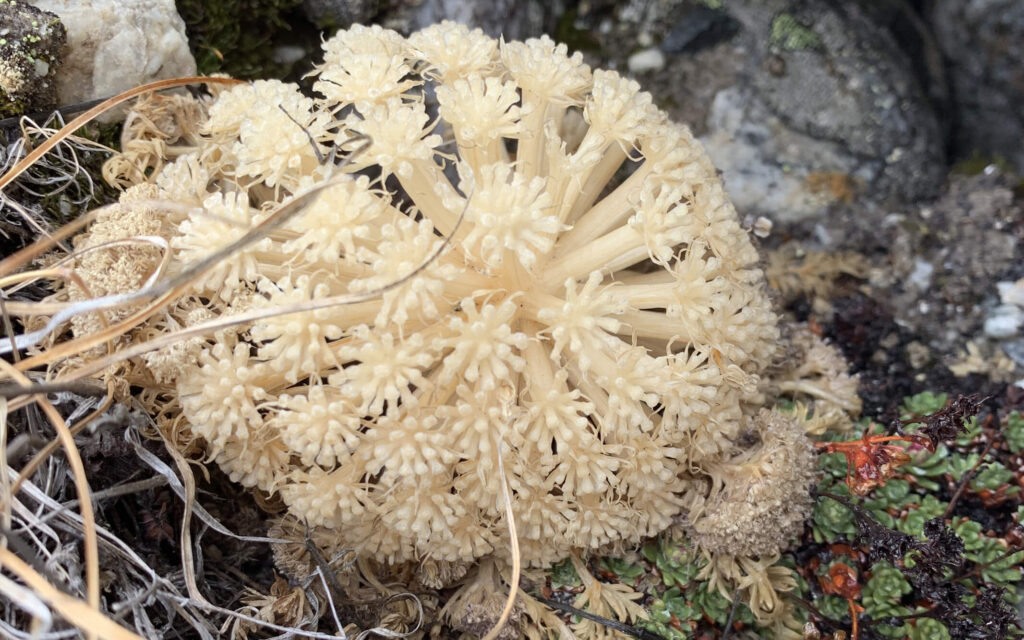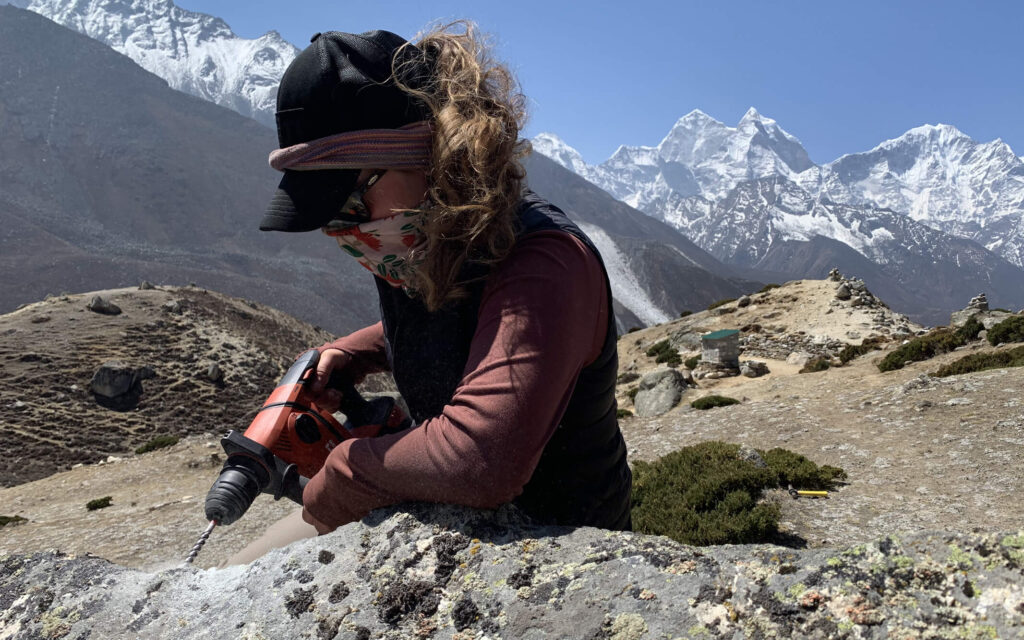 Mayewski has long admired National Geographic's reputation, big-picture perspective and approach. Its stated vision is a planet in balance "through a unique combination of strong science, exploration, education and storytelling."
As a youth, Mayewski pored over issues of National Geographic Magazine and dreamed of expeditions to remote regions. Like Potocki, his dreams have come true.
This marked Mayewski's fourth scientific expedition on Everest, which Tibetans call Chomolungma and Nepalis call Sagarmatha for "mother of the sky."
He's led nearly 60 research expeditions around the globe, many in Antarctica, where he was the first person to explore large tracts of the continent. "Mayewski Peak," a summit in Antarctica's Saint Johns Range, is named in his honor.
The purpose of this expedition was to examine high mountain glaciers, which are water towers for people downstream. Two other critical systems that fuel Earth's engines — rainforests and the ocean — are on the docket for future National Geographic exploration.
Water flowing from Himalayan glaciers is a resource for energy, food and consumption for about 20% of the world's population. One billion people living in the watershed will be stressed due to the shrinking of the glaciers, Mayewski says. Initially from flooding and landslides, and later due to drought.
"Water is the new oil," he says. "You need clean water to live."
While little is known about climate change impacts on iconic Everest and water towers in the region, Mayewski says this comprehensive project — which he calls "a new window into the planet" — will change that.
Climatologist Tom Matthews from Loughborough University and meteorologist Baker Perry from Appalachian State University installed five weather stations on Everest, including the two highest on Earth. The stations already are providing real-time data instrumental for climate scientists, meteorologists and climbers.
During the Fueling Earth's Engines discussion with other Perpetual Planet Extreme Expedition team members in Washington, D.C., Mayewski described the 10-meter-long ice core that Potocki collected at 8,020 meters on South Col as a "buried weather station." The buried treasure will allow people to go back in time — tens, hundreds and perhaps thousands of years.
"It will unlock a lot of secrets," says Mayewski, who lost 20 pounds during the two-month endeavor due to the flu and high elevation.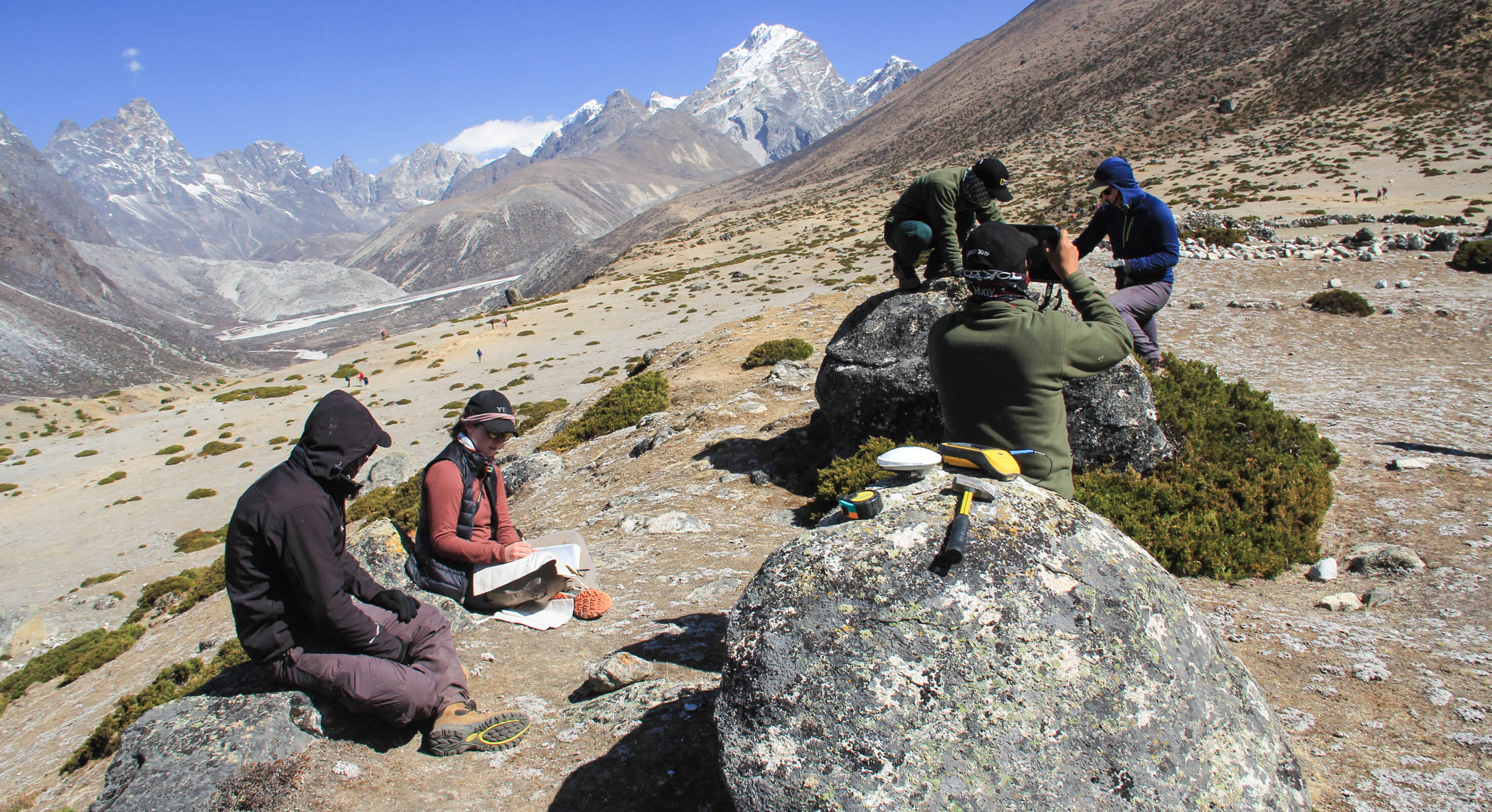 UMaine's laser technology that yields 10,000 samples per meter in ice cores will reveal first-ever details about the atmosphere above 8,000 meters.
Scientists will glean facts about human-made pollutants, past temperatures, precipitation and snowfall amounts. They'll also learn where air masses over and around Everest hail from — which will be key to understanding the region's monsoon cycle.
The data will allow scientists to better understand the past climate and make more accurate predictions about future climate.
In addition to analysis of the ice core, Mayewski, Potocki and UMaine colleagues will analyze numerous other specimens they painstakingly gathered.
UMaine doctoral student Heather Clifford drilled an ice core with Mayewski at Base Camp, which in May becomes a hopping tent city, complete with an emergency room, helicopter pads and movie theater.
On campus in Orono, Clifford, with CCI research assistant professor Kimberley Miner, will analyze ice, sediment, snow and stream water for different chemical measurements, including persistent organic pollutants and microplastics.
"I came back with a sense of wanting to try new things and travel more," says Clifford, adding she was inspired by the experience, including meeting brave climbers and visionary scientists.
To reach Everest, Clifford, Mayewski and Potocki flew to Kathmandu, then to Lukla (altitude 9,109 feet). From there, over about 10 days, they hiked to Base Camp to gradually acclimate to the 8,400-foot increase in elevation over 39 miles.
Base Camp also is where UMaine Earth and climate sciences assistant professor Aaron Putnam's team — which included scientists from Tribhuvan University — concluded its geology research. The group's goal was to document the Khumbu Glacier's chronological history from the last ice age to the present.
UMaine Ph.D. candidate Peter Strand and Laura Mattas, then an undergraduate and now a Quaternary and climate studies master's student, were part of the group that wound its way up the valley to Base Camp from Lukla.
They gathered rock samples along the way. The team also used drone-mapping technology to create 3D images of landforms — moraines and the modern-day terminus of the glacier — to establish a baseline for monitoring year-to-year changes in the glacier's retreat and volume of ice.
The scientists used a technique called cosmogenic surface-exposure dating to determine when the Khumbu Glacier retreated up the valley. They started lower in the valley, sampling older ridges of rubble left along the former glacier margins, or moraines, from the last ice age. They worked their way up the valley toward the youngest landforms exposed in recent years.
The researchers followed the route pioneered by Sherpa Tenzing Norgay and Sir Edmund Percival Hillary, who are credited with being the first to summit Everest in May 1953.
Along the way, the team stayed in teahouses, similar to hostels. Strand — who took books, chocolate bars and beef jerky for sustenance — says porters were invaluable to the team charged with assessing the health of the glacier.
Mattas says every day brought a new landscape, new challenges and encounters with new and exciting people. She and Strand say this research just scratches the surface of what's possible.
Near the foot of the Khumbu Icefall at Base Camp, Putnam and Strand also did cosmogenic dating on recently exposed rocks to determine if they have any "memory of past times when it was warmer and the ice was smaller."
The results, says Putnam, will allow them to assess whether the current meltdown of Himalayan glaciers is unprecedented since Homo sapiens first roamed Earth.
Putnam says he cherishes the cultural experiences and the bonds he forged — which don't get captured in scientific papers — with Nepalese scientists and Sherpas. None of the incredible science would have been successful without them, he says.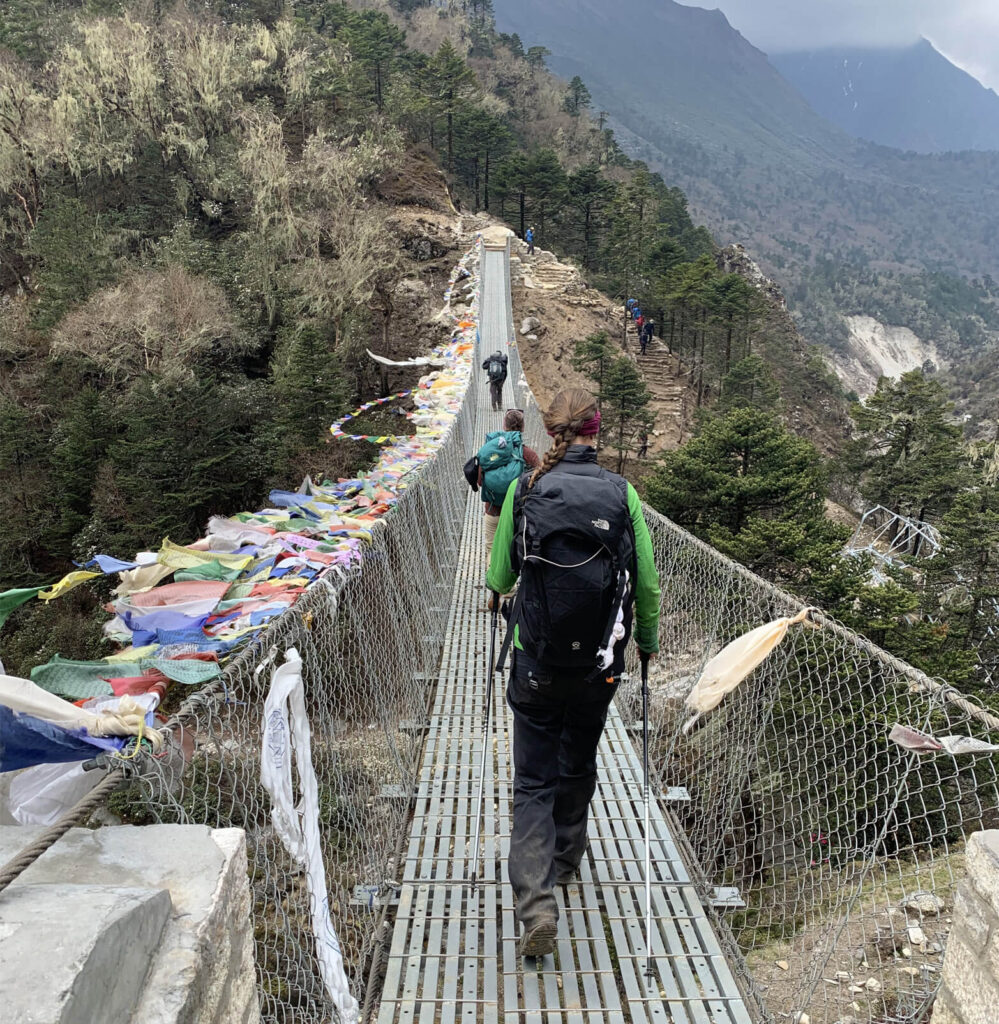 Mayewski is eager to share those forthcoming scientific discoveries with people in Nepal so they can make informed decisions and strengthen their climate change resilience.
"Nepal opened up to us basically their heart, the most important thing they can offer us," he said during the Fueling Earth's Engines event at the National Geographic Explorers Festival.
"Our requirement, or our privilege, now is to try to put the science together and be able to talk about its impact on hydroelectric power, agriculture activities, quality of life, tourism and all of the things important to these people."
Time is of the essence, says Mayewski.
According to National Geographic, the 7.6 billion people inhabiting Earth are causing "unprecedented negative human impacts on the world's species and ecosystems."
"(W)e believe if people truly understand the natural world and its people, they will value and protect the planet and the diverse cultures that call it home," reads the website.
Putnam agrees. Seeing is believing, he says.
If global citizens with a grasp of climate history witness the impact of climate change on this iconic landscape and the people who live in its shadow, Putnam says some may be motivated to make a difference — when deciding which products to buy, when making investments and when stepping into the voting booth.