In 2004, when Theresa Gaffney started wondering aloud whether a byproduct from her family's organic wild blueberry fields — the leaves — had any value, she was met with healthy skepticism.
"I got some strange looks," she says. "I even had someone say, 'You do know it's about the fruit, right?'"
"I did know it was about the fruit, but I also realized it could be more, that there was an opportunity for a second harvest that could be made into a viable business."
Gaffney got into the wild crop when she "married a man with a blueberry farm" in 1999. Together, Tom and Theresa transitioned the 25-acre Highland Blueberry Farm in Stockton Springs to a certified organic business in 2002, selling fresh and frozen fruit to 350 wholesale customers.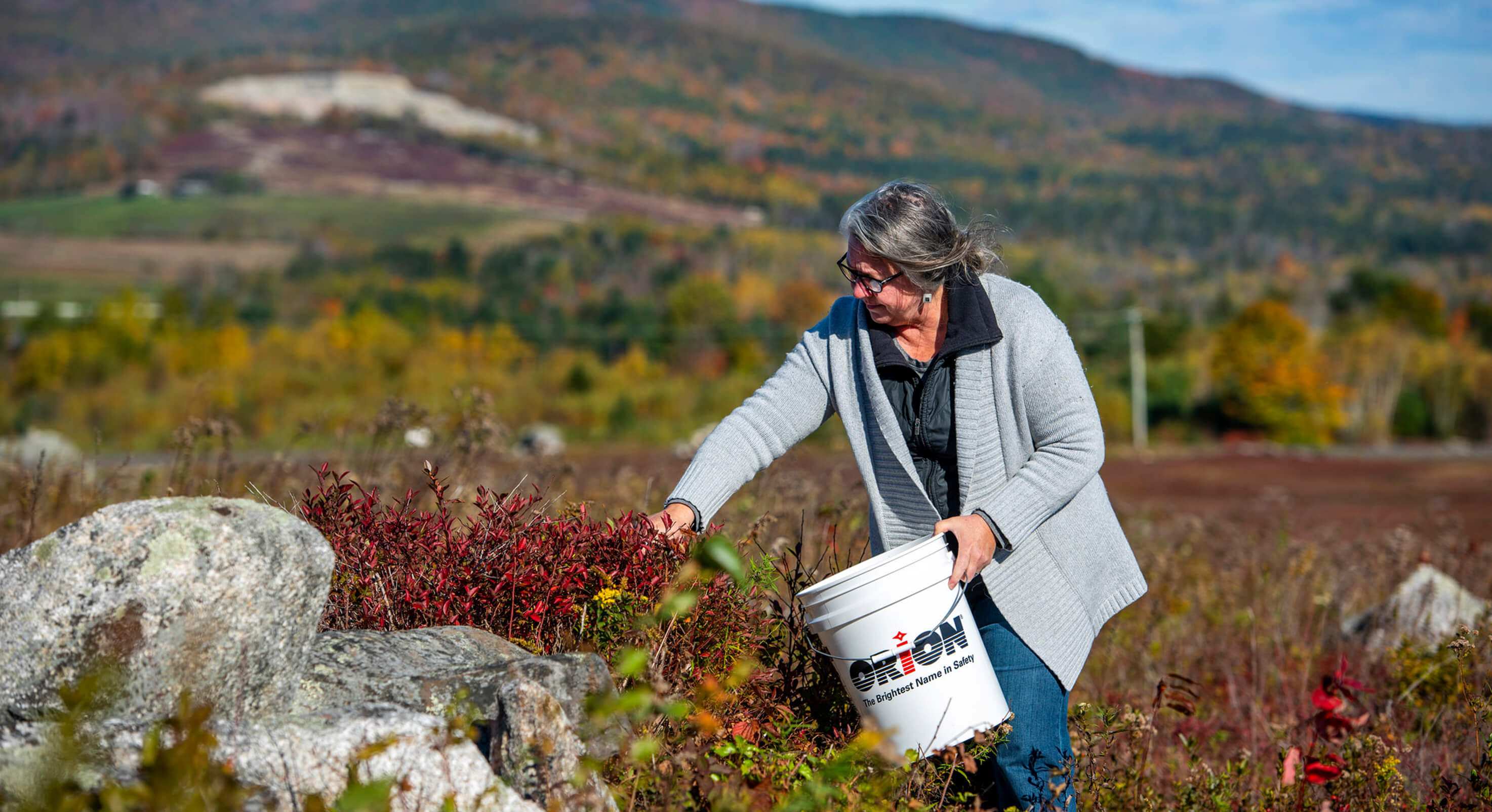 They thought about ways to use blueberries in value-added products — from baked goods to jams. They also considered collaborating on a juice.
But it was the crimson leaves of the wild blueberry plants in the fall that piqued Theresa's curiosity. She began talking to UMaine food scientists, including graduate student Kristi Crow, who was researching environmentally friendly treatments for disinfecting post-harvest berries.
Crow also was a National Science Foundation Graduate Teaching Fellow in K–12, working with local high school teachers to incorporate food chemistry experiments into their curricula. In a high school chemistry class at Hampden Academy, Crow led students in tests of the antioxidant content of organic wild blueberry leaves from the Gaffneys' field.
"I did know it was about the fruit, but I also realized it could be more, that there was an opportunity for a second harvest that could be made into a viable business."

Theresa Gaffney
The initial findings astonished everyone: The organic leaves had even higher antioxidant levels than the fruit.
Two years and three Maine Technology Institute seed grants later, Highland Organics introduced the first organic whole plant wild blueberry tea.
"We wanted to be the first to put out a real, pure blueberry tea made with just the fruit and the leaves," says Theresa. "We brought it to (the Maine Organic Farmers and Gardeners Association) Common Ground (Country) Fair in 2008 (and) walked away after three days saying, 'OK, I think this is what we're going to do with our lives' because we sold out. It was pretty exciting and life changing to have the experience."
Today, Highland Organics' wild leaf, and fruit and leaf teas are available in tins, by the ounce and pound, and in hand-filled tea bags. Dried fruit products include Blueberry Barque Chips and blueberry powder.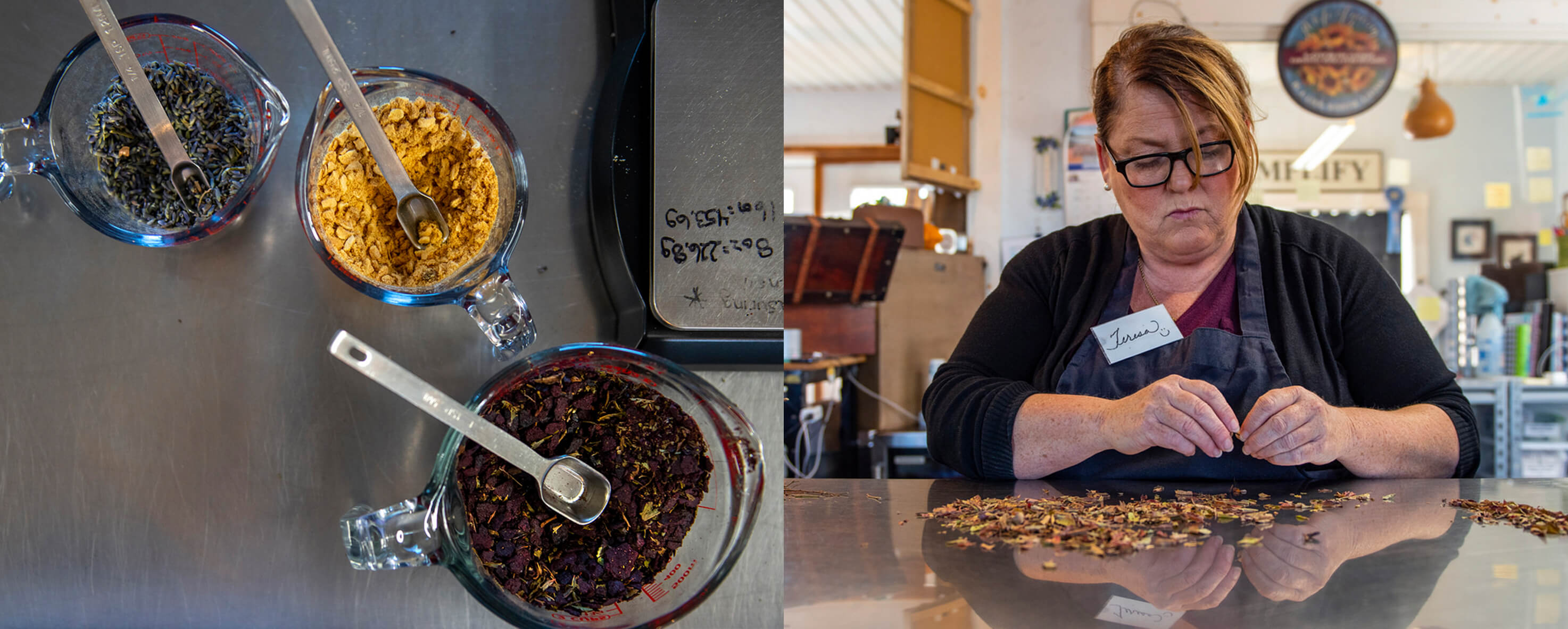 The demonstrated diversification with a value-added product provides inspiration to others.
"Now other people are looking at (blueberry leaf harvest) as a possible second income from their blueberry fields," she says. "(And) I want to share with people what I'm doing.
"I really believe in the small organic farmer. I've seen way too many farmers who had to get another job or they got a bill for growing their fruit instead of making money from growing their fruit. As small farmers, we're creating a lifestyle (and) a product beneficial to those who consume it."
The Gaffneys are mindful of the people tied to the family's wild blueberry farm, including their five children and their friends who had summer jobs in the fields. Today, Highland Organics' three part-time employees fill tea orders by hand, and two seasonal workers help bring in the crop.
The organic wild blueberry fields of Highland Blueberry Farm are a living laboratory for UMaine scientists, including graduate students conducting research in entomology. And through the years, the Gaffneys have tapped multiple UMaine experts, not only food scientists advising on product development and nutrition labels, and biologists focusing on the multifaceted healthy ecosystem, but also engineers helping to develop a prototype leaf-drying technology.
Theresa's most recent questions to David Yarborough have focused on the effects of three years of drought on the health of the wild blueberry plants.
"It's a very important working relationship," Theresa says. "We're not lone rangers. We need everybody who can bring knowledge and understanding to the table.
"I really believe that we can work together in this industry to make some positive improvements and continue the great work," she says. "Maine is farmer-ready. I think we can learn from everybody to grow the industry in a way that's going to be beneficial not only for the grower (and) the processor, (but also) the consumer, our neighbors, our families (and) our lifestyle. It's a good opportunity and we (will) miss out if we don't come together to figure out how to keep doing what Maine does best."