In tribute to Acadia National Park's centennial in 2016, UMaine Today is reflecting on the University of Maine's relationship with the park, particularly in terms of significant research pertaining to the state.
Highlighted are some of the current and more recent initiatives, as well as an account of UMaine's earliest connections with Acadia. The projects cover a variety of topics and represent only a fraction of the work between UMaine and the National Park Service.
"Because Acadia is a national park, it is protected, hopefully forever, and therefore offers the opportunity to do long-term ecological research that is otherwise difficult to support or preserve in privately held landscapes," says Ivan Fernandez, a professor in the School of Forest Resources and the Climate Change Institute.
The park's diversity of landscape and proximity to UMaine also provide benefits.
"Acadia is a beautiful place to work, as well as a really nice natural laboratory," says Sarah Nelson, director of UMaine's ecology and environmental sciences program and associate research professor in the School of Forest Resources. "You can go from the mountaintop to the ocean in a very short distance and there is a huge array of research sites. It's an easy trip to get lots of environmental samples that help expand our knowledge base about Maine ecosystems."
Stephen Norton, a professor emeritus in the School of Earth and Climate Sciences, has been conducting research in the park since the early 1980s, making it part of his classroom.
"Several dozen of my undergraduate and graduate students cut their scientific teeth on studies in a remarkably beautiful part of the world," he says. "Sometimes while performing fieldwork in the park, I had to convince myself that I was being paid to do it."
The researchers also cite relationships with park staff as mutually beneficial. Sean Smith, an assistant professor in the School of Earth and Climate Sciences, says the staff know a lot about the landscape they manage, and the park often has archived research.
"Research in Acadia is highly valued by park staff and personnel as they strive to manage this unique resource in the face of increasing stresses from a changing physical and chemical climate and human use. The value of these long-term studies to Acadia, and to science in general, cannot be overstated," Fernandez says.
Exploring Eden

Contributed by Catherine Schmitt, communications director for Maine Sea Grant College Program at UMaine
Long before Acadia was a national monument or park, University of Maine faculty and alumni were visiting Mount Desert Island and the surrounding area for scientific purposes. Acadia's unique and visible geology, diverse habitats — salt marshes, rocky shores, heaths and swamps, lakes and ponds, and mountain summits — attracted prominent naturalists in the 19th century.
In 1861, MDI was included in a statewide survey directed by the legislature and co-led by Ezekiel Holmes, the namesake of Holmes Hall. Geologist Charles Hitchcock reported to Holmes that "the name of Eden is truly appropriate to this beautiful place."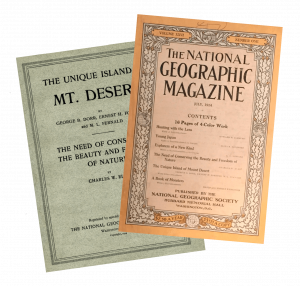 A graduate of Brown University and Bowdoin College, Holmes taught at Colby College and the Gardiner Lyceum, the first school of agriculture and mechanic arts in the United States. Like many naturalists of the era, Holmes was trained in medicine but pursued interests in botany and mineralogy.
He helped found the state Board of Agriculture and Maine State Agricultural Society and founded the Maine Farmer newspaper. It was in the newspaper that Holmes advocated for the creation of an independent state college during the last two years of his life. UMaine, which was originally named the Maine State College of Agriculture and Mechanic Arts, was founded two weeks after he died in 1865.
Merritt Lyndon Fernald, born in Orono in 1873, began his professional life at the Maine State College, where his father, Merritt Caldwell Fernald, was president. Fernald eventually transferred to Harvard University, where he worked for the remainder of his career as a botany professor and editor of Gray's Manual of Botany.
But Fernald's love of plants was fostered well before that. His home ground included MDI, where he often collected botanical specimens and continued to visit after moving to Harvard.
In 1914, he wrote a National Geographic article with George Dorr and Ernest Forbush promoting the creation of a national monument in Acadia. In "The Unique Island of Mount Desert" (1914), they described MDI as "the best opportunity along the whole Maine coast for preserving and exhibiting in a single tract its native flora."
"The only way in which to conserve for the enjoyment and study of future generations any portions of our country which by good fortune are still somewhat in their natural condition is the reservation of all such tracts as may properly be set aside. … This brings me to the crucial point: Where is the best spot, if only a single spot can be thus preserved, for the perfection of this ideal? … The island of Mount Desert, with its adjacent islets and headlands, stands out as offering the greatest natural diversity," Fernald wrote.
Other affiliated scientists who researched in Acadia included alumni George P. Merrill, an authority on building stones and the quarries of Mount Desert, and ornithologist Ora Knight; as well as professor of natural history Charles Henry Fernald, who was born at Fernald Point, now part of the park. Women surveyed flora and fauna, as well, especially plants and birds, often alongside their husbands and on their own. Since they did not hold professional scientific positions their records were less likely to be preserved.
UMaine's strongest scientific connection to Acadia in the early years may be Clarence Cook Little.
A graduate of Harvard and veteran of World War I, "C.C." Little was dubbed the "World's Youngest College President" when he was inaugurated at UMaine in 1922 at the age of 33.
In the summer of 1924, he cooperated with Dorr to establish a biological research station next to the park. Dorr, whose enthusiasm for science knew no limits, offered the university some of his own property off Schooner Head Road. The land included a farmhouse that was remodeled with a dining hall and housing for female students. A small wooden laboratory building was constructed, along with tent platforms for male students. Little envisioned the development of a summer school, where students would conduct research for academic credit under faculty guidance.
Fourteen faculty and students spent the summer in Bar Harbor, studying the area surrounding Champlain Mountain. They were repeating and attempting to build on the work of scientists including Barrington Moore, Norman Taylor and Edgar Wherry. Science had moved beyond natural history-type lists of species to trying to understand relationships among species and their environment — the emerging discipline of ecology.
Researchers described the landscape, collected insects, mapped forest trees and swamp shrubs, and documented other plants and animals, including flying squirrels, which they "caught alive by acrobatic stunts with a butterfly net". Even the camp staff helped out. Chief cook B.G. Hitchings spent hours between meal prep collecting and identifying insects on Bear Brook Hill. They reported their findings in the Maine Naturalist.
Reflecting on the accomplishments of the summer, Little described plans for the following year: "There seems to be no reason why it should not develop into a unique and valuable asset to the biological and agricultural work done at Orono."
The UMaine Biological Station in Acadia never saw a second season. When the Maine Legislature failed to provide what he considered adequate funding for the university, Little left in 1925 and took over the presidency at the University of Michigan. He continued his efforts to develop a research station in Bar Harbor, ultimately focusing on cancer research. Today that station is known as The Jackson Laboratory.
Above and below

With more than 47,000 protected acres, 45 ponds and streams, and 10 named wetland areas within or adjacent to the park, Acadia serves as an ideal place to study water and air quality.
Ivan Fernandez, a professor of soil science and forest resources in the School of Forest Resources and the Climate Change Institute, began studying the accumulation of atmospheric nitrogen and mercury in watershed soils and streams in Acadia in the late 1990s.
His team's research focused on two watersheds: Cadillac and Hadlock. Cadillac was part of the approximately 17,188 acres of Mount Desert Island that burned in the Fire of 1947. Hadlock was not burned.
The researchers looked at the contrast between the watersheds to study the accumulation, cycling and loss of atmospheric nitrogen, which contributes to acid rain and is often a limiting nutrient to vegetation; and mercury, a dangerous metal that can come from natural and industrial sources, according to Fernandez. They saw dramatic declines of the pollutants in Cadillac, which were lost to erosion and combustion, compared to Hadlock.
Now, 15 years later, Fernandez is returning to the sites with Mike Jakubowski, a graduate student in the School of Forest Resources, to better understand the rates of biogeochemical accumulation and recovery in carbon, nitrogen and mercury that have occurred since the fire.
The research provides insight into the risks of accumulation and loss of atmospheric pollutants in ecosystems, and how disturbance alters that system. The researchers say what they learn in Acadia can inform the understanding of how the rest of Maine's landscape responds to change.
"Knowing how ecosystems function and respond to environmental disturbances is critical to making sure the Acadia of 2100 is as wonderful as it is today," Fernandez says.
At another watershed, Sean Smith, an assistant professor in the School of Earth and Climate Sciences and Senator George J. Mitchell Center for Sustainability Solutions, is working on a National Science Foundation project focused on improving the management of coupled estuary watershed systems that have been altered by humans for several centuries. His work in the Cromwell Brook watershed looks at processes that affect the runoff of precipitation and entrained pollutants from coastal watersheds, leading to the regulatory closure of shellfish beds and beaches.
"Seafood industries and tourism can be affected by coastal pollution," he says. "Understanding the connections between watershed runoff sources and delivery mechanisms are at the heart of pollution management strategies for coastal areas."
Smith and his team developed a model to learn how Maine's coastal watersheds respond to rainfall and what landscape characteristics influence pollutant delivery to tidal estuaries.
Dams, culverts and drainage pipes collecting stormwater from paved areas are present throughout the park and surrounding areas, according to Smith. In one part of the watershed, the researchers are focused on many wetlands and ponds that have been created or altered by humans.
In identifying watershed runoff processes linked to human activities, Smith hopes his team can provide managers with information to target the modern watershed features that have the greatest influence over pollutant deliveries.
Watershed assessments and research require information from relatively large spaces. Studying in a location controlled by a single landowner makes it easier to gather data, according to Smith.
Over the last 30 years, Stephen Norton's research in Acadia has focused on several aspects, including atmospheric and trace metal pollution; chemical climate and the consequences of it in runoff in streams; and the role of weather on the chemistry of surface waters. He currently is publishing the results of work on a sediment core from Sargent Mountain Pond.
"One aspect of the park's environment is that pollution from the atmosphere does not recognize the park's boundary," says Norton, a professor emeritus in the School of Earth and Climate Sciences. "My research has explored natural processes that operate independently of human influence, except for air pollution. The results of the air pollution on the chemical environment, in the absence of physical disturbance, also has been a focus."
Poor air quality in the park remains a significant problem, according to Norton. However, his studies reveal it has improved in the last few decades with respect to sulfate and trace metals, especially mercury and lead.
"We now know that our society has nearly solved the lead problem in natural environments; mercury will follow," Norton predicts.
His aluminum-phosphorus studies have helped determine why some lakes are highly productive, or algae-rich, and others are not.
"The studies lead to better understanding of how resilient lakes are. They also aid stakeholders in how to best protect lakes," Norton says.
Jasmine Saros, a professor of paleoecology in the Climate Change Institute and School of Biology and Ecology, has had a partnership with the park and Friends of Acadia, a nonprofit conservation organization, to conduct research on Jordan Pond for the past five years.
To determine why water clarity, one of the most valued features of lakes, has been declining in Maine since the mid-1990s, Saros and her team installed a sensor buoy in Jordan Pond. The pond, which is the clearest lake in Maine, also has shown a decline in water clarity, according to Saros.
"We think it is a response to reductions in air pollution. Acid rain had many detrimental effects on lake ecosystems; some of the chemical and biological changes driven by acid rain actually led to clearer lake waters. The recent decline in lake water clarity in some lakes is a positive sign of reduced air pollution, but may also be driven by increasing storm frequency and severity," she says, adding her results support this theory.
The park's three decades worth of data allowed Saros and her team to identify the issue of declining water clarity.
"The park ecosystems can thus serve as sentinels of broader change," she says.
Being there

With up to 3 million recreational visits annually, Acadia is one of the most visited national parks in the country. By the end of October 2016, the park recorded 3.23 million visits, a 420,000 increase over last year.
In 2015, the park recorded 2.81 million visits, the highest number in the past 20 years. For the first eight months of 2016, more than 2.25 million visits were recorded, a 17 percent increase over the same period last year, according to news reports.
With more visitors comes an increased need for successful management strategies. UMaine researchers have conducted several studies to help inform park staff in creating and implementing these plans.
John Daigle started his relationship with Acadia as a park ranger while he was an undergraduate at UMaine. Now as a professor of forest recreation management in the School of Forest Resources, his work with Acadia continues as park management research.
"Being able to see things I dealt with as a park ranger and then seeing the value of research improving the visitor experience and management is very rewarding," he says.
To alleviate traffic congestion and parking problems within the park and surrounding communities, Acadia staff implemented the Island Explorer bus system in 1998. In serving local communities such as Bar Harbor, the system also connects visitors from hotels to shops, restaurants and the airport. In 1999, Daigle began researching use and visitor experience, finding benefits of the system as a possible management tool.
Being one of the first bus systems in the National Park Service, Acadia was chosen in 2001 to test intelligent transportation systems (ITS). ITS are technologies that provide more real-time information such as when buses are arriving and bus stop locations, according to Daigle. ITS were introduced to ease concerns of those unfamiliar with public transportation, as well as increase ridership.
ITS assessed included real-time parking conditions at popular destinations such as Sand Beach and Jordan Pond House, as well as automated destination announcements to approaching stops. Daigle and his team conducted feasibility studies and found a desire for such information. Based on those findings, ITS were incorporated into the bus system in the early 2000s. Daigle assessed visitor experience and community reactions in 2001–2002, finding positive results.
"It increased ridership on the bus and made it a more successful system for visitors and park management in terms of reducing congestion and having high-quality visitor experiences," he says.
The ITS study generated similar research in other national parks, says Daigle, a founding member of the National Academy of Science's Transportation Research Board's Committee for Transportation Needs of National Parks and Public Lands.
The Acadia model has been used at Grand Canyon National Park and Rocky Mountain National Park, where Daigle has conducted research. The bus system also has been adopted on a smaller scale in other Maine locations, such as ski areas, according to Daigle.
Having an alternative transportation system within communities adds to the quality of life in terms of getting around easier and reducing pollution caused by vehicles, Daigle says.
"At a larger scale, I think if it helps the environment, then it helps the people of Maine," he says.
Beginning in 2004, Daigle also was involved in research looking at the management of environmental impacts caused by people walking off trail at Cadillac Mountain.
Since 2000, more intensive management strategies — based on placing physical barriers and educational "Leave No Trace" signs for visitors — were employed in the park to protect threatened vegetation.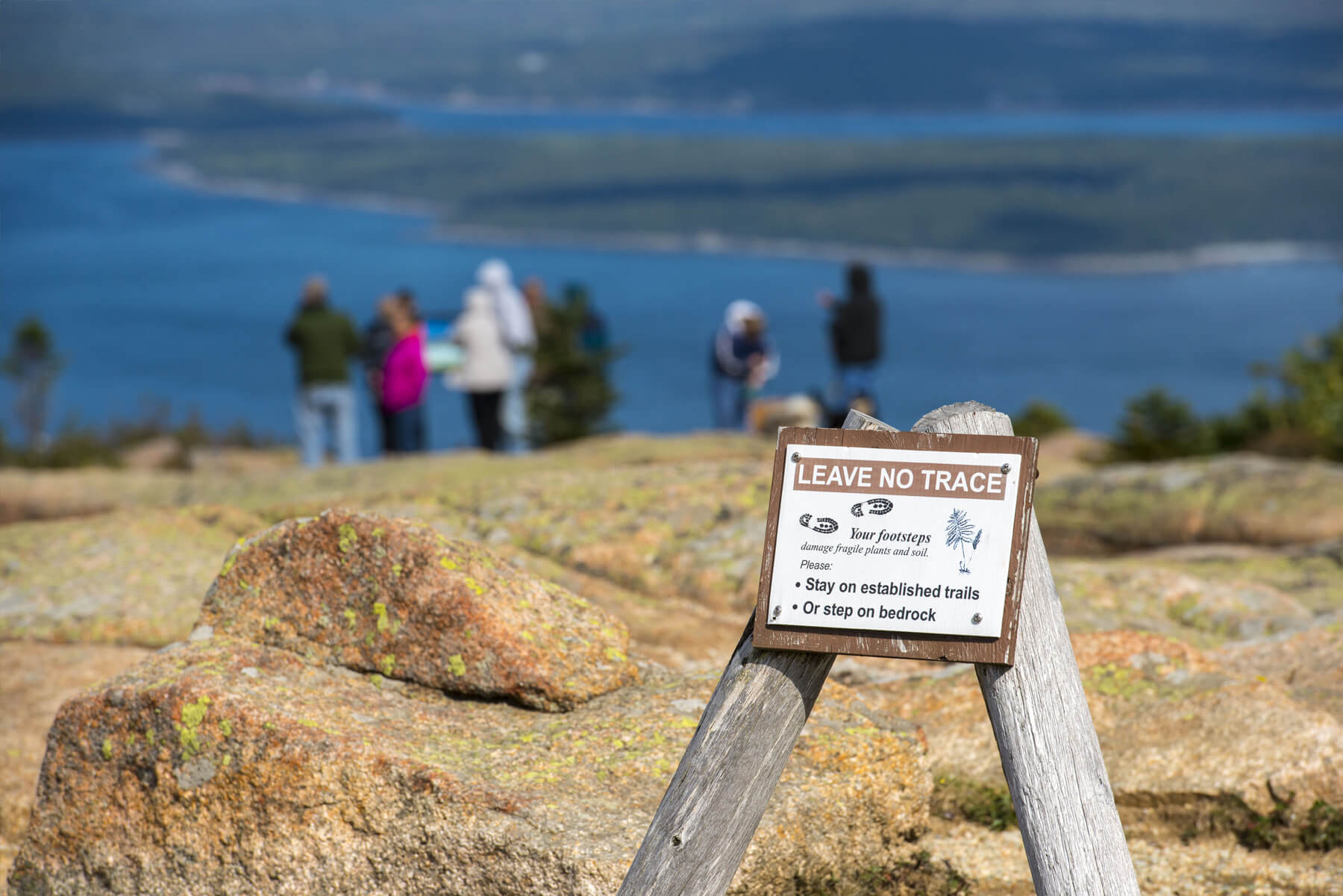 Daigle and then-graduate student Min-Kook Kim used remote sensing data to track changes in vegetation conditions, comparing datasets from 1979, 2001 and 2007. Over several years, the researchers documented improvements in vegetation health due to the management strategy.
Daigle also connects his students with Acadia during the Parks, Recreation and Tourism May Camp, a hands-on field course designed to provide experience and interaction with people in the tourism industry. The course, which began in 2015, is targeted toward students who are still deciding which part of the industry they want to work in, Daigle says.
"It provides a great networking opportunity for them, and it has been positively received by students," he says.
Sandra De Urioste-Stone, an assistant professor of nature-based tourism in the School of Forest Resources, and her students surveyed visitors about weather and climate change at several sites in Acadia in 2014 and 2015. They found weather influences destination selection, and the majority of visitors are concerned about climate change.
"We hope that by understanding the perceptions of visitors and their potential changes in behavior, suitable adaptive strategies and early preparedness actions can be developed to cope with the effects of climate change to the nature-based tourism industry in Acadia," De Urioste-Stone says.
The findings suggest public education and outreach are relevant strategies for Acadia to use to enhance visitors' understanding of climate effects in the region and their role in reducing carbon footprint. Study results also might provide insights to tourism planners and businesses across the state, De Urioste-Stone says.
"Tourism is one of the largest industries in the state, so potential changes to tourism patterns could have a significant effect on many communities," she says. "Since tourism in Maine is primarily nature based, changes in weather and climate will likely affect where and when visitors travel and their overall trip satisfaction. Understanding visitor perceptions of climate change, appealing destinations and their essential features will be crucial for sustainable tourism destination development."
Engaging nature

A research project that began at the University of Maine in 2012 is now engaging students and volunteers in science at about 70 national parks, including Acadia.
The Dragonfly Mercury Project, a collaboration among UMaine, the U.S. Geological Survey (USGS), National Park Service, Dartmouth College and University of Wisconsin-La Crosse encourages students, volunteers and park visitors to collect dragonfly larvae to measure mercury levels in water bodies. The nymphs are sent to UMaine, USGS and Dartmouth College for analysis.
The goal of the project is to better understand human-caused mercury contamination in national parks.
"The Dragonfly Mercury Project provides the ideal vehicle for connecting people with parks and using parks as outdoor laboratories," says Sarah Nelson, director of UMaine's ecology and environmental sciences program and an associate research professor in the School of Forest Resources. "The hands-on, minds-on approach can allow anyone interested to participate in a real scientific research study, and learn how to be a scientist for a day."
The project was founded at UMaine in 2012 under the direction of Nelson. It grew from Acadia Learning, an education program created by UMaine, Schoodic Institute, Maine Sea Grant College Program and a group of high school teachers across New England to develop field methods that could effectively be used by citizen scientists.
As teachers and students gathered data on mercury in invertebrates around the region, Nelson and other researchers noticed dragonfly larvae were found in a variety of settings, including lakes, streams, ponds and wetlands. Patterns in the mercury concentrations suggested the larvae could be indicators of landscape characteristics that tend to be more conducive to mercury bioaccumulation.
"We are concerned about mercury in parks and other seemingly pristine locations across the U.S. and globe because mercury is toxic and thereby challenges the National Park Service mandate to maintain resources unimpaired for future generations," Nelson says, adding the researchers are concerned about mercury not only for human health, but also for wildlife that depend on aquatic food webs.
Hamish Greig and Amanda Klemmer, faculty in the School of Biology and Ecology, are working to broaden the project's scope to include food web implications.
Additional NPS funding in 2013 expanded the project from 11 parks to 25, and a joint proposal written by the collaborators led to sampling in more than 50 parks from 2014–2015. NPS, along with individual parks, have contributed funds to grow the project in 2016, according to Nelson.
"Citizen science makes this project possible," Nelson says. "Over 2,000 citizen scientists — from schoolchildren to Girl Scouts to Youth Conservation Corps to visiting teachers to park visitors — have participated. Together, these volunteer scientists have contributed hours that add up to over two full-time staff for a year's worth of time. We wouldn't be able to cover the same ground and get all of the sites sampled if only project scientists were in the field."
Citizen science allows the researchers to sample in multiple locations at many times. The thousands of samples collected each year have created what may be one of the largest mercury datasets in existence, Nelson says.
In addition, she says involving people who are not professional scientists has generated many educational materials about mercury, dragonflies and national parks for a wide audience, including in classrooms.
"Citizens are actively participating in the research," Nelson says. "They get to learn about the park's ecosystems, about invertebrates, water and air quality issues."
Citizen science not only is essential for the project, but it also gets people, including children, interested in science while introducing them to resources that are in their own backyard.
Another UMaine program that engages citizens of all ages was initiated in 2010 to build knowledge and raise awareness about climate change while developing a detailed record of the region's biological responses.
"Signs of the Seasons: A New England Phenology Program" invites volunteers to observe, record and interpret seasonal changes in common plants and animals throughout Maine, including Acadia National Park, and southern New Hampshire.
The project, which is coordinated by University of Maine Cooperative Extension and Maine Sea Grant, provides a science engagement opportunity for volunteers and useful information to researchers, according to Beth Bisson, associate director of Maine Sea Grant; and Esperanza Stancioff, an associate extension professor with UMaine Extension and Maine Sea Grant.
Throughout the year, trained volunteers track seasonal changes in 19 plants and animals. An average of 230,000 observations are submitted annually to the National Phenology Network's online database where they are accessible to the public; a resource too costly to build without citizen volunteers, according to the researchers.
Signs of the Seasons has engaged partners such as Acadia National Park and Schoodic Institute to develop interpretive programs and conduct ongoing phenology monitoring initiatives in the park. The initiatives contribute data to the program, while advancing the park's climate research priorities.
Involving community members in scientific discovery and decision-making builds the capacity to understand and mitigate climate change impacts, according to Bisson and Stancioff.
Life in the wild
Acadia is home to more than 1,000 species of amphibians, birds, fish, mammals, reptiles and vascular plants, according to the National Park Service.
Over the years, UMaine research related to the park's abundant flora and fauna has focused on contaminants in bald eagles and their prey; how invasive plants affect pollination of native plants; mercury levels of amphibians in vernal pools and wetlands; populations of coyotes, deer and snowshoe hares; as well as migration of birds and their use of rockweed.
Ellie Groden, a professor of entomology in the School of Biology and Ecology, has studied invasive fire ants in the park since 2002.
European fire ants (Myrmica rubra) became a problem in Acadia's picnic areas and campgrounds in the mid-1990s. Park officials contacted Groden and fellow entomology professor Frank Drummond to investigate the problem and develop management strategies, according to Groden.
The researchers, along with undergraduate and graduate students, looked at the ecology and distribution of the ants in the park. The team found the invasive ants eliminated all native ant species and increased the number of plant-feeding and damaging insects.
The team then worked with park staff to develop and test management strategies. In 2012, the strategies were implemented and evaluated. The researchers found they could successfully suppress the invasive ant population by using food baits with toxins in problematic areas, as well as continual monitoring, Groden says.
"In assessing the impact of treatments, we found the ants had much more of an impact on natural fauna than the treatments themselves," she says, adding the food baits had minimal effect on native plants and animals. "Ecosystems, including natural insect communities, recovered very rapidly."
The team created educational materials for the park and coastal communities. Versions of the recommendations are available through the University of Maine Cooperative Extension.
Kate Miller, a Ph.D. candidate in the UMaine School of Biology and Ecology, is a plant ecologist for the NPS Inventory and Monitoring Program. Based out of Acadia, Miller develops and implements long-term vegetation monitoring programs in northeastern parks, including for forests and freshwater wetlands.
The primary role of the I&M program is to conduct baseline inventories and long-term monitoring of natural resources, and to use the information to help guide park management decisions in response to stressors such as deer overabundance and climate change, according to Miller.
"We have been monitoring forests in 176 permanent plots in Acadia for 11 years," says Miller, who has been with the program since 2006. "Results of our monitoring in Acadia indicate that forests are in relatively good condition, especially compared with forests in more southern parks which are more impacted by deer overabundance and invasive species. Although we're very concerned about the potential impacts of climate change on Acadia's forests."
The program partners with the Environmental Protection Agency's National Wetland Condition Assessment to conduct freshwater wetland monitoring.
"The sentinel sites in Acadia are part of a national wetland dataset that allows us to compare status and trends in the condition of Acadia's wetlands with a larger region," says Miller, who earned a master's degree in ecology and environmental sciences from UMaine in 2006 and is examining regional patterns in forest and wetland vegetation for her Ph.D. research.
Linda Bacon, Lake Assessment Section leader of the Maine Department of Environmental Protection's Bureau of Water Quality, received a master's degree in aquatic ecology from UMaine in 1987. Since becoming a lake ecologist for the DEP in 1989, she has maintained her relationships with UMaine researchers and is currently pursuing a Ph.D. in the ecology and environmental sciences program.
In 2012, Bacon worked with UMaine researchers to evaluate mercury concentrations in tissue of fish found on Mount Desert Island.
Studying in Acadia, Bacon says, provides an environment with minimal human impact due to land use and development, from which reference conditions can be inferred.
Bacon found fish tissue mercury concentrations have not significantly changed in previously monitored lakes despite the reduction in atmospheric mercury deposition. Her research contributes to the re-evaluation of the statewide freshwater fish consumption advisory.
"Freshwater fish in Maine lakes are of interest to both local and visiting anglers," Bacon says. "Because fish are an important source of protein, it is important for consumptive anglers to evaluate risk posed by mercury contamination."