In the 1990s, Matt Williams was a University of Maine Cooperative Extension educator working with the state's dairy and potato industries. A focus was crop diversification to improve soil health and bring in additional revenues.
At the same time, Jim Amaral was building his Maine-based business. Borealis Breads specializes in sourdough and crusty loaves made in the European tradition of using local grains to create a unique, regional flavor. His challenge: a shortage of high-quality, locally produced grain.
"If you want to make a truly Maine-grown loaf, you need to use Maine grains," Amaral says.
That's why Amaral attended a meeting of Maine organic dairy farmers, hoping to convince them to grow grain for human consumption.
Williams also was there.
"The dairy farmers thought I was crazy," Amaral says, "but Matt was like, 'We can do this.'"
To prove his point, Williams piloted a 30-acre plot of wheat on his organic farm in Linneus, Maine, implementing the research-based knowledge that Cooperative Extension in Maine and nationwide uses to help address issues and needs. Amaral shipped the wheat from Aroostook County to Canada for milling. Four years later, in 2001, Williams also set up a milling operation on his farm.
With Maine's growing interest in local foods, "it was the natural thing to do," says Williams, who retired from UMaine Extension in 2006 to manage his farm full time.
The fittingly named Aurora Mills and Farm is now 300 acres and the main grain producer for Borealis Breads, which expects to use 80,000 pounds of Maine-grown grains in 2017, with plans to double the amount in the next few years.
It is one of two local flour mills in the state and among 25–30 farms growing an estimated 1,000 acres of grain per year to process into flour at those mills. But grain being grown for flour is just one small part of the Maine grain economy. Other categories include food grains going to markets out of state, as well as grains being used for malting and distilling, organic and nonorganic animal feed, and seed markets. All told, Maine farmers are growing an average of 40,000–50,000 acres of oats, barley and common wheat annually, according to the United States Department of Agriculture's most recent figures.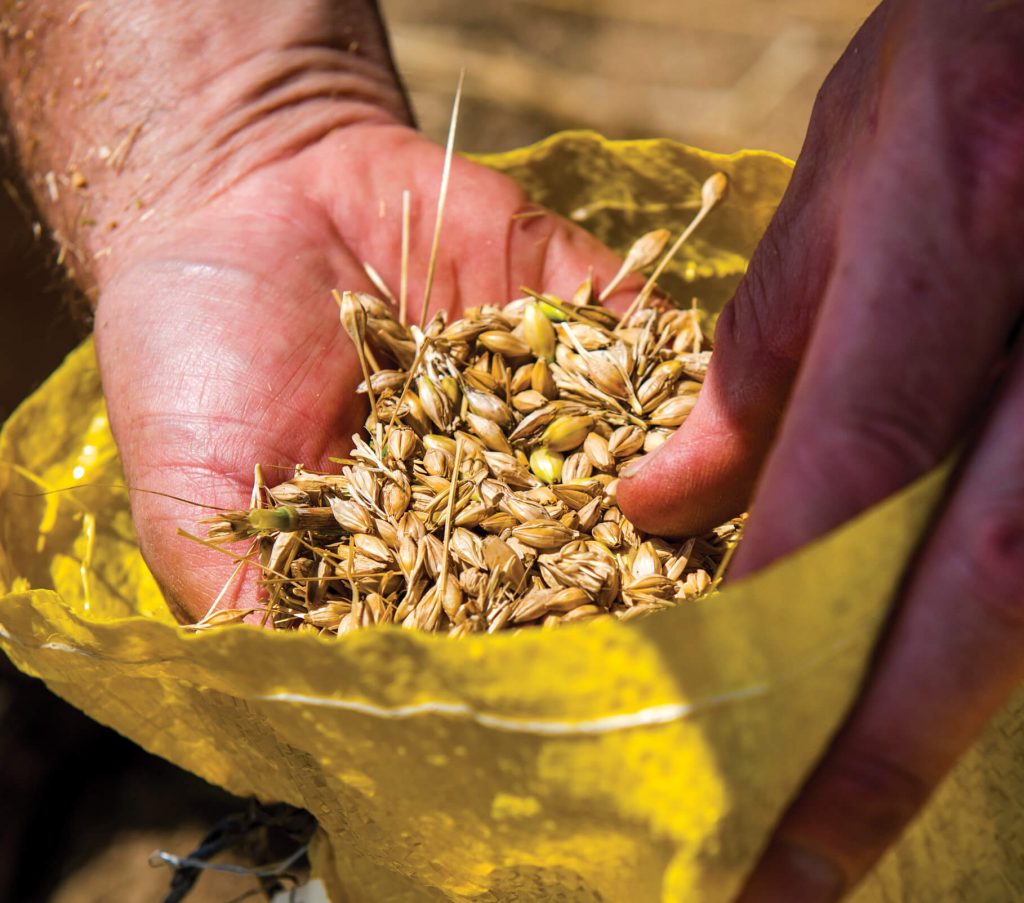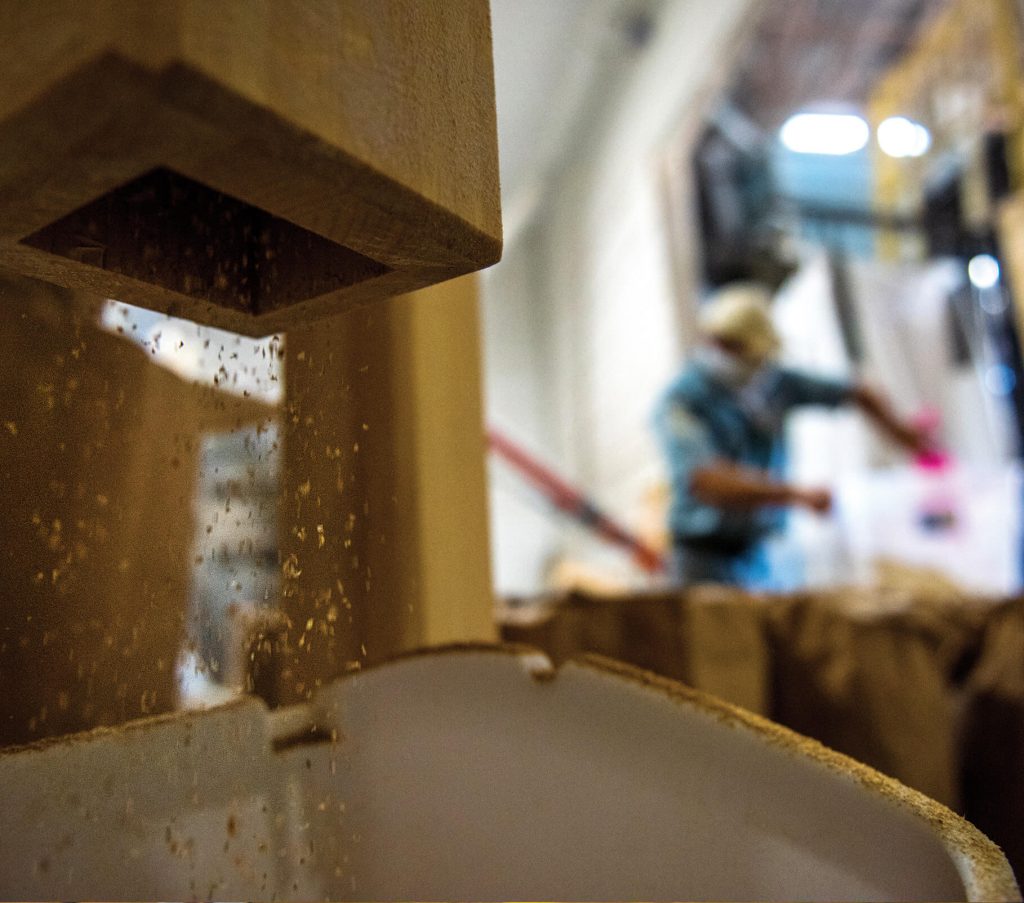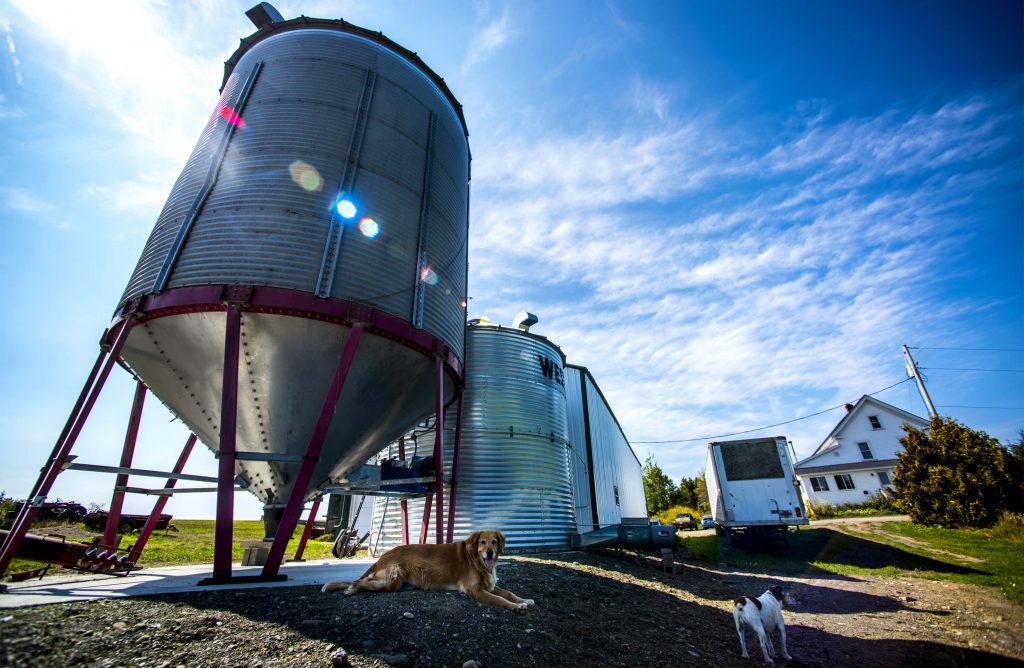 "The fresher the grains are, the better the flavor is," says Amaral, who gets grains milled from Aurora Mills every two to three weeks. "It allows for a much higher quality where I have a lot more input. Our sourdough is only made with four ingredients — flour, water, salt and sourdough starter — so the quality of those ingredients is critical."
Maine has a long, storied history of growing grain, according to Tristan Noyes, executive director of the Maine Grain Alliance.
"If you went back to the mid-1800s, we had many acres of grain being grown for human-grade consumption and we had thousands of small mills that dotted the countryside. Over time, we lost a lot of that culture that was associated with grain growing," says Noyes, a sixth-generation potato farmer.
He cites Williams and Amaral as two of the pioneers who were at the beginning of the movement to bring back Maine-grown grains.
The modern perception among grain producers was that food-grade grain couldn't be grown in the Northeast, according to Williams.
"We introduced malting barley, and now Maine is recognized as one of the premier sources of malting barley in the world. Prior to that, no one believed you could grow malting barley east of the Mississippi. Sometimes we have to break those paradigms," Williams says.
Maine's cool evenings help create a grain that has a different profile than grain that's grown in the Midwest, Noyes says.
While grains have traditionally played a supporting role to Maine's more lucrative potatoes, new markets and an increasing demand for locally grown products are moving the crop to the main stage.
To preserve and promote grain traditions, the Maine Grain Alliance formed in 2010. The nonprofit organization hosts the annual Kneading Conference and Artisan Bread Fair each summer in Skowhegan.
The conference brings together professional and home bakers, chefs, cooks, farmers, grain researchers, maltsters, food entrepreneurs, and wood-fired oven enthusiasts to learn about the science of baking, milling and growing grains using traditional methods, according to the alliance.
This year, more than 250 people from around the world — 22 states, three provinces and seven countries — attended the conference, which featured 50 workshops, panels and hands-on exercises, according to Noyes.
The event culminates in the Artisan Bread Fair, which is free and open to the public, and offers wood-fired oven demonstrations, artisan bread samples, and opportunities to talk with professional bakers. About 3,500 people attended the 2017 "celebration of all things real bread," Noyes says.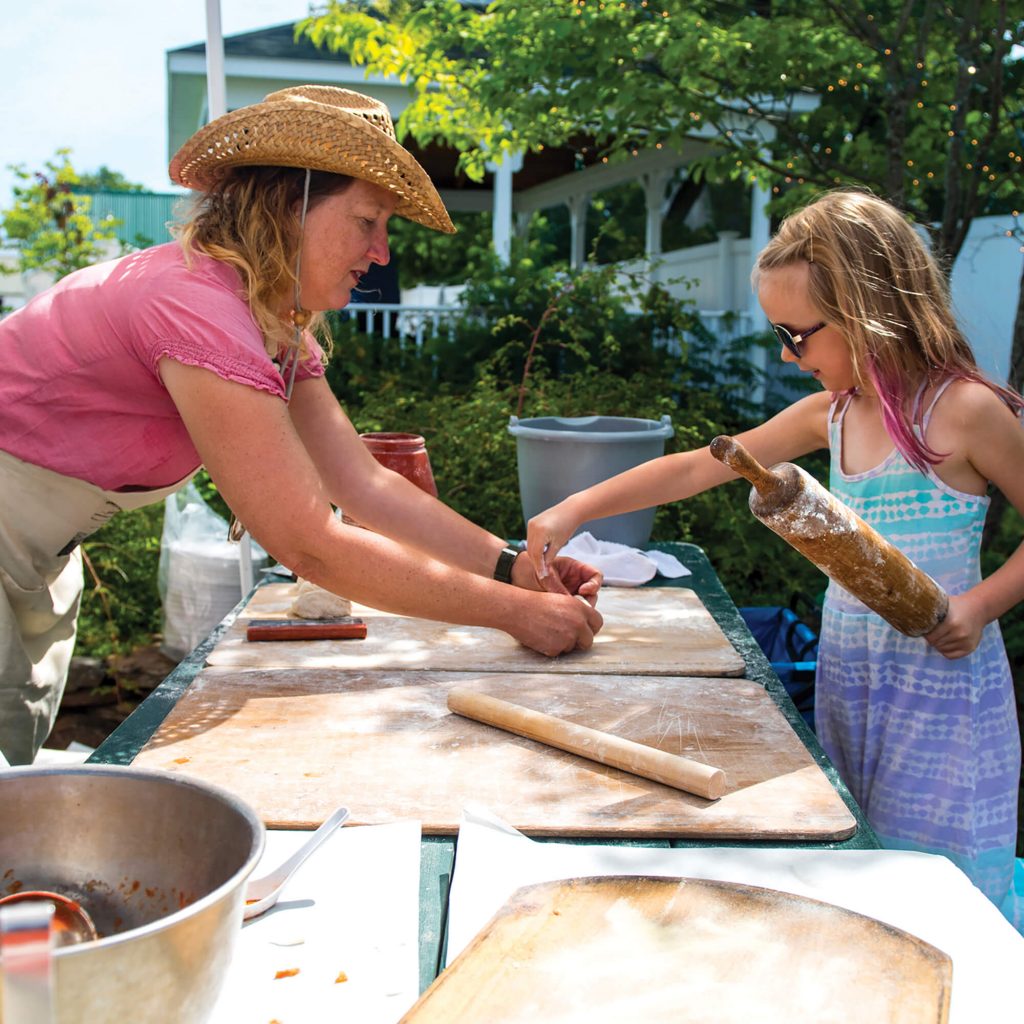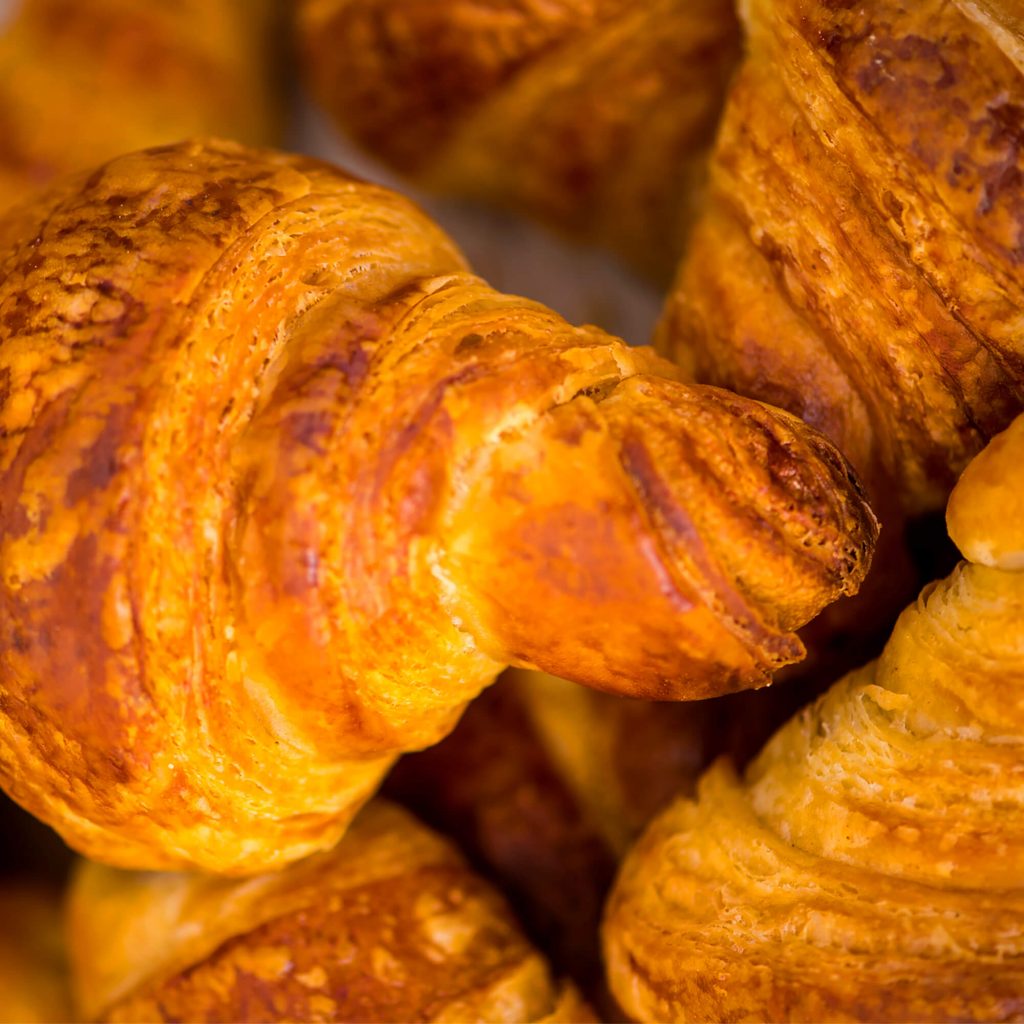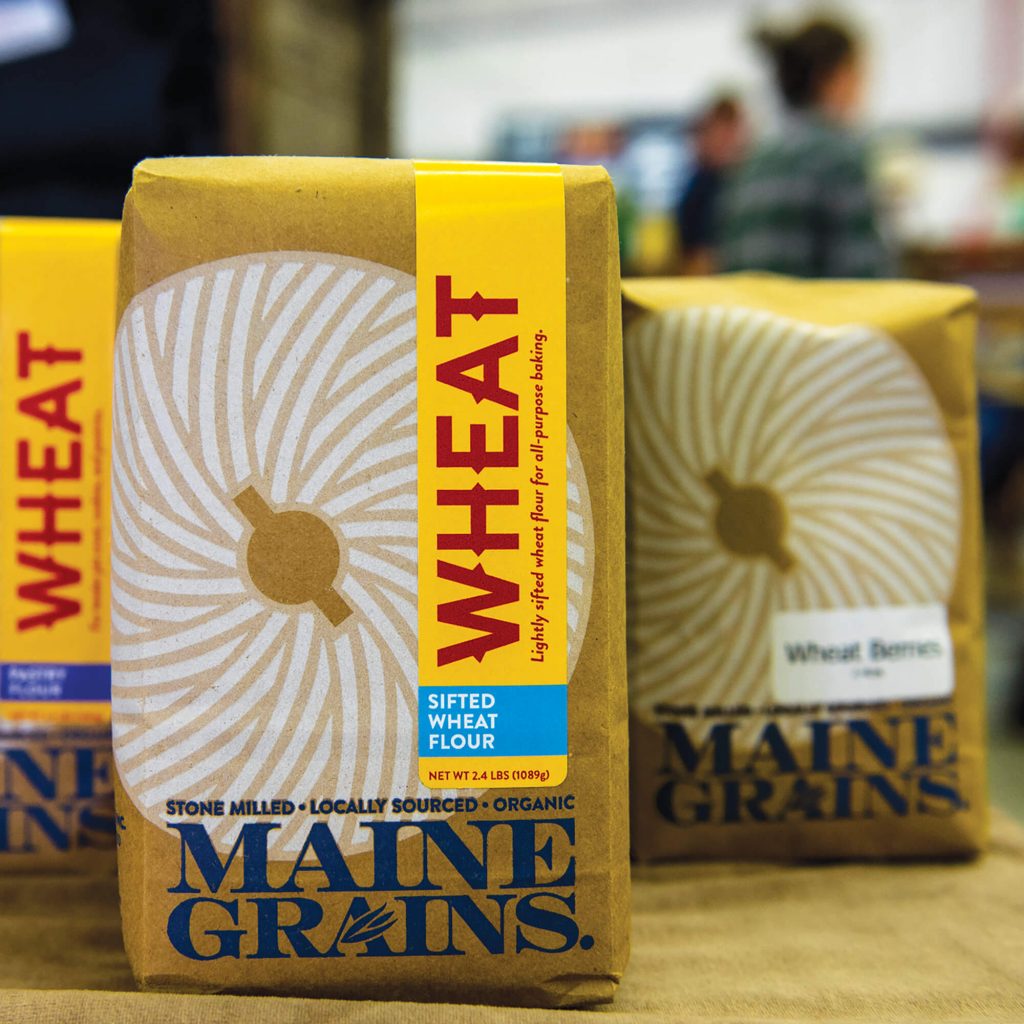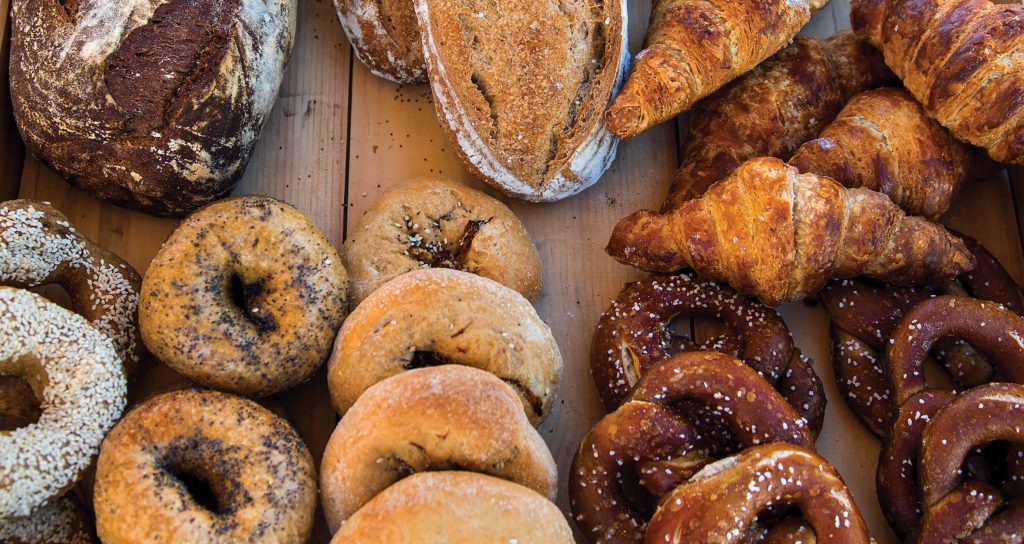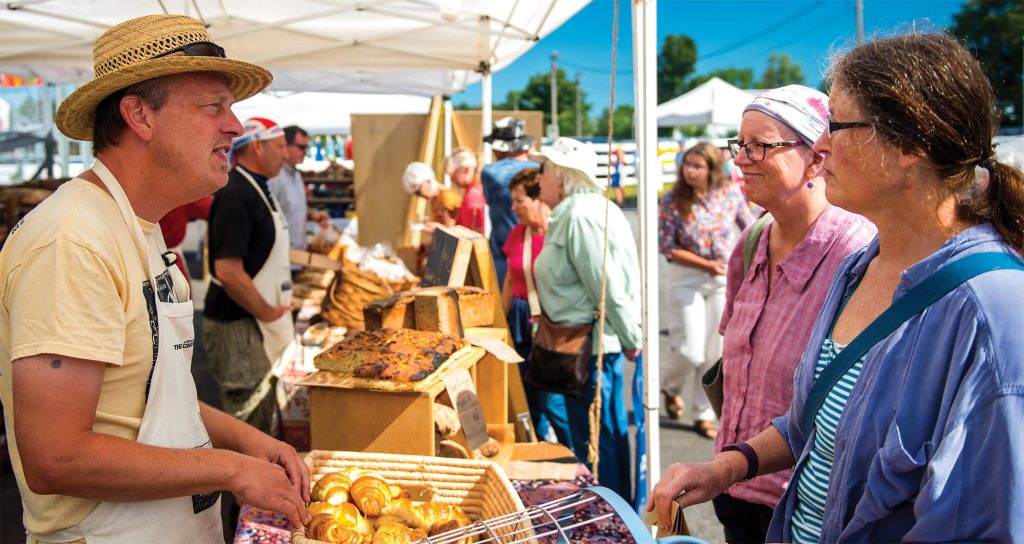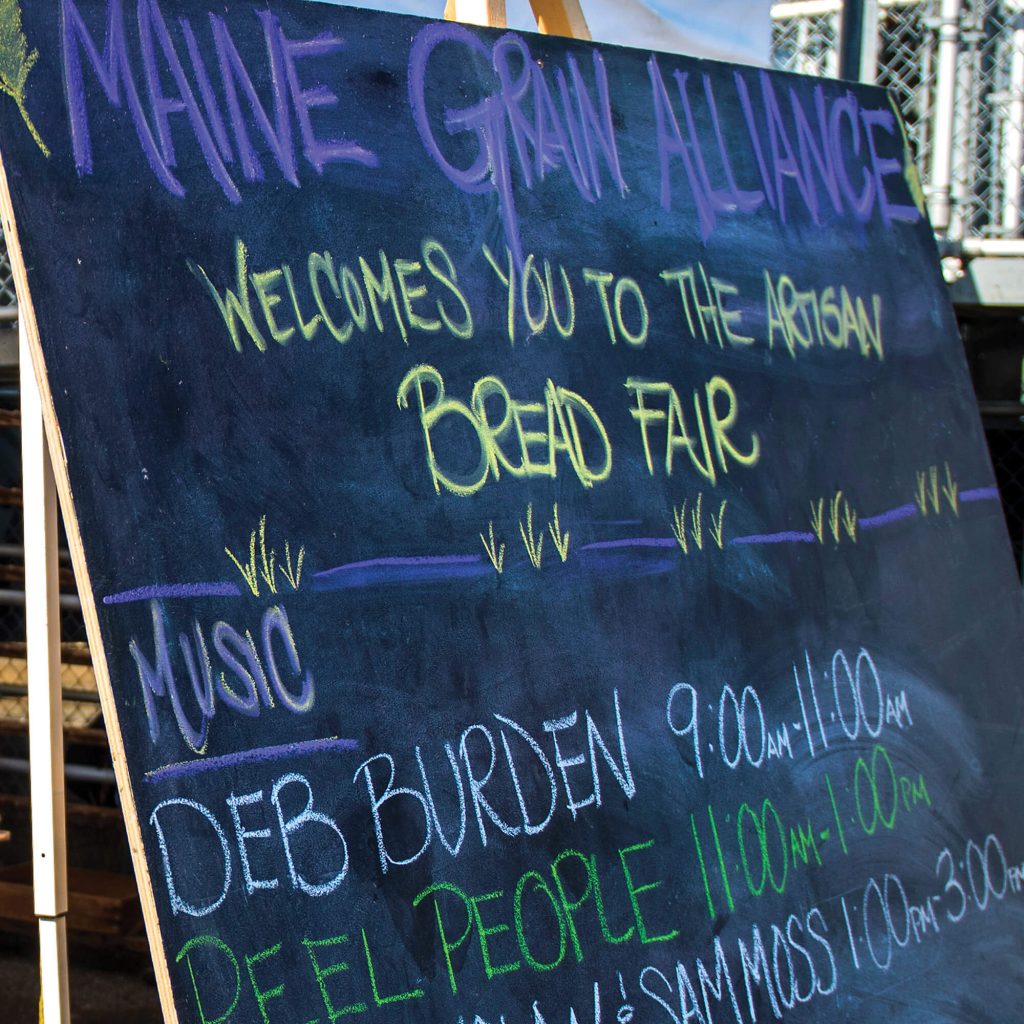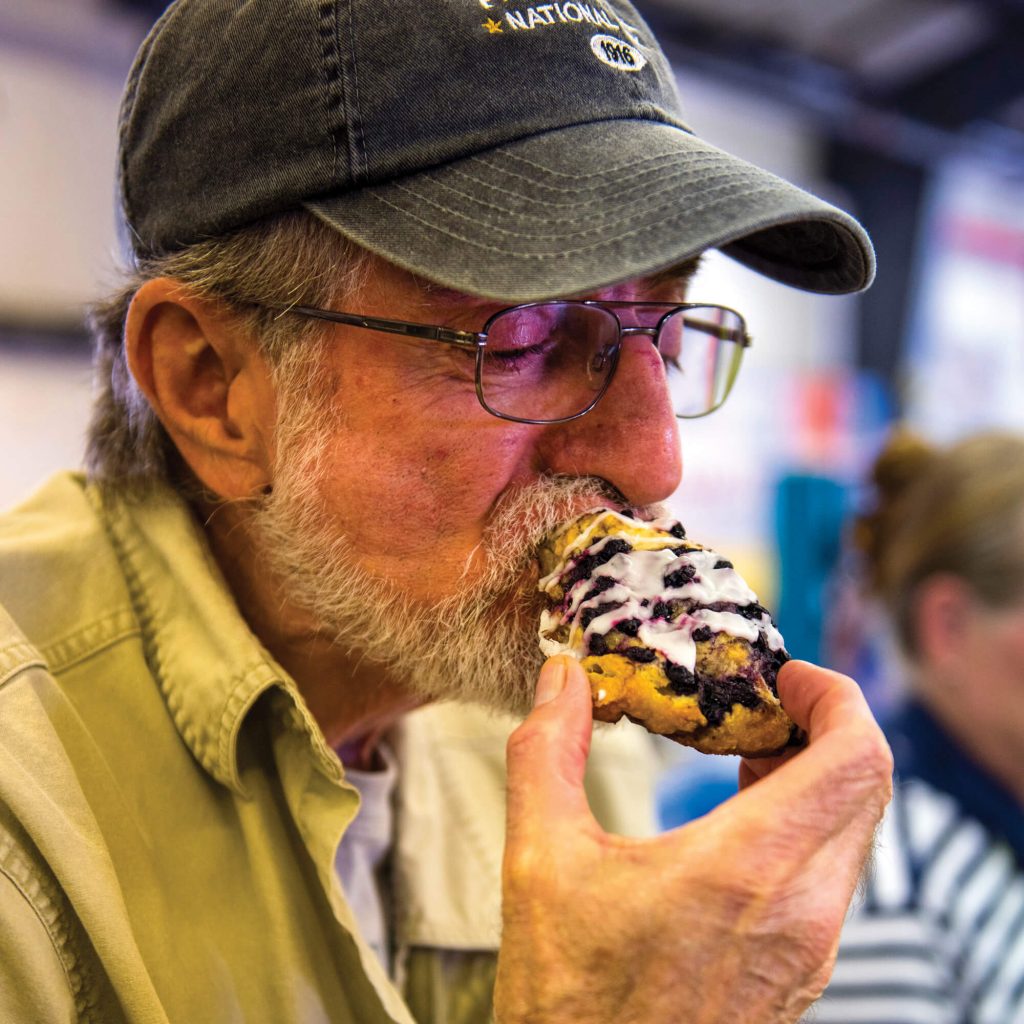 The successful development of the local bread wheat market inspired other uses of locally grown grain, such as growing oats, rye and spelt for cereals and flours; barley and rye for malting and distilling; as well as a continual and increasing demand for organic animal feed, according to Ellen Mallory, a UMaine Extension specialist and associate professor of sustainable agriculture in the School of Food and Agriculture.
"The Kneading Conference and Artisan Bread Fair have really played the role of increasing excitement and demand for local breads," says Mallory, who is a Maine Grain Alliance board member. "The university's role has been more of, 'If there is this demand, how do we help farmers meet it?'"
In 2008, when Mallory began working at UMaine Extension, the state had about 500 acres of wheat that was mainly grown for salmon feed.
"Then the demand for local wheat increased significantly, not just in the state, but in the region. For instance, a couple of mills in Canada started buying Maine-grown wheat. By 2012, we had almost 2,500 acres of wheat," Mallory says.
Grain production is not new to Maine farmers, according to Mallory. They have grown 40,000–50,000 acres of oats and barley per year for the last two decades, but grains are typically considered a necessary rotation crop for potatoes, paid little attention, and sold at relatively low prices into the commodity feed market.
In the 1990s, with the help of Williams, Maine farmers increased their grain value by growing barley for a large Canadian malthouse, with acreage peaking in the mid-2000s at 8,000–10,000 acres, Mallory says.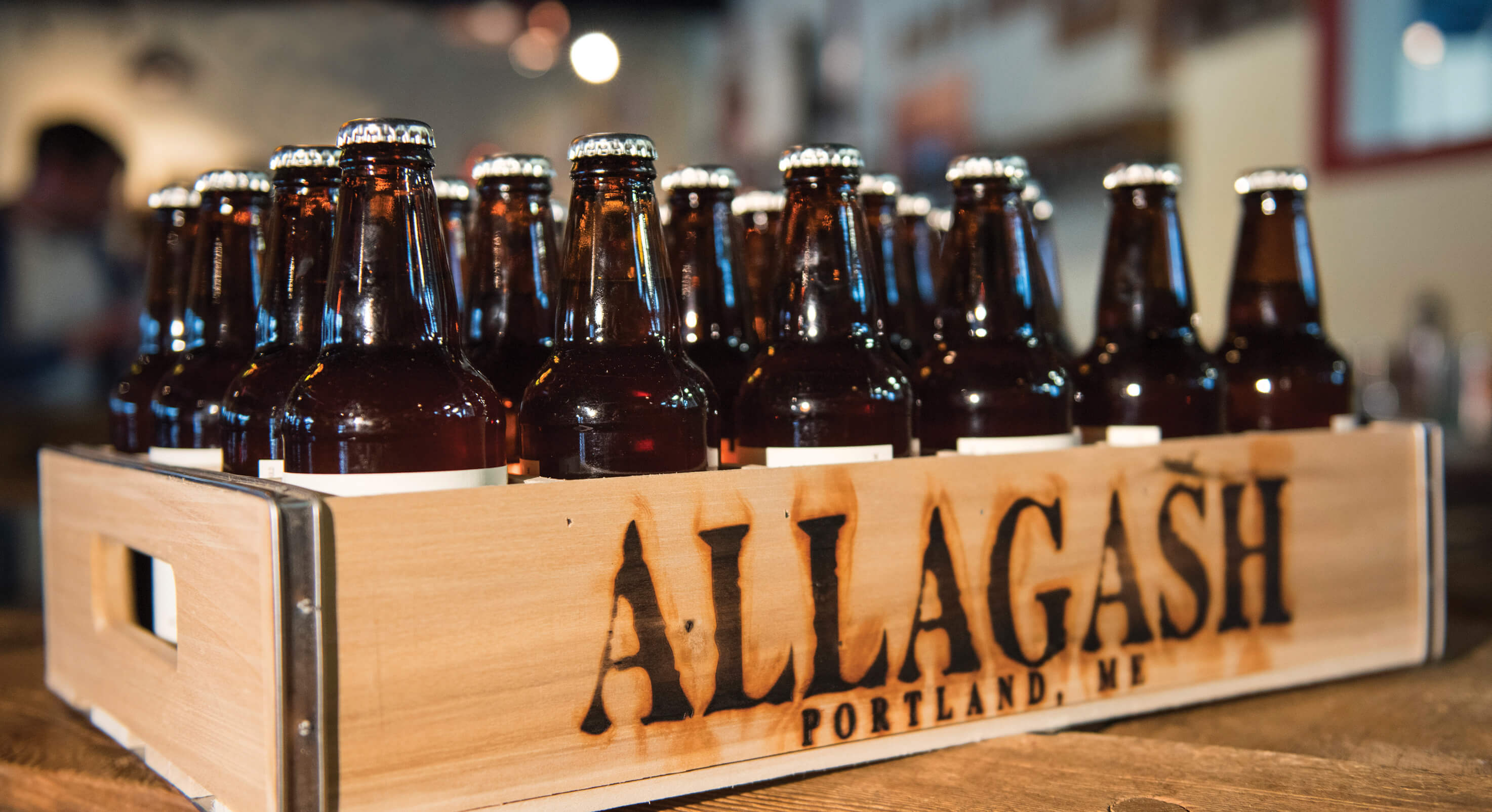 Maine is home to more than 80 craft breweries and two malthouses. A study released by the Maine Brewers' Guild and conducted by the UMaine School of Economics found Maine breweries added $228 million to the state's economy in 2016 and employed 2,177 people. The figures include multiplier effects from related businesses.
Portland-based Allagash Brewing Co., which anticipates using 115,000 pounds of local grains in 2017, recently pledged to use 1 million pounds of Maine-grown grains annually by 2021.
"Allagash's announcement provides a key piece to building the whole system," Mallory says. "People have really identified Maine craft brews as a quality product, so maybe Maine malt should be in that same class."
At UMaine, Mallory is at the center of grain-related research and outreach efforts.
"UMaine Extension's role in the grain industry has primarily been to help farmers understand the production practices that will help them meet the quality that's needed," says Mallory, who adds this is done by generating and providing information through research, and creating networks of farmers, buyers and producers.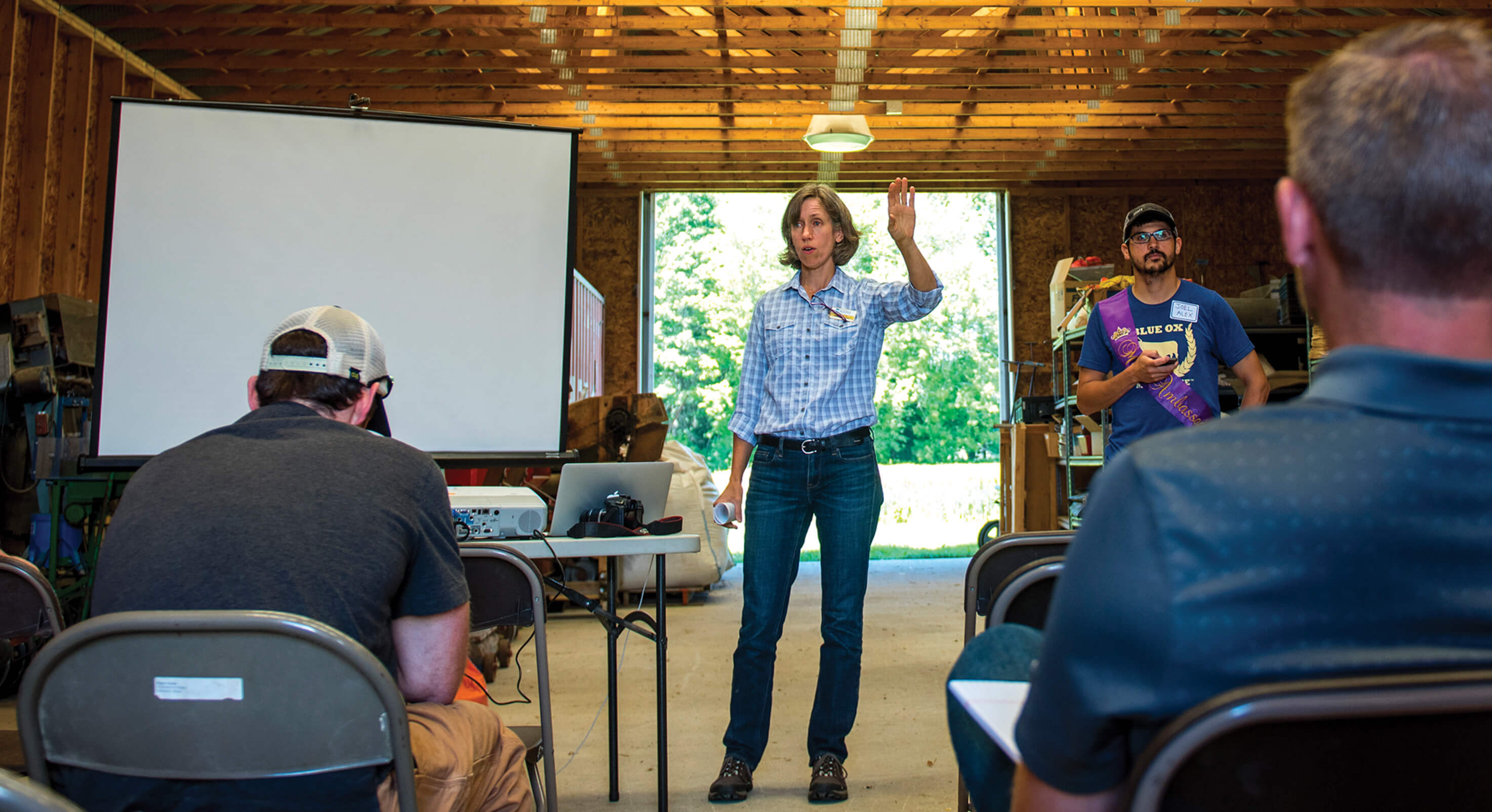 In 2009, Mallory; Eric Gallandt, a professor of weed ecology and management at UMaine; Heather Darby, an agronomic and soils specialist for the University of Vermont Extension; and other colleagues were awarded $1.3 million from the USDA to increase farmers' capacity to produce high-quality organic bread wheat. The team partnered with local farmers, millers and bakers throughout the four-year project.
Wheat grain sold for bread flour can garner up to twice the price as grain sold for livestock feed in New England, but the grain must meet higher quality standards, according to the researchers.
The team's research focused on production issues farmers face. They worked to identify spring and winter wheat varieties suited for organic production in the region, develop fertility strategies for high-protein grain, and evaluate innovative weed management systems. They also initiated the Maine Grain Conference, held each year in early spring.
"I see the industry as a three-legged stool. Farmers are one leg, those creating products are another, and the third leg is research at the university, which is supporting the other two to really drive economic gains for the industry."

Jim Amaral
"The university was critical in terms of getting a movement that was starting and providing the technical information that really allowed it to thrive," Amaral says.
The researchers also evaluated baking quality by subjecting the varieties to tests that were conducted by professional bakers, including Amaral, at King Arthur Flour in Vermont and the bakers' respective facilities. Results showed that good to excellent artisanal breads can be baked using organic winter wheat grown in northern New England. The bakers determined nine of the 15 varieties were suitable for making bread.
"I see the industry as a three-legged stool," Amaral says. "Farmers are one leg, those creating products are another, and the third leg is research at the university, which is supporting the other two to really drive economic gains for the industry."
Another focus of the project was to share the research through online resources, workshops and field days, as well as create a regional network for those working in the grain industry.
"It's really helpful to have a supportive university and Cooperative Extension-based resource alongside what's happening on the market-development side of things," says Amber Lambke, co-founder of the Maine Grain Alliance. "Farmers need more resources. People sometimes refer to the knowledge it takes to grow these crops successfully as being part of the lost infrastructure, and I think the university plays a really important role in helping farmers feel confident, help them troubleshoot problems, and also help them determine whether it works on their farm and how to create a whole system that's economically viable."
Realizing the need to quickly develop that knowledge infrastructure, Mallory and her colleague at the University of Vermont led trips for farmers, millers, and bakers to Quebec in 2009 and Denmark in 2010. Mallory had learned about Denmark's local grain economy and made connections with grain researchers in 2006 while living in the country on sabbatical for a year. She knew they had a lot to offer in terms of experience growing, processing, using and marketing local organic grains.
"They were about 10 years ahead of where Maine was," Lambke says of farms in Denmark.
At Maine's first Kneading Conference in 2007, Lambke realized there was no infrastructure left in the central and southern parts of the state for grain processing.
"If farmers in this area were going to grow grains, that infrastructure needed to be revived," says Lambke, who took part in the UMaine Extension-led trip to Denmark in 2010.
She returned to Denmark a second time before the 2012 launch of Maine Grains, which manufactures locally grown, stone-milled grains at the Somerset Grist Mill in Skowhegan, Maine.
"I made some great connections that ended up being people I have stayed in touch with over the years for technical support and resources in running my mill," Lambke says.
Mallory also has maintained her connections. In 2015, she was contacted by a Danish food company seeking help to develop a Maine supply of two heritage grain varieties that were being grown in Denmark for their new restaurant in New York City.
To evaluate whether the varieties — Øland spring wheat and Svedje winter rye — would grow well in Maine, plot trials were planted at UMaine's Rogers Farm in Old Town. Both varieties had high yields and good grain quality. UMaine Extension identified farmers who could successfully grow the grain and networked them with the buyer.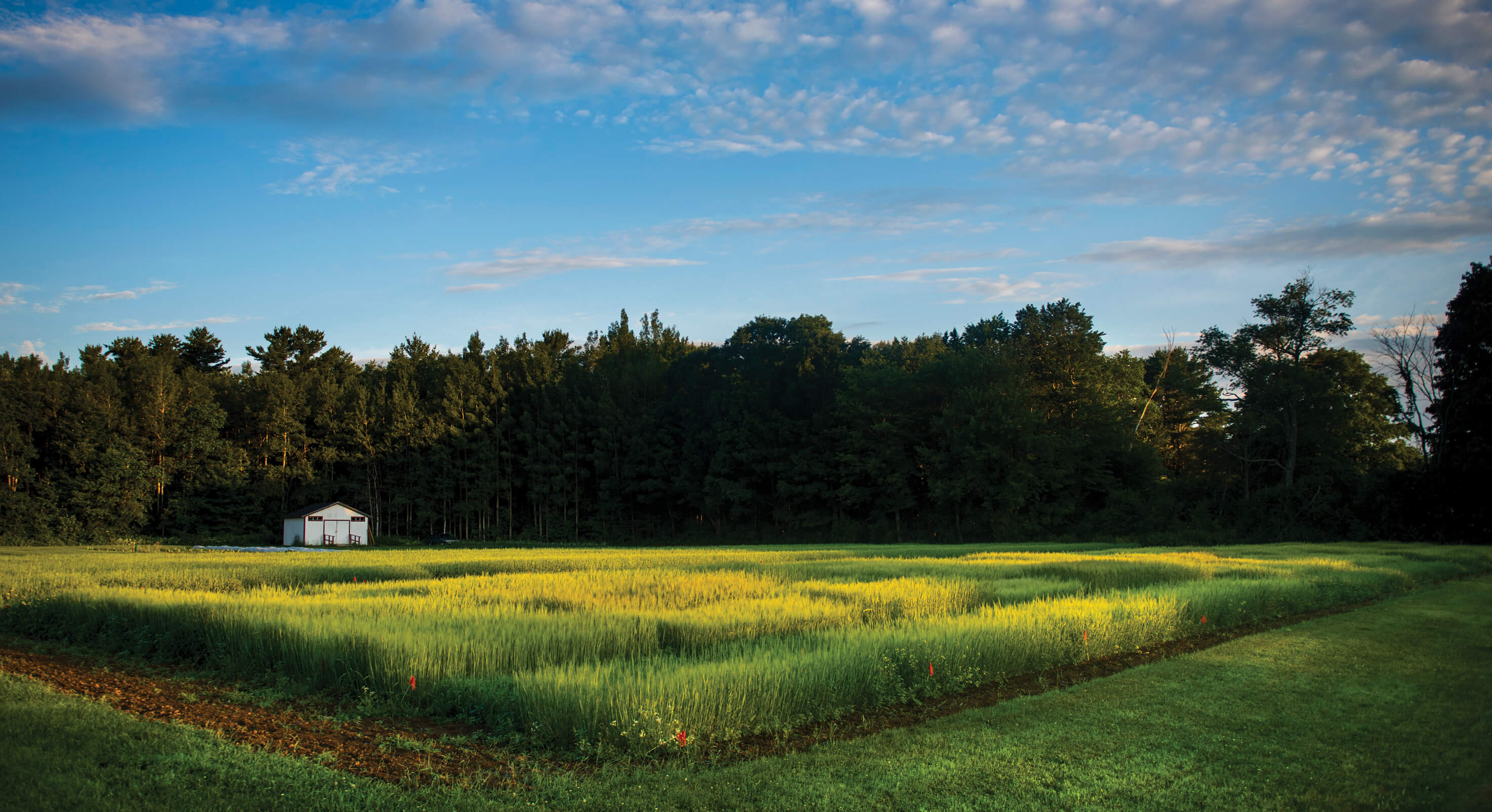 In 2016, Maine growers produced over 80 tons of Øland spring wheat and 5 tons of Svedje rye for the restaurant. The price that growers are receiving for the specialty wheat is up to five times the typical price for spring wheat, according to the researchers.
"We are definitely growing in leaps and bounds," Lambke says. "We now have a food-grade market in Maine. We now have a malting-grade market in Maine. We have a feed-grade market in Maine."
Mallory and her colleagues were awarded an additional $1 million USDA grant in 2015 to continue efforts in boosting organic grain production in northern New England.
Mallory's research focus is on fertility, Gallandt's is on weed management, and Darby's is on disease identification and control. Tom Molloy, a research associate in sustainable agriculture with UMaine Extension, also is a critical member of the team, overseeing the field trials in Maine.
With this grant and other funding, the team continues to offer workshops, conferences and farm tours, often in collaboration with key partners at the Maine Potato Board, Maine Grain Alliance, and Maine Organic Farmers and Gardeners Association (MOFGA), which UMaine Extension helped form in the 1970s.
This past summer, Mallory partnered with Joel Alex of Blue Ox Malthouse in Lisbon Falls, Maine to offer a malt and barley workshop at Rogers Farm, and with John Chartier of MOFGA to offer "cross-border" farm tours in Aroostook County and New Brunswick.
The farm tours were part of a new initiative with the Atlantic Canadian Organic Regional Network (ACORN) to expand the community of organic grain farmers and researchers. The Northeastern U.S. and Eastern Canada Organic Grain Network (NEEOGrain) kicked off last year with Maine and Vermont farmers participating in a special session at ACORN's regional conference followed by farm tours on Prince Edward Island. This year, a NEEOGrain email forum was established and farmers will connect during ACORN's conference via web conferencing.
"Vermont has growers and millers they network with in Quebec, and we have the same in New Brunswick and Prince Edward Island," says Mallory, adding she wants to create a network of northern Maine and Canadian grain growers because they have similar concerns.
For the past three summers, Mallory and Molloy have conducted trials of spring malting varieties for craft brewing. The trials, with 25 varieties each year, are being conducted in collaboration with 10 other institutions as part of the Eastern U.S. Spring Malting Barley Evaluation project, organized by North Dakota State University and funded by the Brewers Association.
In Maine, the trials are conducted at Rogers and the Aroostook Research Farm in Presque Isle. Agronomic and basic grain quality data are collected by UMaine researchers, and grain samples are submitted to North Dakota State University for a comprehensive grain and malt quality analysis.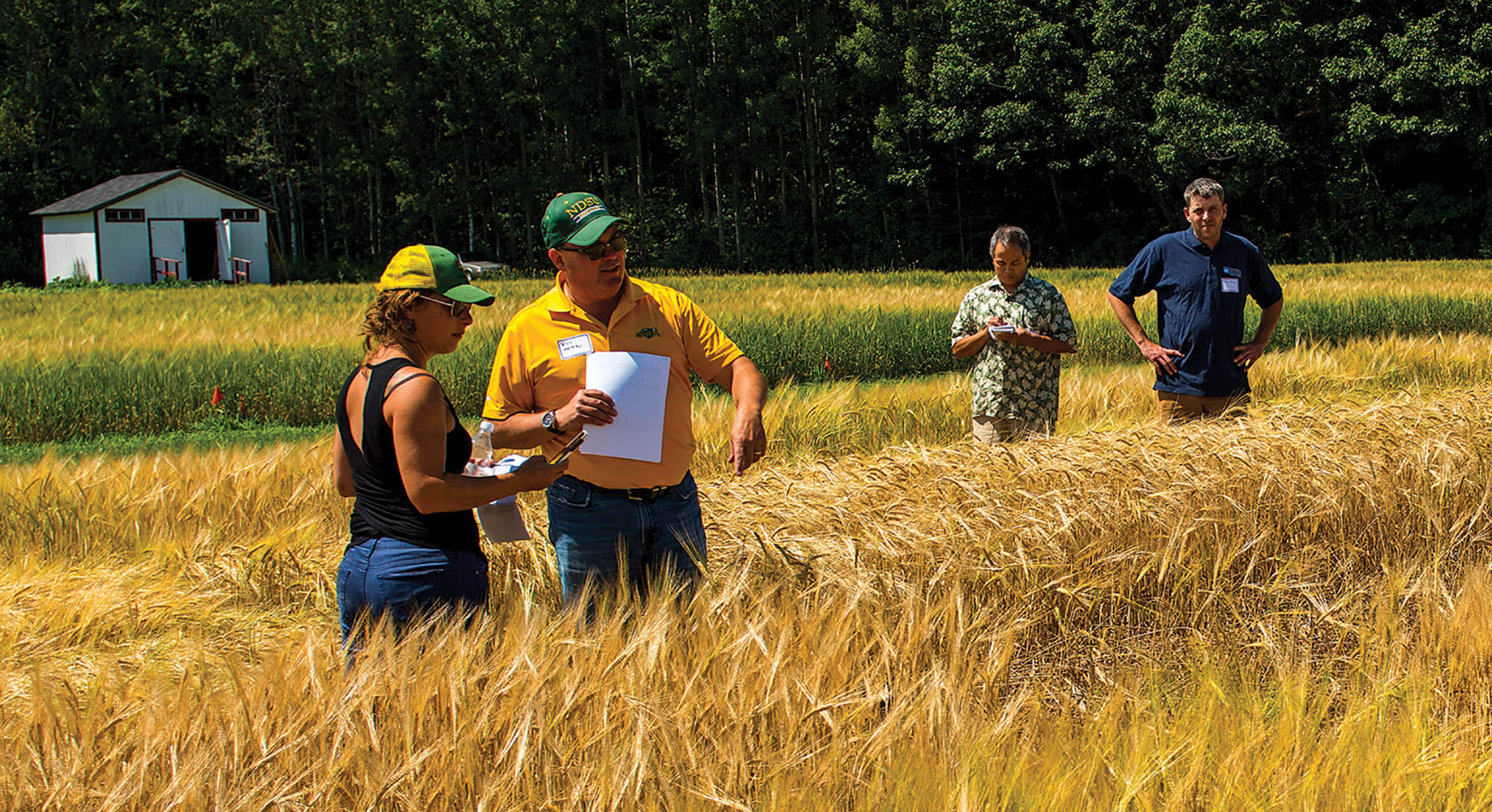 "We all have humid growing conditions that can be challenging for growing barley and wheat," Mallory says of the participating institutions from across the Northeast, as well as in North Dakota and Indiana. "We're particularly interested in varieties that are less susceptible to the diseases that can grow in these conditions, and that have the agronomic characteristics farmers would like; the quality and grain characteristics that maltsters would like; and the malting characteristics that brewers would like."
Amaral credits Mallory and Molloy with developing the technical know-how for Maine farmers looking to increase the value and quality of the grain they grow.
"When I first started working with farmers in Aroostook County, they didn't have the knowledge base to ask older generations, because it had been so long since wheat had been grown for commercial purposes for human consumption," he says. "We had to recreate that whole knowledge base, and that's where the university made a huge difference."
Amaral adds the researchers have developed and disseminated important information that enables farmers to see and contribute to the market, which is "critical to keep the ball rolling." Related graduate student research at UMaine focuses on topics including weed management, soil health and green manure management.
"From day one, the challenge has been to grow the market, grow the supply, but don't let one get too far ahead of the other; that will be the challenge going forward," Amaral says. "Allagash's pledge to use 1 million pounds of Maine-grown grains a year is a big step up for farms. That's the kind of problem you want to have."
Sara Flewelling, grower and co-owner of Aurora Mills and Farm, graduated from UMaine in 2005 with a landscape horticulture degree. She worked in the Washington, D.C. area doing landscape design for eight years before coming back to help Williams — her father — with the farm in 2013.
The farm, which doesn't use any pesticides, produces several organic stoneground flours, including spelt, rye, hard red spring and winter wheat; wheat for brewers; and organic rolled oats. In addition to providing grain to Borealis Breads, Aurora Mills also sells to Allagash, where its rolled oats have been used in two national releases; provides oats to several major universities in New England; and distributes to natural food stores throughout the region.
"I know that every day I'm making a difference," Flewelling says. "We're making a quality product that makes people healthier, and that's great."
Although the farm has more than quadrupled in size since Flewelling's return, the family hopes it will continue to expand. Flewelling says the long-term goal is to grow from 300 to 1,000 acres.
"You need scale with grain, it's hard to do that on a small scale," she says, estimating grain output averages 1 ton, or 2,000 pounds, per acre.
Aurora Mills now is working with a group of farmers to develop food-grade Japanese buckwheat production in Maine to make soba noodles, according to Williams, who says they are always looking for ways to make the whole grain system more valuable. He does this — in part — by staying in touch with his former colleagues.
"They're carrying on doing the research, and I benefit from that, so I'm certainly going to help them as much as I can," he says.
Flewelling cites Mallory and Molloy as great resources for the farm, and the entire grain community.
Over the past decade, Mallory says she has seen the market diversify and gain value. Markets and consumer demand for New England-grown grains are continuing to grow in Maine, as well as outside the region, according to Amaral, who sees opportunities for expanding the market.
Maine Grains owner Lambke agrees, noting that the grain ecosystem in Maine is beginning to flourish.
"It's been a lot of hard work, but 10 years is a relatively short time to be seeing a lot of resurgence happening, and I think that's really encouraging," Lambke says. "Industry leaders are starting to realize the impact they can have by participating in the grain ecosystem, and I think that will continue to develop over the next 10 years. I think we're still in growth mode, and that's exciting for Maine farms and producers."